Creamy Buttered Cabbage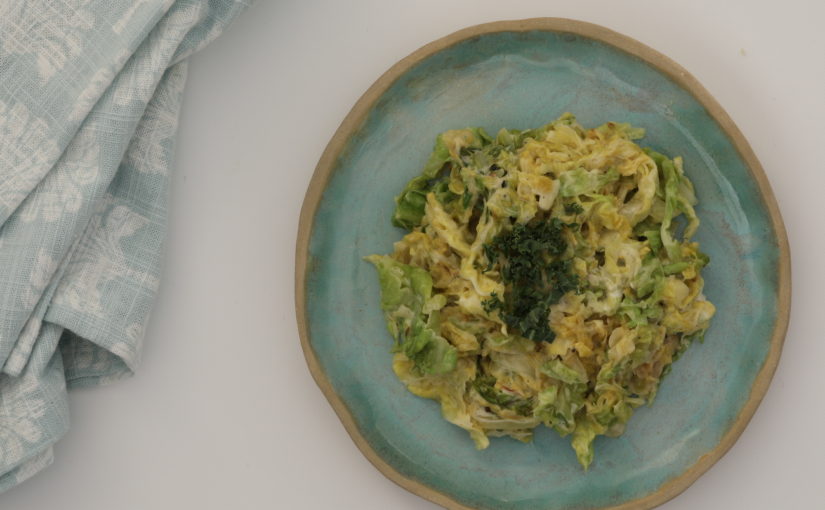 Creamy Buttered Cabbage is a delicious way to serve cabbage that is low carb, LCHF and keto friendly. It is a simple recipe that takes minutes to prepare and makes a wonderful side dish to serve with any meal. Cabbage is an amazing vegetable. It is so nutritious and can actually taste amazing, especially when cooked the right way. One of the things I love most about cabbage is that it is available all year round and it is always cheap. It also lasts quite a long time in the fridge.
This recipe takes minutes to prepare and uses really simple ingredients. The butter and sour cream added to this recipe gives the dish a rich creaminess and it is what defines this dish. I mean it's only cabbage right.. but how does it manage to taste this good? I always like my cabbage to be slightly under cooked, but if you prefer yours to be cooked more, simply adjust the cooking time to suit.
Forget about the days of your youth when you were served up grey, tasteless cabbage and it turned you off cabbage for life. Recipes like this delicious and simple to make Creamy Buttered Cabbage is going to make you appreciate just how good cabbage can taste and your family are going to love it as well. I often make this recipe when I need to clear out my fridge for my next shop. Even if your cabbage is not looking so fresh, it will cook up beautifully in this recipe.
For an equally delicious cabbage recipe, I suggest you have a look at this recipe for Low Carb Buttered Cabbage with Bacon
Creamy Buttered Cabbage
Serves 4

Ingredients
1/4 large cabbage finely sliced/approximately 400-500 gms/17 oz
3 Tbspns butter
4 Tbspns full fat sour cream
Salt and pepper to taste.

Method
1. Melt butter in a large pan over a medium heat.
2. Add cabbage and saute in the butter for approximately 10 minutes or till cooked as desired.
3. Season with salt and pepper and stir through the sour cream. Continue cooking till dish is heated through. Remove from heat and serve.

A KETohh creation
www.ketohh.com