Low Carb Healthy Flat Bread Wrap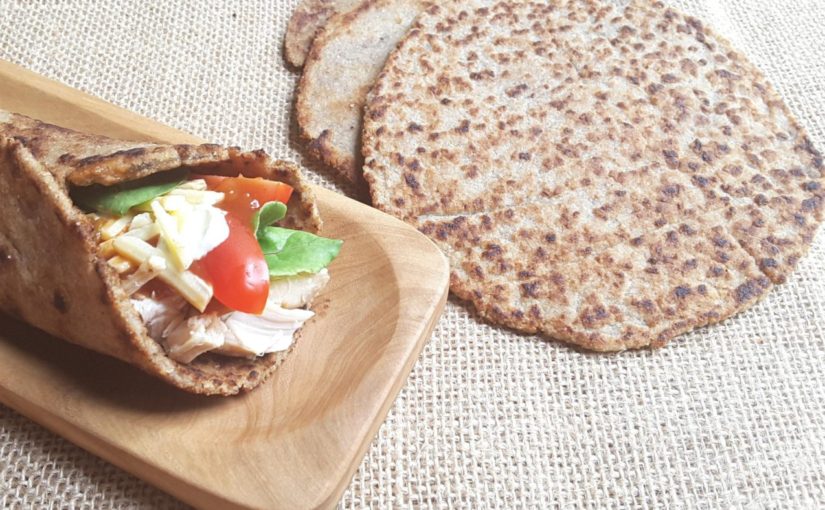 Low Carb Healthy Flat Bread Wrap
A great tasting Low Carb Healthy Flat Bread Wrap recipe means that bread wraps, naan bread and burritos, are all made possible for many of you with dietary restrictions. These wraps have an amazingly neutral taste, even though they are made from coconut flour and almond meal. You cannot taste the coconut or almond flavors at all. These are really pliable wraps so they won't fall apart easily if you are using them for wraps or burritos. The flavor is not eggy at all, like a lot of other low carb recipes, and they taste amazing.
How To Serve These Low Carb Healthy Flat Bread Wraps
Serve these as bread wraps with your favorite fillings or use for breakfast burritos. These also go really well when used as a healthy tortilla option to go with Mexican dishes. Try them as Naan bread to serve with Indian food, or use them as dippers to eat dips or use on an anti-pasta platter.
Freezing Low Carb Healthy Flat Bread Wraps
These wraps are suitable for freezing once made. Seal them individually as they will stick together if placed on top of each other and you won't be able to separate them. Note that when you make the dough, allow it to rest for about 10-20 minutes before rolling it out. I wouldn't advise you leaving the dough for an extended period of time though as it will lose its tackiness and become too hard to roll out.
Other Delicious Bread Wrap and Tortilla Recipes
For some more great low carb wrap or tortilla options, check out some of these recipes. There's a delicious Cauliflower Flat Bread Pizza Base recipe that is a great healthy option. There are also a couple of other wrap recipes that are brilliant, such as this Low Carb Gluten Free Tortilla recipe, which creates a soft and pliable white, mild tasting tortilla. It is one of my favorite tortillas to use with Mexican food, such as soft tacos and burritos. There is also a lovely wrap recipe that is both nut free and egg free, so check it out if you have those intolerances or allergies, at Low Carb Flat Bread Wrap. There is a wrap for every occasion and every dietary restriction, which makes life easier for many of you.
Kxx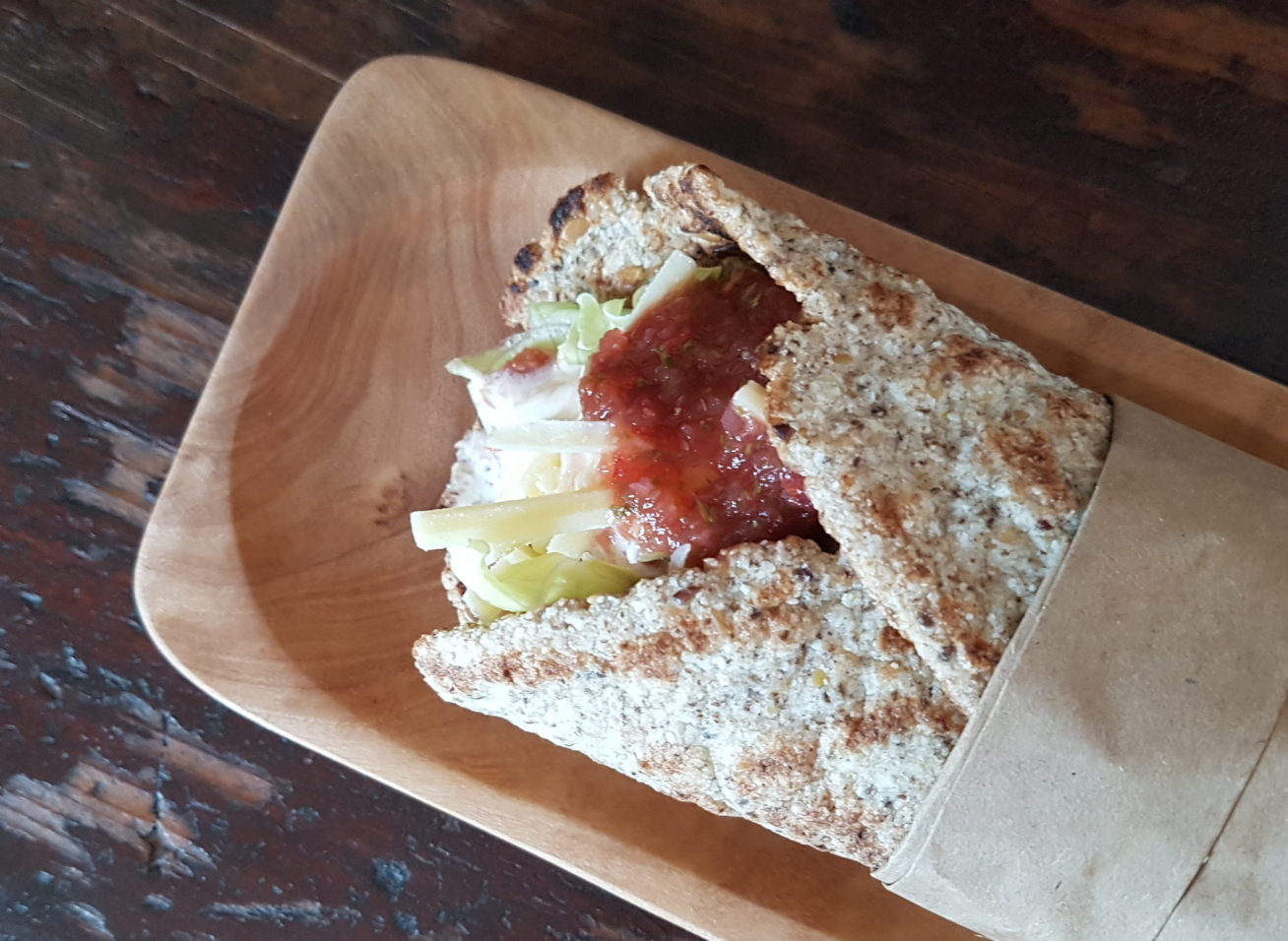 Ingredients
100

gms

almond flour/almond meal

50

gms

coconut flour

100

gms

melted butter

1

egg

1

teaspoon

garlic salt

30

gms

psyllium husk/powder

30

gms

chia seed powder

210

mls

water
Instructions
Grind the psyllium and chia seeds to a fine powder. Whether you have psyllium powder or husks, simply add them to the chia seeds and blend, to ensure there are no gritty bits in the mix.

Add the ground mix to the flours, mixing really well to blend and add the salt.

Stir in the melted butter.

Add 210 gms water and 1 egg and mix till well combined. Leave the mix to sit for approximately 10 minutes so the ingredients can bind.

Divide the mix into approximately 10-12 reasonable even sized balls.

Roll one ball out with a rolling pin, between two sheets of quality baking paper, till approximately 3-5 mm thick. Trim for a perfectly round tortilla or leave as it is for a hand made "Artisan" look.

Heat a medium frying pan on the stove top on medium temperature. Drizzle a little olive oil in the pan and when it has dispersed, and gently peel your tortilla off the baking paper and place it in the hot pan.

Cook for approximately 1 1/2 - 2 minutes on each side until the tortilla has unevenly browned slightly. Turn the tortilla over and do the same on the other side.

While this tortilla is cooking, roll out your next one ready for cooking.

Drizzle the frying pan with a tiny amount of oil in between tortillas. Continue cooking and rolling out tortillas until they have all been cooked.

Tortillas can be frozen if separated into individual serves in an airtight zip lock bag. Use cling wrap or paper in between tortilla's to separate.
Recipe Notes
Tortillas can be frozen if separated into individual serves in an airtight zip lock bag. Use cling wrap or paper in between tortilla's to separate.
Nutritional Information
Serving:
1
serve
|
Calories:
183
kcal
|
Carbohydrates:
8
g
|
Protein:
5
g
|
Fat:
16
g
|
Fiber:
6
g
Note that we calculate our own nutritional values so they may not be precise. Calculate your own if desired. Carb values exclude sugar alcohols such as Erythritol, as they generally have no impact on blood sugar levels. 50% of the carbs from Xylitol is added to nutritional values. This is consistent with industry practice.
Do you want to receive more recipes like this one? Subscribe to our newsletter now!