About Us
Welcome to KETohh…A Low Carb Low Sugar Lifestyle!
I hope you get some inspiration from some of the low carb and low sugar recipes you will find on this site. If you are new to this way of eating, you will discover that this way of eating is not a compromise when you see some of the amazing recipes on offer. This is definitely not a diet for me now, it's a lifestyle! With that comes a challenge for me to come up with recipes that comply with a low carb eating plan yet still manage to taste amazing.
Whilst I do try to focus on eating healthy food, the recipes you will find here will amaze you as it is darn fine food, yet still manages to fall under the category of low carb and low sugar. You will find recipes for everything from the finest tasting carrot cake with cream cheese frosting, through to the most delicious cocktails such as a Margarita. I have been lucky enough to live overseas with my family, so you will find there is a large variety of different regional dishes on offer. These recipes not only taste wonderful but also ensure that the food choices available are never boring.
I've always had a great interest in food and living a healthy lifestyle and have worked in both the food industry as well as the fitness industry. A few years ago I signed up for one of those 8 week diet and exercise programs to try to lose a bit of weight. The diet was very low in carbs but I was allowed to eat a restricted amount after exercise. I didn't realise at the time but I was actually doing a Targeted Cyclical Ketogenic Diet (TCKD). I was amazed at how good I was feeling, how much weight I had lost and how good the food was that I could eat. This was the start of my low carb journey!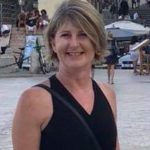 I now spend a lot of time researching and reading about the low carb way of life and I also spend a huge amount of time in the kitchen working on simple but healthy recipes that fit in with my lifestyle. I also love sharing my knowledge and recipes with others, so I hope that you will find recipes and information on KETohh that will help you along your low carb journey.
You can embrace the low carb way of life a little or a lot. You may simply want to reduce the number of carbs and sugars that you eat or you may want to be extreme, for example, and do a low carb high fat (LCHF) diet or Ketogenic diet. Either way, the recipes and information I share on this page can apply to your situation.
I have been wanting to start a food and lifestyle blog for such a long time and finally have the confidence and the time to put it out there. I am very passionate about the food that I eat and love preparing food for my family and friends. I am also quite lazy and if ever there is an easier way to get something done, I will find out how to do it. The benefit of this is that I am not a slave to cooking nor to the mundane things that we get so preoccupied with in life. The bonus to applying this to my life is that it leaves me lots of time to do the things that I love doing. I get real joy out of baking and also love experimenting with, adapting and creating recipes that are really healthy for my family and I.
Based on my posts you will quickly discover that I have effectively thrown the current food guidelines out of the window. I have tried to eliminate as much sugar and processed carbohydrates from my diet as I can, and I have embraced adding fat into my diet. I eat amazing food and although tempted occasionally by foods that I would normally avoid, generally I eat a ketogenic diet. Amazingly I have lost my cravings for overly sweet food and I can also easily say no to a bowl of fries these days, something I would have eaten often prior to taking on this way of eating.
There is nothing I enjoy more than eating the occasional low carb sweet treat at home, especially with one of my cups of home brewed coffee.  It is things like this that help keep me on track of this way of living. You will find that the majority of my sweet recipes are never overly sweet though and I never make my serving sizes large, as part of my objective is to stop craving sweet foods. The best thing about my sweet recipes is that they actually comply with being low carb and low sugar, so I don't feel guilty eating them.
Perhaps one of the best things about the changes I have made to my lifesyle is that it has resulted in a weight loss of over 15 kgs….and this was achieved by eating amazing food. What's not to like about that? I don't want to sound like a Jenny Craig ad, but when you see people nearest and dearest to you take on this way of eating and lose 25kgs in 6 months, then you realise what benefits this way of eating can offer people. I am also very proud of my dad, who is doing an amazing job eating low carb and losing weight in an attempt to get his type 2 diabetes under control.
Part of my website and blogging name KETohh, is a combination of my initials KET, combined with Keto which is short for the Ketogenic diet, which is a diet based on low carbs and high fat (LCHF). This also just happens to be my way of eating, so I figure that this way of life and I were meant to be.
Thanks for taking the time to read this. I hope that you will get inspiration from some of the recipes and articles that I will be sharing on this site.
Good luck with your journey, wherever it may take you.
Karen xx