Cooking Tips To Help Get Through the Coronavirus Pandemic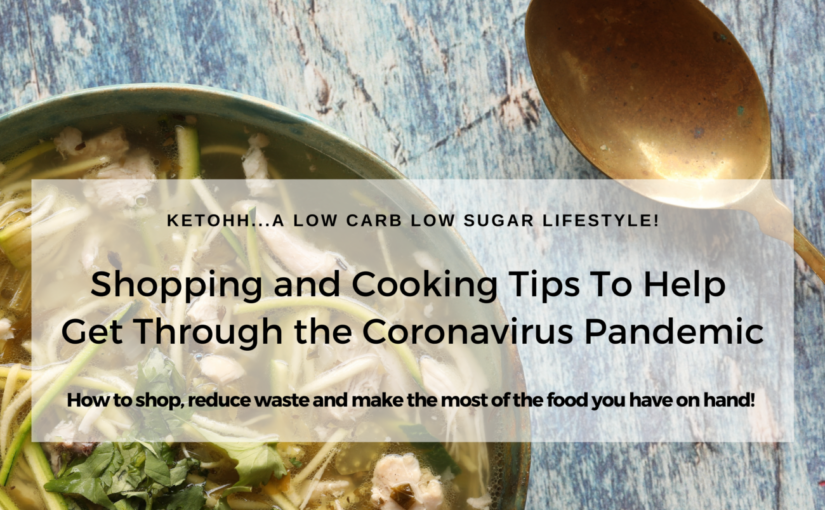 Cooking Tips To Help Get Through the Coronavirus Pandemic
Hopefully you are going to find these cooking tips to help get through the coronavirus pandemic are going to make your life a little easier. Things are very tough at the moment with many of us in lock down, self isolation and with restricted social movements and social distancing being enforced. The one thing that hasn't changed though is that we still need to source food and to prepare meals.
A possible bonus to this terrible situation is that cooking might work as a distraction and fill in some time for those of you that are holed up at home. You can utilize this time preparing food and coming up with ways to utilize the ingredients that you have on hand while also trying to eliminate waste. You can also use this time to try to come up with some ingenious ways to try to source your food.
I have been in forced self isolation with my husband, daughter and her partner and have been trying to come up with ways to source food and have it delivered this past week. I feel like a logistics manager but am very pleased with my efforts as we have managed to be able to source most things that we need and have them delivered to our door. If you can connect with your local community, hopefully you are going to find some ingenious ways to survive this unprecedented situation.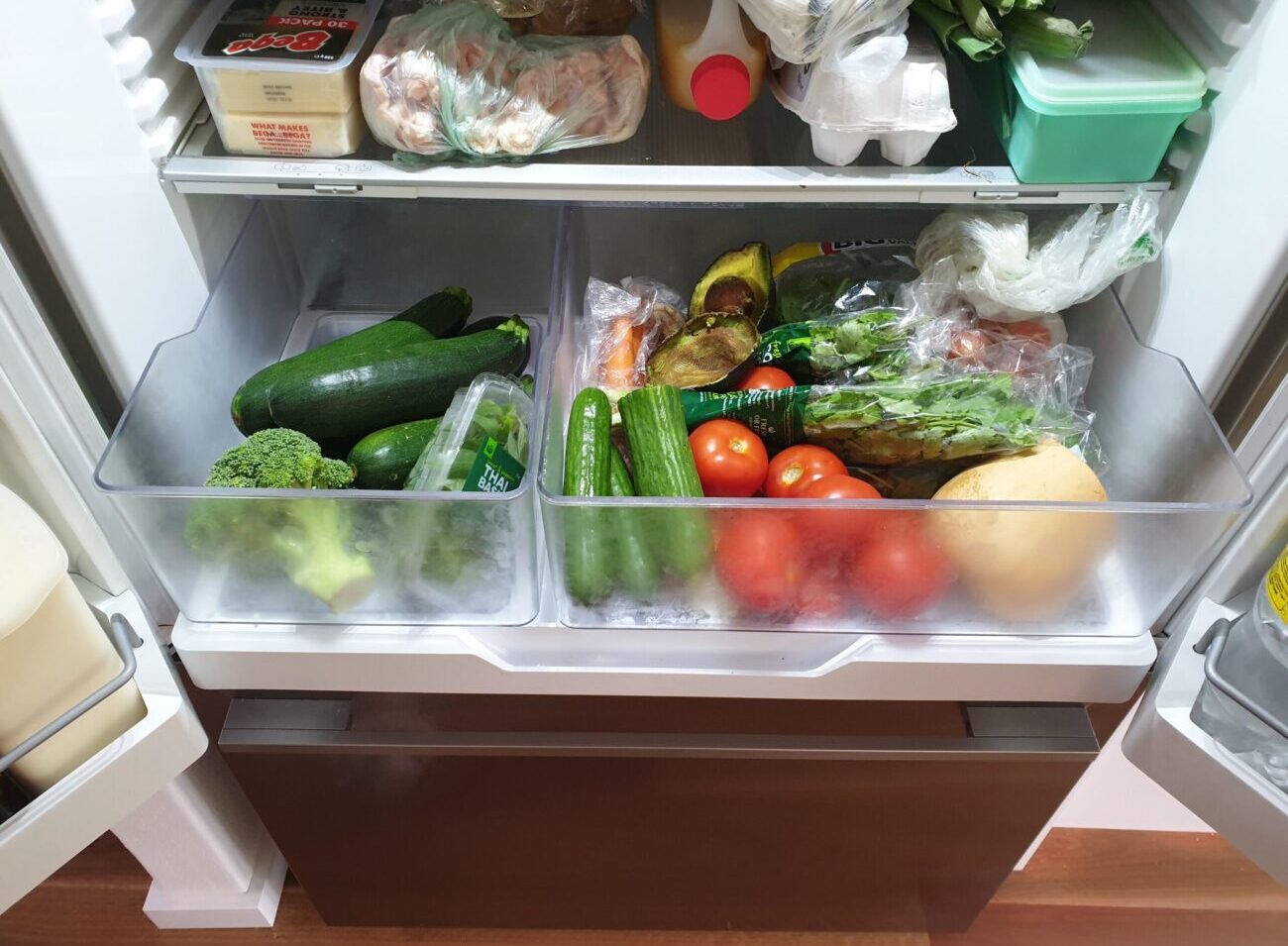 Develop Your Logistic Skills and Use Your Local Community Facebook Pages
Thankfully most of us can still go to stores to buy food and there are also grocery delivery options as well. I'm not sure of your situation in your region or country but locally here in the Margaret River region of Western Australia, you can still order take out from many businesses. Many local stores and producers are also happy to deliver produce to your door, often free of charge as well.
I have found that local Facebook pages are a fantastic way to find out what is happening in your community. If ever there was a brilliant reason to sign up to Facebook, now is definitely the time. In this rural region alone, 2 new groups have popped up, one for local businesses promoting what is available for home delivery. and  another community page that is more of a support page.
A couple of great initiatives I have found include a local bakery that not only delivers their baked produce such as pies and cakes, but they also sell toilet paper, sugar, eggs and flour etc, without any delivery charges. As I make sourdough bread for my family, I managed to buy a 25 kg/ 55 lb bag of bakers flour which is going to come in really handy. I was also delighted to discover that the local coffee shop delivers coffee plus any of the food items on their menu, to your door without any delivery charges. The best thing about these local services is that not only can I source what I need but I am supporting local businesses at the same time.
While I have been shopping and having produce delivered due to being in self isolation, I think that whether you are in self isolation or not, taking advantage of such services is certainly going to reduce your risk of infection as well. Reducing your risk and supporting your local businesses in a time of need is a really good thing to do for all of us if possible.
Grocery and Food Delivery
For those of you that are in forced or self isolation, I also highly recommend that you check out the delivery requirements for your larger local grocery stores. Here in Australia, the large chains recently put a hold on their usual grocery deliveries due to unprecedented demand. Fortunately they are endeavoring to still have delivery arrangements in place for any people who are in forced self isolation, pensioners and those in other risk categories.
Unfortunately Coles (one of our large chains) still doesn't have their version of this delivery service in place. My own experience with Woolworths (our other large supermarket store) has been brilliant, and they have been feeding us, along with our local IGA store, which is a smaller independent supermarket. We have also been supplementing  by ordering from local small businesses, cafes and restaurants who have advertised on local Facebook pages set up for the current situation.
To save on delivery charges you may want to try to do a larger shop once per week or fortnight, especially if this means you can spend the amount required to qualify for free or a reduced delivery cost. Each store has different rules around delivery, so make sure you know what your store charges and if there are discounts available.
Just a heads up for those who are eligible to apply for these special deliveries if you are house bound. Apply with the store online as soon as you can, as your application can take up to 48 hours to process. Thankfully mine with Woolworth's only took about 12 hours, so between applying and receiving my first order took about 3 days.
The other thing that I recommend is to save your trolley for ease of shopping next time. This doesn't mean that you need to buy everything again but might prompt you to buy something you have forgotten. If possible I would also try to get a regular weekly shop in, so you can maintain a reasonable stock of food eliminating the need for panic buying.
Online Shopping
Make sure that you search for online stores to help source food as well. What might not be available in stores might possibly be available from some of the online stores out there. Check out stores on Ebay, Amazon and check also to see if local businesses also have an online presence. I've had some issues with buying produce from overseas due to the cancellation of so many international flights, so orders from iHerb and Amazon can take a long time to be shipped. There are plenty of other local stores though that can supply many similar products.
Some local stores in Australia that you may find useful include the following particularly for low carb produce such as nuts, seeds, almond flour etc.
https://2brothersfoods.com/
www.nutsaboutlife.com.au

https://www.nutgrocer.com.au
https://www.aussiehealthproducts.com.au
https://www.nutsandspices.com.au
https://www.goodness.com.au
For more general grocery shopping, make sure you check your local stores including butchers, grocers, egg suppliers, and farm direct shopping outlets to see if they are online or if you can order and they deliver. Of course if you can collect from the outlets and aren't in isolation, then this might make your life a little easier. Once again though, having produce delivered would still be a good option given the current situation. Here are some more general online stores that might be able to deliver to you.
www.harrisfarm.com.au – NSW
https://hillviewfarms.com.au – NSW
www.groceryrun.com.au
www.catch.com.au
www.indoasiangroceries.com.au
www.foodworks.com.au
www.aussiefarmersdirect.com.au
www.groceryshop.com.au
www.dealsdirect.com.au
I'm sorry that I can't put sites up for everyone around the world but you really are much better to source your ingredients locally, especially given the issue with international flights at the moment. If any of you have any recommendations that you'd like to add to this, please share in the comments below.
Tips for planning Meals, utilizing what you have in your pantry and minimizing food waste
For those of you looking for some tips to help you get through these tough times, you may find some of these following tips will help you with creating meals for your house hold during these trying times.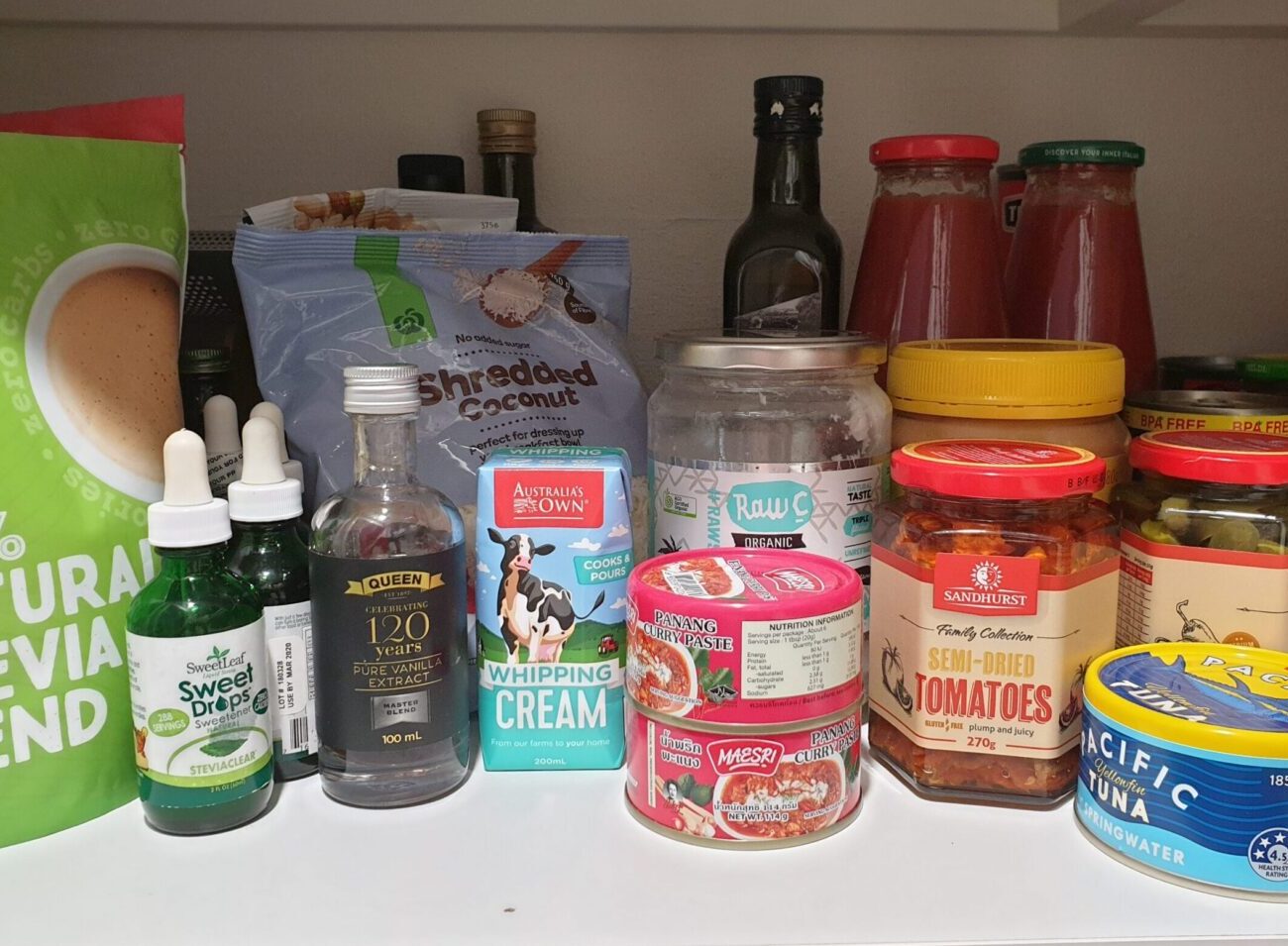 Create Space
Check out your cupboards, fridge and freezer and move any products that are taking up space that you won't use very often and store elsewhere. Create space so that have the space to store any goods that you buy, particularly in your fridge and freezer.
Clean Out and Sort Your Fridge, Freezer and Pantry
Organise your fridge, freezer and pantry and throw out any goods that are well and truly out of date, are rancid or off. Note that you can push this rule with canned goods as they are quite conservative on dates, and you can also use frozen goods slightly beyond the use buy date as well. Make sure you check these foods before using though, checking for any signs that the food has gone off or is rancid before using.
I would normally not recommend this but given the unprecedented times we are all facing, I am endeavoring to try to avoid wasting any food. Try to consolidate multiple packages of foods if you can so that you have more room to store other foods. If you are using a fridge for a drinks or bar fridge, reduce this down to a minimum so that you have extra storage if desired.
Keep A Shopping List
While cleaning out your fridge, freezer and pantry, take a note of any foods that you need and add to your shopping list. Make sure you reference this if you do a shop to ensure you try to buy everything that you need. This is particularly important if you are in isolation and are relying on delivery services for your food as you cannot simply go to the store to buy what you need.
Order And Think outside the box
If you can't source your usual fresh vegetables, try to order alternatives  vegetables or consider frozen or canned versions as well. Maximise your order if there are restrictions on food, ie, if you can only buy 2 selections of meat buy 2 selections of meat and store them in the freezer. Buy long life cream and long life milk if you can so you have some on hand if needed.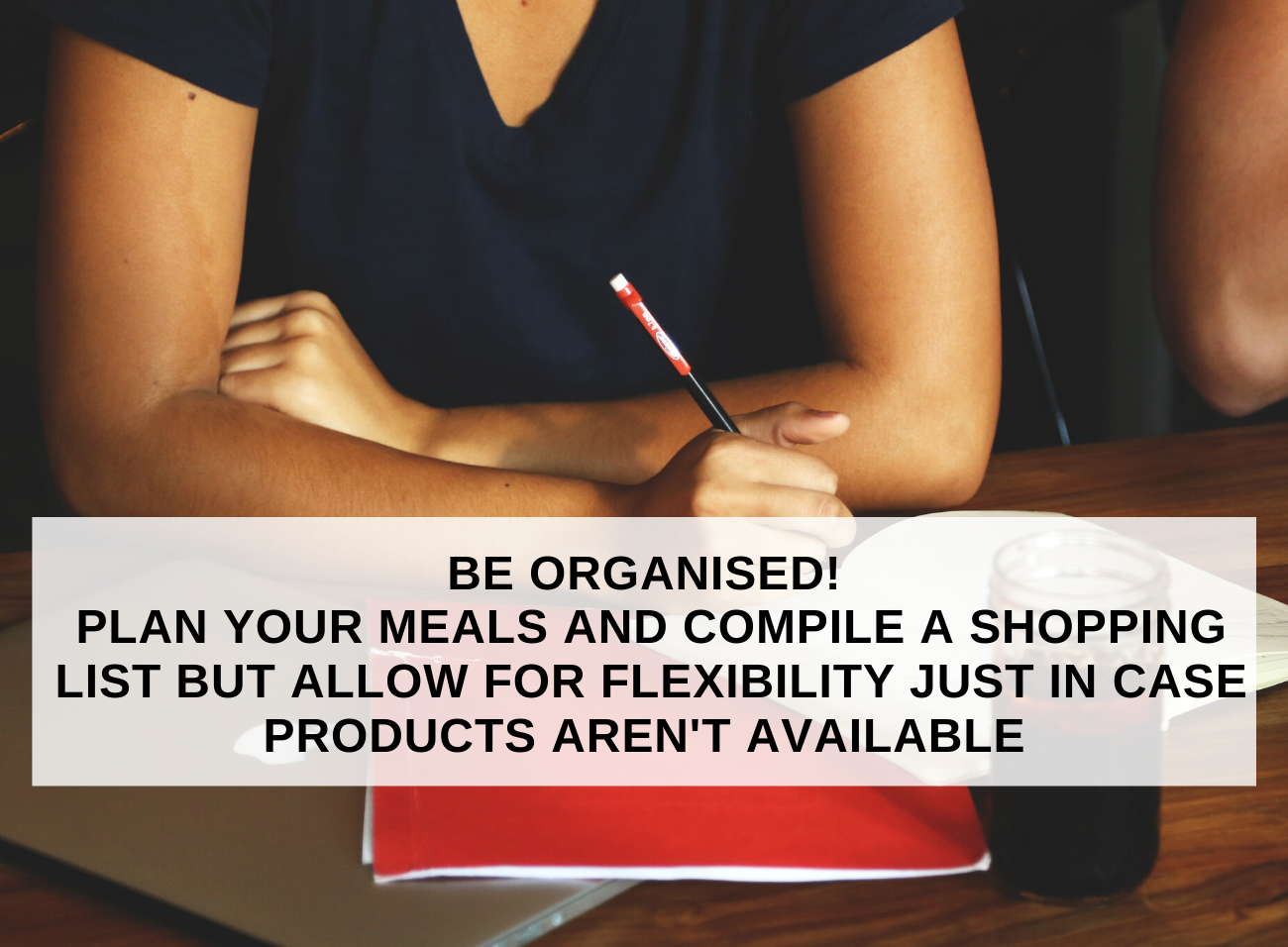 Eliminate Food Waste
When planning any meals, look at any goods that you have that are getting close to their 'use by' date' and use them where you can. If you have vegetables that are looking a bit tired, make a pot of soup or add use them in a pasta sauce such as spaghetti bolognaise. Try not to throw any food out. Batch cook food, cook the foods that need to be used so that they can be stored for later use or freeze them without cooking if that is possible.
Plan your meals
While it is great to plan ahead for meals that you want to cook, just remember to try to use any foods that need to be used in your cooking first, allowing for flexibility with your planning Try to use your softer vegetables and leafy greens earlier rather than later in your cooking. Also try to come up with ways to use alternatives for any ingredients that you might not have that might be specified in a recipe. You may also have to leave them out of the recipe if there is no alternative.
Often ingredients can be left out of recipes without any problems but if you can try to find an alternative that replaces that taste, try to use it. If you run out of tamari sauce or coconut aminos, use a little Worcestershire sauce, soy sauce, mushroom sauce or a little salt. If you don't have any lime or lemon juice then try adding some ACV- apple cider vinegar or vinegar. Most recipes work out fine these small alterations.
Batch Cooking
If you have an abundance of food that is just about past its use by date, you may need to do some batch cooking to use it up. Freeze any excess in suitable portions, label well with the name and the date it was made and store in the freezer. Some of my favorite recipes where I do batch cooking is to make spaghetti bolognaise, Low Carb Moussaka, Low Carb Eggplant Lasagna and as mentioned earlier, a batch of Italian vegetables. The brilliant thing about batch cooking is that it means you can have a break from cooking if you want to.
I want to leave you with some final tips on how to reduce food waste. Given how hard it is to source food at the moment, we all should be doing out best to try to eliminate waste. I hope you find some of these tips useful and that they help you with your situation.
Cooking and Freezing Tips to help Reduce Food Waste
Stock and Broth -create soup stock and broth by using up chicken bones, meat bones and vegetable off cuts or near near their use buy date. Use immediately or freeze for later use.
Chicken Carcasses -never throw out a BBQ/roast chicken carcass. Simmer it for about 4 hours for chicken stock, or simmer for 16-24 hours to create immune boosting broth. This can be done in the slow cooker or in a pressure cooker as well. This also applies to meat bones. Simmer for about 4 hours for stock or up to 24 hours to create deliciously rich bone broth.
Not So Fresh Tomato – use tomatoes that are past their use by date in recipes such as pizza sauce and simmered diced tomato. To peel fresh tomatoes, score the skin into 4 quarter segments with a sharp knife and dip the tomato into boiling water for a couple of minutes. The skin should then peel off. You may need to repeat the process a couple of times if the skin doesn't peel back.
Pizza Sauce – dice 2 cups of tomato and simmer gently with 2 teaspoons of Italian herbs and 2 teaspoons of minced garlic and 1/4 cup of water for 45 minutes or until sauce reduces. Mash with a fork or process to get the right consistency.
Simmered Diced Tomato – simmer diced tomato with 2 tablespoons water, a dash of vinegar and salt until soft. Freeze in portions for later use.
Also check out these recipes as well where either tinned and/or fresh tomato can be used-
Sugar Free Marinara Sauce
Fresh Tomato Salsa
Sugar Free Mexican Salsa Picante
Low Carb Keto Tomato Chutney
Eggs – freeze eggs near their use by date for future use. Separated egg whites freeze perfectly.  Whisk whole eggs and egg yolks prior to freezing, as the yolks go hard and rubbery when frozen and they cannot be used for cooking.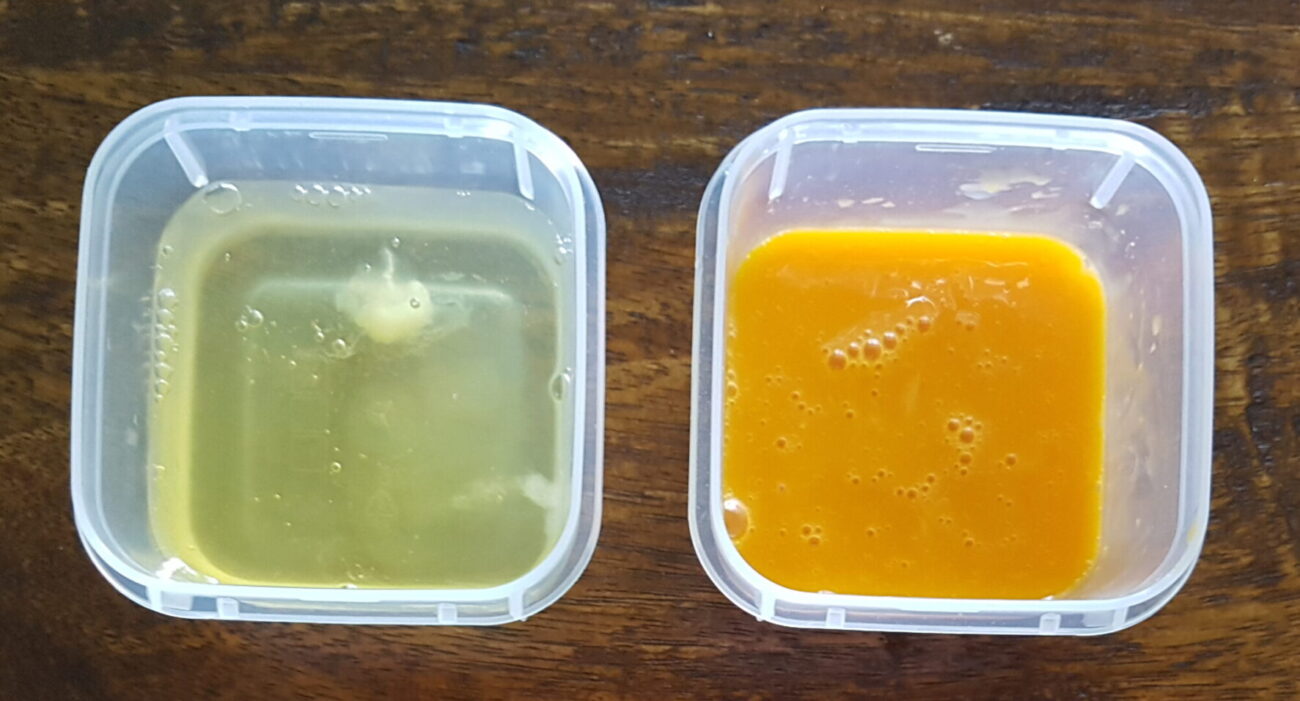 Pickled Cucumber– slice tired cucumbers and pickle them in a mixture that is 2 parts vinegar to 2 parts water. Add sliced chili and/or a 1-2 teaspoons of sweetener for a delicious way to pickle them. They will last in the fridge for about 2 months. You can remove the skin if it is looking a little tardy. Vegetables such as red peppers/capsicums etc can also be pickled but need to be cooked first. Check out recipes online.
Tired Looking Cabbage– use cabbage in recipes such as Asian Slaw, Sugar Free Slaw, Low Carb Cabbage Rolls or Low Carb Chow Mein.
Clear Out The fridge Italian Vegetables – create an 'Italian vegetarian sauce base" by simmering vegetables such as onion, peppers/capsicum, mushrooms, tomatoes, celery etc with garlic (and left over wine that needs to be used). Simmer until soft and freeze in portions ready to throw into your bolognaise sauce, lasagna, or use as a vegetarian pasta sauce.
Saute Vegetables and Freeze– saute diced celery, capsicum/peppers in a dash of oil and freeze in portions in the freezer to add to recipes at a later date.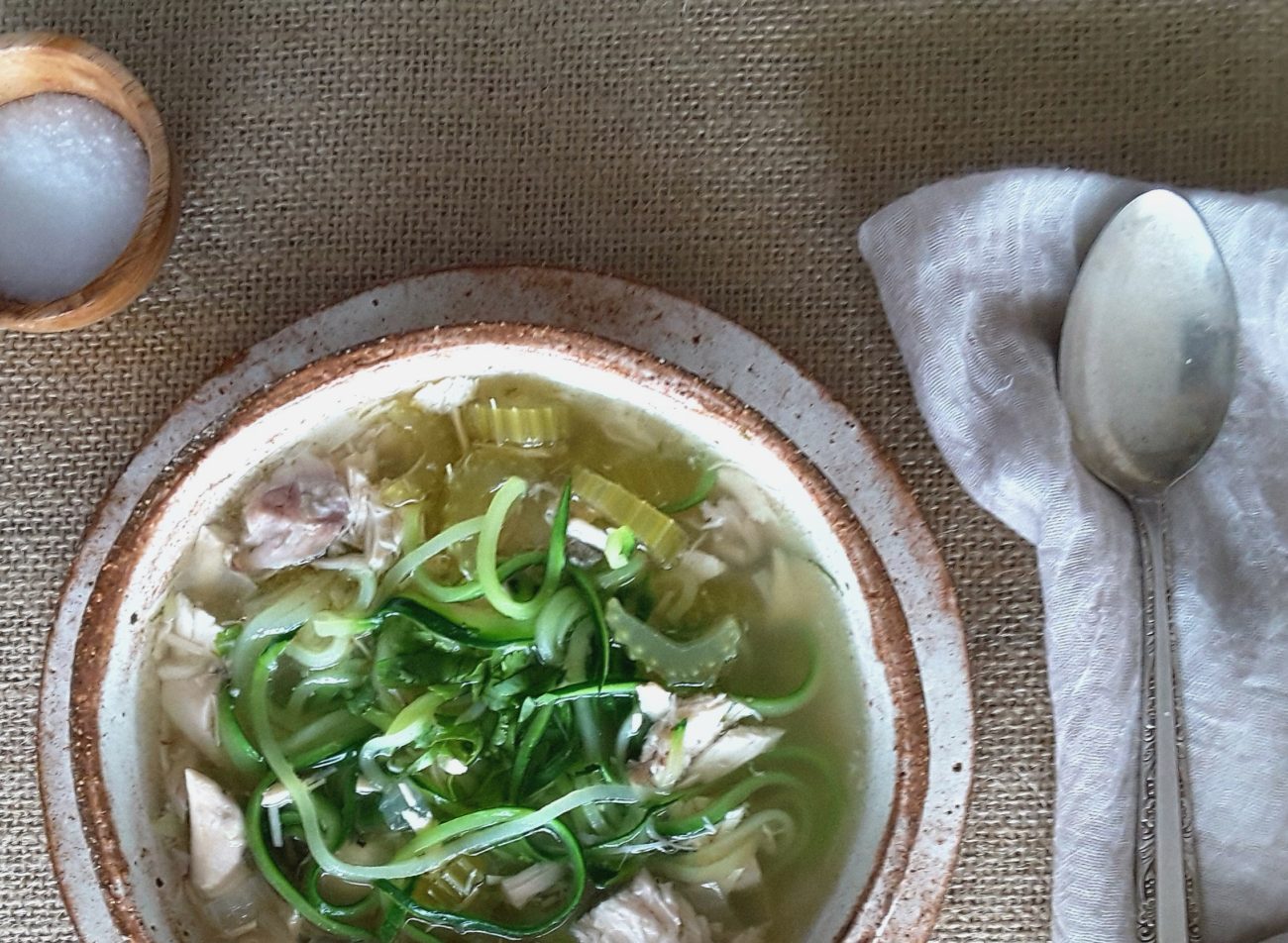 Celery Heads- chop and simmer celery heads (and off cuts) in a couple of cups of water. Freeze in the stock to add to soup at a later date such as Healthy Keto Chicken Zoodle Soup or Dutch Meatball Soup.
Freeze Fresh Baby Spinach and Chopped Kale– store in a zip lock bag with the air removed. I love to crumble these in omelets or scrambled eggs or add them to frittatas and quiches etc. The kale is great to use in Thai red and green curries as well. You can also add them to smoothies such as this Sugar Free Blueberry Chia Protein Smoothie.
Cut Zucchini, Eggplant, Capsicum/Peppers, Tomato and Mushrooms– slice or dice raw vegetables that need to used in a zip lock bag with the air removed and freeze until you can add them to a sauce or use in a recipe. Use in recipes such as Low Carb Moussaka, pasta sauce and Beef Stroganoff. I particularly love to use the zucchini in Thai curries such as thisfabulous Green Chicken Curry recipe.
Lemons, Limes and Berries– slice or juice any lemons or limes and freeze for future use in cooking and drinks. If fresh berries are losing their freshness, freeze in a zip lock bag.
Blanch Vegetables–  beans, broccoli, Brussel sprouts, cauliflower, asparagus and okra can be blanched. Bring a pot to boil, plunge the vegetables into the boiling water and boil for 2-5 minutes. Remove the vegetables and plunge into iced water. Drain really well before storing in a zip lock bag with any air removed.
Hard Cheese– if you have any hard cheeses that are nearly past their use by date, grate them and freeze in zip lock bags with the air removed to use at a later date.
Enjoy a 'Meal Out'
On a final more uplifting note, I also wanted to share with you this idea for for a bit of light relief from this doom and gloom. If you can order take away food in your area, order in and have a meal out with your family and/or friends. Dress up and set the table like it's a special occasion, light some candles and put some music on. Face time or Zoom some friends, family or loved ones and try to forget about what is going on in the world at the moment.
An alternative to this for those of you who live in rural communities where you have no opportunity to order food for delivery is to still sit down to a 'special occasion meal'. Yes you are going to have to make it yourself but use this as an opportunity to try to block out what is going on around the world, if only just for a moment.
Light the candles, crack open that special bottle of wine, dress up and face time or chat with some loved ones that you are missing. My father told me that he and his sister, who live thousands of miles away, were ordering Chinese food for delivery at the same time, so they could share a meal together. What a fabulous idea!
Hopefully some of these tips are going to help you get through the weeks ahead. If you have any tips that you'd like to share with us all, please comment below.
Meanwhile, stay safe my friends.
Karen xx