Homemade Paneer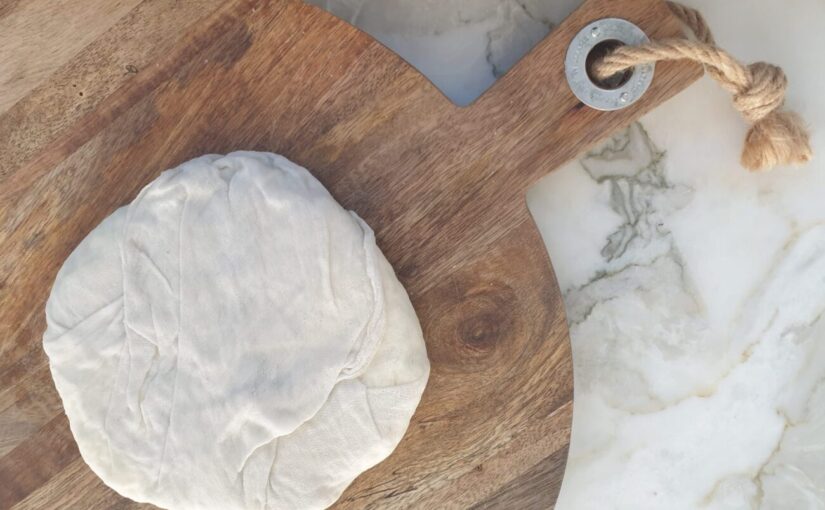 You are never going to buy paneer again when you see how easy it is to make your own homemade paneer. Follow these step by step instructions for a wonderfully rich and creamy paneer perfect to use in your home made curries and Indian food.
You can buy paneer from Indian specialty stores and some supermarkets which can be great for convenience. Make sure you look in the fridge and the frozen section as it comes frozen as well as fresh. Once you make this recipe and see how cheap and easy it is make, I don't think you will buy it again. Basically the cost to make it is the cost of 2 litres or 2 quarts of milk.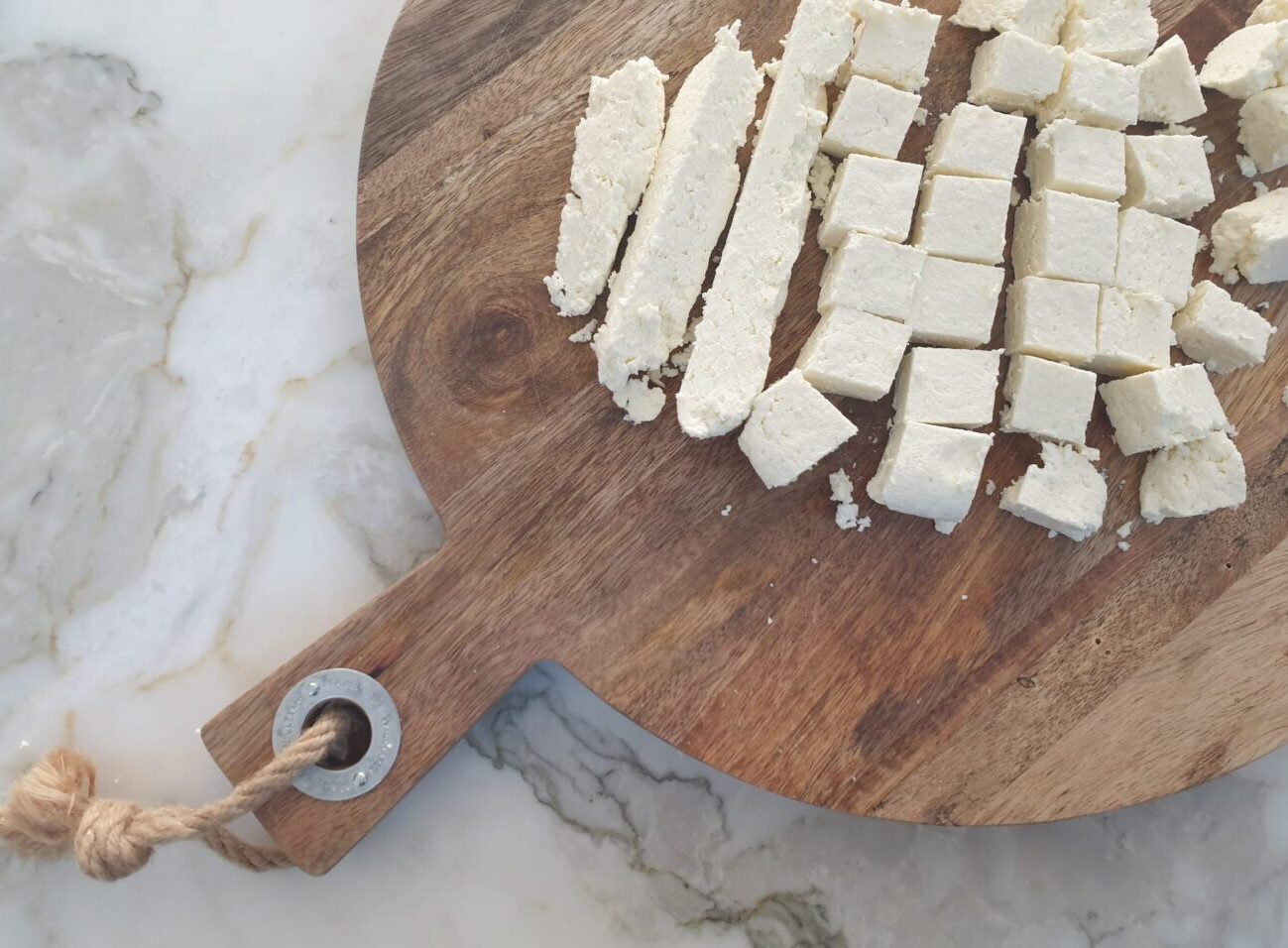 WHAT IS PANEER?
Paneer is Indian cottage cheese. It features in my all time favorite vegetarian Indian dish, Palak Paneer, which is the reason that I make it. Palak means spinach and paneer is the cottage cheese. Paneer also features in many other vegetarian dishes- check out a menu in an Indian restaurant to see just how popular it is.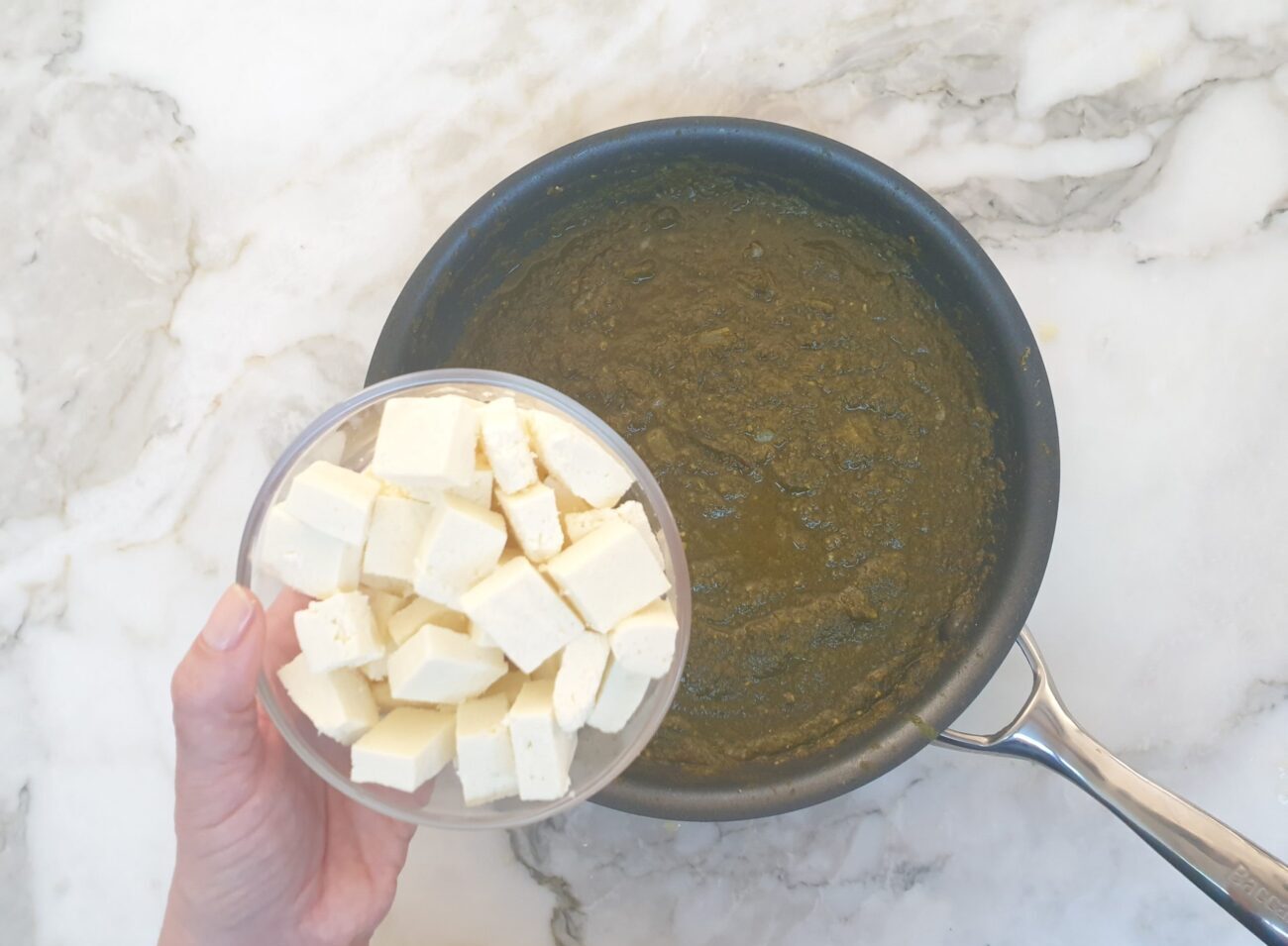 WHAT DO YOU NEED TO MAKE IT?
All you need to make your own paneer is full cream milk and some regular white vinegar. Make sure you don't use UHT milk or it won't work properly. You may get some cheese curds developing but they won't be as good as those made with full cream/full fat fresh milk. You can also use fresh lemon juice in place of the vinegar but vinegar is my favorite acid to use. Basically once you've curdled your milk with the acid, you strain the cheese curds in muslin/cheesecloth and just let it set until it's firm. That is how easy it is to make!
If you want to make creamier paneer you can also add some heavy/pure cream. Try adding about 1/4 cup per litre or quart. Although I have never made a dessert out of paneer, you may want to use lemon juice in place of the vinegar to reduce the vinegar flavors impacting on your recipe.
SIMPLE STEPS TO MAKE DELICOUS HOMEMADE PANEER
INDIAN RECIPE INSPIRATION
If you are looking for more more Indian recipe inspiration make sure you check out these recipes. Of course there is the delicious Low Carb Palak Paneer but there are some other fabulous dishes that you might want to try, including this recipe for Butter Chicken. You can't go past this delicious recipe for a Lamb and Yoghurt Curry.
There's also Low Carb Cauliflower, Broccoli and Sunflower Seed Dahl, which actually tastes like authentic Dahl. Another great Indian accompaniment recipe is Low Carb Coconut Sambal, a family favorite in my house that we fight over and hide the leftovers from each other. Don't forget to serve a piece of this fabulous recipe for  Low Carb Naan Bread on the side. It truly is the best keto naan bread recipe.
I hope you guys find this recipe on how to make homemade paneer really helpful. Please leave feedback if you manage to find the time to make it. Please make sure you check out the recipe for palak paneer as well as it was the inspiration for me to make my own homemade paneer.
Kx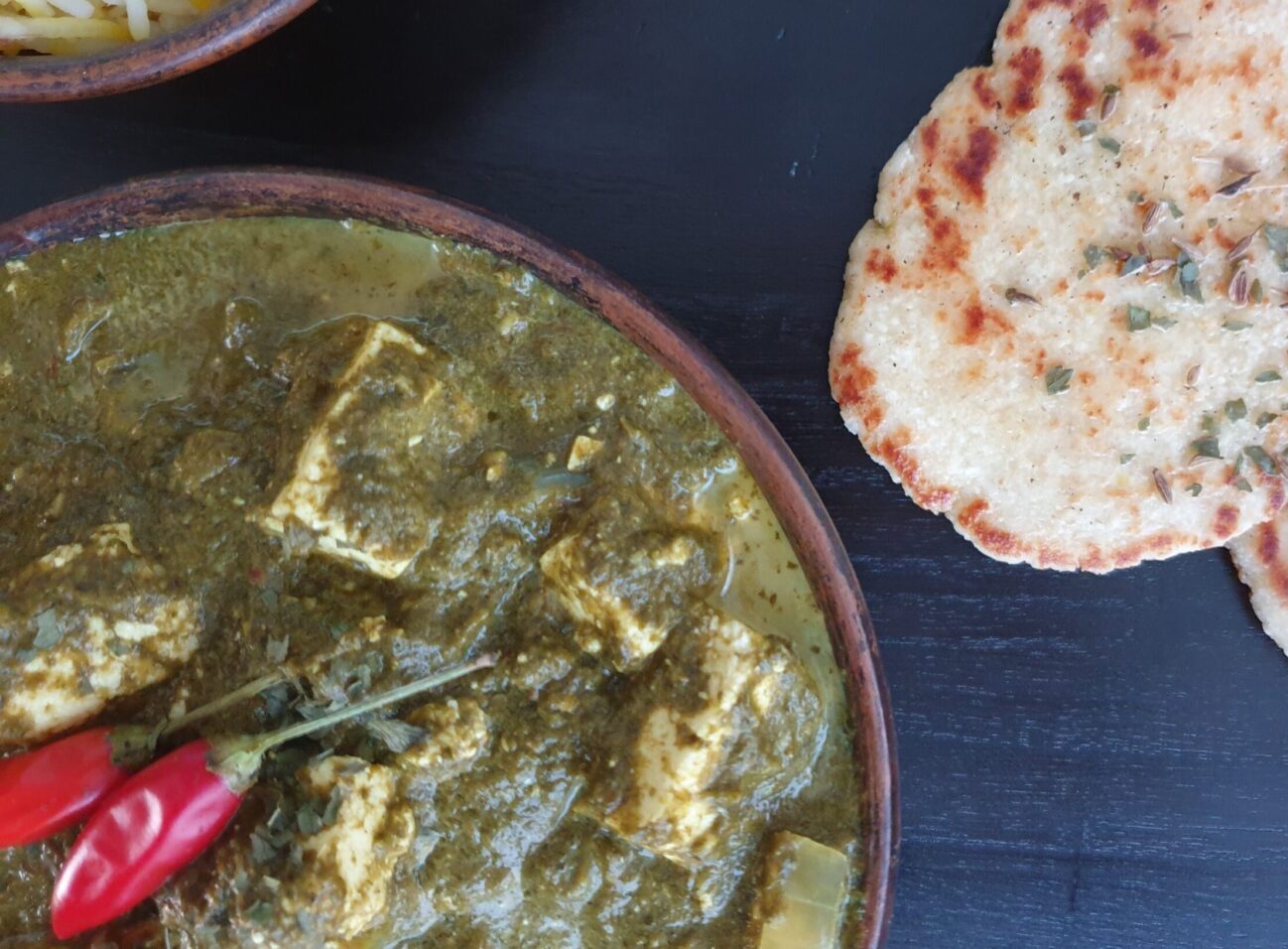 Ingredients
2

litres

full fat full cream milk

(not UHT milk)

2-3

tablespoons

regular vinegar
Instructions
Bring 2 litres/2 quarts of fresh full cream milk just to the boil in a large saucepan. Full fat whole milk makes a creamier paneer.

Remove from the heat and add 2 tablespoons of vinegar. The milk should start to curdle and separate. You may need to add another tablespoon of vinegar if it isn't separating enough. If the milk still doesn't separate, try heating it more until it starts to separate. Leave it to sit for about 3-5 minutes and the cheese curds should completely separate and leave a greenish liquid (whey) behind.

Line a large colander with muslin/cheesecloth. Run cold water through the cheese curds to stop it from cooking and to remove the vinegar. Drain the mixture until most of the water has been removed.

Gather the edges of the muslin/cheesecloth and bring together creating a ball with the curd strands. Squeeze excess water gently from the ball you have created.

Unwrap your cheese curd ball, leaving the curds clumped in the centre of your cheesecloth/muslin. Shape the curds into a round shape using the cheesecloth/muslin and your hands, compressing the curds to bring the them together. Sprinkle with about 1/4 teaspoon of salt if you want to salt your paneer.

Shape into a round (or any other shape you desire) of paneer so it's about 2cms/3/4 " thick. Tightly wrap the paneer with the muslin/cheesecloth to help keep it's shape. Make sure you keep the cheesecloth/muslin lying flat against the paneer to help keep the surface of your paneer smooth.

Place your wrapped paneer on a chopping board with a plate on top, or in between 2 plates to compress your paneer. Ensure the plates you use can withstand a heavy weight on it. Using a can or heavy pots/bowls that are about 2-3 kgs , place on top of the board/plates/paneer so the paneer can compress. Leave it for between 1-2 hours on the bench. I generally use a can that is about 2.5 kgs/ 5.5 lbs. You may want to tip off any whey that accumulates once or twice during the pressing.

Remove the weights and refrigerate your paneer for a couple of hours prior to cutting. Slice into cubes. Use immediately or refrigerate for up to 2 weeks/ or freeze your diced paneer for about 3 months in an airtight container.
Recipe Notes
Adding the salt is optional.
Make sure the vinegar is flushed from the cheese curds with the cold water.
Freeze diced for up to 3 months so you can use straight from the freezer or refrigerate for 2 weeks in an airtight container.
Make sure you use full fat, full cream, fresh milk and not UHT milk. Add 1/4 cup cream per litre/quart  of milk if you want to make a creamier paneer.
Nutritional Information
Serving:
250
gms
|
Calories:
180
kcal
|
Carbohydrates:
7
g
|
Protein:
30
g
|
Fat:
3
g
Note that we calculate our own nutritional values so they may not be precise. Calculate your own if desired. Carb values exclude sugar alcohols such as Erythritol, as they generally have no impact on blood sugar levels. 50% of the carbs from Xylitol is added to nutritional values. This is consistent with industry practice.
Do you want to receive more recipes like this one? Subscribe to our newsletter now!