Keto No Churn Coffee Ice Cream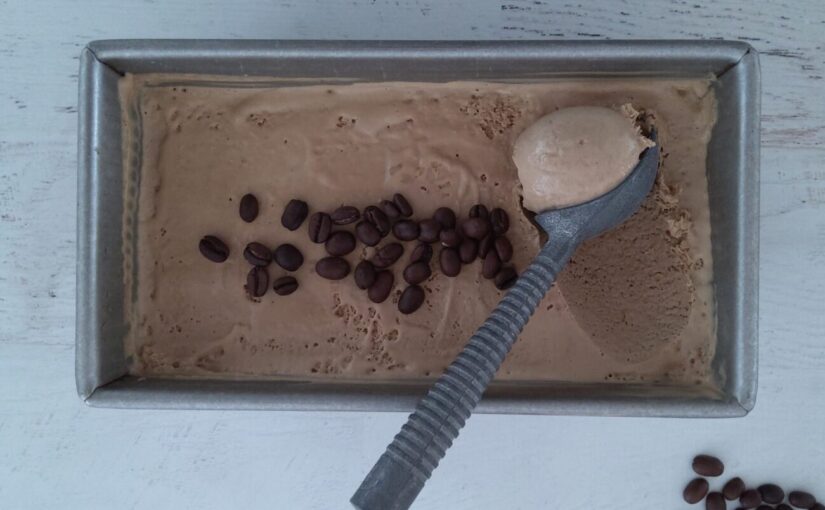 Keto No Churn Coffee Ice Cream
NO CHURN KETO COFFEE ICE CREAM
Wait until you try this fabulous recipe for No Churn Keto Coffee Ice Cream. You're about to discover that just because a recipe is sugar free, it doesn't mean there's compromise. The recipe was developed so it doesn't require the use of a churner, although you can use one if desired. Many of you don't have ice cream machines and it's just another added expense with no compromise on the end result.
I can't wait to hear your thoughts on this recipe because it absolutely delicious. No Churn Keto Coffee Ice Cream freezes beautifully and is so rich and creamy, just like ice cream should be.
THE REASON THIS RECIPE WORKS
While there are a couple of less common ingredients in No Churn Coffee Ice Cream, they are the reason this recipe is so amazing. In the past I have tried to make many different ice creams using different ingredients and haven't been truly happy with the end result. After a few attempts at a copycat version of the best low carb ice cream on the market in Australia, I believe that this is the best homemade keto ice cream recipe. Try not to switch out the ingredients used for best results.
WHERE TO BUY SPECIALTY  INGREDIENTS FROM
MCT oil and guar gum/xanthan gum are the stars of this recipe and you can source them both from iherb and from specialty stores online or instore. MCT oil is also available in some chemists as well. Note that you can also switch the MCT oil for EVOO- extra virgin olive oil. You cannot taste the MCT/olive oil at all in this recipe so don't be afraid of using it.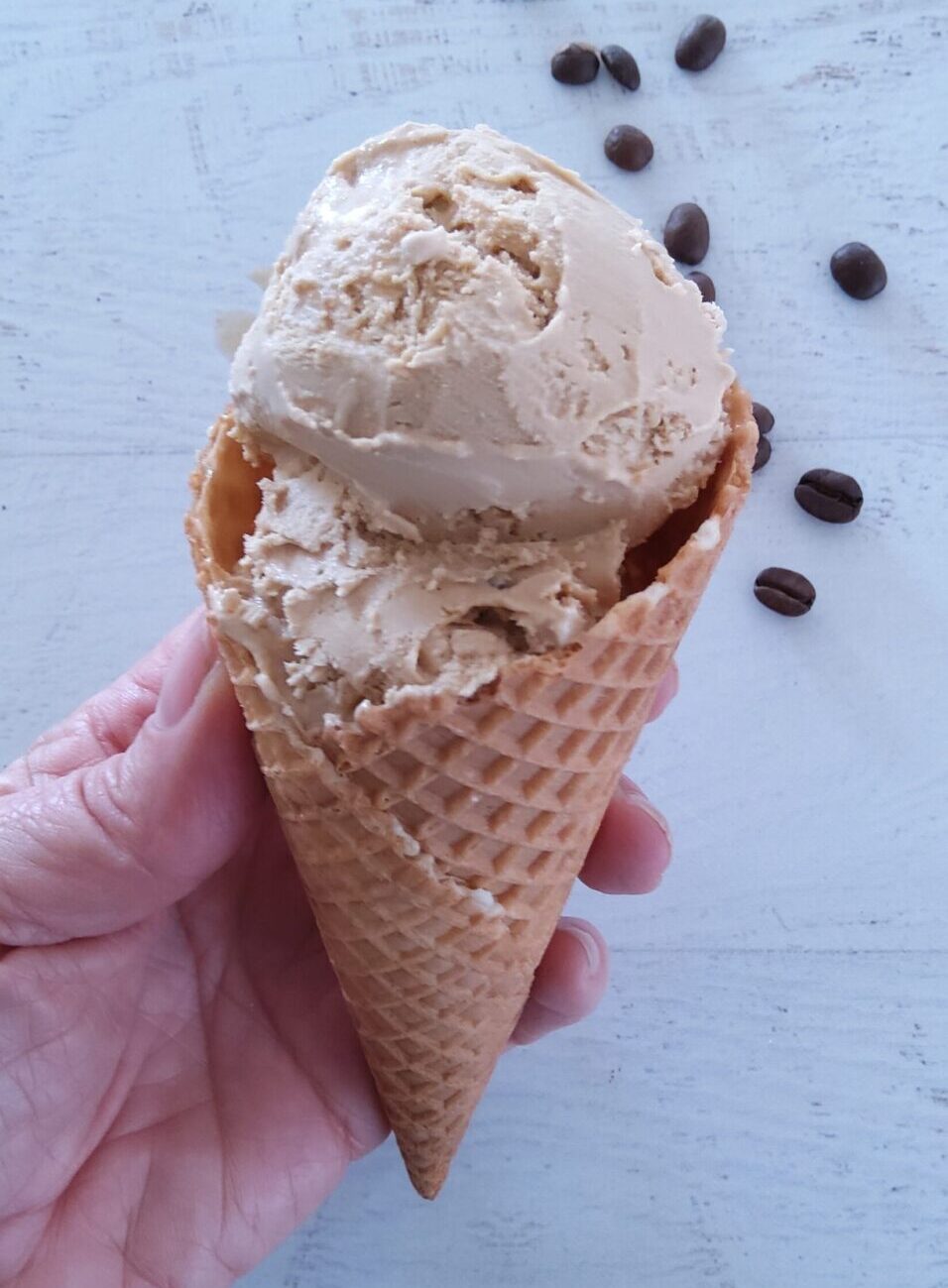 TO SERVE
A feature of low carb ice creams is that they can firm up in the freezer. Unlike regular ice cream that you can pull out and scoop into straight away, you may need to let your ice cream sit for 10-20 minutes to soften. Trust me, it is going to be worth your wait! The ice cream becomes easier to scoop out but is still rich and creamy in taste and texture. This is also the reason why xylitol is brilliant in ice cream recipes. Xylitol doesn't crystallize like other sweeteners do in the freezer.
STORING YOUR ICE CREAM
Make sure your ice cream is stored in air tight containers to prevent the ice cream from crystalizing. I store it in one large container or into smaller individual serve containers for convenience.
MORE FABULOUS ICE CREAM RECIPES
Rather than spend lots of money buying keto ice cream from the store,try these delicious home made ice cream recipes. I love this rich and creamy No Churn Chocolate Ice Cream and you simply can't go past a No Churn Vanilla Ice Cream. Although I wouldn't class myself as a peanut butter fan, this Peanut Butter Ice Cream Recipe is an absolute treat. And…it is both vegan and paleo.
One of my all time favourite recipes is Strawberry Swirl Cheesecake Ice Cream and you can't go past Creamy Vanilla Macadamia Ice Cream. All of these ice cream recipes are suitable to make in bulk, in a churner and can also be used in ice cream molds.
If you want to be a bit more creative with an ice cream dessert make sure you also check out these recipes for an Ice Cream Pudding Cake as well as a more traditional Ice Cream Cake. Both of these recipes are perfect for celebration cakes such as dinner parties, birthdays and Christmas. They are always crowd favorites with both the young and old coming back for more.
Let me know what you think of this recipe.
Kx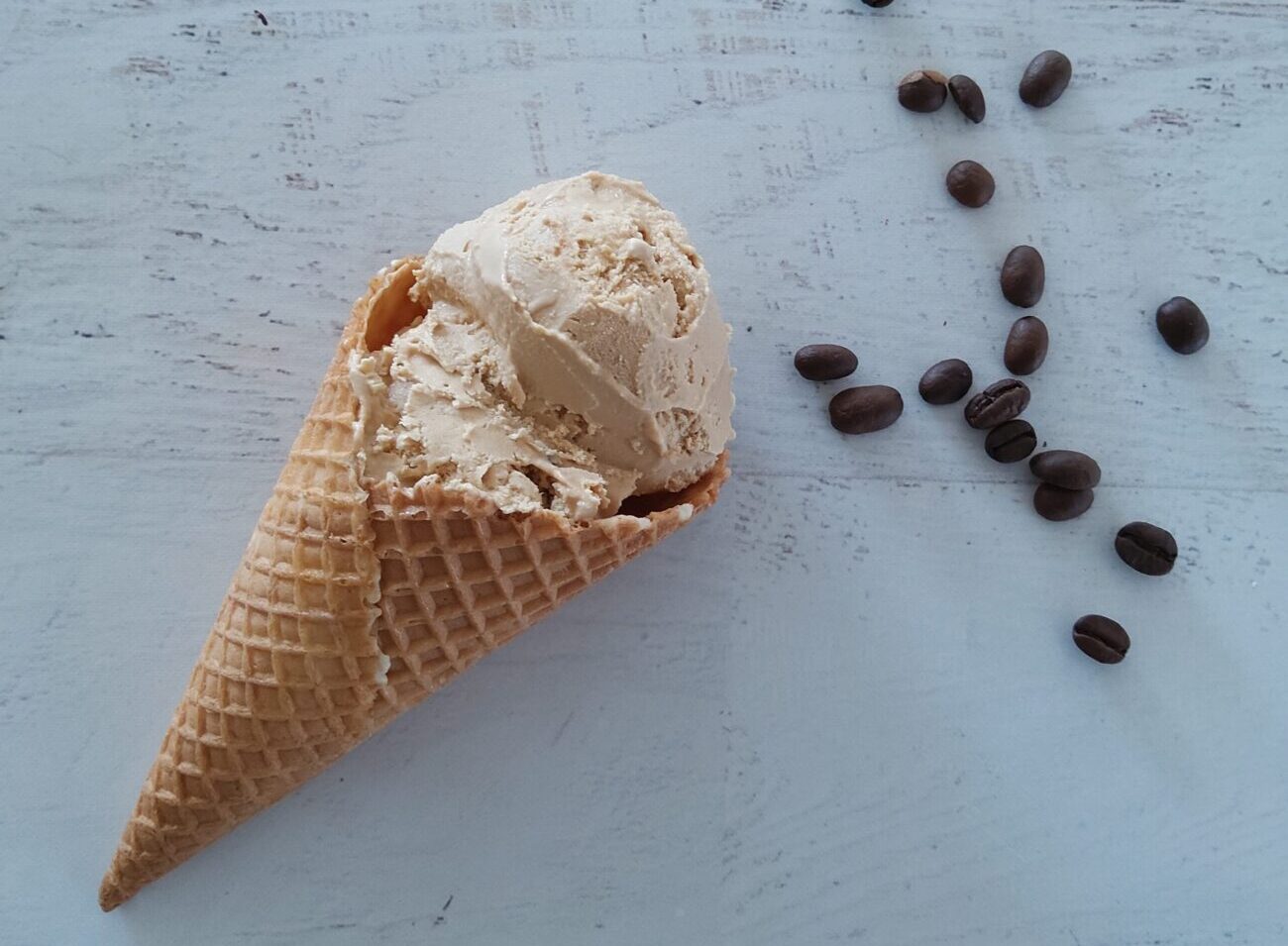 Ingredients
½

cup

xylitol

see notes for using alternative sweeteners

600

ml

pure/heavy cream

125

ml

quality coconut milk or almond milk sugar free

-for a creamier ice cream use coconut cream

¼

cup

instant coffee powder

or reduce to 2 tablespoons for milder flavor

1

teaspoon

vanilla extract

2

egg yolks

A pinch of sea salt

2

tablespoons

MCT oil

-or EVOO (extra virgin olive oil)

¼

teaspoon

guar gum

very accurately measured. See notes for using xanthan gum.
Instructions
Heat the sweetener, half of the cream and milk of choice to just below boiling point. Remove from heat and whisk in the coffee powder, vanilla extract and a pinch of salt. Add the egg yolks and whisk really well. Return the pan to the stove top over a low heat and simmer for about 4-5 minutes, continually whisking the mixture. Allow to cool completely on the bench then place in the fridge.

Whip the remaining cream until thick in a medium mixing bowl. Add the cooled mixture from the fridge and the MCT oil and whip until fully combined.

Finally, sprinkle or use a sieve to sift your precisely measured guar gum over the ice cream mixture and beat it in quickly until it is well combined with electric beaters. Take particular care here not to over mix but ensure that the guar gum is well mixed in. Note-sprinkle the guar gum away from the edges of the bowl as it can clump there. Scrape the sides of your bowl down while beating to ensure the gum is beaten into the mixture really well.

Pour your ice cream mixture into a freeze proof container that has a lid, or ensure your ice cream container can be well sealed to prevent icing up.

Leave the ice cream to freeze until firm. Generally overnight is ideal. The ice cream will firm up the longer it is in the freezer, which is when you will be grateful that softening agents (the oil and the gum) are used in the recipe.

Allow the ice cream to sit on the bench for about 10-20 minutes prior to serving if it is too firm to scoop. Trust me it will be worth the wait! Enjoy.
Recipe Notes
This recipe was made to be no churn ice cream so you don't need an ice cream maker. The ice cream can be made in the churner if desired by following your churners instructions once it has been created following the instructions above.
If you want a creamier ice cream, make sure you use coconut cream instead of coconut milk or almond milk. Coconut milk/almond milk will reduce the calories slightly and the end result will be slightly icier. Coconut cream (my favorite) is creamier and richer in flavor.
If you don't have guar gum, try adding ½ teaspoon of xanthan gum in its place. Guar gum is preferred if possible. Ensure you accurately measure the guar gum or the xanthan gum before adding either of them to the recipe. If you use too much, your ice cream will end up being too claggy.
Although testing showed excellent results using a range of sweeteners, xylitol is the best sweetener to use in ice cream as it doesn't crystallize when frozen. If you use an alternative sweetener, there is no guarantee that the end result will be the same as it would be if xylitol was used. Taste the ice cream mixture so you can adjust the sweetness to your own taste.
If you don't have MCT oil you can simply omit. Try switching it for the equivalent amount of EVOO- extra virgin olive oil, as long as it is a light tasting EVOO and not "light olive oil." This will help prevent your ice cream from icing up and create a smoother texture. You will not be able to taste it.
Add 1/2 cup dark chocolate choc chips/grated chocolate for Coffee Choc Chip Ice Cream. 
Nutritional Information
Serving:
1
of 12 serves
|
Calories:
289
kcal
|
Carbohydrates:
2.3
g
|
Protein:
11.7
g
|
Fat:
19.8
g
Note that we calculate our own nutritional values so they may not be precise. Calculate your own if desired. Carb values exclude sugar alcohols such as Erythritol, as they generally have no impact on blood sugar levels. 50% of the carbs from Xylitol is added to nutritional values. This is consistent with industry practice.
Do you want to receive more recipes like this one? Subscribe to our newsletter now!