Low Carb Char Kway Teow Malaysian Konjac Noodles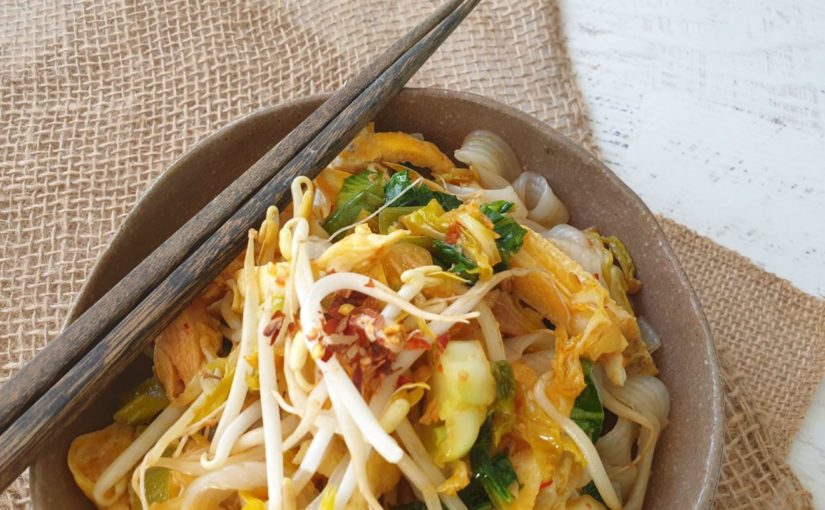 Low Carb Char Kway Teow Malaysian Konjac Noodles
Low Carb Char Kway Teow Malaysian Konjac Noodles remind me of going to the street markets in Singapore where you will find plenty of vendors hawking their specialty dishes. Featuring Konjac noodles instead of traditional rice noodles means this dish is keto kosher. Konjac noodles have opened up a world of new recipes for anyone watching their carb intake and it is in dishes like this that they star. Replacing rice noodles with konjac/shirataki noodles is the absolute best way to use these low carb noodles.
Konjac Noodles
Shirataki or konjac noodles are a healthy and delicious noodle replacement.  They are thin, translucent, gelatinous traditional Japanese noodles made from the konjac yam. "Shirataki" actually means white waterfall, referring to the appearance of these noodles. Low in carbs and gluten free, they are ideal for many different ways of eating. Source your Konjac noodles from your local supermarket or store or from Japanese or Asian specialty stores.
Make sure you cook your noodles according to the instructions on the packet. Some people complain of a funny smell but I have never had an issue with that, and I cook with many different brands. There can be a bit of a strange smell when you first open them as they are stored in liquid but it dissipates once they have drained and are cooked. For more reading on konjac noodles you might want to check out this article.
https://www.healthline.com/nutrition/shirataki-noodles-101
Lup Chong- Chinese Sausage
Lup Chong- Chinese sausage traditionally features in Char Kway Teow and is available in the larger supermarkets and Asian stores. Similar perhaps to chorizo but it's the Chinese version. Feel free to use either the Lup Chong pork/chicken mince if you don't want to use chicken strips in the recipe.
More Recipes Featuring Konjac Noodles
If you are looking for more fabulous recipes that feature konjac noodles, you might want to check these great recipes out! Try searching for 'konjac' in the search bar as well and you will find all of the recipes that feature konjac noodles.
Low Carb Pad Thai
Asian Slaw with Konjac Noodles
Beef Chow Mein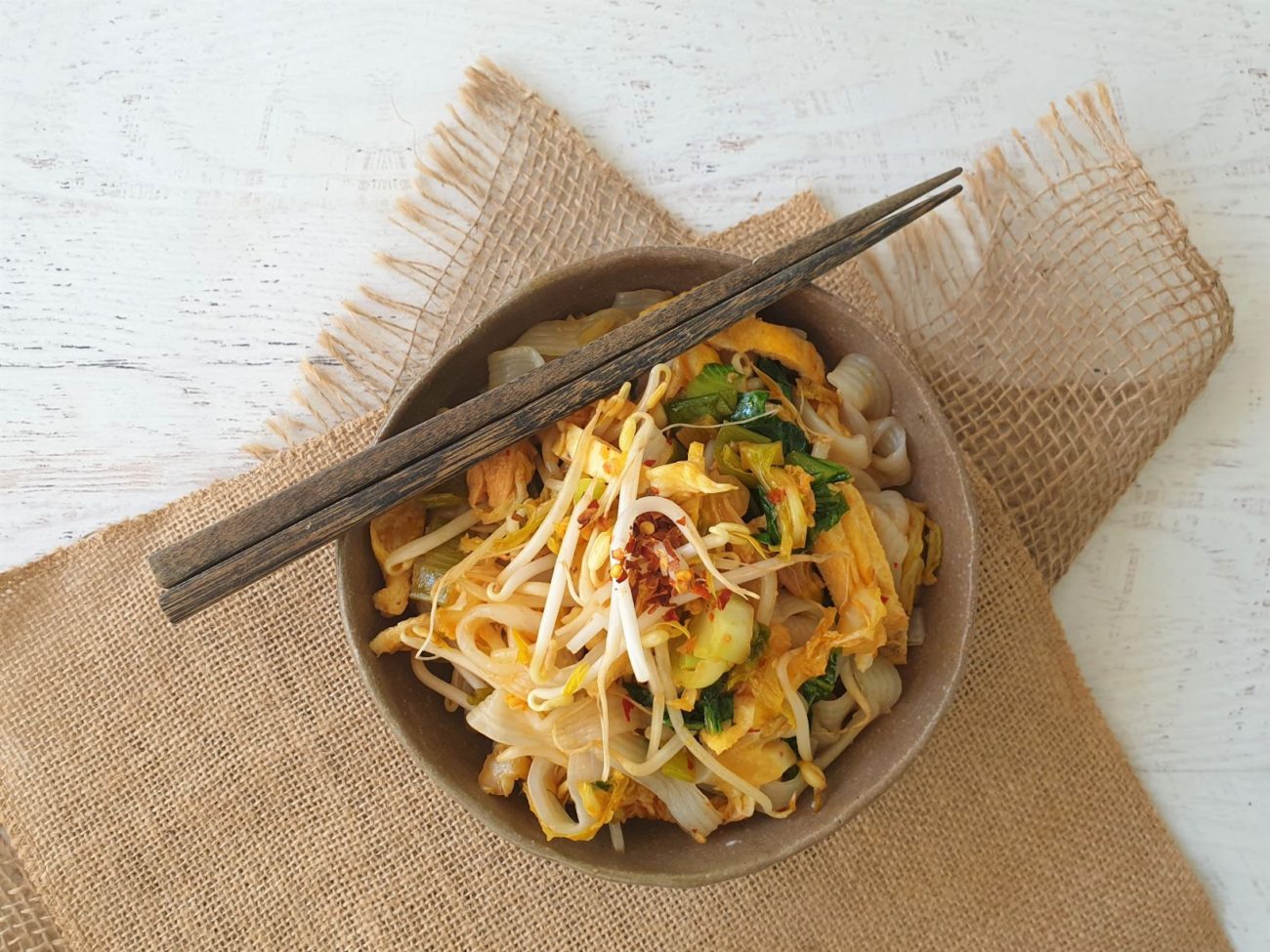 Ingredients
4

tablespoons

tamari

1

tablespoon

fish sauce

1

tablespoon

sugar free BBQ sauce or tomato sauce

½

teaspoon

Worcestershire sauce

1

tablespoon

stevia blend

or monk fruit blend/sweetener of choice to taste

2

tablespoons

lard or EVOO (extra virgin olive oil)

4

eggs beaten with salt and pepper

150

grams

about 20 medium prawns fresh or frozen, deveined

optional

3

teaspoons

minced chili or ground chili paste

or to taste

3

teaspoons

minced garlic

400

gms

chicken thighs

thinly sliced

1

bunch

bok choy finely sliced

optional

2

cups

Chinese cabbage thinly sliced

1

cup

bean sprouts

1

cup

garlic chives/chives or spring onions chopped on the diagonal

2

packets

400 gm/14 oz Konjac- noodles to serve 4

800 grams/28 oz packaged and not drained
Instructions
Mix tamari, BBQ sauce, fish sauce, Worcestershire sauce and sweetener in a small bowl.

Drain the konjoac noodles and soak in boiling water for a few minutes. Drain in a colander and set aside.

Heat a drizzle of oil/lard in a large nonstick frying pan over medium heat. Pour half of the beaten eggs into the pan and distrubute evenly over the base of the pan. Flip the omellete once cooked underneath and cook on the other side. Repeat with remaining egg mix. Roll the omelletes up and slice into thin strips. Set aside in a small dish.

Add the prawns and pan fry for 1 -2 minutes or until just cooked through. Add a dash of additional oil/lard if required. Remove from the pan and place into the side dish with the egg.

Add one teaspoon of garlic to the pan. Stir fry the chicken until it's cooked through. If using Chinese sausage instead, slice it on the diagonal and pan fry until the sausage has caramelized.

Add the remaining garlic and chili to the frying pan with the chicken or sausage. Add additional oil/lard if required and then add the bok choy/and or cabbage, stir frying until cooked through.

Add the sauce mixture to the pan and turn up the heat for a couple of minutes to slightly reduce the sauce. Turn the heat down to medium high.

Add the beansprouts, prawns and egg back into the pan. Toss through the konjac noodles and the chives until all ingredients have combined and are hot. Remove from the heat straight away or the shirataki/konjac noodles will break down.

Serve while hot. Top with chopped chilli if desired.
Recipe Notes
The traditional recipe uses 2 Chinese sausage (Lup Chong) sliced on the diagonal- about 150-200gms.
Use 1 tablespoon of sugar free BBQ sauce or 1/2 tablespoon tomato paste to replace the BBQ sauce.
Garlic chives can be sourced from Asian stores.
Lup Chong- Chinese sausage, is available in the larger supermarkets and Asian stores- use sliced chicken strips or pork/chicken mince if you don't want to use the sausage. Lup Chong is traditionally used in Char Kway Teow.
The noodles in Char Kway Teow are traditionally fried and taste a little smokey. Feel free to pan fry the noodles if desired in lard or oil. Do take care that they aren't overcooked or they will break down.
You can source Sugar Free Tomato and BBQ sauce from supermarkets and specialty stores. Feel free to switch it for ½ tablespoon of sugar free tomato paste.
Nutritional Information
Serving:
1
serve
|
Calories:
297
kcal
|
Carbohydrates:
10
g
|
Protein:
40
g
|
Fat:
17
g
|
Fiber:
10
g
Note that we calculate our own nutritional values so they may not be precise. Calculate your own if desired. Carb values exclude sugar alcohols such as Erythritol, as they generally have no impact on blood sugar levels. 50% of the carbs from Xylitol is added to nutritional values. This is consistent with industry practice.
Do you want to receive more recipes like this one? Subscribe to our newsletter now!