Low Carb Hot Cross Buns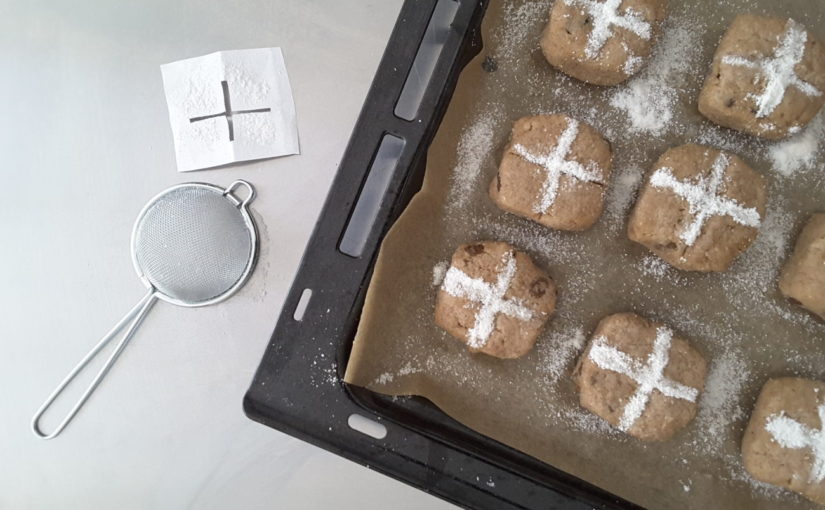 Easter can certainly be a bit challenging for anyone trying to watch their intake of sugar and carbs. Temptation is all around and the focus is definitely on sugar at this time of year. Let me make your life a little easier this year with this fabulous recipe for Low Carb Hot Cross Buns.
Flavor Alternatives for Low Carb Hot Cross Buns
I am looking forward to sharing an Easter brunch with my family and will definitely be enjoying these with a coffee at the end of the meal. They have the delicious, warm cinnamon spice flavor of a traditional hot cross bun. You can choose any additional flavors that will fit in with your lifestyle. I personally still use currants or sultanas, as I minimise how many I add and it only adds about 2.3 gms carbs to a single hot cross bun. You could also switch them for chopped blueberries or dark chocolate as well.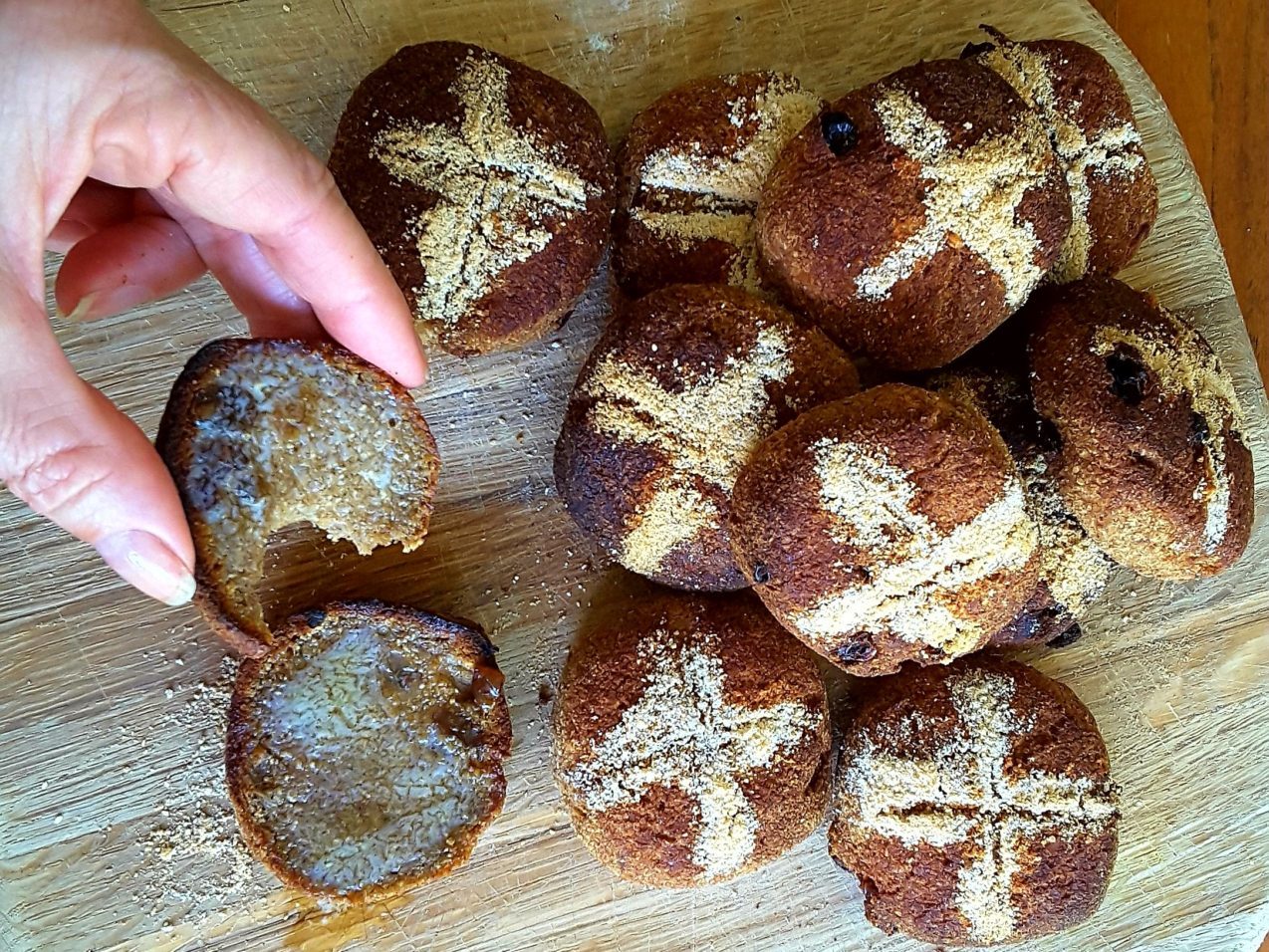 Baking Without Gluten
For any of you who are new to this lifestyle, you simply cannot make light and fluffy baked products without gluten. I just want to make sure you have the right expectations when you try these. Although these are not exactly the same in texture as a traditional hot cross bun, they are a superb substitute. Sure, I could use flour and get the right texture, but then they wouldn't be low carb. These buns however are absolutely delicious and are a brilliant low carb version of the original. They have the perfect amount of spice and a delicious moist centre. My favorite way to eat these is toasted and slathered with butter.
Using Yeast and Baking Powder
I have used dry yeast in the recipe to impart that yeasty flavor to the buns, but of course you won't get the full rising affect from yeast if you aren't using gluten. The yeast really adds to the traditional 'yeasty' flavor of the recipe, so make sure you add it. It also does help the buns rise a little as well. It's unusual to use both baking powder and yeast in the one recipe, but I have done this to try to get the buns to rise as much as possible.
This recipe will store for up to 3 days but is also great for freezing. Simply defrost quickly in the microwave straight from the freezer and pop in the toaster for a quick breakfast option.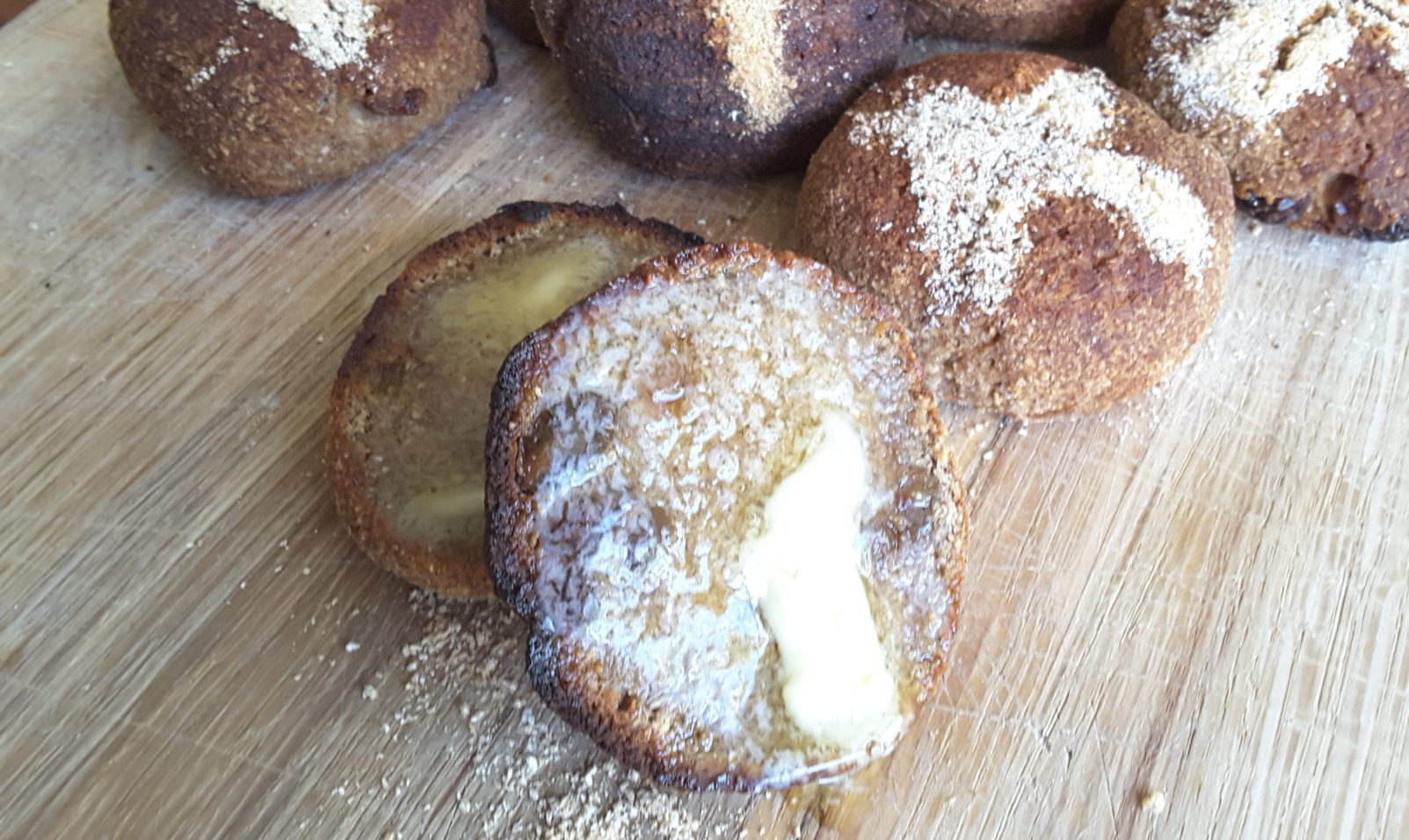 If you are looking for some other great recipe ideas for Easter, check out some of these other fantastic recipes. There are also lots of great ideas for breakfast,lunch and dinner that would be perfect for getting together with a group of friends or family for Easter.
Sugar Free Raspberry Dark Chocolate Balls
Sugar Free Chocolate Fudge Brownies
Low Carb Rocky Road
Low Carb Lemon Syrup Cake
No Bake Lemon Slice
No Bake Chocolate Slice
Low Carb Hazelnut Chocolate Bliss Balls
I hope you enjoy these as much as I do. Please let me know if you enjoyed this recipe, and it would be great if you could share it as well.
Enjoy your Easter.
Karen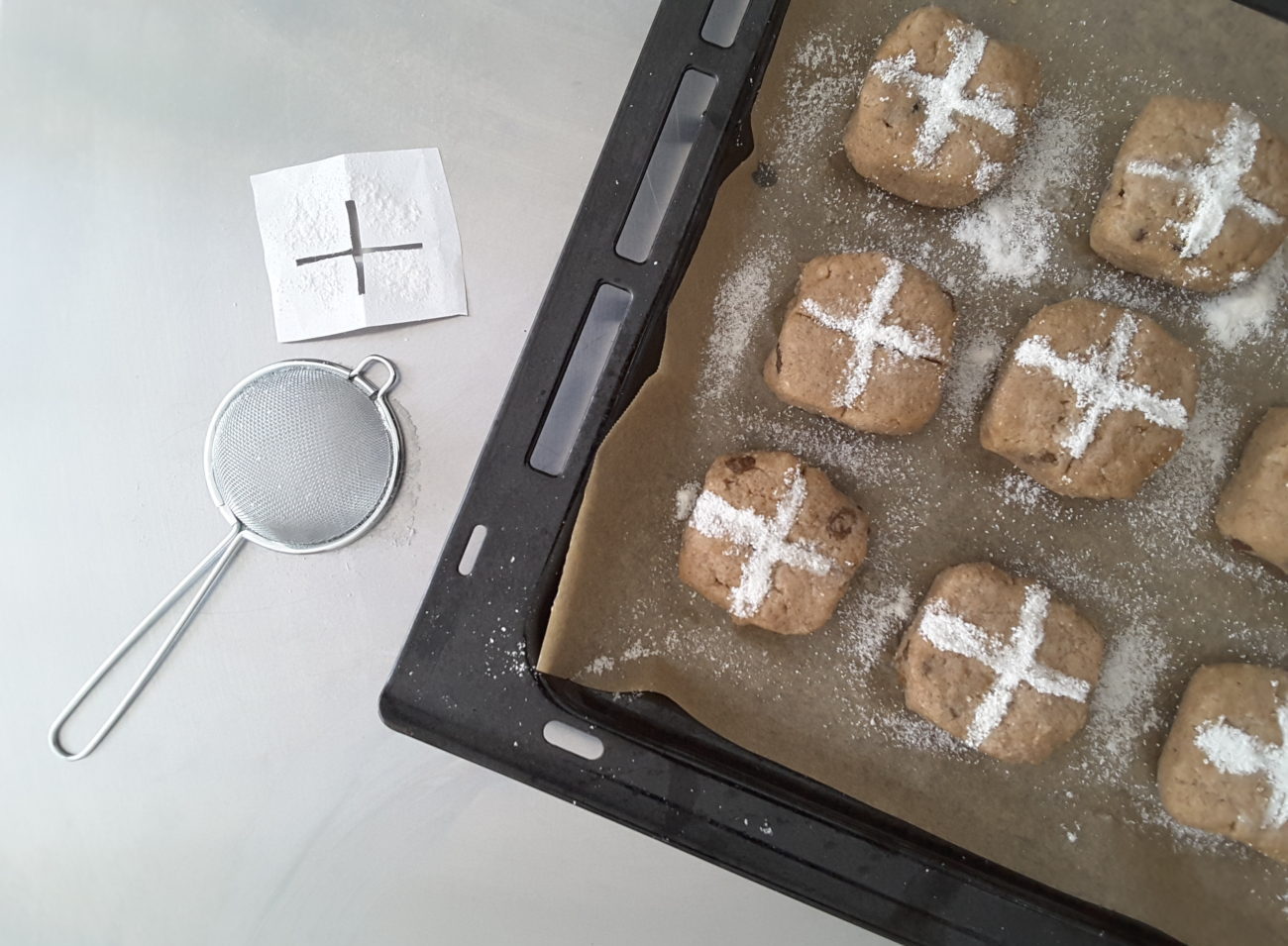 Resting time:
1
hour
15
minutes
Ingredients
Hot Cross Bun Ingredients
1.5

cups

almond meal or almond flour

1/2

cup

coconut flour

1.5

tablespoons

psyllium husk powder

1

packet

dry yeast- 7 gms or 1/4 oz

1

teaspoon

baking powder

3

teaspoons

cinnamon powder

1

teaspoon

mixed spice

1/4

cup

Erythritol

1/4

cup

sultanas- optional

1

tablespoon

orange peel zest- optional

1/2

teaspoon

salt

1

cup

warm water-I use 1/3 cup boiling and 2/3 cold water

3

large

eggs

2

tablespoons

melted butter
For Glazing and Crosses
1

egg beaten

1

tablespoon

coconut flour
Instructions
Preheat a fan forced oven to 175 C/340 F.

Mix all dry ingredients so they are well combined in a large mixing bowl, including the packet of dry yeast. Mix though the sultanas and the orange peel.

Beat the 3 eggs for a few minutes with a hand mixer until light and frothy.

Add the eggs, melted butter and warm water to the dry mix and stir until well combined. Make sure ingredients are really well blended, and use a spatula to knead the dough a little in the bowl.

Cover with cling wrap and leave for 45 minutes in a warmish place.

Divide dough into 12 equal pieces. Hand knead each piece and create into your desired hot cross bun shape. Place on a piece of baking paper on a light colored baking tray, leaving a gap in between each bun so air can circulate.

Cover the tray with a clean cloth or cling wrap and leave in a warm place for another 30 minutes.

Using a blunt instrument, press crosses into the tops of the buns but don't actually cut the dough. Cut out a cross template on a piece of paper or card.

Beat the egg for the glaze and brush or use fingers to apply to the tops of the buns. Using your template and a small sieve, dust a liberal amount of coconut flour onto the buns.

Bake buns for 45-55 minutes or until the buns are cooked on the inside. You may need to cut one in half to check the middle of the bun before removing from the oven.

If buns brown too quickly, cover them with some foil and turn the oven down a little.
Recipe Notes
To Serve
Slice in half and toast on medium heat in the toaster, taking care not to burn. Slather with butter and enjoy. Variations
Omit the sultanas and switch for 1/4-1/2 cup chopped blueberries for a lower carb version.
Use 1/4 cup dark chocolate chips instead of fruit for Low Carb Chocolate Chip Hot Cross Buns.
Nutritional Information
Serving:
1
serve
|
Calories:
135
kcal
|
Carbohydrates:
5
g
|
Protein:
5
g
|
Fat:
9
g
|
Fiber:
3
g
Note that we calculate our own nutritional values so they may not be precise. Calculate your own if desired. Carb values exclude sugar alcohols such as Erythritol, as they generally have no impact on blood sugar levels. 50% of the carbs from Xylitol is added to nutritional values. This is consistent with industry practice.
Do you want to receive more recipes like this one? Subscribe to our newsletter now!