Low Carb Ramen Noodles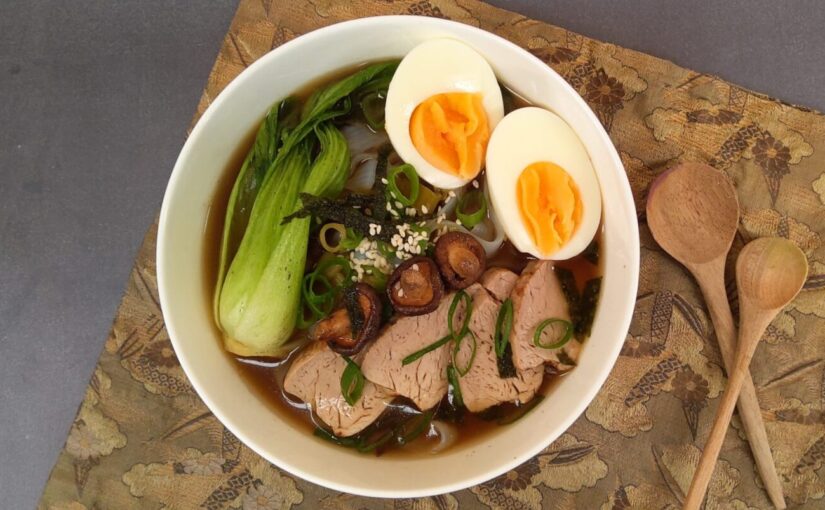 When it comes to soup, nothing is better than a huge bowl of these delicious Low Carb Ramen Noodles. Ramen is a popular Japanese dish that is basically a hearty meat broth brimming with noodles and wonderful 'umami' flavors. Ramen is the Japanese version of chicken noodle soup for the soul. It's rich in protein and a meal in a bowl that tastes amazing. One of my all time favorite soups, what I love about this version is it's quite quick and easy to make. Serve it topped simply with a boiled egg, a scattering of spring onions and some nori flakes for a nourishing heartwarming meal that you are going to love.
CHASHU- ROLLED PORK BELLY
Traditional ramen is quite a process and requires the making of Chashu- which is rolled pork belly that has been pan fried, simmered in water and then simmered in a basting sauce. It's a bit of a process (although not difficult) and takes a fair amount of time. The recipe below  features an instant recipe for pork fillet (beef or chicken) which means you can whip this recipe up in a shorter amount of time.
If you want to make a more traditional Chashu- check out the recipe below the recipe for the quicker version. You can thank th lovely Japanese ladies in my cooking classes in Tokyo for this fabulous method to cook Chashu. If you have the time to make it, it really is the icing on the cake when served on top of ramen. Note that I only make this when I have the time, as the quicker version is more convenient for everyday cooking.
WHAT NOODLES SHOULD I USE IN LOW CARB RAMEN NOODLES
Ramen and shirataki or konjac noodles are made for each other. Simply drain the juice that the noodles come in and sit in boiling water for a couple of minutes, draining them again before adding to your bowls. You can also add the noodles straight to the broth, or simply pour the stock on top of the noodles in the bowl to heat them up. Due to the delicious taste of the broth, there is no aftertaste at all that some find with shirataki noodles. Shirataki/konjac noodles are Japanese so they go hand in hand with a bowl of hearty ramen noodles.
SWITCH IT UP TO SUIT YOUR TASTES
Feel free to play around with the ingredients in this recipe. You can make it a vegan/vegetarian dish by using vegetable stock and adding tofu. If you don't want to use pork in the recipe you can switch it for chicken or beef. You can also add seaweed/kelp to the recipe such as dried wakame. You need to ensure that it simmers for long enough to tenderize, so add it immediately so it cooks sufficiently.
If you don't want to cook your own meat you can also buy sliced beef or pork from the deli and use it in the recipe. Make sure you ask them to slice your pork or beef slices thicker, and allow them to heat up in the broth to tenderize before serving. You can also cook the chicken in the broth for about 20 minutes before slicing and serving as per the recipe. I wouldn't recommend this method if using beef or pork though, as the meat will be tough.
CARBS OR NO CARBS
One of the things I love about this recipe is that you can easily carb it up. Save the shirataki/konjac noodles for those watching their carbs and cook up traditional ramen noodles for those not concerned about carbs. Cater for everyone and customize each individual bowl.
TOPPING IDEAS
Top your low carb ramen noodles with a soft/medium to hard boiled egg cut in half, fresh enoki, or shredded seaweed nori. Sprinkle spring onions/scallions, chili flakes, sesame seeds and dried shitake mushrooms on top prior to serving. Sesame chili oil, tamari and Shichimi Togarashi (yum) seasoning can also be added to your noodles for additional flavors.
Reminiscent of the many ramen bowls I enjoyed while living in Tokyo, I think you are going to love this authentic tasting recipe.  Don't forget to share your efforts and tag me @ketohh #alowcarblowsugarlifestyle.
Itadakimasu!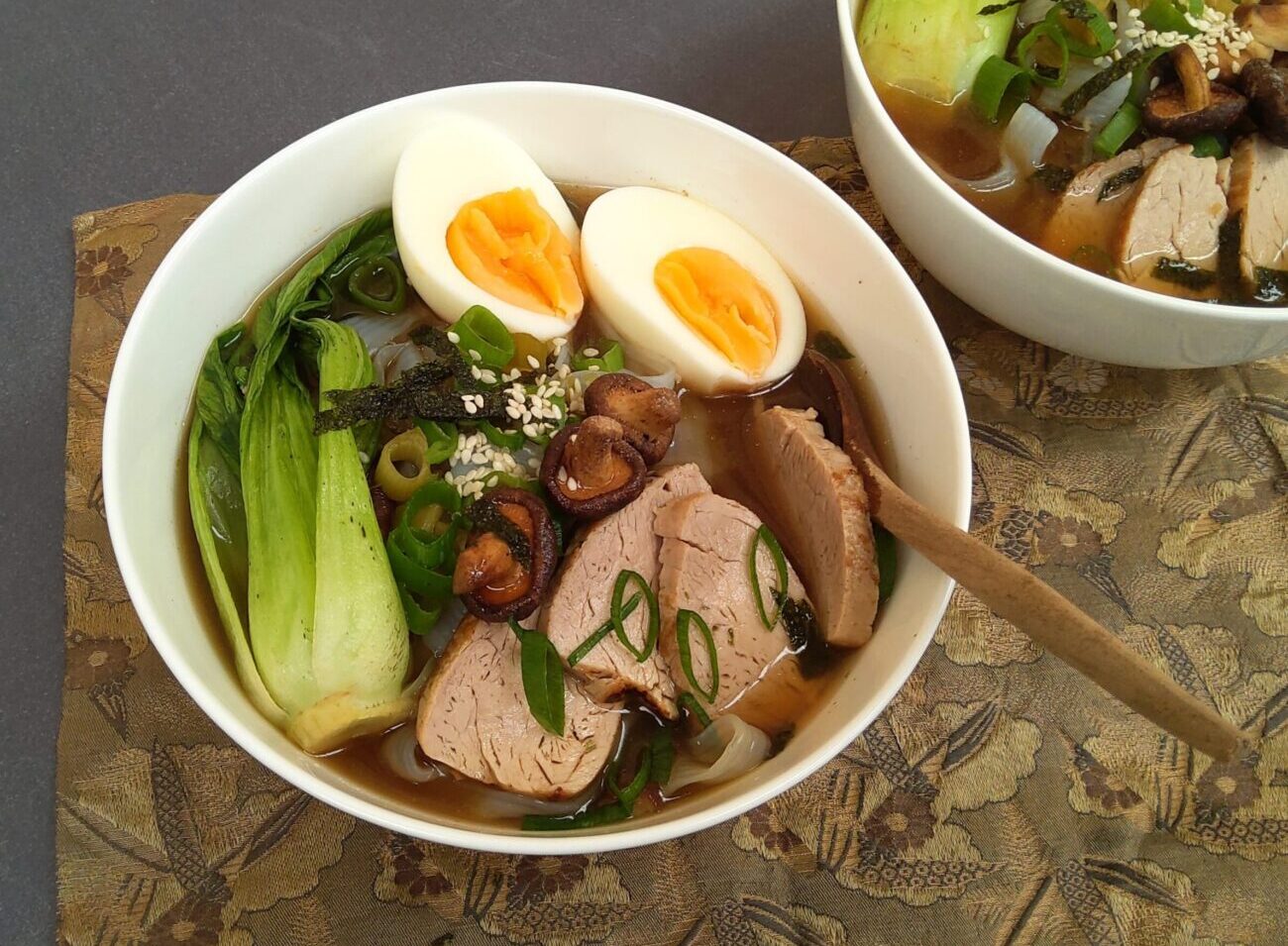 Ingredients
Instructions
Boil Your Eggs
See method below for how to cook boiled eggs to soft/medium/hard or use your favorite cooking method. This can be done well in advance and eggs can be stored in the fridge.

Method-cover the tops of 4 eggs with cold water in a small saucepan and bring to a rapid boil. Turn the heat off after they have come to the boil and put the lid on immediately. Leave the pan to sit with the lid on for a further 8 minutes for soft-10 minutes for medium or 12 minutes for hard boiled eggs. Pour off water and plunge eggs into ice cold water. Allow to sit for 10 minutes in cold water. Peel eggs and cut in half to serve. Eggs can be allowed to cool as they will heat up in the broth when served.
Prepare Your Meat
Season your meat of choice well with salt and pepper. Heat a mid sized saucepan to medium high, add the oil and sear the meat on all sides to seal. Continue to cook for another 5 minutes, turning every minute before adding the tamari, sweetener and water to the pan. Immediately place the lid back on the saucepan and turn the temperature down to simmer for another 15 minutes or until the meat has cooked through in the centre.

Remove the meat from the pan, cover it with aluminium foil and allow to rest while making the broth. Leave the juices in the saucepan to use to make your ramen broth.
Make Your Ramen Broth
Place the chicken stock/broth, miso paste/miso soup concentrate, mushrooms, spring onions, ginger, garlic, chili (if using), tamari and sweetener to the pot you seared the meat in. Stir and cover the pot with a lid. Allow it come to boil then lower the heat and simmer for about 15-20 minutes. Taste the broth and season with salt and pepper if required.

Add the whole Bok Choy to the ramen broth and simmer for about 4 minutes or zap in the microwave for 2-3 minutes until soft and wilted but still green.

While the bok choy is cooking, drain the shirataki noodles in a colander, discarding the liquid the noodles came in. Just before serving, pour boiling water over the noodles in the colander and allow to drain again. If using traditional ramen noodles for carb lovers cook as per instructions and drain- note that more time is needed to cook traditional noodles . Divide the drained noodles amongst 4 large soup bowls.

Divide the ramen broth between the four bowls, placing a wilted bok choy bunch on top of each ramen noodle bowl.

Cut the meat into thick slices and divide evenly among the noodle bowls. Sprinkle each bowl with chopped spring onions/green onions and place 2 egg halves into each bowl. Add other toppings as desired such as enoki mushrooms, bean sprouts, sesame seeds, chili flakes, chili oil and/or Shichimi Togarashi. Additional tamari can also be added if desired.
Additional Recipe for Chashu- Rolled Pork Belly
1kg Pork Belly

EVOO-olive oil to pan fry

¼ cup erythritol or sweetener of choice

¼ cup tamari

½ cup of water

2 teaspoons minced garlic

1 teaspoon minced ginger

Source a thin piece of pork belly with a balanced amount of fat to meat about 1kg/2 lbs in weight. Tenderise it with a mallet and roll it up with string into a tight roll.

Season the the pork belly really well with salt and pepper. Heat a large frying pan with a lid, on high and add a dash of sesame oil or EVOO-extra virgin olive oil. Panfry the pork in the hot oil to sear all of the edges.

Add enough water to cover the pork belly and simmer gently with the lid on for about 1 hour. Remove the stock and reserve/freeze to use to in your ramen broth.

Add ¼ cup erythritol or monkfruit/sweetener of choice, ¼ cup tamari, ½ cup water, 2 teaspoons minced garlic and 1 teaspoon minced ginger to the pan stirring well to combine. Baste the pork belly with the sauce, place the lid on and turn the heat down to it's lowest point. Simmer gently simmer for one hour, rotating the pork every 15 minutes.

Turn the temperature off and allow the pork to continue to slowly cook with the lid on. Allow the pork to cool down before wrapping in cling wrap and refrigerating overnight. Slice thickly (about ¼ "/½ cm thick) to serve on top of ramen. Can be frozen to use at a later date.
Recipe Notes
Cook larger portions of meat and freeze or refrigerate for later use. The meat will need to simmer longer to ensure that it cooks on the inside. 
Choose longer thinner cuts of meat so that it cooks quickly. Shorter squat pieces will take longer to cook in the centre.
If using chicken, it can be poached in the broth for 20-25 minutes, removed from broth and sliced prior to serving for an simpler option.
Buy thick sliced roast pork or beef from a deli to use in your ramen instead of cooking your own. Poach it in the broth for about 5 minutes to soften just prior to serving your ramen.
For a vegan/vegetarian option use vegetable stock and add tofu in lieu of the meat. Additional vegetables and seaweed such as wakame can also be added for a nutritional boost.
Add 1/4-1/3 cup of dried wakame seaweed when adding the spring onions/shallot for a nutritional boost. It needs to simmer for about 15-20 minutes to soften.
Add 2-3 tablespoons of mirin if desired but note that it is high in sugar.
Coconut Aminos can be used in place of Tamari.
If you have pork bones or left over pork bones from a roast, pressure cook or slow cook with onions and added water to create a delicious pork broth to use in this recipe
I tried freeze dried seasoned shitake mushroom crisps sourced from Coles supermarket as a garnish in the recipe above and they were absolutely delicious. The crispy texture was a delicious contrast to the ramen broth. These were so good you could snack on them.
Nutritional Information
Serving:
1
serve
|
Calories:
641
kcal
|
Carbohydrates:
10
g
|
Protein:
108
g
|
Fat:
18
g
|
Fiber:
3
g
Note that we calculate our own nutritional values so they may not be precise. Calculate your own if desired. Carb values exclude sugar alcohols such as Erythritol, as they generally have no impact on blood sugar levels. 50% of the carbs from Xylitol is added to nutritional values. This is consistent with industry practice.
Do you want to receive more recipes like this one? Subscribe to our newsletter now!