Miso Eggplant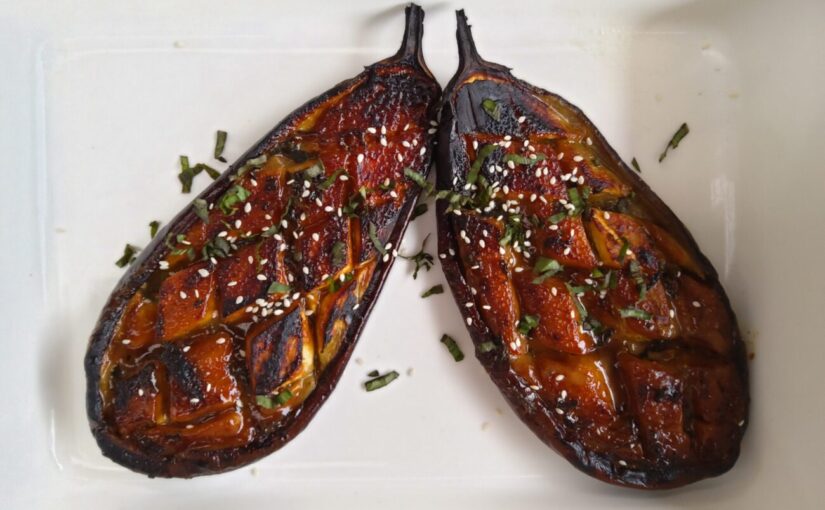 Glazed Miso Eggplant or Sugar Free Nasu Dengaku is a recipe you are going to absolutely love. Basically it is eggplant brushed with a slightly sweet miso glaze and browned until it caramelizes. Not only is it delicious but it can be ready to eat in less than 20 minutes. The flavors imparted in this dish are savory and slightly sweet with hints of smokiness, thanks to caramelising the miso glaze at the end of cooking.
Eggplant is one of those vegetable that has surged in popularity more recently, thanks to fabulous recipes like Nasu Dengaku. The key to this recipe is ensuring that the eggplant melts in your mouth when you eat it but is still firm enough to hold together when you are serving it. Follow the steps in this recipe and you'll be a pro at cooking miso eggplant to perfection.
Sugar Free Miso Eggplant Recipe Options- Instructions Include Instant or a More Traditional Recipe
As I live part time in a rural area, I know how hard it can be to source exotic ingredients such as the ones that are in this traditional recipe. Desperate times call for desperate measures though and I have managed to create a quick and easy version of this recipe by using "instant Miso Soup paste" that I bought at my local supermarket.
If you have the ingredients and want to make the traditional recipe then there are instructions for that as well. Having made both versions, I have to confess that there is not much difference in flavor so there really isn't a second best. The convenience of the instant version does make it the easier option to make though.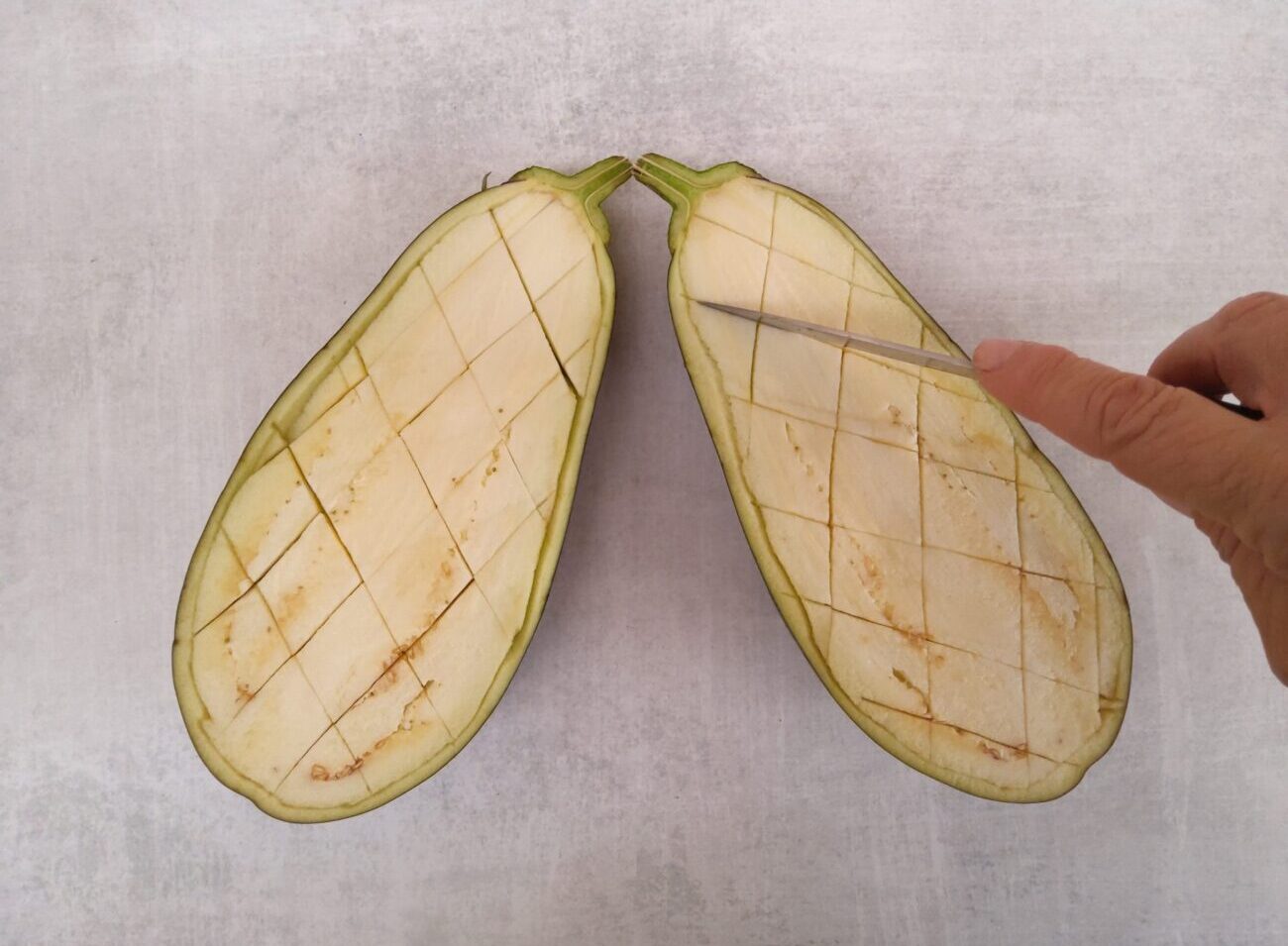 WHAT IS NASU DENGAKU?
Miso Eggplant or Nasu Dengaku is a classic Japanese side dish made with eggplant sliced in half, scored and brushed with a slightly sweet miso glaze. Translated in Japanese, it basically means grilled over a fire. This recipe doesn't require an open fire. Firstly steam the eggplant and then sear it at a high temperature, followed by grilling/broiling and you have the same result. Regardless of the cooking method, the key to this dish is to caramelize the miso glaze, which is achieved in this recipe by grilling or broiling.
EGGPLANT
I like to use a couple of medium eggplants for this recipe but feel free to switch it out for a baby eggplants. You may have to vary the amount of time that you steam your eggplant depending on the size and thickness, so check it as you are microwaving, if you use smaller eggplant.
Many people still like to soak and salt their eggplant to remove the bitterness that allegedly exists. I have not salted eggplant for many years and to be honest, don't believe that it is necessary particularly with a recipe as flavorsome as this one. If you still want to soak your eggplant by all means do it prior to steaming your eggplant.
INSTANT RECIPE
If you can get your hands on some instant 'Miso Soup', then this recipe is really simple to make. The instant miso soup generally comes in single serve sachets that you normally add water to. In this recipe, we use the paste as it comes out of the sachet, add a little sweetener and some rice wine vinegar before basting the eggplant. It is that easy to make and the sachets last a long time which is great. Having to throw out a packet of miso because it is out of date won't be an issue when you use sachets in this recipe. The miso sachets are generally a bit easier to source as well.
A MORE TRADITIONAL VERSION
Miso Paste -You can use any miso paste that you like such or white or red. You can also use awase miso, which is a mixture of both red and white miso paste.
Mirin is a rice wine that has been fermented that is a little sweet. You can omit it if you can't source it. It can be found in supermarkets, Asian grocery stores and online.
Rice wine vinegar is used to replace the more traditional sake in this recipe. If you have sake, feel free to use it to replace the vinegar.Sweetener– Adding sweetener adds a hint of sweetness to this dish. It also helps caramelize the dish under the grill/broiler at the end. Feel free to use your sweetener of choice such as a monk fruit or stevia blend, erythritol or xylitol. I also love to use a brown sweetener if possible as it adds to the caramel flavours of the recipe.
Topping Options- for a traditional Nasu Dengaku are to sprinkle sesame seeds on top as well as freshly grated ginger. Sliced shiso leaves can also be sprinkled on top.
MORE LOW CARB JAPANESE RECIPES
I hope you enjoy this recipe as much as I do. It's certainly up there as a favorite of mine and I'll often eat this alone for quick and easy but satisfying meal. If you are looking for some more low carb Japanese dishes, make sure you check out these recipes for Okonomiyaki, one is a chaffle recipe that I shared during the chaffle craze, while the other recipe is quite similar but I use my large waffle iron or a heavy based frying pan to cook the okonomiyaki in.
Okonomiyaki Chaffle
Okonomiyaki
Don't forget to share your efforts if you find the time to make Miso Eggplant, and tag me #ketohh #alowcarblowsugarlifestyle. Make sure you stay posted as well, as this recipe has inspired me to come up with some more low carb Japanese recipes, reminiscent of the years that I was lucky enough to live in Tokyo.
Kx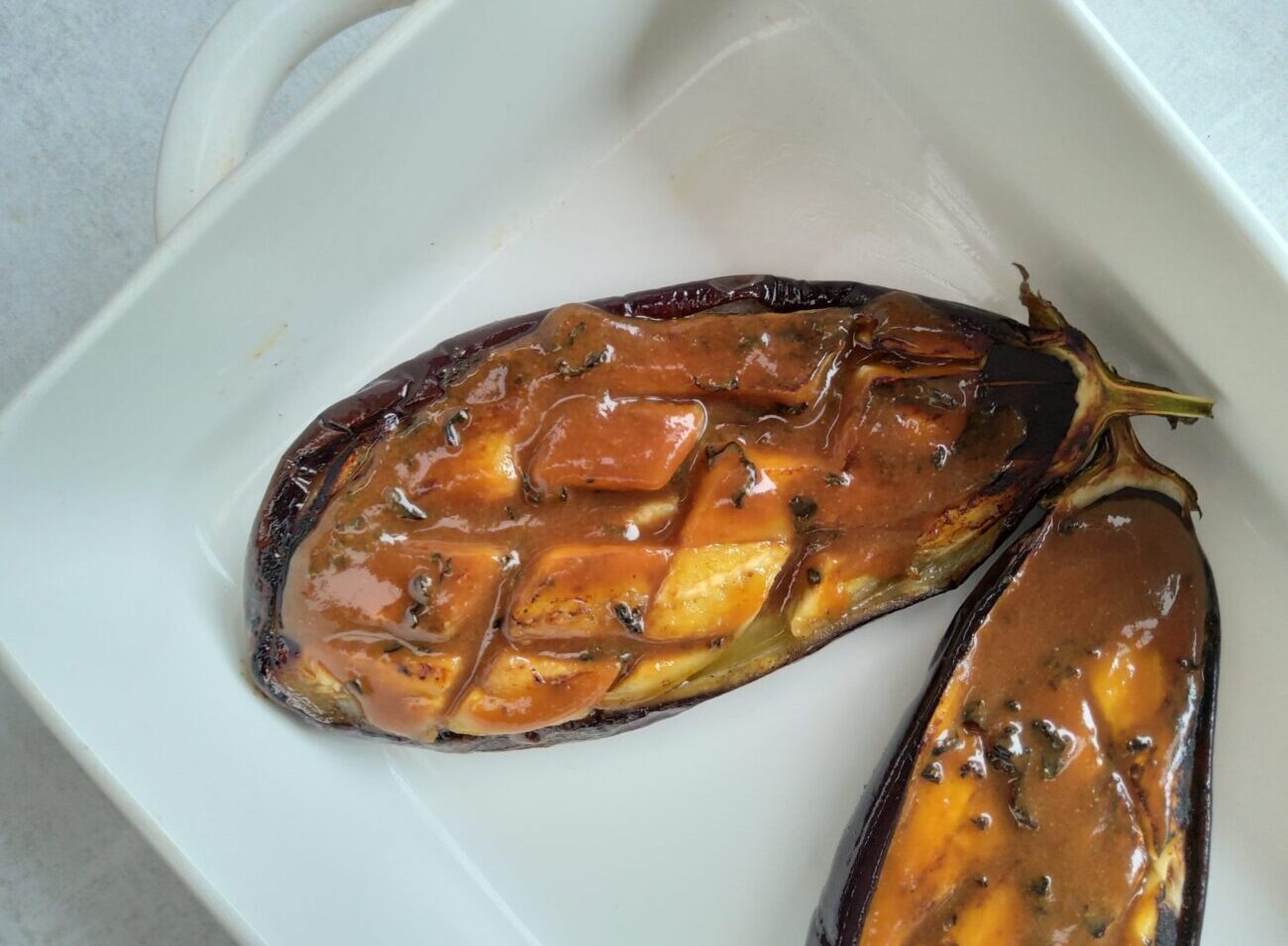 Ingredients
2

medium

eggplant

alternatively use baby eggplant

½

tablespoon

EVOO- extra virgin olive oil
Quick and Easy Instant Miso Glaze
3

packets

Instant miso soup sachets

I buy the Hikari Miso Soup in packets of 12 from Coles or Woolworths in Australia

½

tablespoon

Rice wine vinegar

or sake

½

tablespoon

Tamari

or alternative such as soy sauce

2

teaspoons

Monk fruit sweetener

or substitute and to taste
Traditional From Scratch Miso Glaze
3

tablespoons

/1/4 cup Miso

red, white or Awase (a mix of red and white)

1

tablespoon

Mirin

or switch for ½ tablespoon Tamari for a sugar free choice

1

tablespoon

Rice wine vinegar

or sake

2

teaspoons

Monk fruit sweetener

or substitute and to taste
Topping Options
Shiso leaves slice

Finely sliced/grated fresh ginger
Instructions
Make the miso glaze using recipe of choice and mix until smooth.

Prepare your eggplant by cutting in half lengthwise. Run a sharp knife along the outside of the eggplant between the flesh and the skin, all around the edge, to allow it to cook through more evenly. Finally score the flesh of each eggplant half with a sharp knife in a diagonal criss cross pattern.

Microwave the eggplant in a covered dish in the microwave on high for about 5 minutes. Vary time to suit for smaller/baby eggplant.

Spray the eggplant halves with olive oil or add oil to a heavy pan, and sear it on both sides for a couple of minutes. Ensure that both the skin and the flesh have browned- particularly the skin which can even be charred a little. Remove from the pan (if required) and place skin down on a grill proof pan.

Brush each eggplant half generously on top with the miso glaze.

Grill/broil on a high temperature until the miso glaze caramelises and bubbles.

To serve, you have the option to top with any of the following- sesame seeds, grated ginger and/or sliced shiso leaves (if you can source them). Serve immediately.
Recipe Notes
Note that Mirin is quite high in sugar so please omit if it doesn't suit and use tamari or soy sauce instead.
Sweetener used was equivalent to 1:1 sugar. If your sweetener is more concentrated, use less. Adjust sweetener to taste. 
Note that the nutritional values will vary in this recipe depending on the ingredients that you use. I have based the values on the 'instant' version that uses packaged miso soup.
Feel free to increase the amount of miso glaze used in the recipe if desired. Just mix up more.
Tamari is a Japanese naturally fermented soy sauce that is my preferred option always where ever a recipe calls for soy sauce. It's gluten free and a lot healthier than soy sauce.
Nutritional Information
Serving:
1
serve
|
Calories:
64
kcal
|
Carbohydrates:
11
g
|
Protein:
2
g
|
Fat:
3
g
|
Fiber:
5
g
Note that we calculate our own nutritional values so they may not be precise. Calculate your own if desired. Carb values exclude sugar alcohols such as Erythritol, as they generally have no impact on blood sugar levels. 50% of the carbs from Xylitol is added to nutritional values. This is consistent with industry practice.
Do you want to receive more recipes like this one? Subscribe to our newsletter now!