Strawberry Swirl Cheesecake Ice Cream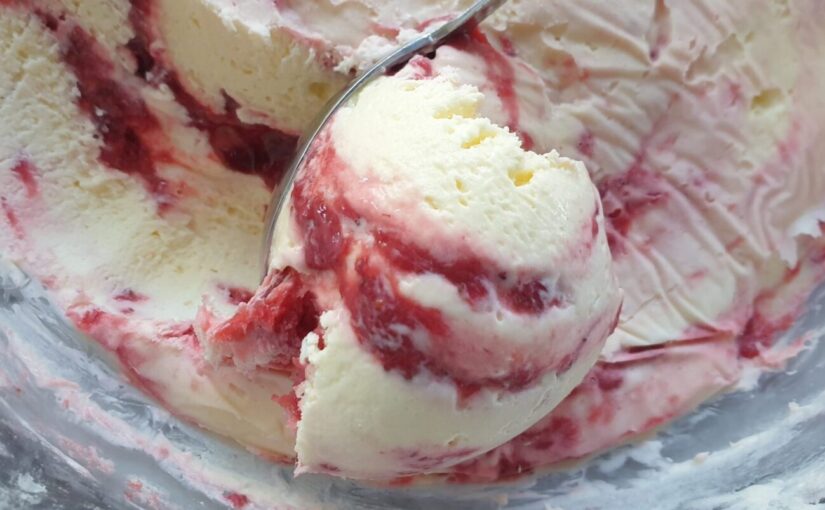 Strawberry Swirl Cheesecake Ice Cream
I'm really excited about this sugar free low carb recipe for Strawberry Swirl Cheesecake Ice Cream. The combination of cream cheese and strawberries is absolutely divine in this frozen dessert. Not only is it made with simple fresh ingredients but you don't need a churner to make it either-although you can use one if desired. This delicious dessert is ideal for anyone watching their sugar and carb intake and is great for keto and diabetics as well.
I can't believe how expensive the keto ice creams are to buy from the supermarket. Once you taste this, you won't be buying it again. It's really easy to make and there is absolutely no comparison between this homemade version and a store bought ice cream. Do the taste test on this fabulous recipe for strawberry cream cheese swirl ice cream and there's no going back.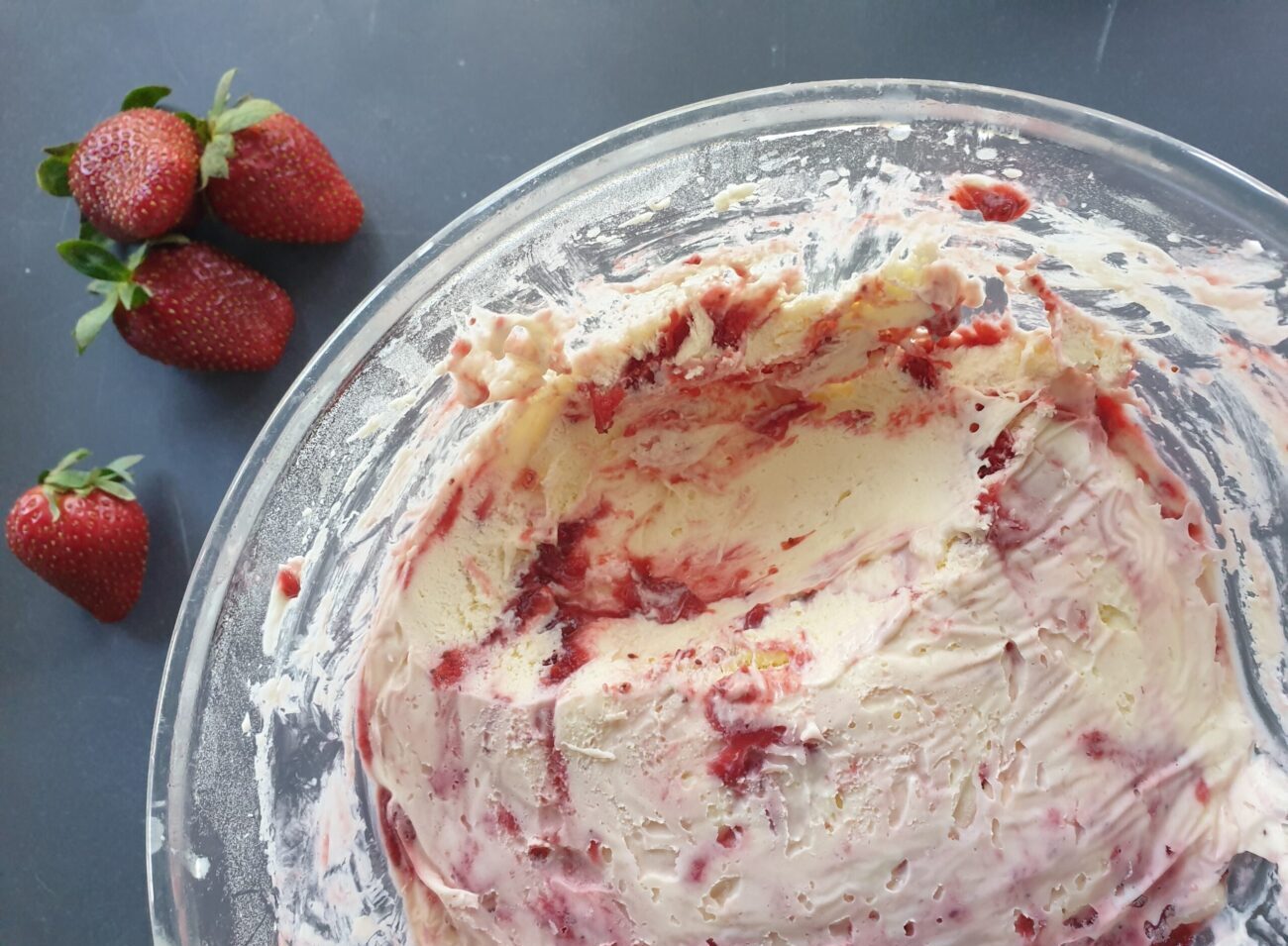 Xylitol and Freezing
You'll notice wherever I can, I use xylitol if I'm freezing food such as an ice cream recipe like this. Xylitol doesn't crystallize like other sweeteners do, which means your ice cream won't ice up. Feel free to use sweeteners that you have on hand in this recipe. If you are churning your ice cream and eating it straight away it won't be an issue. Make sure your ice cream is covered and well sealed in the freezer as well to help prevent it icing up.
Making Your Strawberry Swirl
I have used all of the sweeteners in the strawberry swirl recipe and it doesn't make a huge difference to the end result. It might ice up a little more if you haven't used xylitol but as it sits at room temperature prior to serving, this won't be an issue. Use your strawberry compote in other recipes as well. It tastes fabulous served with Greek yoghurt for a delicious dessert and is fab topped on cheesecake such as this Sugar Free No Bake Cheese Cake recipe.
Guar Gum
Guar gum powder helps to increase the viscosity of ice cream. As the viscosity increases in ice cream, the smoothness of texture and resistance to melting increases. If you don't have guar gum you can omit it and add the same amount of xanthan gum. Make sure you sprinkle the guar gum(xanthan gum) to the wet ingredients when it isn't too thick.
Beat your cream cheese until smooth and creamy then whip the cream in slightly till smooth before sprinkling the guar gum on top. Make sure you use a small sieve and sprinkle evenly over the top surface to prevent clumping. Use electric beaters to whip until combined. Don't over beat or thicken too much before pouring into your ice cream container.
Allow Ice cream to sit at Room Temperature before Serving
Strawberry swirl cheesecake ice cream doesn't have the additives that regular ice cream has, so allow it to soften before serving. Leave it out on the bench for about 15 minutes before scooping.
More Fabulous Sugar Free Low Carb Ice Cream Recipes
Rather than spend lots of money buying keto ice cream from the store, try these delicious home made ice cream recipes. I love this rich and creamy No Churn Chocolate Ice Cream and you simply can't go past a No Churn Vanilla Ice Cream. Although I wouldn't class myself as a peanut butter fan, this Peanut Butter Ice Cream Recipe is an absolute treat as well- and is both vegan and paleo. All of these ice cream recipes are suitable to make in bulk, in a churner and can also be used in ice cream molds.
If you want to be a bit more creative with an ice cream dessert make sure you also check out these recipes for an Ice Cream Pudding Cake as well as a more traditional Ice Cream Cake. Both of these recipes are perfect for celebration cakes such as dinner parties, birthdays and Christmas. THey are always crowd favorites with both the young and old coming back for more.
Let me know what you think of this recipe.
Kx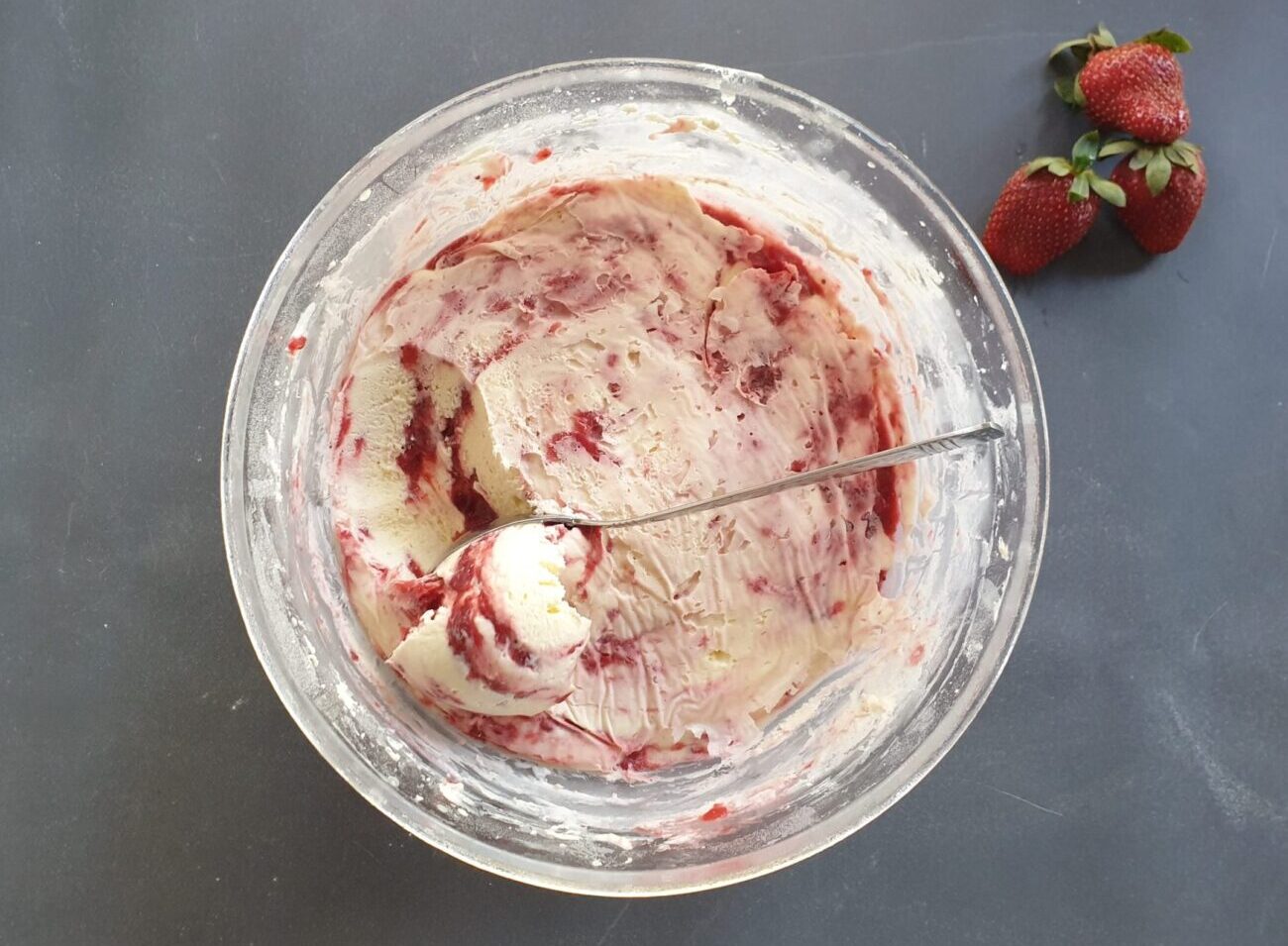 Ingredients
Strawberry Compote
300

grams

hulled strawberries

fresh or frozen

2

tablespoons

monk fruit

,xylitol, stevia or erythritol

¼

cup

water
Ice Cream
250

grams

cream cheese full fat

at room temperature

⅓

cup

xylitol

or alternative sweetener powdered to taste

1

teaspoon

vanilla extract

A squeeze of lemon juice

500

ml

pure/heavy cream

½

teaspoon

guar gum

optional
Instructions
Make Strawberry Compote Swirl
Roughly chop the strawberries and add to a small saucepan. Add the water and sweetener and bring to the boil, then turn down to a simmer. Allow strawberries to reduce on a low temperature for about 30 minutes or till soft. Remove from heat and mash. Allow to cool.
Make Vanilla Ice Cream
Beat the cream cheese until smooth and creamy. Add the sweetener, vanilla extract, lemon juice and cream, beating the mixture on medium to high speed until combined and smooth. Take care not to over mix but allow mixture to thicken slightly. You should also adjust your sweetener to suit taste if desired.

Sift the guar gum on top of the ice cream mixture and quickly beat in with electric beaters until well combined, again taking care not to over whip.

Place half of the ice cream mixture into a freezer proof pan. Create swirls in the mixture with the back of a spoon and dollop half of the strawberry compote into the swirls. Spoon the remaining ice cream on top and again create swirls on top with the back of a spoon. Spoon the remaining strawberry compote into the swirls and smooth off the top.

Cover the pan with cling wrap and foil/or lid and freeze until firm. This can take up to 3-4 hours or overnight. Ice cream can also be made in an ice cream churn according to instructions- usually about 10-15 minutes.

When ready to serve, if ice cream is too firm leave to sit at room temperature for about 1-0-15 minutes prior to scooping.
Recipe Notes
Add a tablespoon of MCT oil to your ice cream to help keep it soft,  especially if you aren't going to eat it all at once. It's also a great way to up your intake of MCT oil. This is optional.
Guar gum can be omitted as well if desired although it does add a creaminess to the ice cream.
To make strawberry ice cream without the swirl, add the strawberry mixture when you are beating the cream cheese to distribute the color more evenly.
Nutritional Information
Serving:
1
serve
|
Calories:
284
kcal
|
Carbohydrates:
5
g
|
Protein:
7
g
|
Fat:
27
g
|
Fiber:
1
g
Note that we calculate our own nutritional values so they may not be precise. Calculate your own if desired. Carb values exclude sugar alcohols such as Erythritol, as they generally have no impact on blood sugar levels. 50% of the carbs from Xylitol is added to nutritional values. This is consistent with industry practice.
Do you want to receive more recipes like this one? Subscribe to our newsletter now!