Sugar Free Rhubarb Berry Compote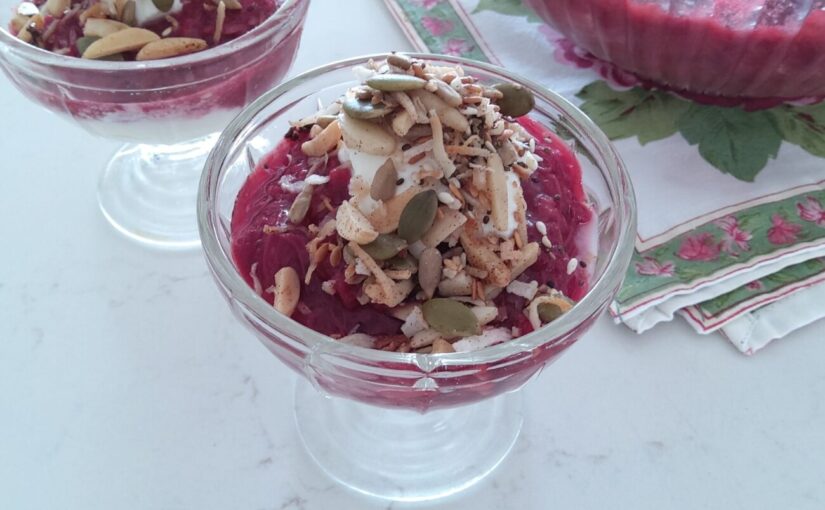 Sugar Free Rhubarb Berry Compote
Sugar Free Rhubarb Berry Compote is a fabulous low carb recipe that can be used in so many ways. Use it as a spread on toast or enjoy it for breakfast with a dollop of Greek yogurt and some low carb muesli. It's equally amazing as a dessert simply topped with a dollop of cream or yogurt or low carb vanilla ice cream. If you make your own ice cream, you could also swirl this through a vanilla or cream cheese based icecream while making it to create a delicious swirl ice cream.
By stewing the fruit on the stove top for about 30 minutes, the sauce thickens up beautifully on it's own without any need for thickeners. If you are after a thicker compote, reduce the water slightly or simmer the fruit longer on the stove top.
SWEETENERS
This is a recipe that you can use any sweetener you desire in as long as it is granulated or powdered. If you are using one of the more concentrated sweeteners, I would only add 1 or 2 tablespoons to start off with and build up in small increments if you need to. You'll find this recipe doesn't really need much sweetener added because of the natural fructose in the fruit. Substitute the sweetener for the same amount of regular sugar or coconut sugar if it fits in with your way of eating but this will increase the carbs and also the hit on your blood sugars.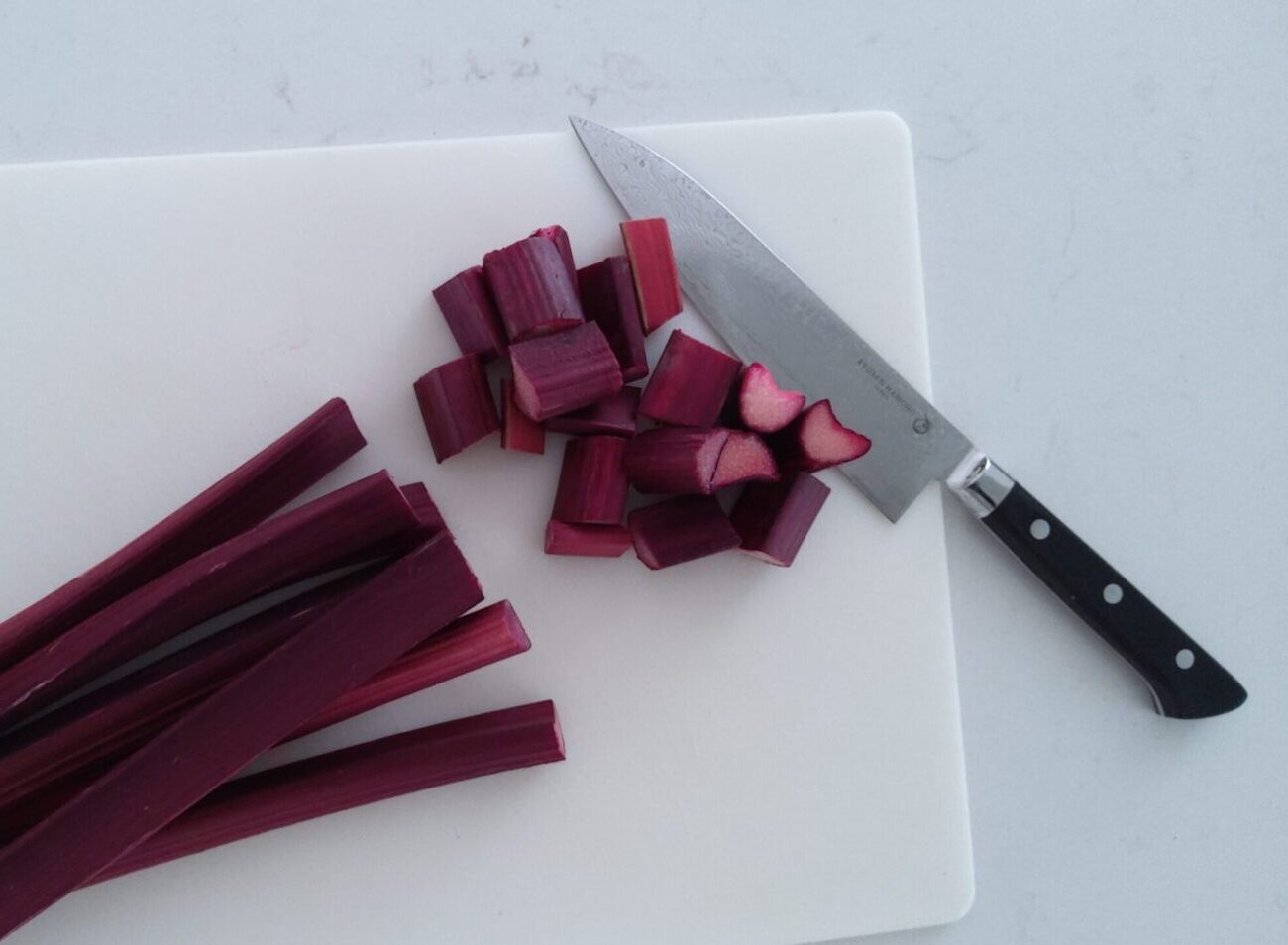 COOKING TIPS
You'll find that the best ratio of rhubarb to berries is 1:1. If you are using your own measurements then try to increase or reduce the amount of water added accordingly. The best berries to use for this recipe are mixed berries (frozen or fresh), raspberries and strawberries. You could use raspberries or strawberries on their own with the rhubarb but I suggest only using blackberries if they are combined with mixed berries.
CANNING SUGAR FREE PRODUCE
I would not take the risk of canning products like this. It's not worth the risk of consuming bad food that hasn't been preserved properly. I recommend freezing for up to 6 months to store any excess, to prevent any risk to your health.
MORE FABULOUS RECIPES
If you like this recipe you also might want to check out this fabulous recipe for a Keto Rhubarb Berry Crumble. This compote can also be used for the base if desired, it's a little bit wetter but will work beautifully.
When rhubarb is in season, I always tend to have a container of compote sitting in my fridge. There's never any question of what I am going to have for breakfast as a couple of tablespoons of compote, Greek yoghurt and muesli/granola makes the perfect keto breakfast. This combination also makes a great healthy dessert or snack as well.
Muesli and Granola Recipes-
Sugar Free Granola
Healthy Coconut Macadamia Granola
Ketohh Low Carb Muesli
Thanks so much to my gorgeous neighbour Ann for sharing her home grown Rhubarb that features in this recipe.
I hope you guys enjoy this recipe as much as I do!
Kxx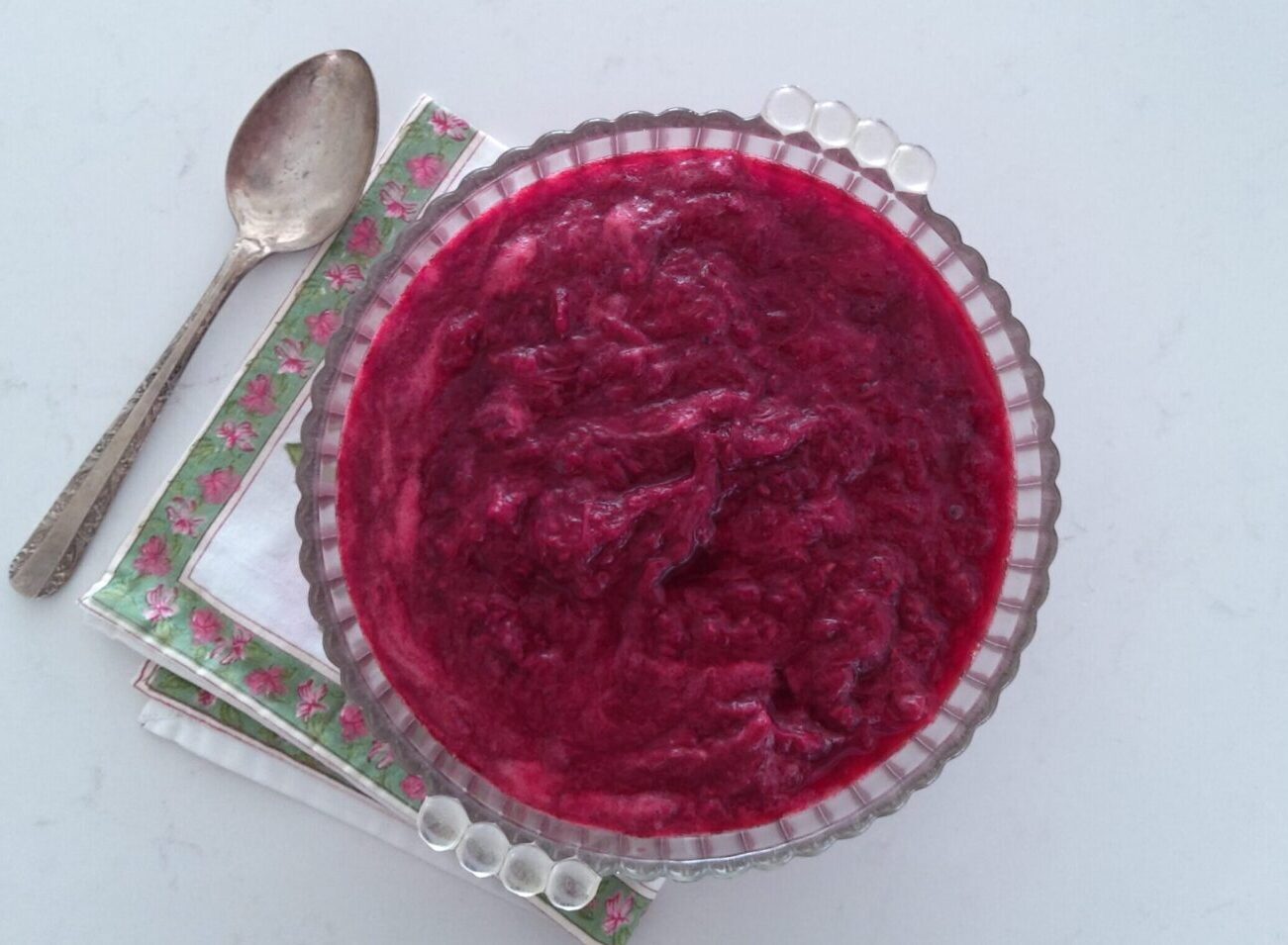 Ingredients
Fruit Filling
500

gms

rhubarb

trimmed and diced into 1 "/ 2.5 cm chunks

500

gms

mixed berries, raspberries or strawberries

fresh or frozen

½

cup

water

⅓

cup

monk fruit

(1:1 to sugar), erythritol, xylitol or alternate sweetener - see notes

Finely grated zest of 1 lemon and a squeeze of lemon juice
Instructions
Simmer rhubarb, berries, water, sweetener, lemon zest and lemon juice in a medium saucepan over medium heat and cook for about 30 minutes or until the liquid has reduced enough to suit. Stir mixture to breakdown the rhubarb and berries. Taste the mixture and add additional sweetener if desired. It should still retain a little tartness and not be overly sweet because the topping is also sweet.

Serve hot or cold with your favorite cream, yogurt and/or low carb ice cream or serve with muesli and yoghurt for breakfast.
Recipe Notes
Adjust sweetener to suit your taste. 
If switching sweeteners and you are using a stevia or monk fruit blend, use the same amount specified in the recipe if they are replacement 1:1 for sugar. If they are a lot more concentrated you may only need to use 2 tablespoons.
Recipe can be made using coconut sugar or regular sugar if it fits in with your way of eating.
Strawberries or raspberries on their own can be used in lieu of the mixed berries, and can be fresh or frozen. I wouldn't suggest blackberries alone for this recipe.
Serves are based on a serving of 2 generous tablespoons. You may find it goes a lot further than 30 serves if you are conservative with your serves.
Nutritional Information
Serving:
1
serve
|
Calories:
29
kcal
|
Carbohydrates:
2
g
|
Fiber:
1
g
Note that we calculate our own nutritional values so they may not be precise. Calculate your own if desired. Carb values exclude sugar alcohols such as Erythritol, as they generally have no impact on blood sugar levels. 50% of the carbs from Xylitol is added to nutritional values. This is consistent with industry practice.
Do you want to receive more recipes like this one? Subscribe to our newsletter now!