Hemp Seed and Red Pepper Pesto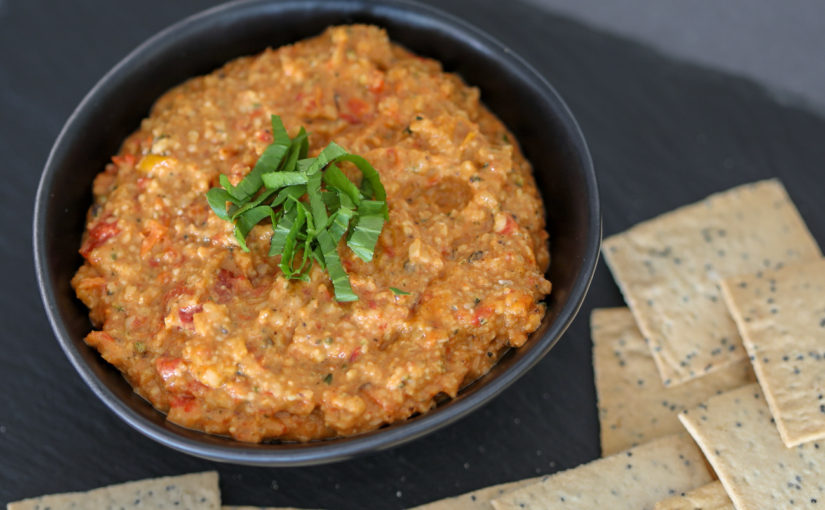 Hemp Seed and Red Pepper Pesto
Hemp Seed and Red Pepper Pesto
This delicious healthy take on a red pepper pesto is amazingly easy to make. It simply replaces the nuts that are traditionally used in pesto, with hemp hearts/hulled hemp seeds. This gives this dip an amazing nutritional boost, and also makes it ideal for anyone with a nut allergy or who is trying to reduce their nut intake. The health benefits aside, this recipe for Hemp Seed and Red Pepper Pesto tastes amazing.

Use this dip as a healthy snack by serving it with seed crackers or low carb vegetable sticks. It's also fantastic served as an appetizer or dip if you have guests dropping in, and is a great addition to a grazing platter. If you're after a really simple meal that takes no time to throw together, then try some pesto heated up and tossed through some pasta or Zucchini Zoodles, with an extra dash of olive oil. Serve with some freshly grated cheese and you have an instant, nutritious and delicious meal. You can also freeze this pesto to use at a later date. Some people like to freeze it in ice cube trays for small portions so it's easy to add to pasta sauces etc.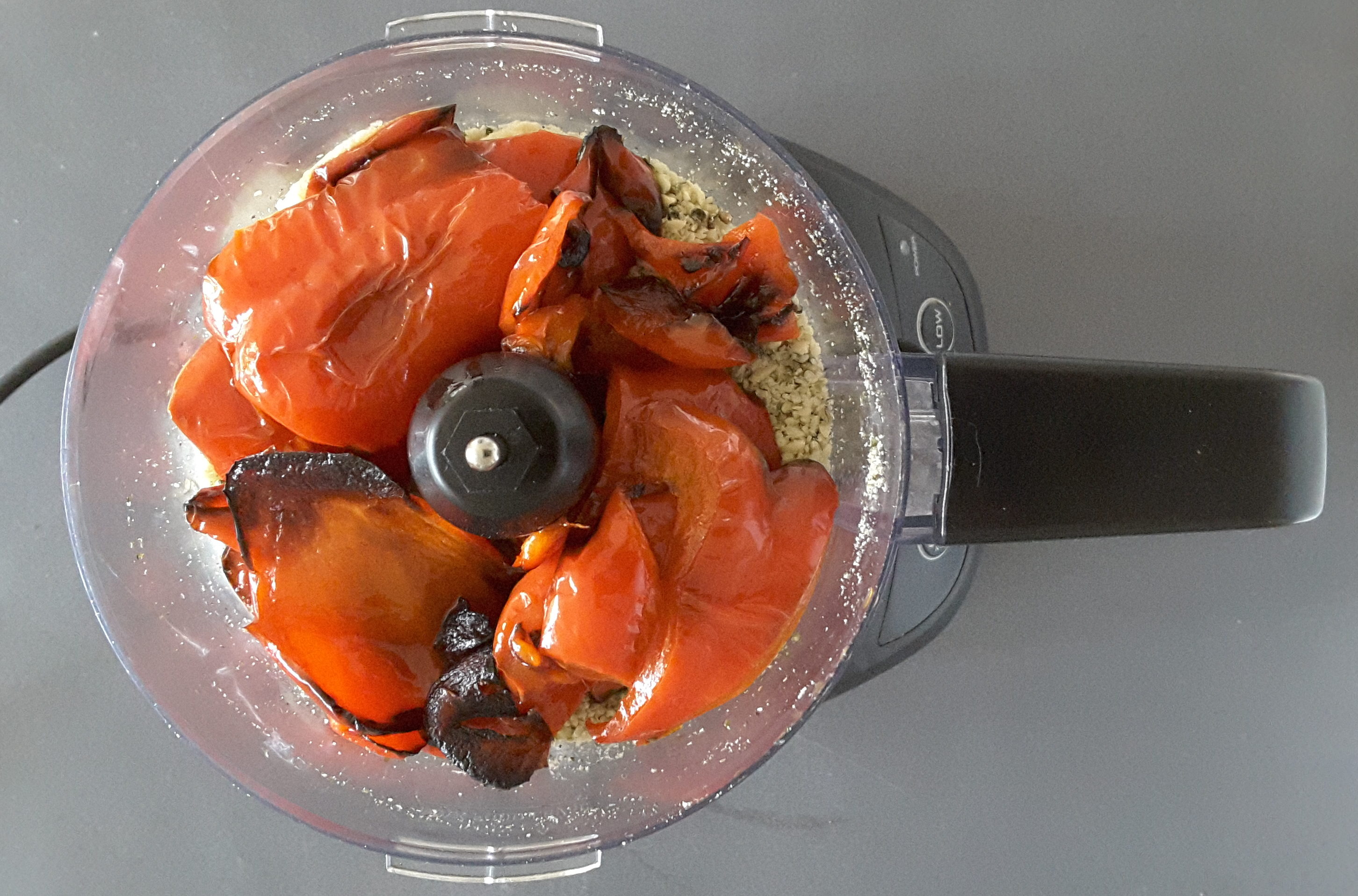 Just in case you haven't used hemp seeds you might find the information below interesting. If you don't want to read it just scroll though to the recipe below now.
What are Hemp Seeds
Hemp seeds are the seeds of the hemp plant, Cannabis sativa. They are from the same species as marijuana plant cannabis but they are a different variety. Unlike cannibis, they contain only trace amounts of THC (tetrahydrocannabinol,) the psychoactive compound in marijuana. So, you won't be having any mind-altering experiences by including these in your diet. Hemp comes in many consumable forms, such as hemp seeds and hulled hemp seeds/hemp hearts. Hulled seeds have had the hard outer shell removed and are one of the most popular hemp products on the the market and are what is used in this recipe. Hemp products are becoming a lot more popular and you can now source hemp products from supermarkets, specialty stores and online.
Nutritional Value
Hemp seeds pack an amazing nutritious punch. They contain high levels of antioxidants (Vitamin E) and can assist in protecting the body from free radicals. They also contain tocopherol, which can be of benefit for those suffering from Alzheimer's and atherosclerosis. Phytol is another powerful antioxidant from hemp seed, which has is known to have both antioxidant and anticancer properties. Hemp seeds are an excellent source of essential fatty acids, minerals, and vitamins. They are high in polyunsaturated fats and are a good source of calcium, iron, magnesium, potassium and zinc. They are one of few seeds that contain all of the essential amino acids.
Why They Are Good For You
Hemp seeds are actually a complete source of protein, meaning they provide all nine essential amino acids. Amino acids are the building blocks for all proteins. The body cannot produce nine of these acids, so a person must absorb them through the diet. Hemp seeds contain almost as much protein as soybeans and it is also a protein that is easily digested. Very few plant-based foods are complete sources of protein, making hemp seeds a valuable addition to a vegetarian or vegan diet. In roughly 1 tablespoon of hemp seeds there are about 9.5 g of protein and nearly half your daily recommended intake of Magnesium.
Hemp seeds are a great source of essential fatty acids, such as alpha-linolenic acid (ALA), which is an omega-3 fatty acid as well as GLA (gamma linolenic acid). They can be beneficial for people suffering from degenerative diseases and illnesses such as cancer, cardiovascular disease and possibly even Alzheimer's. Fatty acid imbalances can contribute to inflammation, so there can be associated benefits with disorders and illnesses such as metabolic syndrome, type 2 diabetes, arthritis and rheumatoid arthritis, if you have a good balance of these 2 essential fatty acids. GLA can be beneficial for skin disorders, heart disease and there are also indicators that these are beneficial for aging and for those suffering with auto immune diseases, and disorders such as Chronic fatigue Syndrome. GLA is also great for assisting with hormonal balance in the body and thus can also be beneficial for depression and PMS.
For more detailed information on hemp seeds, check out this link. If you like this recipe, you also might like this other hemp seed recipe, Hemp Seed and Spinach Pesto.
Enjoy!
Karen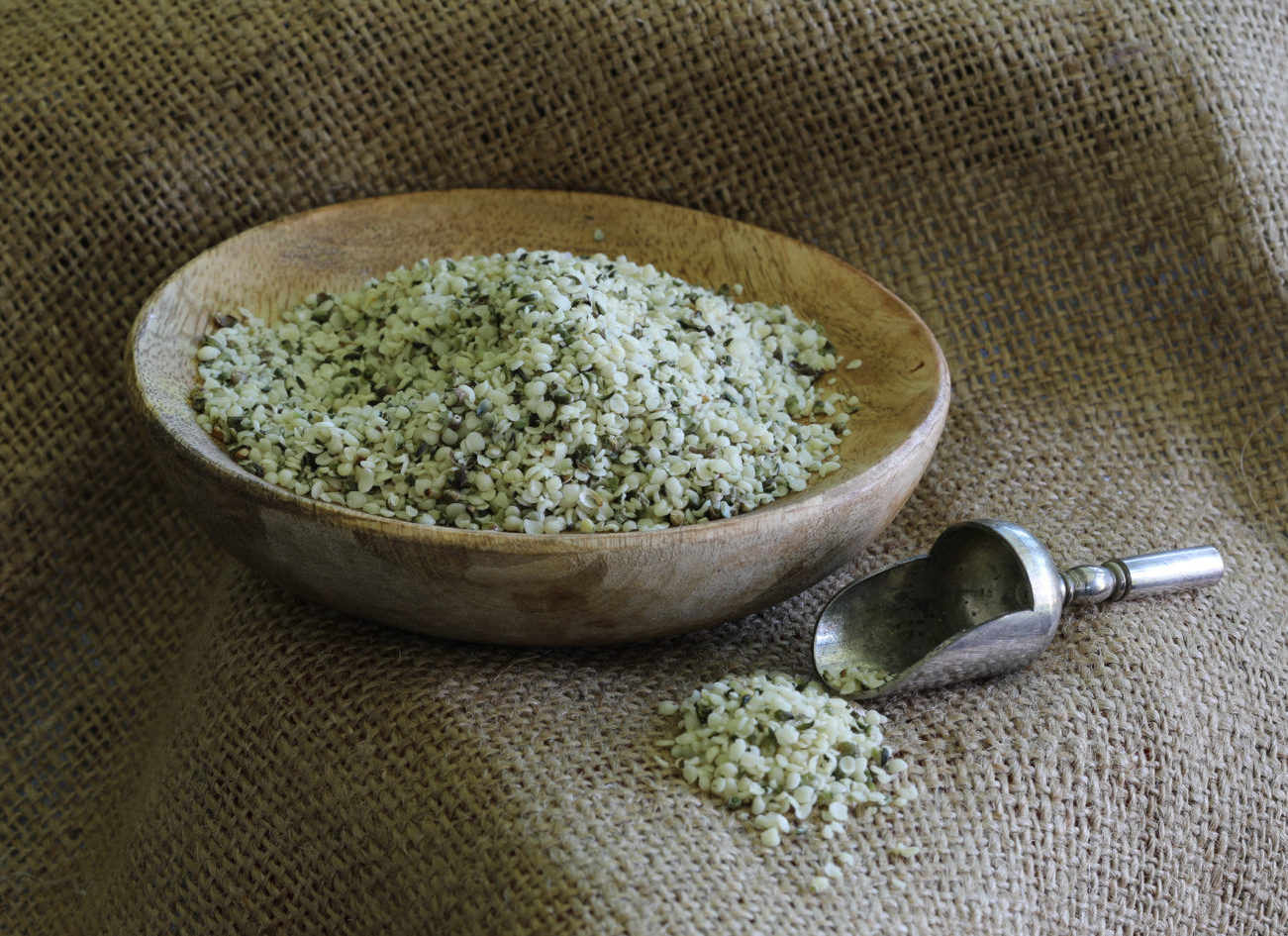 Ingredients
2

Red Peppers de-seeded and cut into long lengths

1

teaspoon

EVOO-extra virgin olive oil additional

3

cloves

garlic minced

1/2

cup

hemp hearts

or 1/4 cup hemp hearts and 1/4 cup of almonds, pine-nuts or cashews

1/2

cup

finely grated Parmesan cheese

1/3

cup

EVOO-extra virgin olive oil.
Instructions
Saute the red pepper in 1 tspn of EVOO in a frying pan on high so it roasts slightly. Turn the temperature down to medium and place the lid on the pan and continue cooking till soft.

Blitz all ingredients together in a food processor till blended to desired consistency. Add additional water or EVOO to thin to desired consistency.

Season with salt and pepper.
Recipe Notes
Store in fridge for 5 days. Recipe suitable for freezing.
Nutritional Information
Serving:
1
serve
|
Calories:
1186
kcal
|
Carbohydrates:
28
g
|
Protein:
47
g
|
Fat:
102
g
|
Fiber:
5
g
Note that we calculate our own nutritional values so they may not be precise. Calculate your own if desired. Carb values exclude sugar alcohols such as Erythritol, as they generally have no impact on blood sugar levels. 50% of the carbs from Xylitol is added to nutritional values. This is consistent with industry practice.
Do you want to receive more recipes like this one? Subscribe to our newsletter now!