Homemade Keto Bounty Bars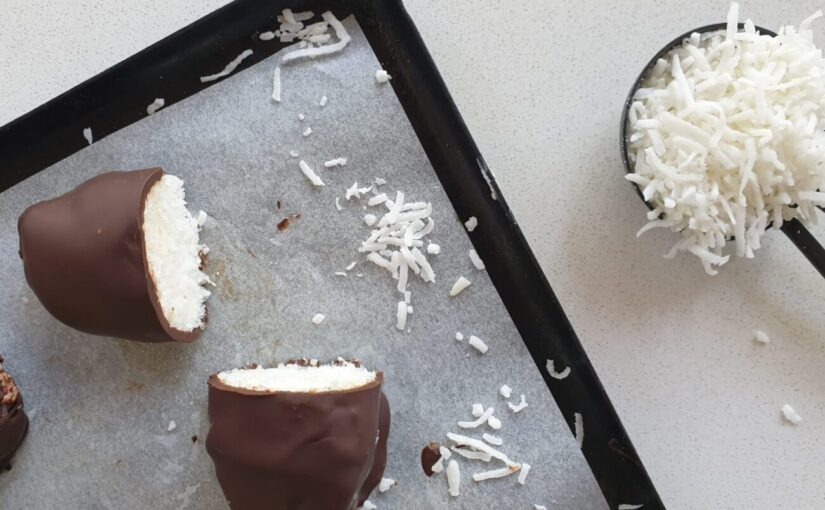 Homemade Keto Bounty Bars
Willpower warning- you are going to need it if you make a batch of these delicious homemade keto bounty bars. For our friends in the US, Bounty bars are the same as a Mounds bar. I've always been a Bounty bar fan so I had lots of fun tasting and playing with this recipe. Trust me…… you are not going to be disappointed if you're a Bounty fan!
Your yield from this recipe will vary depending on how big you make your bounty bars. I generally get around 20 bars but make them smaller at times and the yield is around 30 bars. You could also make them a lot more smaller if desired or more like a bliss ball. I've based the nutritional information on 20 bars and you can see that they are very low in carbs. The more bars you make the lower in carbs your bounty bars will be.
This recipe is perfect for anyone following a low carb, sugar free or keto lifestyle. These delicious bars are gluten free, nut free and perfect for paleo as well. By switching the chocolate coating to a vegan chocolate, these bars are also vegan friendly.
A REAL BOUNTY TASTE
Flavor-wise, these bars taste just like a Bounty bar should. The great thing about this recipe is that you can tweak it to make it work with your lifestyle. You can also vary the chocolate coating that you use to create either milk or dark chocolate bounty bars. Switch up the sweetener to suit your tastes or feel free to omit the sweetener all together.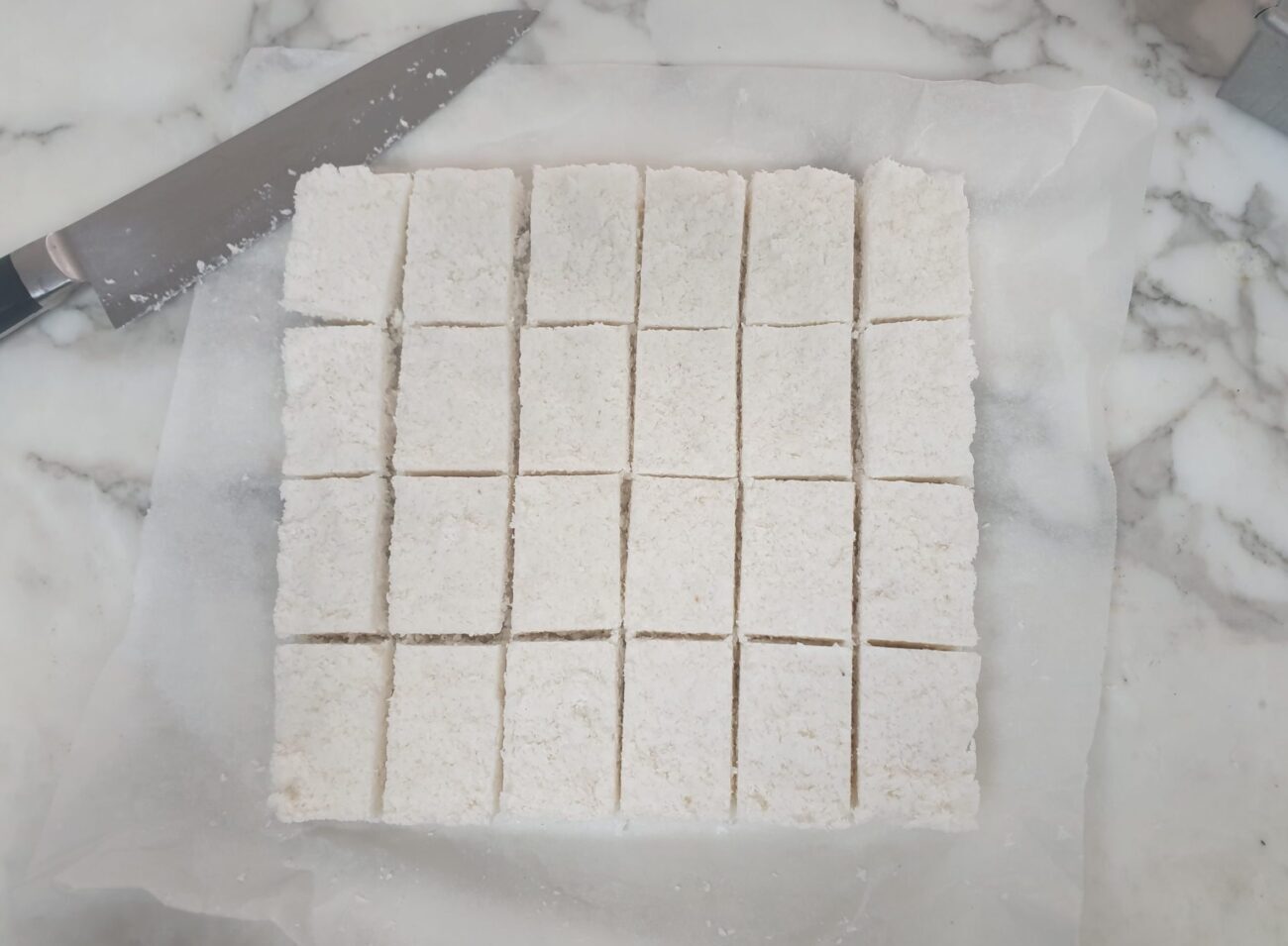 SUGAR FREE DARK CHOCOLATE
Use your favorite low carb chocolate/chocolate chips for this recipe or use vegan chocolate.  Remember that the lower the couverture (ie 60%, 70% dark chocolate) the higher in sugar your chocolate is. Higher couverture dark chocolate such as 80%-90%, are great low carb keto choices as they have minimal sugar in them. If you use a milkier chocolate it will be higher in sugar. Please also check that the chocolate you plan to use can be melted.
COCONUT CREAM
If at all possible, try to refrigerate a can of sugar free coconut cream overnight in the fridge up the right way. The next day the thick coconut cream should sit on top and the clearer coconut water/milk below. Scoop the thick cream out to use in the recipe. For some reason I have not been able to achieve this with a couple of brands. If you can't get the cream on the top, shake the coconut cream well and still use it in the recipe. Please also double check that your coconut cream is free from sugar.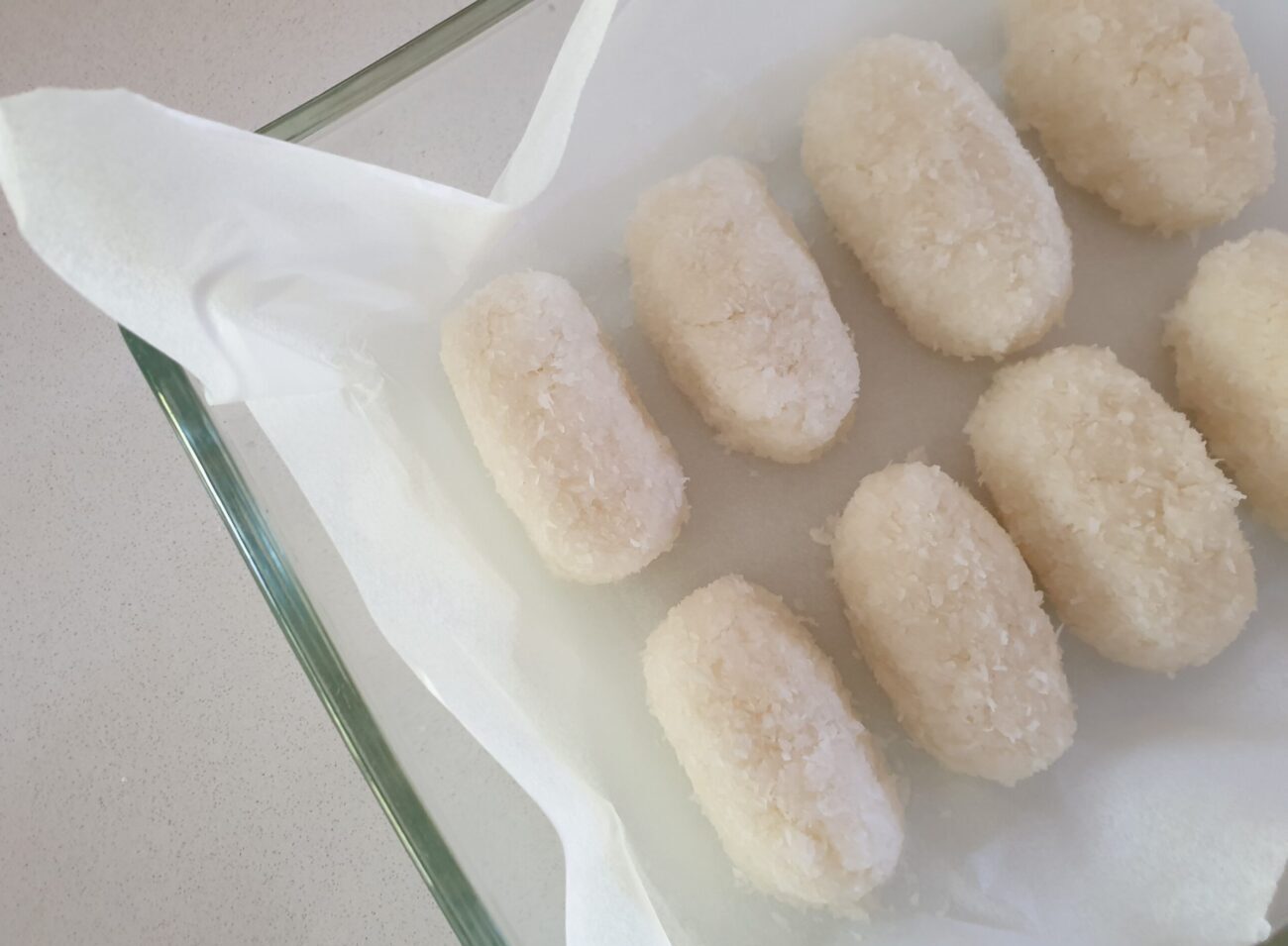 TIPS FOR MAKING HOMEMADE KETO BOUNTY BARS
Shape your coconut bars with your hands or alternatively place the mixture into a tray lined with baking paper. I've used a large loaf pan as well as a 10″ x 7″ pan. Ensure you compress the mixture firmly into the pan with a spatula to prevent your bars from fraying at the edges when you cut it up later. Freeze for 30 minutes before cutting with a sharp knife. If the mixture hasn't been compressed enough when using both methods, your bars won't hold together when you try to dip them in chocolate.
I personally find hand shaping is the best way to make your bars as you can compress them and get the right shape. Cutting your bars into shape can create a few crumbs with the mixture which doesn't tend to happen with hand shaping. Using the cutting method does work and can make the process a lot quicker so I will leave it up to you which method you prefer. I use both methods depending on time, how perfect I want them to look etc.
Store your homemade keto bounty bars in the fridge to ensure they maintain their shape. The best way to enjoy them though is at room temperature, as the coconut filling softens. Freeze your keto bounty bars for up to 6 months.
MORE FABULOUS KETO TREAT RECIPES
If you are looking for some more fabulous sweet treat ideas, make sure you check out some of these recipes. Some are more a snack food, while others are a little more fancy. There's a fairly decadent recipe featuring fresh or frozen raspberries, dark chocolate and cream cheese, Raspberry Dark Chocolate Cheese Cake Balls. Make sure you try these Raspberry Dark Chocolate Bliss Balls and 'Ferrero Rocher' Chocolate Hazelnut Bliss Balls as well.
There's also a simply fab recipe for Low Carb Peanut Butter Protein Bliss Balls. These are more of an everyday healthy snack and pack a bit of a nutritious punch as well. Don't be turned off by the words peanut butter in these bliss balls, as they really are quite subtle in peanut butter flavors.
I love this quick and easy copycat recipe and these bars are so easy to make. I can't wait to hear your feedback on this recipe. Don't forget to share your efforts and tag #ketohh, as well as leave feedback using the star system.
Kxx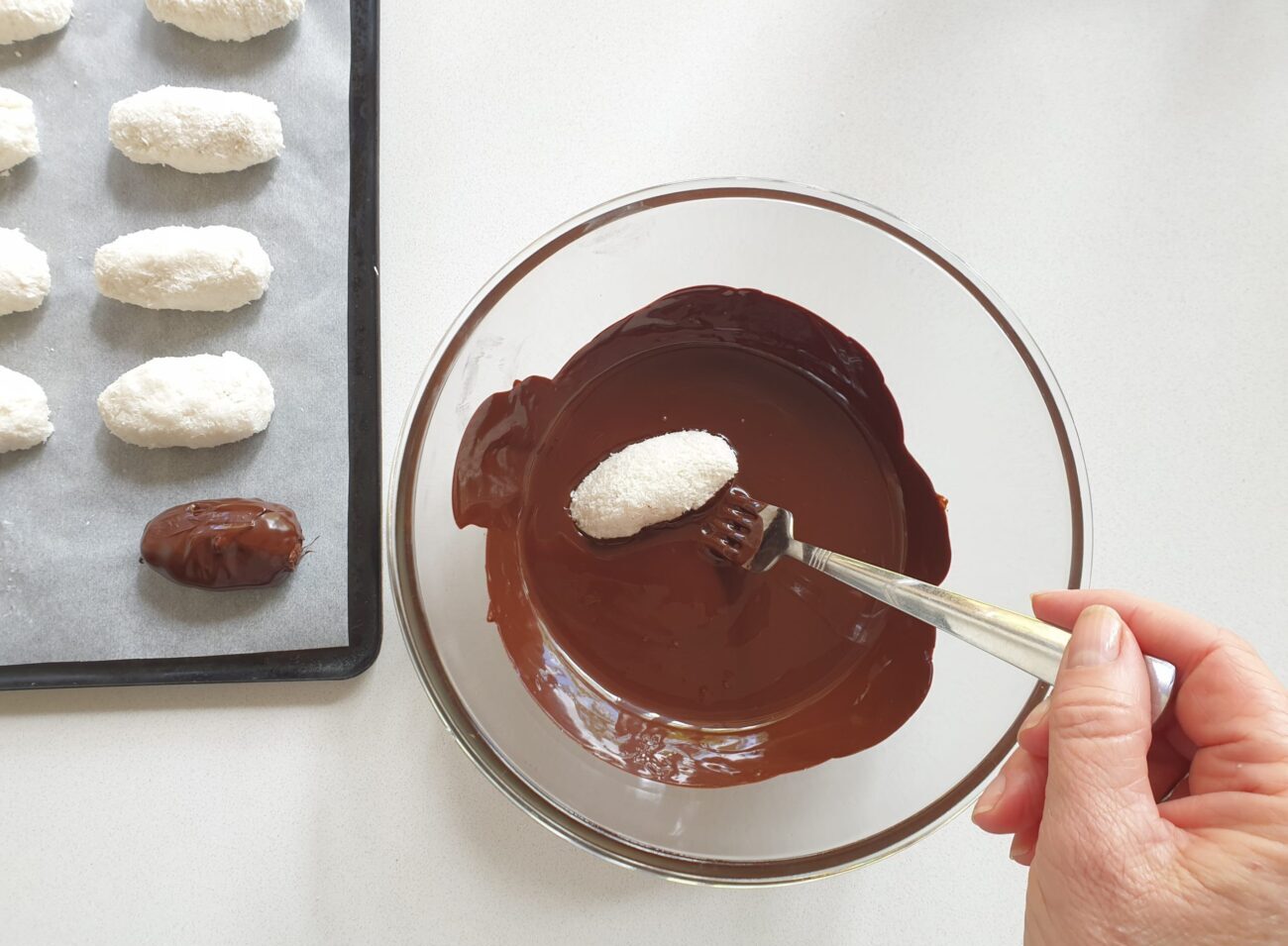 Ingredients
100

grams

coconut oil

75

grams

coconut cream

scooped from a cold can of coconut cream refrigerated overnight

200

grams

desiccated coconut sugar free

1

teaspoon

vanilla extract

1-2

tablespoons

stevia blend

/to taste/or your favorite sugar free sweetener

200

grams

dark chocolate

I love to use Lindt 85%
Instructions
Melt the coconut oil on the stove top or in the microwave and allow to cool slightly.

Add the coconut cream and vanilla extract and whisk till well combined. If coconut oil hardens, reheat slightly to melt.

Fold the desiccated coconut and the sweetener into the coconut oil mixture until well combined.

For slab method, pour the mixture into an approximate 10" x 7" pan lined with baking paper. Press the mixture really well into the pan to compress it so it doesn't fall apart when you cut it up after it has been frozen. To hand shape- allow the mixture to cool in the fridge. Shape into about 20 bounty bars, compressing really well into the palm of your hand to shape so they keep their shape when dipping in chocolate. Place on a piece of quality baking paper and freeze for about 30 minutes to allow them to firm up.

Just before removing your bars from the freezer, melt your chocolate bars on the stove top or in the microwave, taking care not to burn your chocolate. Ensure your chocolate is smooth and lump free and allow to cool to room temperature. Thin chocolate a little with a teaspoon of coconut oil if desired- see notes on this below.

Using a fork or a spatula, gently place each bar in the chocolate and roll around to ensure it is fully covered with chocolate. Allow the excess to drip off before placing each bar back on the baking paper to set.

Store your bars in the fridge so they keep their shape, especially if you are in a warm climate. Bars are best served at room temperature (if you can wait that long) so the filling softens. Bars will store for up to 1 week in the fridge or 6 months in the freezer.
Recipe Notes
2 tablespoons of maple syrup/sugar free (low carb) maple syrup can be used in place of the sweetener. 
Add 1/2-1 teaspoon of Sweetleaf  Vanilla Cream or Coconut Drops to the filling in lieu of the sweetener specified in the recipe. Use less first and taste before you add more. Vary to suit your taste.
Omit the sweetener if desired for a sweetener free version. Vary the amount of sweetener to suit your tastes as well. Taste the filling before altering the recipe then adjust.
Coconut Cream-Place a can of coconut cream in the fridge overnight up the right way. Open the can and use the top layer of thick cream in the recipe. If your coconut cream doesn't separate, make sure you shake your can well to distribute the creamier portions into the cream and use as is.
If melted chocolate is a little thick you can add a teaspoon to a tablespoon of coconut oil while the chocolate is still warm. Make sure you blend it in well before using. Note that if you live in a hot climate, I would not add coconut oil to the chocolate as it lowers the temperature at which the chocolate will melt. Alternatively you can store in the fridge to resolve any melting issues.
Use shredded coconut in lieu of desiccated coconut but you will have to blitz it in a processor slightly before using.
If your mixture is a little dry (due to variances in how dry the desiccated coconut is) add some additional coconut oil.
Add desiccated coconut and/or nuts/pepita seeds/sunflower seeds to any left over melted chocolate to create chocolate clusters rather than waste it.
Nutritional Information
Serving:
1
of 20
|
Calories:
183
kcal
|
Carbohydrates:
3
g
|
Protein:
2
g
|
Fat:
17
g
|
Fiber:
3
g
Note that we calculate our own nutritional values so they may not be precise. Calculate your own if desired. Carb values exclude sugar alcohols such as Erythritol, as they generally have no impact on blood sugar levels. 50% of the carbs from Xylitol is added to nutritional values. This is consistent with industry practice.
Do you want to receive more recipes like this one? Subscribe to our newsletter now!