Keto Microwave Corn Chips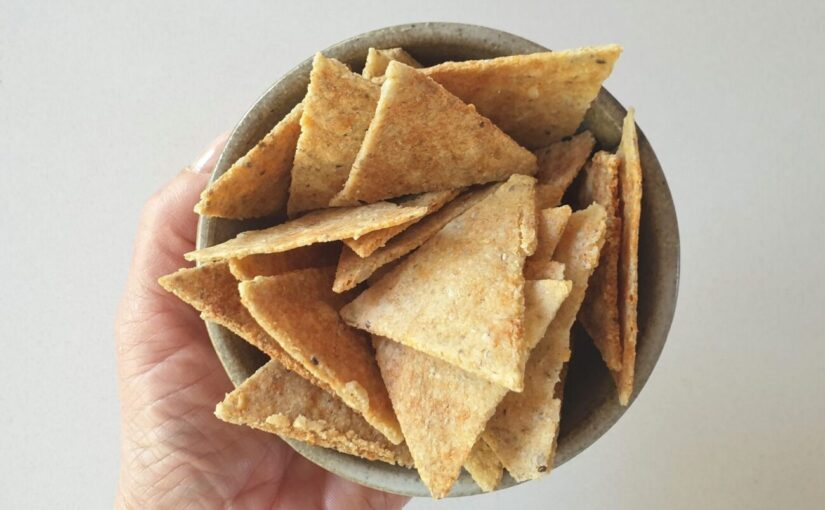 Keto Microwave Corn Chips
I'm pretty excited about this delicious recipe for keto microwave corn chips. I have been working on this recipe for years…yes years, and have probably tested over 30 recipes during that time. This explains my excitement as I've never devoted so much time trying to create a recipe. I used to work in a Mexican restaurant when I was young which probably explains my determination, that and the fact that I really miss decent nachos. That I'm happy to share it with you finally really should tell you something….this is a truly great recipe.
I've been dreaming about nachos and went to buy some Quest corn chips on line the other day but they worked out to be about $5.00 for a tiny 30 gm/1 oz packet. This was the final straw in my corn chip recipe development, so thank you Quest for motivating me to work on this recipe.
RECIPE VIDEO
Check out the recipe video below to see how quick and easy these delicious keto microwave corn chips are to make. Make sure you subscribe to my youTube channel – Karen's Keto Kitchen so you don't miss out on any fabulous low carb, sugar free, gluten free and keto recipes.
CC'S IN A HURRY
Not only do I love the taste and texture of these CC's but I love that they take no time to make. When I initially made this recipe I cooked them in a traditional oven and they worked out a treat. The next batch I split and tested cooking half in the microwave and decided that the end result was a better CC. The corn chips didn't brown up too much in the microwave, which almond flour/meal can do. The other thing that I loved is that you end up with a really crispy finish which effectively leaves you with a CC with crunch and strength. This makes them perfect for using in recipes such as nachos, and their texture means they aren't going to fall apart when using them for dipping.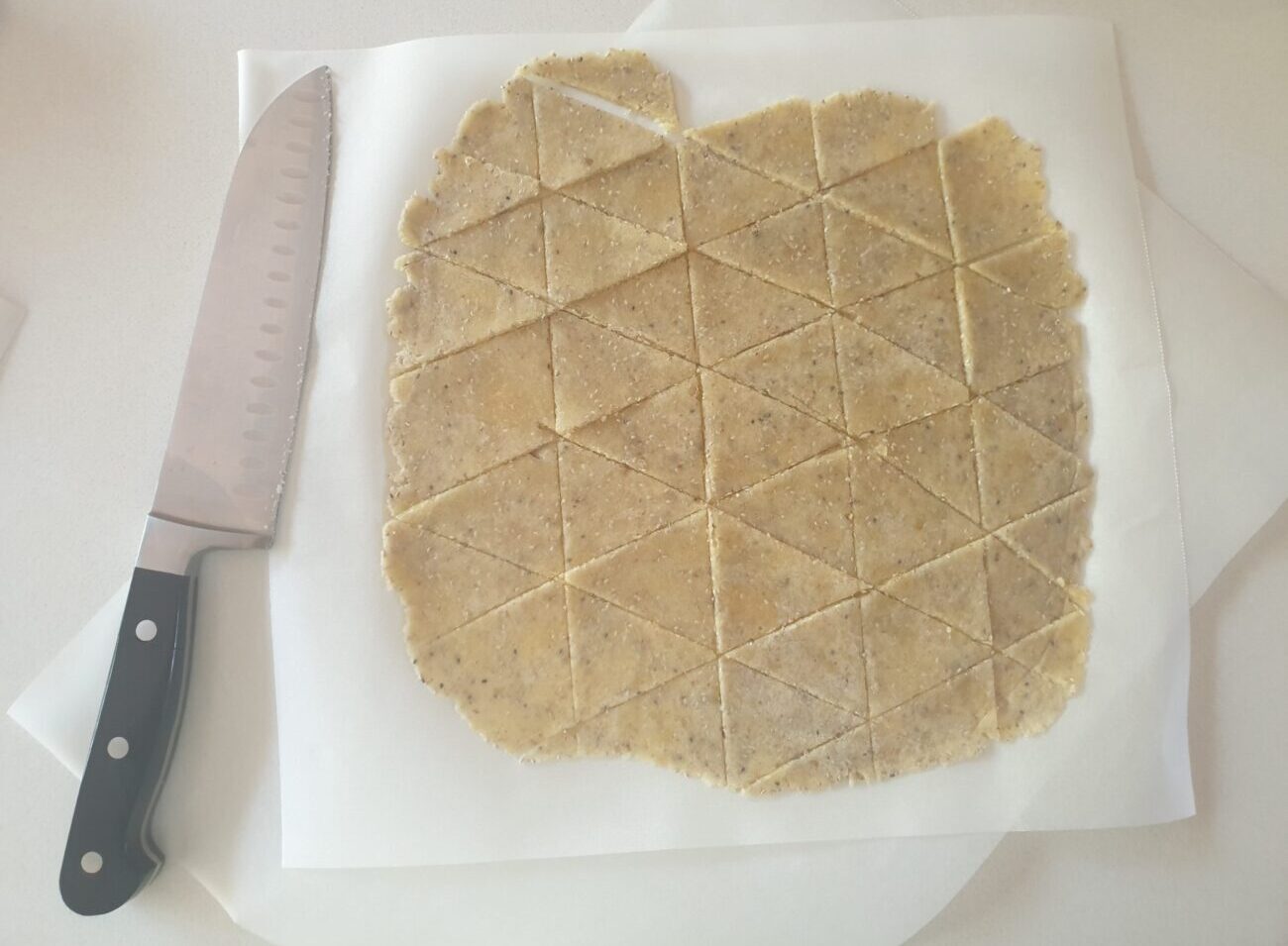 THIS ISN'T A FAT HEAD RECIPE
While I love a good fat head recipe and use it a lot, when it comes to corn chips I don't need additional lashings of cheese. I love to use corn chips generally in cheesy recipes such as dippers for this fabulous Keto Chile Con Queso recipe but particularly in nachos. The ratio of cheese in a fat head recipe is generally about 2 parts cheese to 1 part almond flour which makes them very high in fat. Obviously I don't have an issue with eating fat given I've been keto for over 6 years but…..I wanted to create a slightly healthier recipe.
WHY THIS RECIPE IS A WINNER!
This recipe for keto microwave corn chips still features cheese. It's more on a ratio of 2 parts cheese to 3 parts almond flour though, which reduces the fat content by about 1/3. This means you don't have to worry about how you serve your corn chips which is a godsend as I often enjoy them with high calorie foods.
The taste of this recipe is spot on. The recipe does feature tweaks that can be made for more flavorsome corn chips however I tend to enjoy mine a little more on the simple side. Once again, how I serve them influences how strong a flavor I aim for when making homemade CC's. Serving them in nachos and with dips etc, warrants for a plainer corn chip. This isn't saying that this recipe is bland, on the contrary they are very flavorsome but without being over the top.
FLAVOR VARIATIONS
If you fancy some cheese flavored CC's make sure you check out the variation in the recipe. You also have options to add spices such as chili powder, paprika, Mexican Spice Mix or Chipotle spice mix. You can also create a whole meal version by adding seeds such as poppy seeds, sesame seeds, linseeds/flaxseed or additional whole chia seeds.
Feel free also to up the amounts of garlic powder and onion powder used in the recipe. I do suggest you try the recipe as it is first though, as you will possibly find that you love the flavor and don't need to tweak it. Make sure you add salt to suit your tastes though and vary the amounts added to suit.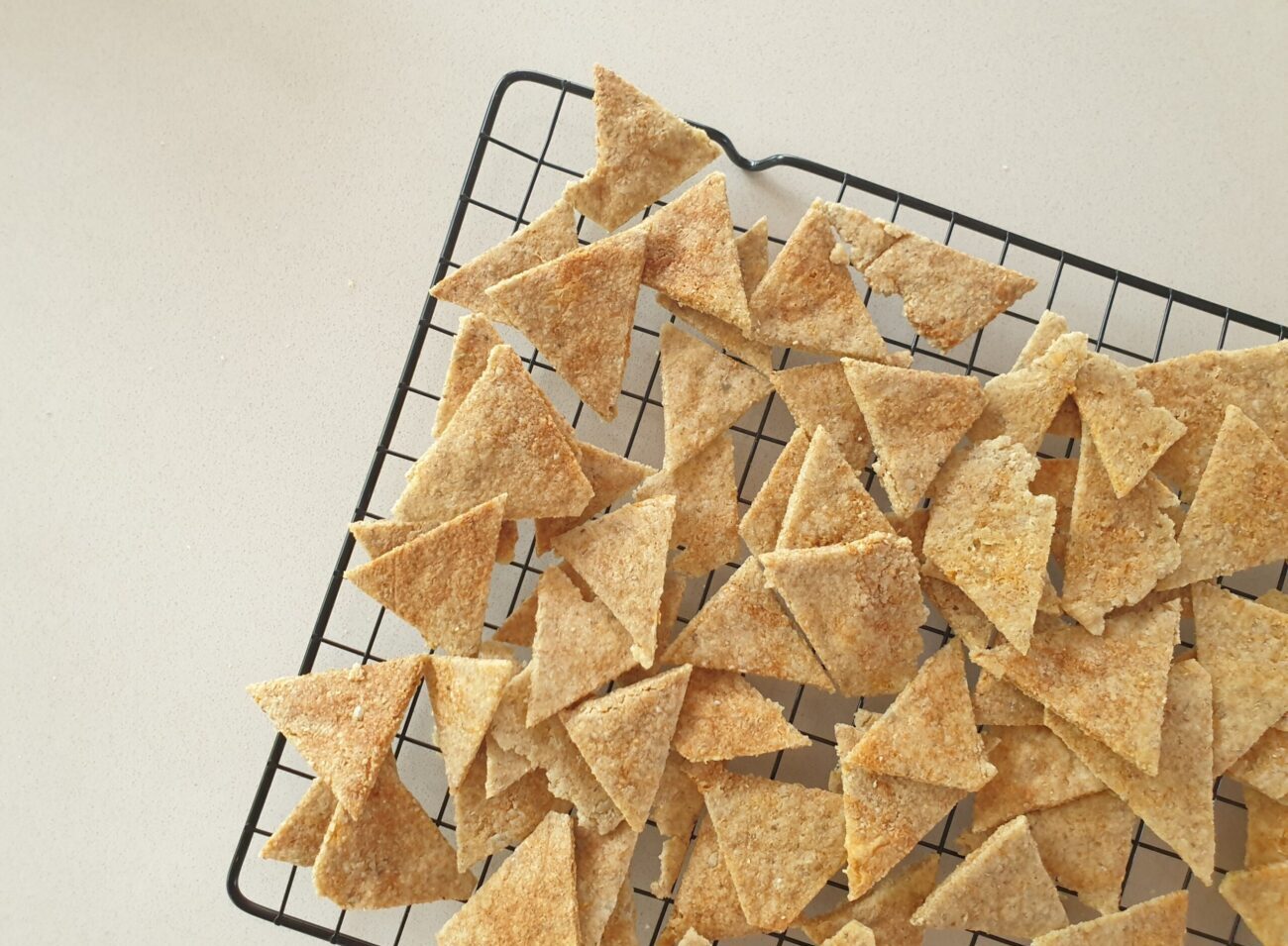 MORE FABULOUS MEXICAN RECIPES FROM MY BLOG
I do have a bit of an obsession with Mexican food. If you type in Mexican food in the search bar you are going to find a lot of recipes on this blog. You can't have Mexican food without a fabulous recipe for a sugar free Margarita that tastes like the real thing. For staples make sure you have a look at recipes for Low Carb Tortilla's that are like a flour tortilla, Fresh Mexican Salsa or a more traditional salsa like homemade Salsa Picante, as well as this fabulous Mexican Spice Mix recipe.
Make sure you check out some of these recipes below if you are looking for a Mexican fix.
Mexican Slow Cooked Beef Brisket
Blackened Fish Tacos
Slow Cooker Chili Con Carne
Drunken Pulled Pork Slow Cooked
Low Carb Mexican Salad Bowl
Stuffed Mexican Peppers
For some side suggestions and a couple of dips you also might want to check these recipes out-
Chilli con Queso
Guacamole
Low Carb Mexican Cream Cheese Dip
Mexican Rice
Mexican Slaw
There's more than enough recipes here to satisfy any Mexican cravings.
Enjoy!!
Kx
Ingredients
150

grams

almond meal/ almond flour

100

grams

grated mozzarella cheese

2

tablespoons

chia seeds powdered

2

tablespoons

sunflower seeds powdered

1

tablespoon

pysllium husks powdered

½

teaspoon

garlic powder

½

teaspoon

onion powder

¼-½

teaspoon

salt- to taste

75

mls

water
Instructions
Mix all of the dry ingredients in a microwave proof bowl.

Add the grated cheese and use your fingers to quickly rub the cheese into the dry mix.

Microwave for about 1 minutes or until the cheese has melted and is stringy.

Using a blunt knife, stir the mixture until it is a shaggy mess.

Add the water to the mixture and stir with the knife until well combined.

Using the bowl knead the mixture with your hands and create a ball out of the dough.

Divide the dough in half (if you have a small microwave you may need smaller batches.) Smooth off the edges of one half of the dough and place it in the centre of a piece of quality baking paper that will fit on your microwave plate. Squash the dough round down a little with your hands and place another sheet of baking paper on top.

Roll your dough out so that it will fit to the edges of your microwave dish. If your dough is too thick- remove some dough and roll the dough out thinner. The thinner the dough the better the cracker- ideally about 2mm or less than 1/8 inch. Remove the top sheet of baking paper and using a long sharp knife or pizza cutter, cut your dough into corn chip triangles or desired shape.

Cook on high (mine were cooked at 1100 watts) for about 2 minutes in your microwave. if your microwave is not as strong as mine, you will have to cook your CC's for longer.

Remove CC's from the microwave, place your spare sheet of baking paper on top of the dough and flip your CC's over onto the microwave plate, so the bottom side is now the top side. Remove the top piece of baking paper and microwave again on high for a further 2 minutes or until your corn chips have nearly cooked through.

Remove the corn chips from the microwave again and break your corn chips along the cut lines by folding along the cut lines. Use a knife if you are having issues with breaking them up. Take care not to burn yourself as they do get hot.

Spread the CC's out over the microwave plate so that they can cook evenly and microwave again for another minute or for as long as it takes to cook the CC's so they are dry and crispy. Remove from the microwave and allow to cool on a cooling rack.

Your CC's will crispen up as they cool. Store in an airtight container for up to 2 weeks- if they last that long!
Variations
Cheese CC's- Add 2-3 tablespoons of processed dried grated parmesan cheese and an additional 30 gms/1 oz grated mozzarella for cheese corn chips.

Add ¼-¾ teaspoon ground chili powder or paprika to spice your CC's up a little. Add to taste

Other flavor ideas you could also add includes adding-

1- 1½ tablespoons nutritional yeast½ teaspoon oregano or mixed herbs¼-½ teaspoon Mexican Spice Mix or chipotle mix- add to taste

For healthy seedy less traditional CC' s you can add one of the following as whole seeds for texture and nutritional value-

1-2 tablespoons chia seeds

1-2 tablespoons sesame seeds

1-2 tablespoons poppy seeds

1-2 tablespoons linseed/flaxseed
Recipe Notes
This recipe was made in an 1100 watt microwave on a 33 cm/13 " microwave plate. If your microwave is not as powerful you will need to vary the cooking times.
Make sure your CC's are cooked through and dry before storing in an airtight container. Any moisture will impact on the quality and the storage time of your CC's.
If your cheese hasn't melted sufficiently to be able to mix it in with the dry ingredients you can try to microwave it again. Some cheeses don't melt as well as others. If your cheese isn't melting and has clumped up you can blitz the mixture in a food processor prior to adding the water. Let the mixture cool before doing this though.
Nutritional Information
Serving:
1
serve of 10
|
Calories:
151
kcal
|
Carbohydrates:
3
g
|
Protein:
8
g
|
Fat:
12
g
|
Fiber:
3
g
Note that we calculate our own nutritional values so they may not be precise. Calculate your own if desired. Carb values exclude sugar alcohols such as Erythritol, as they generally have no impact on blood sugar levels. 50% of the carbs from Xylitol is added to nutritional values. This is consistent with industry practice.
Do you want to receive more recipes like this one? Subscribe to our newsletter now!