Keto Mug Microwave Cheesecake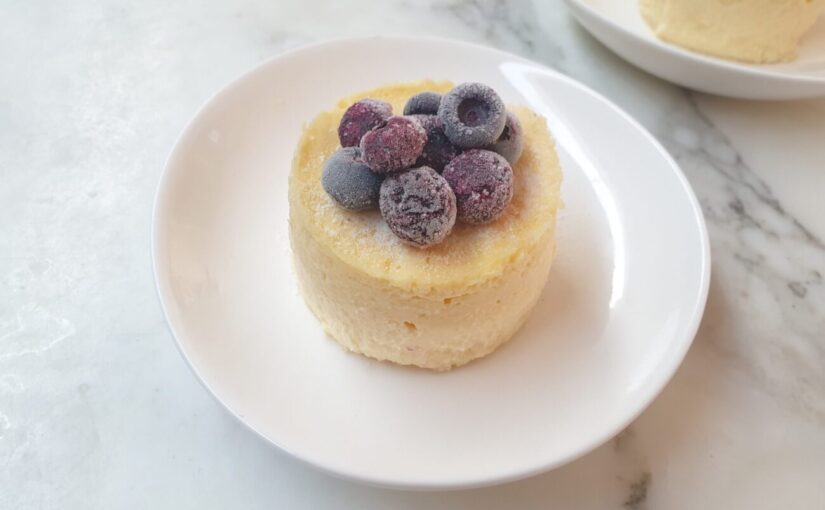 Keto Mug Microwave Cheesecake
This Keto Mug Microwave Cheesecake is a fabulous low carb treat with a creamy texture and hints of vanilla and lemon flavors (if you choose to add the lemon juice.) The cheesecake comes out of the microwave slightly puffy but once it has been refrigerated the texture becomes more like a traditional baked cheesecake. While this recipe doesn't have the exact same flavors and textures of a traditional cheesecake, it does make a wonderful substitute dessert. For a recipe that takes just minutes to prepare, you are going to be over the moon with the end result.
Make sure you refrigerate your Keto Mug Cheesecake before eating. It also benefits from sitting at room temperature for a short while after removing from the fridge. It will soften slightly but still have that wonderfully dense, cheesecake texture that you expect of a baked cheesecake.
Wait until you learn the trick to making these fabulous mug cheesecakes. Basically you create a bain marie in a the microwave to help prevent the cheesecake from becoming too aerated. It works an absolute treat and creates a rich and creamy baked cheesecake. Just make sure you refrigerate your cheesecakes before eating as they settle in the fridge and you end up with a thick creamy texture that develops as they cool.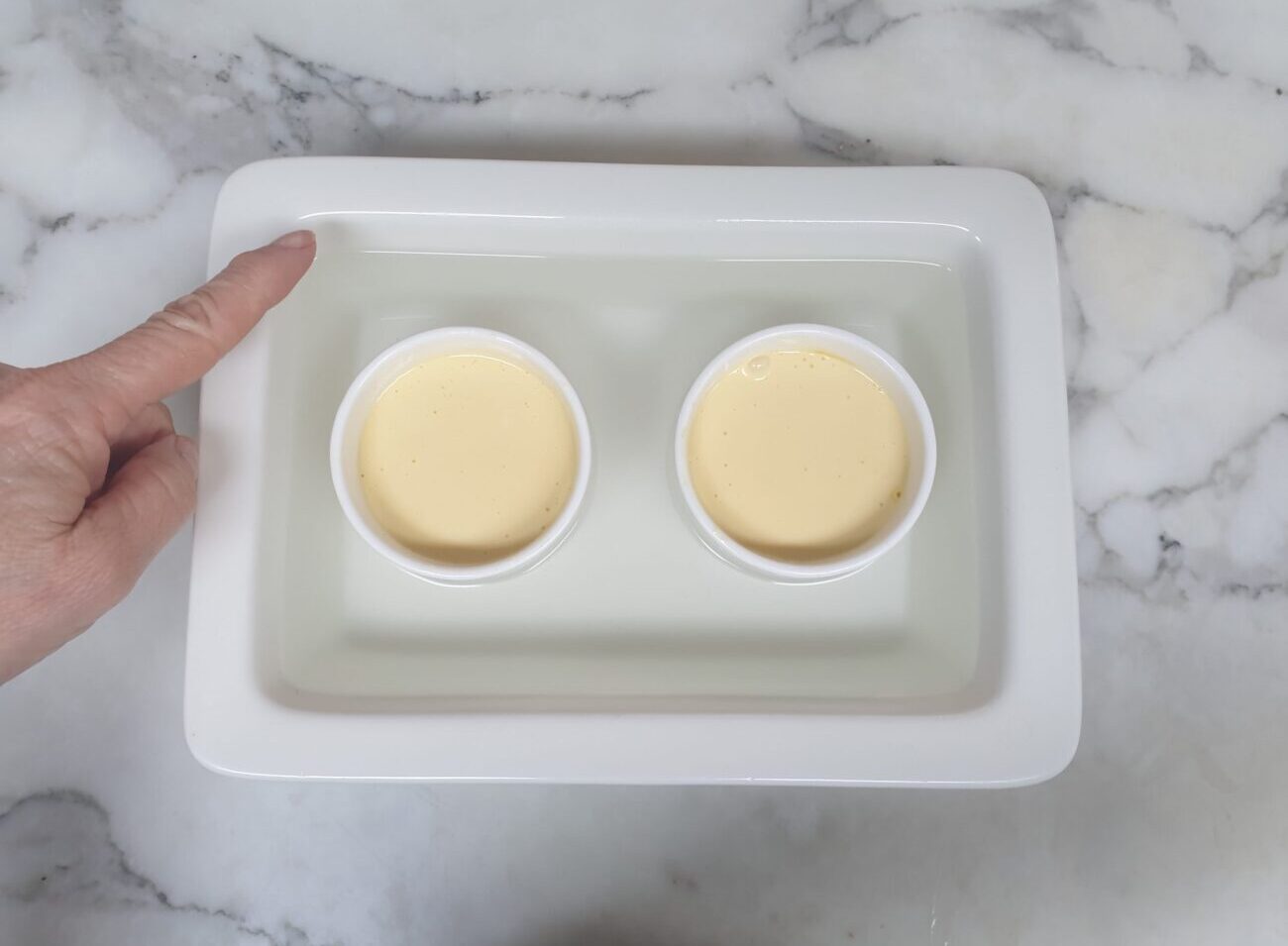 Create a bain marie for your cheesecakes to cook a little slower in the microwave which results in a creamier texture
What Sweeteners Can You Use In This Recipe?
I don't like to over sweeten my recipes so please make sure you taste the filling before pouring it onto you base so that you can add additional sweetener if desired. Generally I like to using a sweetener that is equal to about 2 tablespoons of sugar. You can use erythritol, xylitol, stevia, monkfruit or traditional sugar/coconut sugar if you aren't concerned about your carb intake.
Does this Recipe Taste Eggy?
Originally I tried to make one cheesecake using the egg and cream cheese but I found that the taste was too eggy for my liking. By increasing the volume of the ingredients and only using one egg, I found the texture and the flavor improved a lot. You also end up with two serves of Keto Microwave Mug Cheesecake which is a bonus. One for you and one for a friend- or two for you if you don't feel like sharing.
How to Serve Keto Mug Microwave Cheesecake
Serve your cheesecakes in the mug/ramekin you cooked it in and top it simply with a dollop of cream. If I have any fresh or frozen berries, or a sugar free jam on hand, try adding them for a lovely berry cheesecake. I generally eat mine straight from the bowl but occasionally tip them out and serve them so you can see the crumb layer on the bottom. The point of this recipe is that it's a quick and easy recipe so I generally don't get too fancy and enjoy it straight from the bowl with a dollop of freshly whipped cream and a few berries if I have some on hand.
More Delicious Cheesecake Recipes
If you prefer to bake your cheesecake rather than microwave it, make sure you try these this fabulous Low Carb Creamy Baked Cheesecake. The instructions to this recipe are brilliant as there are lots of great tips. There's also a delicious recipe for Low Carb Pumpkin Cheesecake as well as these quick and easy no bake recipes for Low Carb Cheesecake Pots and Sugar Free Strawberry Cheesecake Pots. Finally there is a lovely recipe for a Sugar Free No Bake Cheesecake.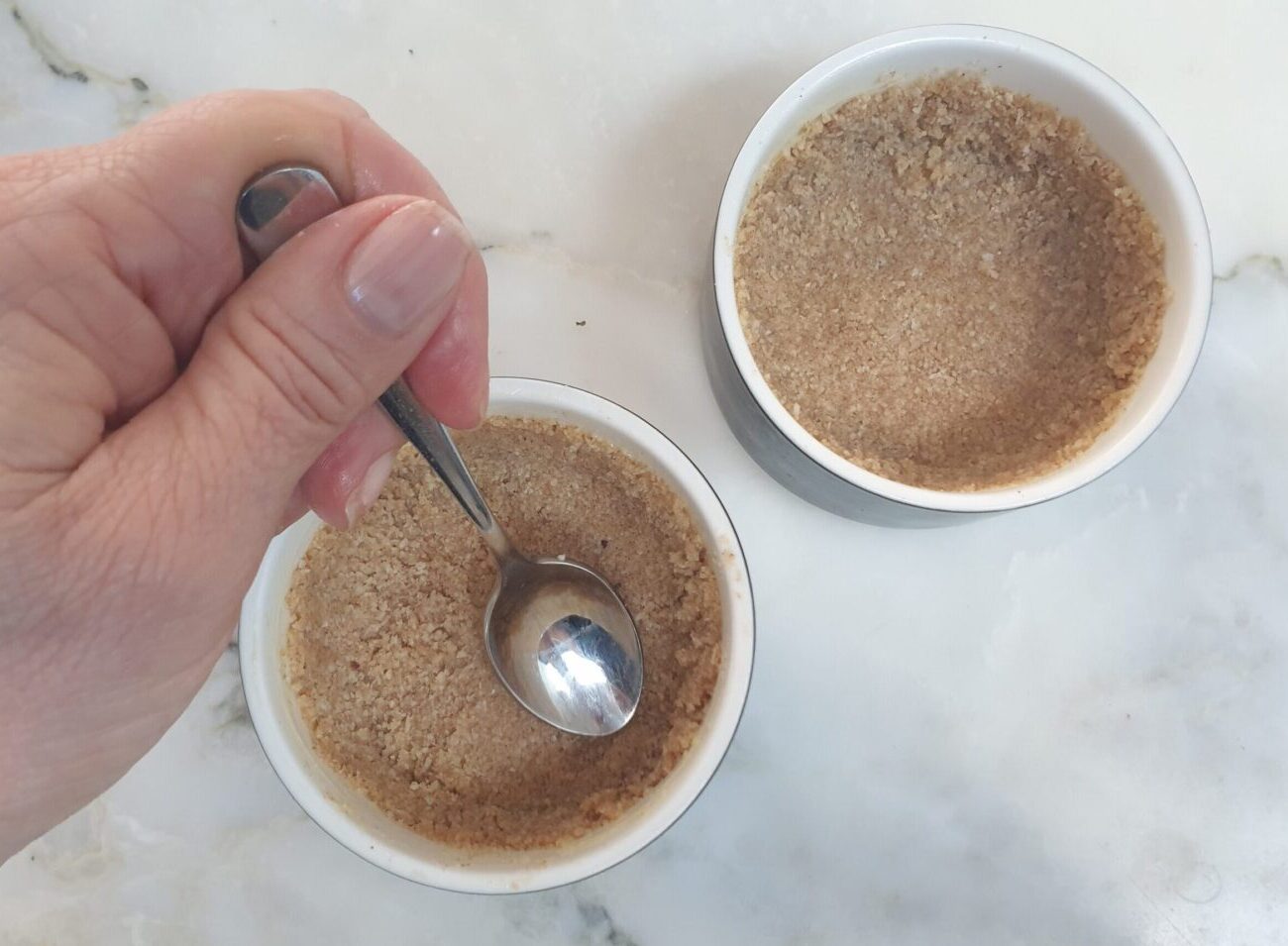 More Fabulous Mug Cake Recipes
Make sure you check out this Keto Chocolate Mug Cake as well as this wonderfully moist recipe for Keto Lemon Mug Cake. Keep an eye out for more fabulous mug cake recipes. After discovering that a microwave cake doesn't have to be dry and lacking the texture of a traditional cake, I am a bit obsessed at the moment.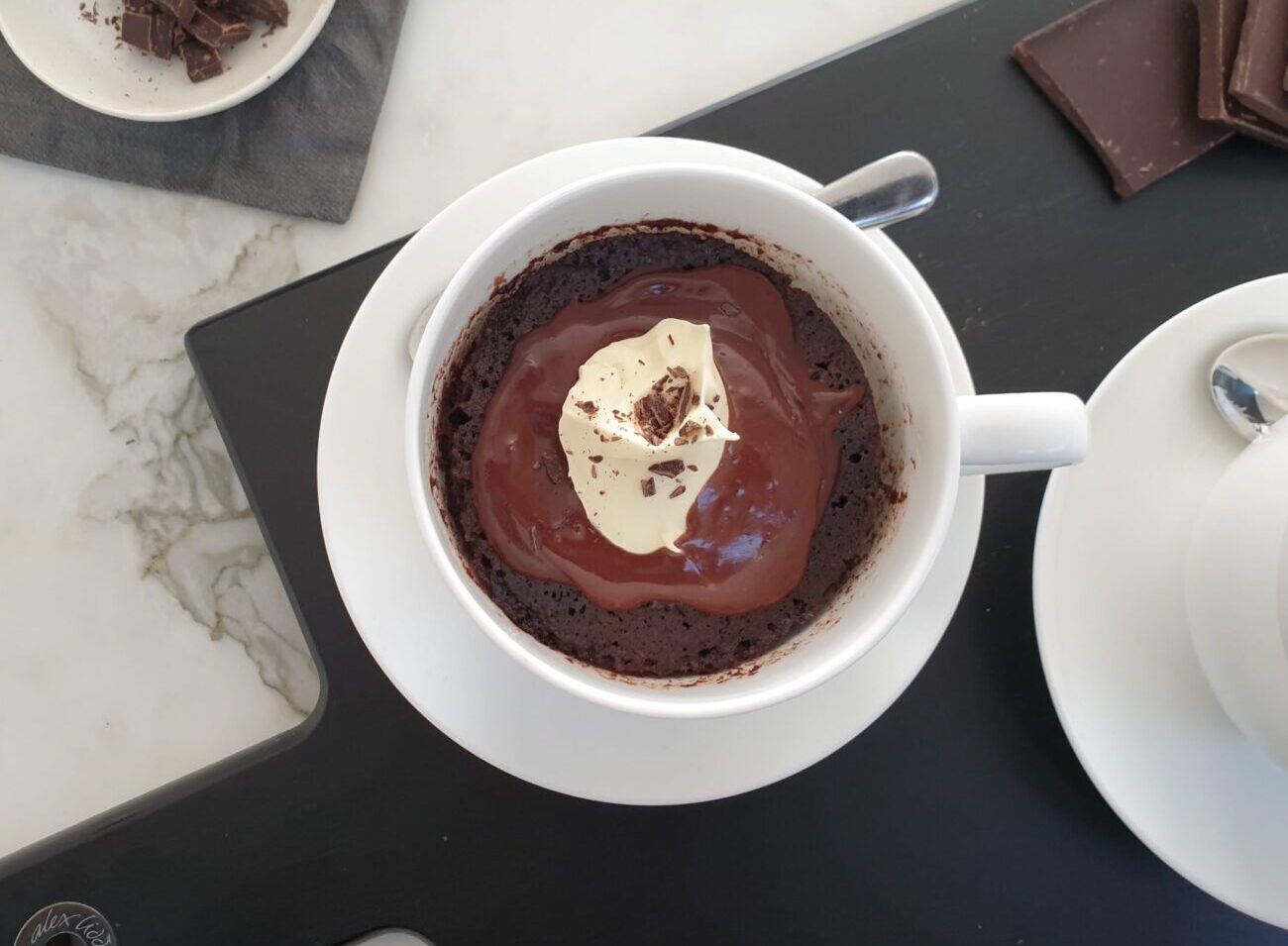 This keto mug microwave cheesecake is such a fabulous recipe. It takes no time to throw together and cooks in just minutes. Not only is it keto kosher but it's made with natural ingredients and will satisfy any cravings for cheesecake, whether your watching your carbs or not.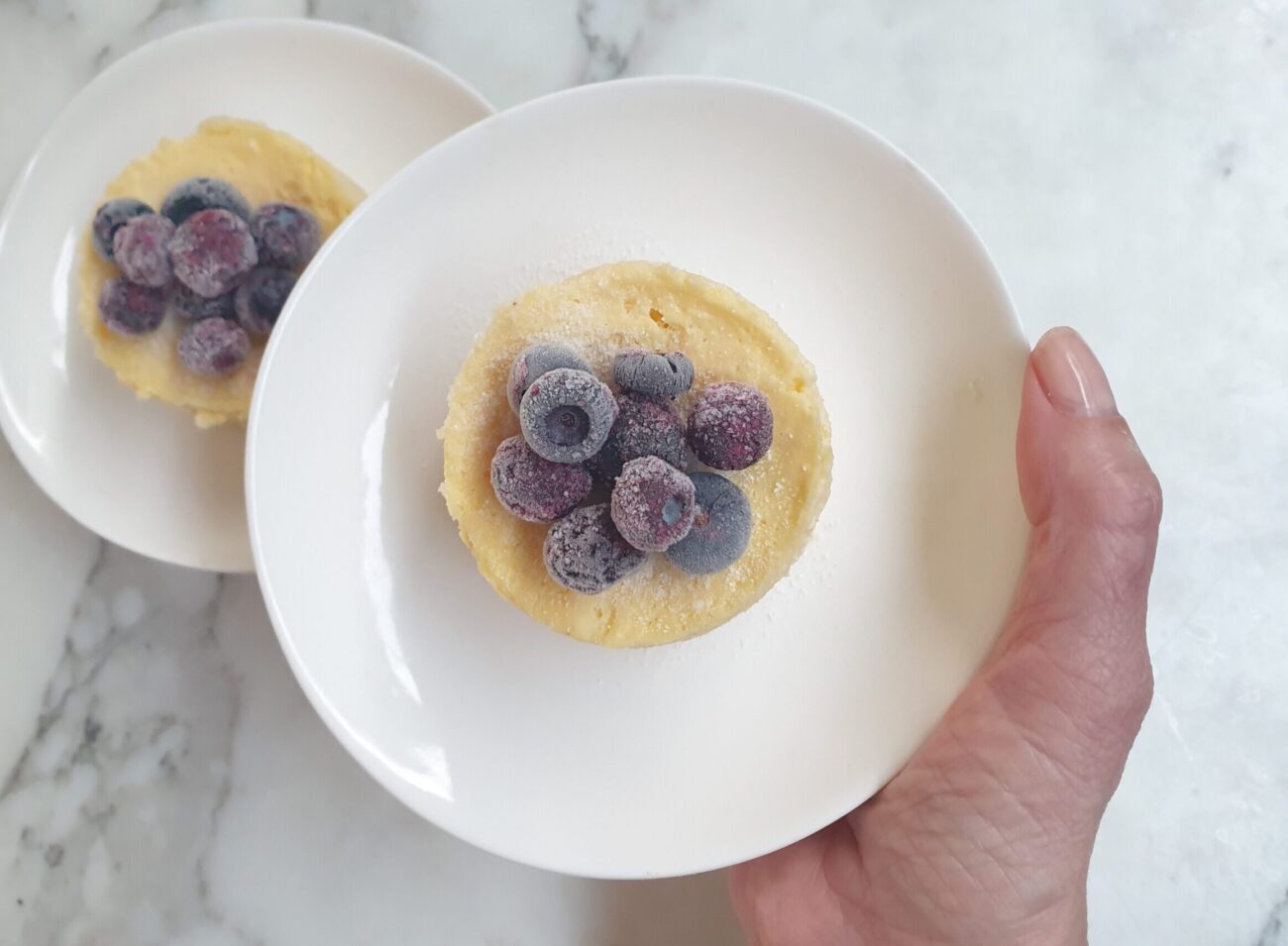 Ingredients
CHEESECAKE FILLING
125

grams

cream cheese at room temperature

50

grams

sour cream, marscapone or Greek Yoghurt

2

tablespoons

erythritol

1

egg

A dash of vanilla extract

1

teaspoon

of lemon juice

optional
CHEESECAKE CRUMB
3

tablespoons

almond meal or pecan meal

½

teaspoon

erythitol

/alternative sweetener-or to taste

a pinch of cinnamon powder- optional

a pinch of salt

¾

tablespoon

melted butter
Instructions
Generously grease the inside sides and bottom of 2 microwave safe mugs/ramekins. If you want to tip your cheesecakes out place a piece of baking paper on the bottom of your greased cup/ramekin, cut to fit the base. Grease the baking paper as well to ensure your cheesecakes will release more easily.

Gently combine the dry ingredients with the melted butter for the cheesecake bases. Don't over mix, keeping the mixture light in texture. Distribute the crumb mixture evenly between the two mugs/ramekins and press gently into the base. Note that if you press too firmly you may have trouble tipping your cheesecake out.

Add your cream cheese to a medium microwave proof bowl. Cover with paper towel and zap for about 15-20 seconds or until soft. Using a hand whisk, whisk until smooth and creamy, Whisk in the sour cream (or Greek yogurt) egg, lemon juice, sweetener and vanilla extract until really smooth. Distribute the cheesecake filling between the two mugs/ramekins and smooth out the tops.

Place mugs/ramekins spaced apart into a shallow microwave tray (glass/pyrex is great) and fill with boiling water about ⅔ of the way up the mug/ramekin. Cover the top of your mugs/ramekins with paper towel to preventing splatting.

Microwave on 850 watts (medium to high) for about 3½-4 minutes or until cooked through, rotating half way through. The edges of your cheese cake will be cooked but the centre may still be slightly soft. If the centre is too jiggly, cook again in short zaps until the centre has set. Remember that your cheesecakes will continue cooking on the bench so take care not to overcook. See notes for microwave oven tips.

Allow to cool at room temperature then place your cheesecakes covered with cling wrap in the fridge to cool and set for at least 1 hour prior to eating. This is vital to get the right creamy texture.
Recipe Notes
Like traditional cheesecake, this cake needs time to set to allow the flavors to  develop and for the texture to settle. I don't recommend that you try to eat these immediately as they are initially too airy because of the cooking process. Refrigeration will resolve this and create a creamier texture.
Switch the sour cream for yogurt ,Greek yogurt or marscapone.
Use sweetener of choice such as monk fruit, stevia, xylitol, regular sugar or coconut sugar. It should equal to 2 tablespoons of regular sugar in taste, which is why 2 tablespoons of erythritol are used- it is 1 for 1.
If you use too small a cup/mug/ramekin to cook in and your filling comes close to the top your filling may overflow when being cooked. Check that your mug/cup/ramekin holds at least 250ml/8 oz.
Because all microwave ovens cook at different temperatures, you may need to play around with times and temperatures to get the cooking time and temperature correct. I use a Miele Microwave convection oven, and the times specified work well at 850 watts. Your oven might not give you options and may only cook at 600 or even 1000 watts. You will need to cook for as long as it takes to cook at a lower temperature and you may need to reduce the time to cook if your microwave is really high in watts.
Nutritional Information
Serving:
1
serve
|
Calories:
261
kcal
|
Carbohydrates:
3.1
g
|
Protein:
8.3
g
|
Fat:
22.9
g
|
Fiber:
0.9
g
Note that we calculate our own nutritional values so they may not be precise. Calculate your own if desired. Carb values exclude sugar alcohols such as Erythritol, as they generally have no impact on blood sugar levels. 50% of the carbs from Xylitol is added to nutritional values. This is consistent with industry practice.
Do you want to receive more recipes like this one? Subscribe to our newsletter now!