Keto Thai Chicken Meatballs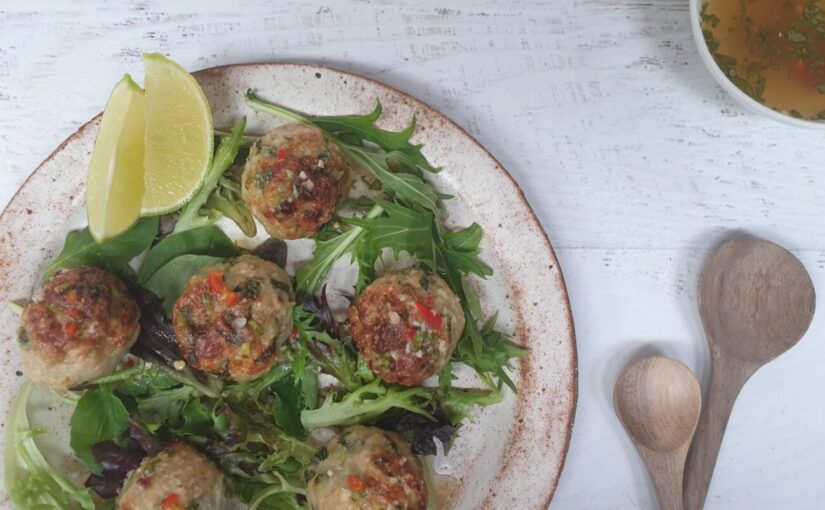 Keto Thai Chicken Meatballs
You'll find delicious Thai flavors with every mouthful of these Keto Thai Chicken Meatballs. Serve them as a main meal although they also make a great low carb appetizer, finger food or snack. These meatballs are bursting with flavor using featuring garlic, fresh ginger, spring onions, chili, lime and coriander/cilantro. Not only are they really easy to throw together but they taste absolutely fabulous when dipped in the sugar free sweet but slightly sour Thai dipping sauce.
I love the fact that you still get to enjoy fabulous Thai flavors in these Keto Thai Chicken Meatballs without the sugar and the carbs that a traditional Thai recipe would have. This makes them perfect for anyone watching their carb or sugar intake. It also means that although the dipping sauce has lovely sweet and sour flavors, there will be minimal impact on blood sugar levels, so the recipe is also ideal for diabetics.
If you are after a milder tasting dipping sauce, there is an additional recipe in the notes below for a Creamy Thai Dipping Sauce. This might be suitable if serving these meatballs up to the less adventurous eater or children. The creamy sauce would also be a great sauce to serve on the side if you are serving these Keto Thai Chicken Meatballs as finger food.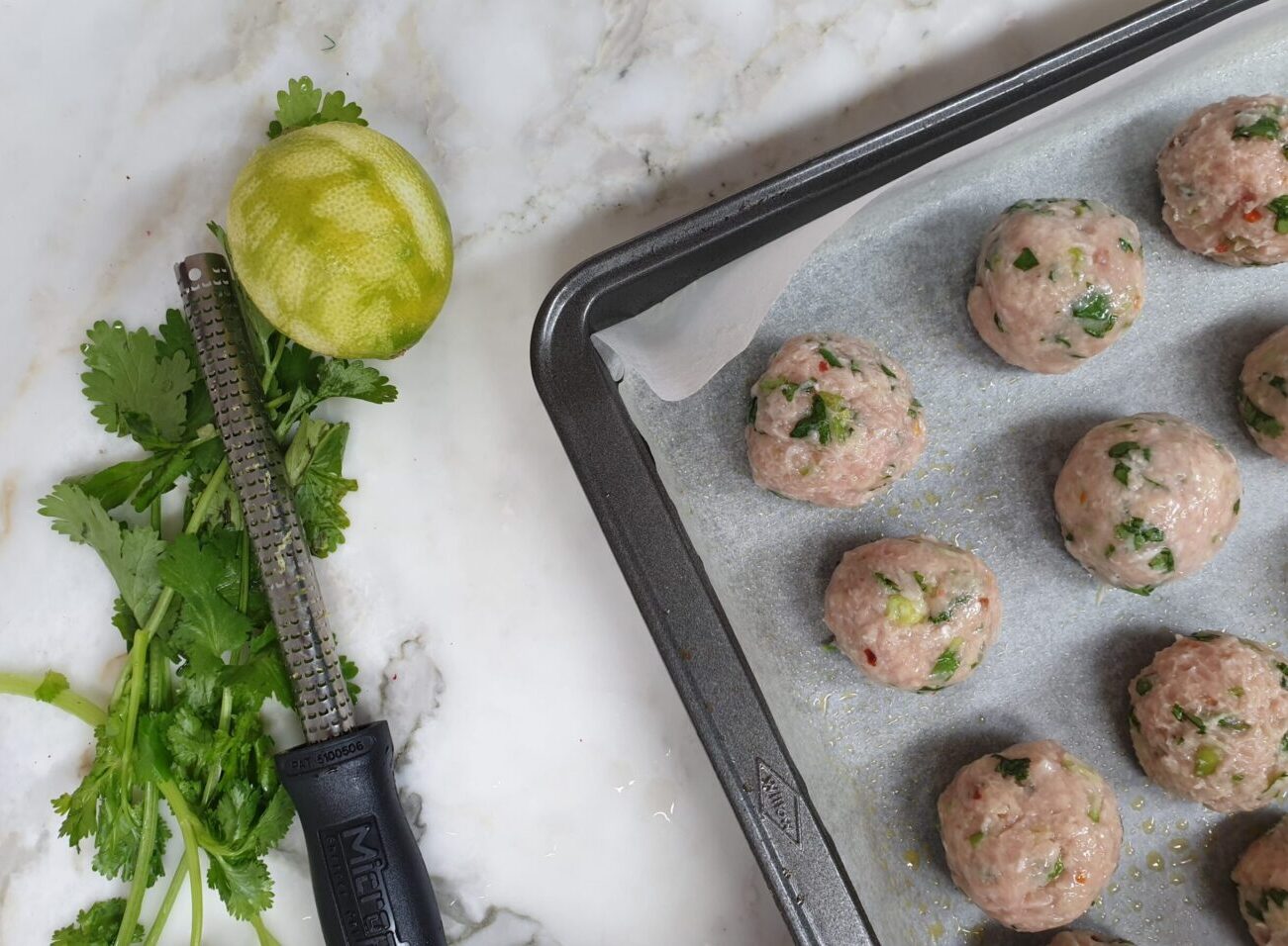 Ingredients
The key to gluten free meatball recipes is making sure that you use a binder that is going to hold these meatballs together, which in this case is almond flour. You could switch the almond flour for coconut flour if desired. You will probably only need about 1-2 tablespoons as coconut flour absorbs a lot of moisture.
These Keto Thai Chicken Meatballs have been made without egg because minced/ground chicken is generally quite wet, so eggs will make the mixture too sloppy to form into balls. If you switch the chicken for a drier minced meat such as pork or turkey, you may want to add an egg to the mixture if the mix is too dry.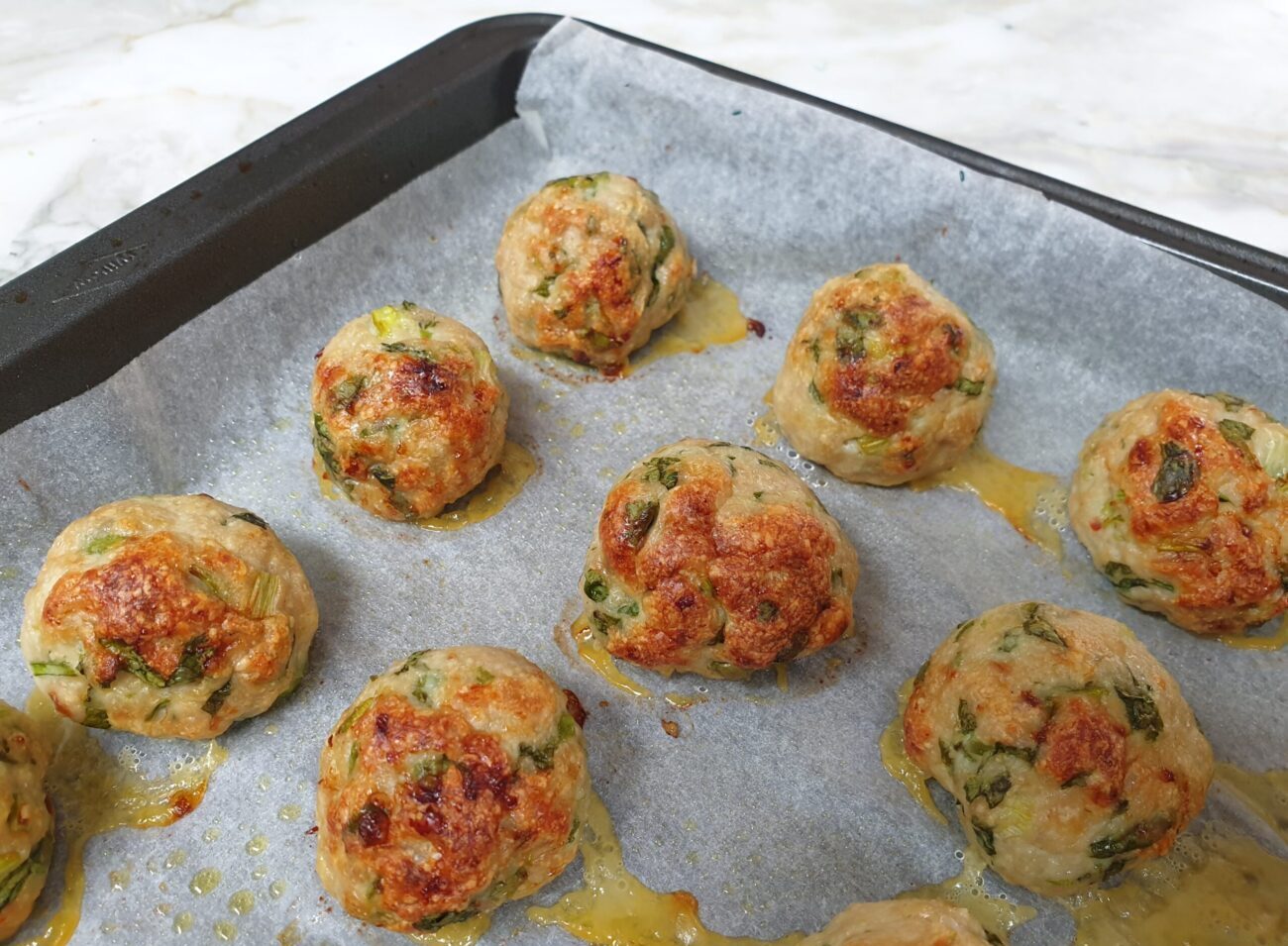 Serving Ideas
You can enjoy these fabulous Keto Thai Chicken Meatballs simply on their own served with the dipping sauce on a bed of fresh salad greens. They would also be great served with a more substantial salad or Asian Slaw, using the dipping sauce as the dressing. Try topping cold blanched zucchini noodles (zoodles) with some thinly sliced red pepper/capsicum with the meatballs and dressing, for one of my favorite ways to serve these delicious meatballs.
Alternatively serve these meatballs on their own with the dipping sauce for a fabulous low carb appetizer. They would also make a great low carb lunch option served with salad to take to work, or just enjoy the meatballs as a healthy low carb snack.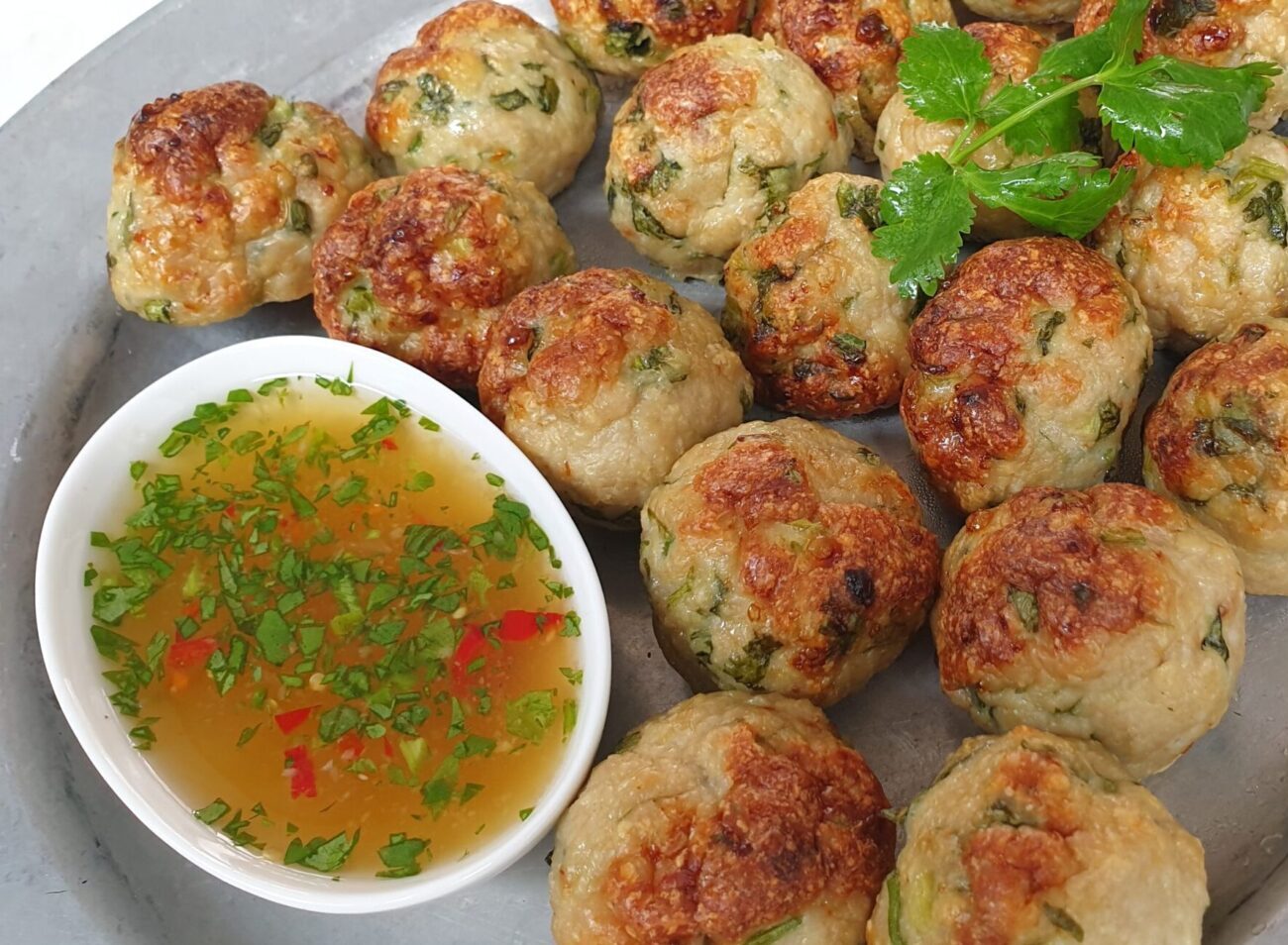 Ingredients
MEATBALL INGREDIENTS
500

gms

minced/ground chicken

or minced pork/turkey/veal

1

tablespoon

fish sauce

2

teaspoons

minced garlic

1

teaspoon

minced chili or birds eye chili finely chopped

or to taste

½

teaspoon

minced ginger

¼

cup

coriander/cilantro finely chopped including roots

2

spring onions finely chopped

1.5

kaffir lime leaves very finely shredded

or the zest of ½ lime- optional

3-4

tablespoons

almond meal/almond flour

depending on how wet the mix is

Salt and pepper to taste

EVOO- extra virgin olive oil spray

for baking
THAI DIPPING SAUCE
2

tablespoons

rice wine vinegar

2

tablespoons

fish sauce

1

tablespoon

lime juice

2

tablespoons

water

½

teaspoon

minced garlic

½

teaspoon

minced ginger

2

sprigs

coriander/cilantro leaves

1

red chili finely chopped

or to taste

2

teaspoons

stevia blend

/monk fruit blend to taste
Instructions
Preheat the oven to 200 C/390 F fan forced.

Combine the minced/ground meat with the remaining meatball ingredients and mix until well combined.

Shape the mince mixture into approximately 30 meatballs for meal sized meatballs. Make balls smaller for finger food sized meatballs if desired.

Line a large baking tray with baking paper. Spray the baking paper with the oil EVOO) and place the meatballs on the baking paper with space around each ball. Spray the meatballs lightly with the oil 999EVOO).

Bake at 200 C/390 F fan forced for 20-25 minutes. Less time if you make smaller meatballs.

While the meatballs are cooking, combine all of the ingredients together for the dipping sauce together.

When meatballs have cooked, serve them with the dipping sauce.
Recipe Notes
If raw meatball mixture is too dry, add a small egg.
If raw meatball mixture is too wet, gradually add some additional flour.
Adjust chili and sweetener to taste in the meatballs and the dipping sauce.
Creamy Thai Dipping Sauce
If catering for children or perhaps to serve as a finger food, try this less traditional Creamy Thai Dipping Sauce that's more subtle in flavor but equally delicious.
Mix the following ingredients together -
1/2 cup mayonnaise
2 teaspoons Siracha chilli sauce
1 teaspoon Tamari
A squeeze of lime juice
1 teaspoon finely chopped coriander/cilantro
1/2 teaspoon minced garlic
1/2 teaspoon stevia/monk fruit blend or to taste
Nutritional Information
Serving:
1
serve of 6
|
Calories:
277
kcal
|
Carbohydrates:
5
g
|
Protein:
16
g
|
Fat:
21
g
|
Fiber:
1
g
Note that we calculate our own nutritional values so they may not be precise. Calculate your own if desired. Carb values exclude sugar alcohols such as Erythritol, as they generally have no impact on blood sugar levels. 50% of the carbs from Xylitol is added to nutritional values. This is consistent with industry practice.
Do you want to receive more recipes like this one? Subscribe to our newsletter now!