Keto Zucchini Bacon Chaffle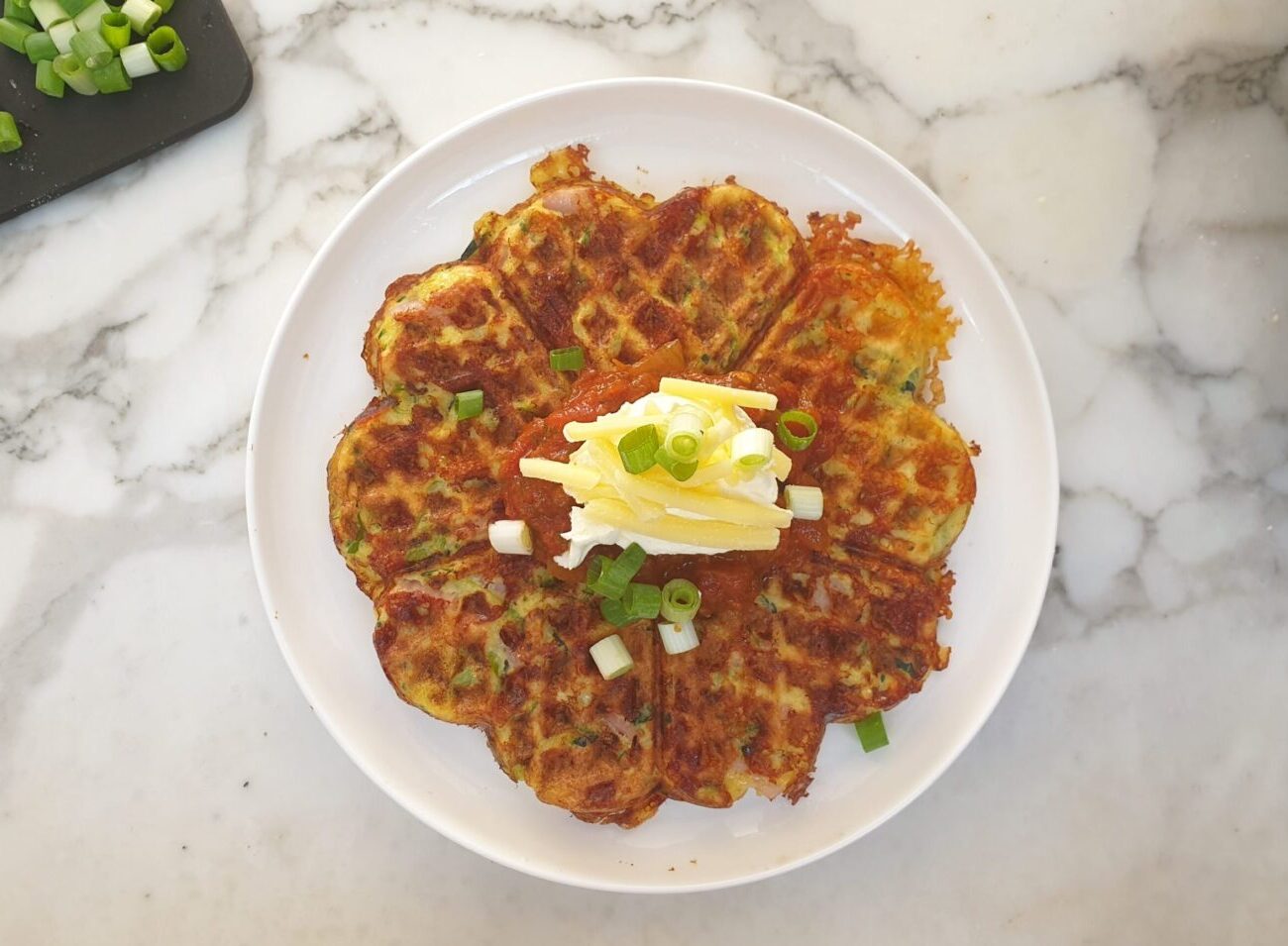 Keto Zucchini Bacon Chaffle
If you are a lover of a zucchini (and bacon) slice then you are going to absolutely love this recipe. Aside from the amazing flavors, the best thing about this recipe is the fact that you get to enjoy a Keto Zucchini Bacon Chaffle in literally minutes. It's a fabulous way to use up any zucchini that you have in the fridge and also makes quite a substantial meal.
This recipe is a fantastic way to sneak greens into the diet of any fussy eaters, so would be a great option for children. If you are looking for a more traditional recipe for a Low Carb Zucchini Slice, make sure you check out this recipe that is not only low in carbs, but tastes just like zucchini slice should.
Keto Zucchini Bacon Chaffle Recipe Video
Check out the video below to see how easy it is to make this delicious recipe for Keto Zucchini Bacon Chaffles. Be sure to sign up to Karen's Keto Kitchen to make sure you don't miss out on any new videos or recipes.as good as the traditional recipe.
What is a Chaffle?
A chaffle is a recent invention and is a combination of a waffle that is made with cheese- hence 'chaffle". Often made in a smaller waffle or chaffle iron, this delicious recipe is one you are going to want to bookmark. My waffle maker of choice is the Breville Creations Waffle Maker and it creates a larger Belgian style waffle in contrast to the traditional smaller square chaffle makers that are often featured. I love the fact that you can vary the temperature in the Breville waffle maker and also that it doesn't stick.
How To Serve Keto Zucchini Bacon Chaffles
My favorite way to serve these chaffles is to top them with some delicious home made Sugar Free Tomato Chutney, a dollop of sour cream and some grated/shredded cheese. You'll find the recipe for the chutney on the blog, and it goes wonderfully with the zucchini and bacon flavors of this recipe. You could also make this dish more substantial by serving a salad or some vegetables on the side.
More Delicious Chaffle and Waffle Recipes
If you are looking for some more fabulous savory chaffles you may want to check out these other recipes that feature on the blog. As with this recipe, these are all quite simple to make and are perfect for a more substantial but easy to make recipe.  The Keto Okonomiyaki Chaffle and Chinese Breakfast Chaffle (Jian Bing) are truly fabulous recipes that I highly recommend you try. The flavors are quite true to the original recipes as well.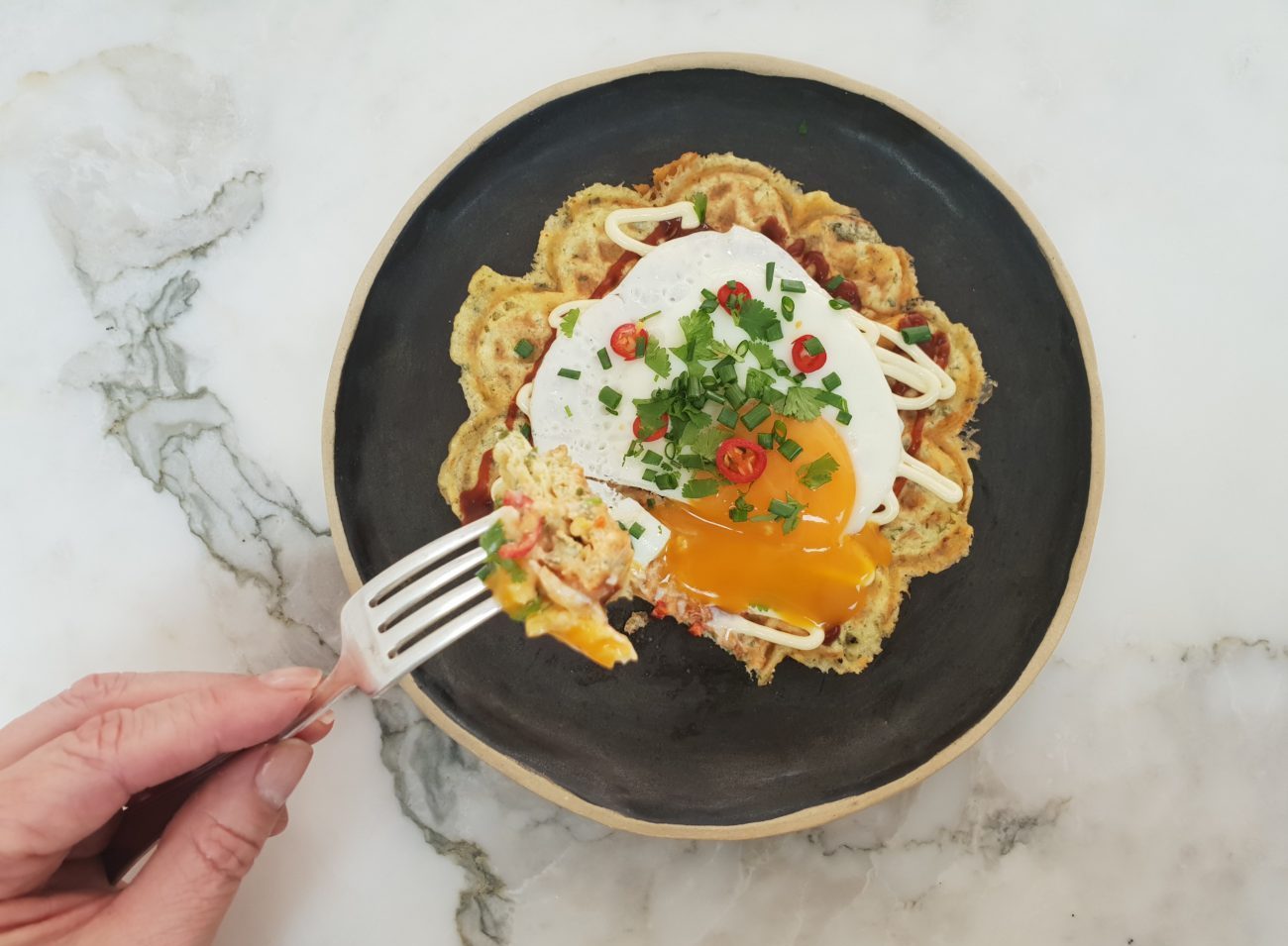 There is also a fabulous recipe for delicious The Best Keto Breakfast Waffles that taste absolutely amazing. These are one of my favorite weekend breakfasts and I love them served with sugar free maple syrup and drizzled with a little heavy/pure cream.
So there you have some wonderful recipes that will see your waffle machine dusted off and put to good use. I use mine all of the time now and love how easy all of these recipes are to make and also how delicious they are.
Karen xx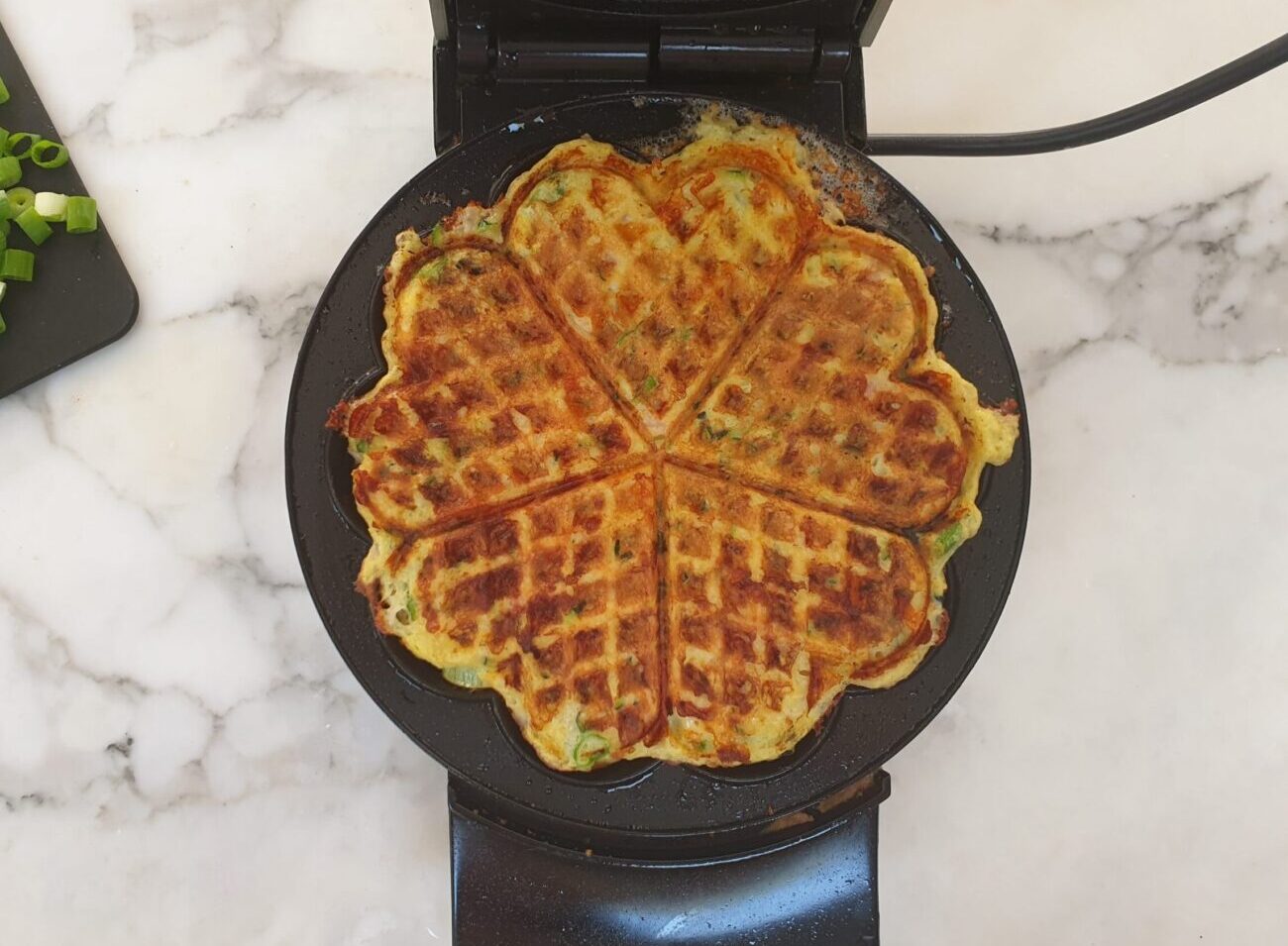 Servings:
4
large Belgian waffles
Ingredients
3

large

eggs

or 4 medium eggs

1

medium

zucchini/courgette grated

½

cup

diced bacon or ham

delete for vegetarian option

2

spring onions/scallions sliced

1

teaspoon

onion powder

¼

teaspoon

garlic powder

¼

teaspoon

baking powder

Salt and pepper to taste

1¼

cups

tasty cheese grated/shredded
Instructions
Whisk the eggs in a medium bowl

Add the grated zucchini, diced bacon, spring onions, onion powder, garlic powder, baking powder and salt and pepper to the eggs. Mix until well combined.

Add the grated cheese and the almond meal/flour, stirring until the mix is well combined.

Heat up your waffle/chaffle iron till hot. Pour ¼ of the mixture in a large waffle maker or about ⅕ of the mixture in a smaller waffle or chaffle maker. Smooth the mix out over the base and cook until golden brown.

Remove carefully from the waffle/chaffle maker and serve immediately.
Recipe Notes
Due to variances in the amount of moisture different almond flours/almond meals absorb, you may need to add more almond meal if the mixture is too thin. Note that it is quite a thick batter.
If your waffle maker is prone to sticking, add a teaspoon of EVOO- extra virgin olive oil to the mixture while creating the batter.
If you want your chaffles to hold together more. you could add a teaspoon of ground psyllium powder (not husks) to the batter. I find this isn't necessary but if your waffles break up too easily, you may find this useful. The cheese tends to help hold the chaffles/waffles together.
Note that the nutritional values represent a chaffle without any toppings.
Try topping these with home made Sugar Free Tomato Chutney, a dollop of sour cream, chopped spring onions and some additional grated cheese. To make more substantial, serve with a salad or vegetables on the side.
Nutritional Information
Serving:
1
large chaffle without toppings
|
Calories:
521
kcal
|
Carbohydrates:
3
g
|
Protein:
31
g
|
Fat:
43
g
|
Fiber:
2
g
Note that we calculate our own nutritional values so they may not be precise. Calculate your own if desired. Carb values exclude sugar alcohols such as Erythritol, as they generally have no impact on blood sugar levels. 50% of the carbs from Xylitol is added to nutritional values. This is consistent with industry practice.
Do you want to receive more recipes like this one? Subscribe to our newsletter now!