Keto Zucchini Bread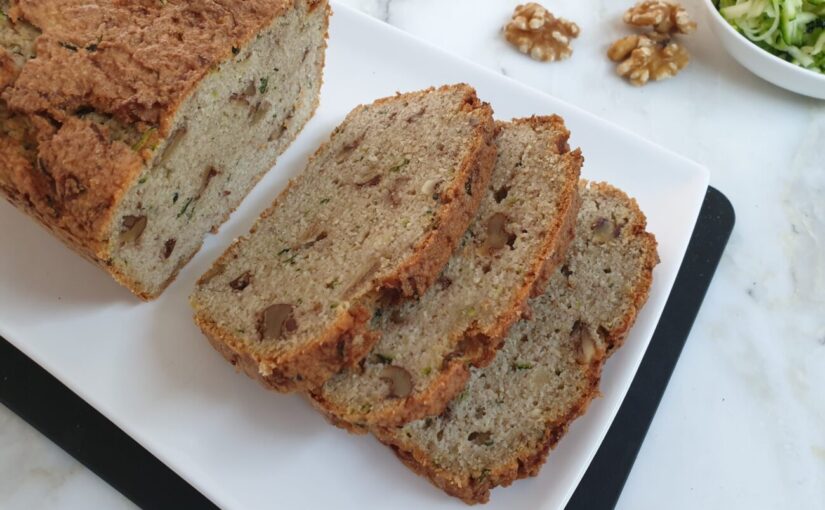 Zucchini is one of those vegetables like cauliflower that proves to be extremely versatile and can be used in both sweet and savory recipes. Deliciously healthy and simple to make Keto Zucchini Bread shows just how amazing and versatile zucchini can be. While this bread can be served as a slightly more savory bread, with adjustments to the amount of sweetener you use, it is equally wonderful when served as cake.
This delicious recipe is ideal for anyone trying to watch their carb or sugar intake and fits in with a keto eating plan. Because it has minimal impact on blood sugar levels it's great for diabetics as well. I slice it and store it in zip lock bags so I have an instant healthy snack on hand. Hubby also loves taking this to work for a treat during the day.
Recipe Video
Check out the video below to see how easy it is to make this delicious Keto Zucchini Bread. Be sure to sign up to Karen's Keto Kitchen to make sure you don't miss out on any new videos or recipes.

Serving Suggestions
Try a slice of Keto Zucchini Bread on its own for a simple snack or breakfast. Add a little smear of butter for variation, or try my favorite way of eating it by pan frying with butter and eating it hot from the pan. If you want to serve this as a cake, add some Low Carb Cream Cheese Frosting and a scattering of chopped walnuts and you have a cake fit for any occasion.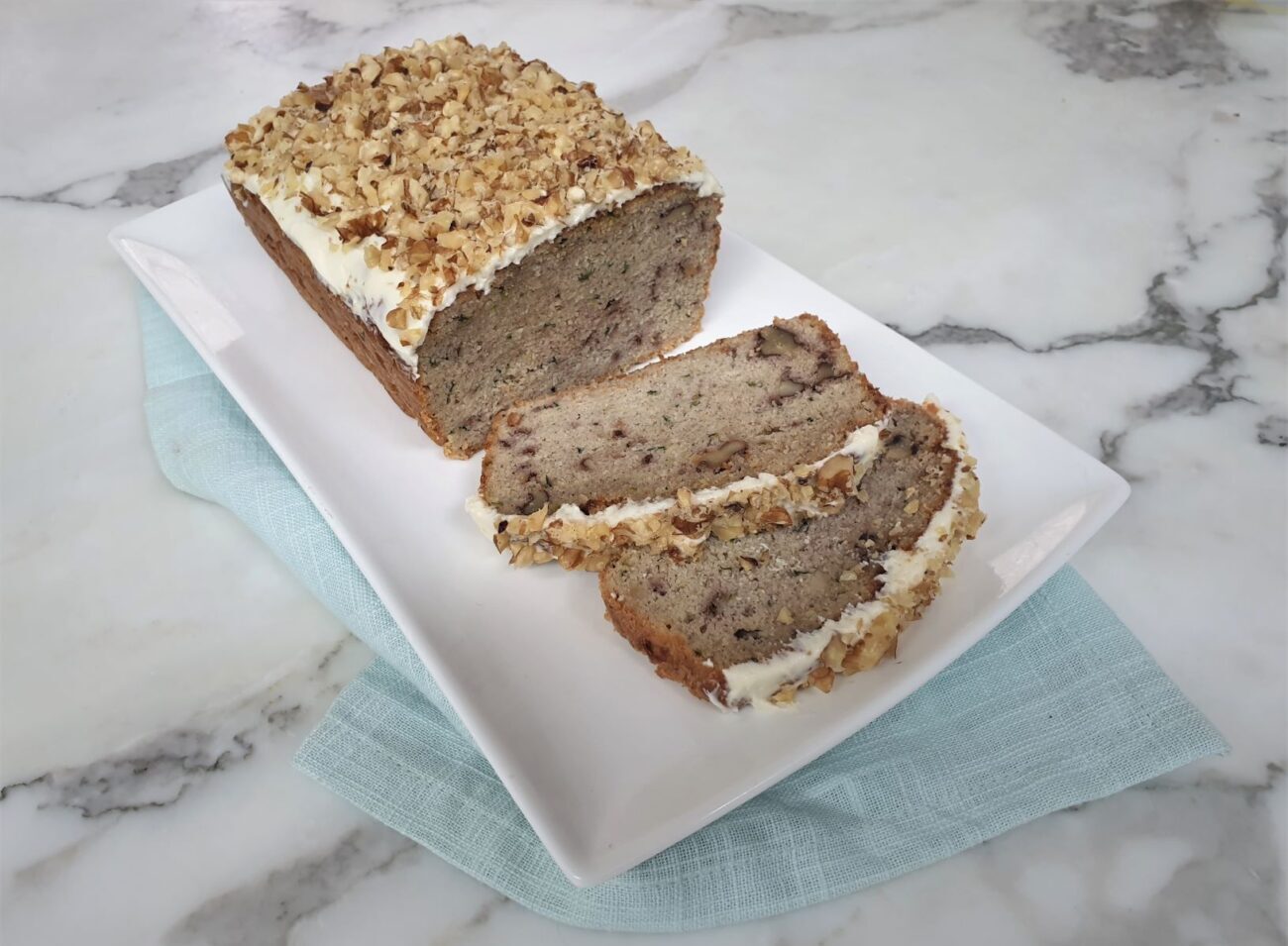 Olive Oil
As with any cake recipe that features olive oil, make sure you use a light flavored extra virgin olive oil. Make sure that you don't use a processed "Light Olive Oil", or you are going to be very disappointed with the flavors.
My favorite oil to use in Australia is the Cobram Estate Extra Virgin Olive Oil in the mildest flavor. It works perfectly in baking cakes like this one because it is so mild in flavor. If you struggle to find a mild tasting olive oil, you can also switch the oil for melted butter.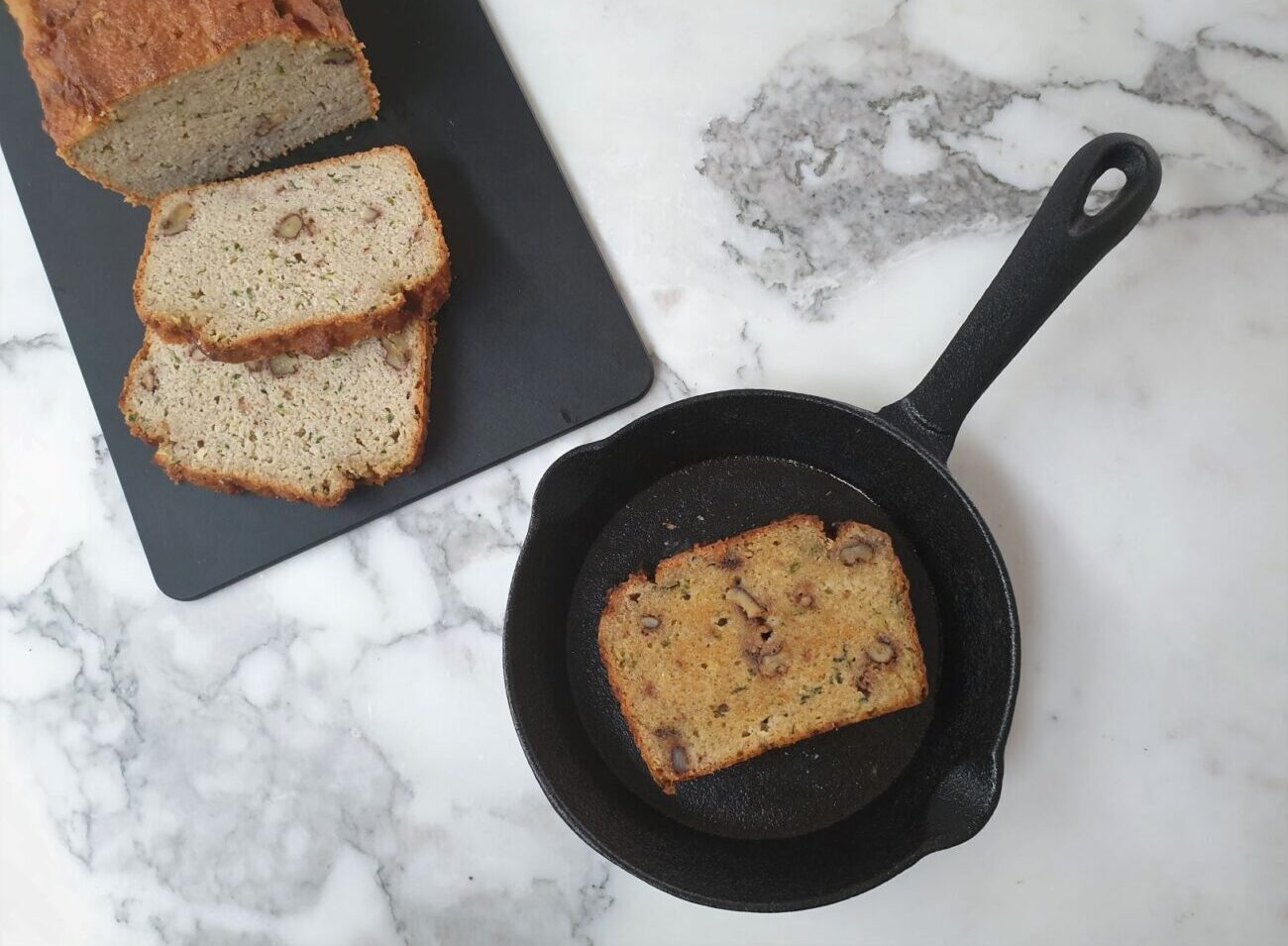 More Fabulous Low Carb Cake Recipes
If you are after a variation of a zucchini cake featuring chocolate, you may want to try this recipe for Dark Chocolate Zucchini Muffins. There is also a delicious recipe for a Chocolate Zucchini Cake that has been getting amazing reviews. This is probably one of my favorite cakes and no one would ever guess that it had zucchini in it.
I also recommend you try making this simple Chocolate Olive Oil Cake. Don't let the olive oil turn you off making this cake as you cannot taste it at all. This recipe is really versatile as well and is absolutely delicious both as a cake and even as a pudding, especially when served with whipped cream or a low carb ice-cream. People who have made this cake keep going to back it. It is surprisingly superb and so simple to make.
If you are after a really decadent Chocolate Cake then make sure you have a look at this recipe for a Low Carb Chocolate Fudge Cake, the piece de resistance of chocolate cakes. The recipe is a bit of a copy cat of one of Ottolenghi's most famous chocolate cakes and is truly divine.
More Fabulous Cake Recipes
Low Carb Orange and Almond Cake
Sugar Free Mandarin Macadamia Cake
Low Carb Lemon Syrup Cake
Low Carb Carrot Cake
Healthy Banana Bread
Low Carb Banana Loaf-a denser loaf with lots of nuts and seeds
Healthy Pumpkin Bread
You are going to want to bookmark this recipe as it is sure to become a favorite of yours. The versatility of this recipe means that it is suitable for some many different occasions. I'd love to see your efforts if you find the time to make this recipe.
Karenx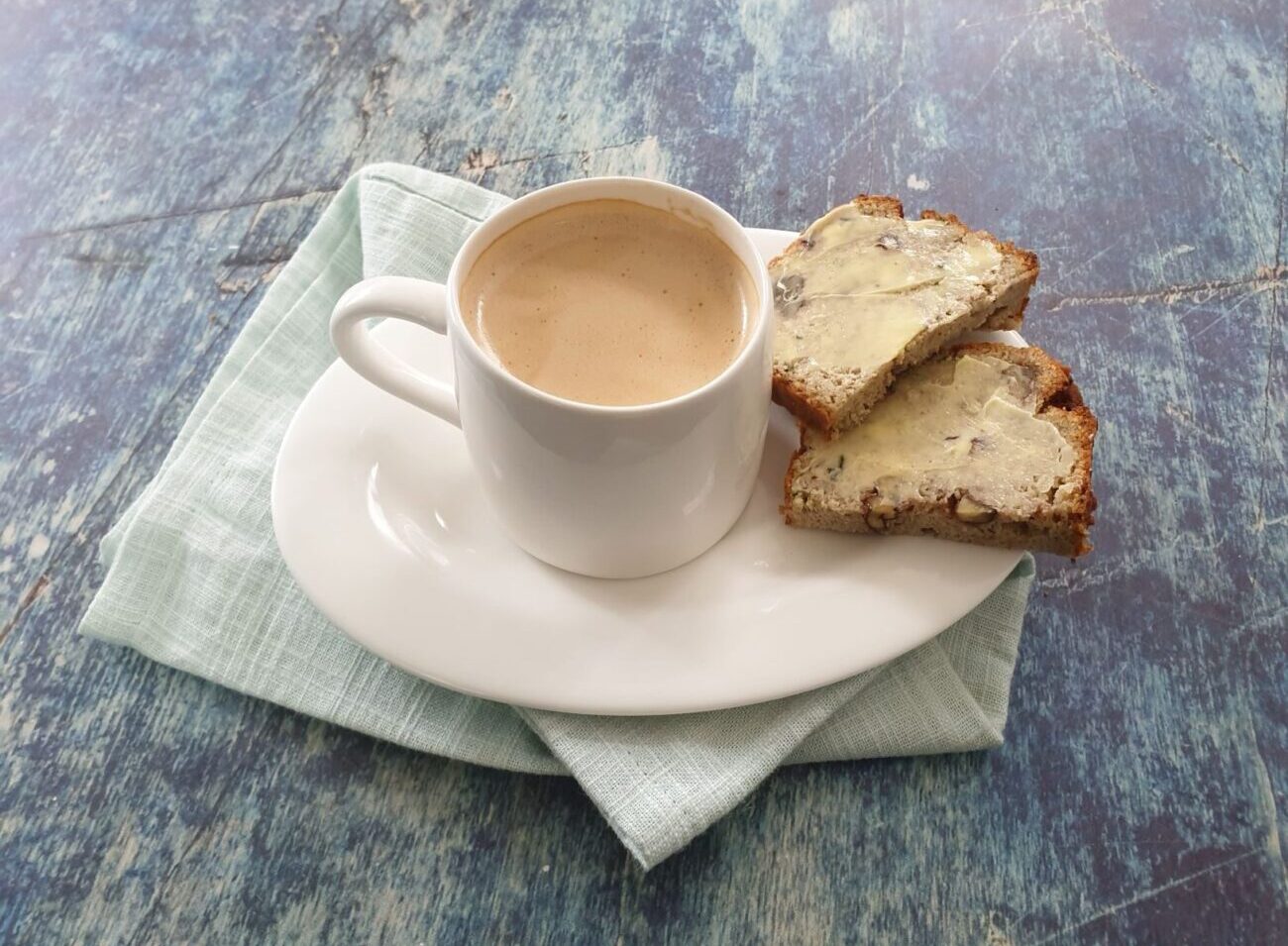 Ingredients
4

medium eggs

⅓

cup

Extra Virgin Olive Oil (EVOO) light tasting or switch for melted butter

1

teaspoon

vanilla extract

⅓

cup

coconut flour

¼

cup

stevia blend

/monk fruit blend/erythritol or alternative sweetener- adjust to taste

2

teaspoons

baking powder

1

teaspoon

ground cinnamon

¼

teaspoons

ground nutmeg

A pinch of salt

1

cup

zucchini grated/shredded

with liquid squeezed out (about 200 gms/7 oz)

⅓

cup

walnuts chopped

pecans or macadamias chopped-optional
Instructions
Cake Method
Preheat a fan forced oven 155 C/310 F fan forced.

Beat the eggs with a hand mixer for approximately 2 minutes or until light and frothy. Add the EVOO (oil) and vanilla extract and continue to beat until combined. Add all of the dry ingredients, including the almond flour, coconut flour, sweetener, baking powder, cinnamon, nutmeg and a pinch of salt. Mix until really well combined, especially the baking powder.

Squeeze the liquid out of the zucchini using a cloth or paper towel. Fold the zucchini and the chopped walnuts through the batter. Stirring until well combined

Pour the batter into evenly into a lined 9" x 5" inch loaf pan and bake for approximately 55-60 minutes or until a skewer inserted into the centre of the bread pulls out clean but is still moist.

Allow the bread to cool for approximately 10 minutes in the pan.

Bread can be sliced once completely cool.
Recipe Notes
Keto Zucchini Bread is best eaten within a few days for ultimate freshness. Store in an airtight container in the fridge, allowing to come to room temperature to serve.
Serve with a smear of butter or pan fry in butter in a frying pan. Also tastes delicious and more cake like when topped with cream cheese frosting/icing
Keto Zucchini Bread is ideal to freeze in an airtight bag/container.
Because the base of the bread is made with almonds, the size of the walnut serving is small. Feel free to add more walnuts for more texture and flavor.
Adjust the sweetener to suit your taste- add more for a sweeter bread or less for a more savory bread.
For a cream cheese frosting, check out this recipe for Low Carb Cream Cheese Frosting.
Nutritional Information
Serving:
1
slice
|
Calories:
217
kcal
|
Carbohydrates:
4.9
g
|
Protein:
5.1
g
|
Fat:
12.3
g
|
Fiber:
1.9
g
Note that we calculate our own nutritional values so they may not be precise. Calculate your own if desired. Carb values exclude sugar alcohols such as Erythritol, as they generally have no impact on blood sugar levels. 50% of the carbs from Xylitol is added to nutritional values. This is consistent with industry practice.
Do you want to receive more recipes like this one? Subscribe to our newsletter now!