Low Carb Flourless Chocolate Cake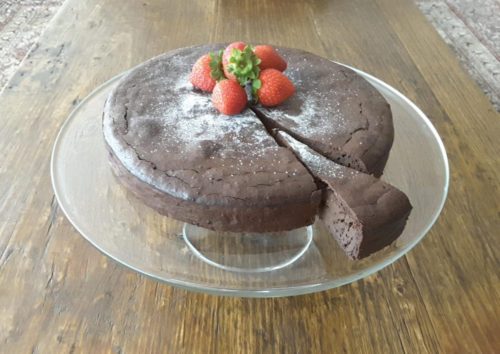 Low Carb Flourless Chocolate Cake
A great recipe for a Low Carb Flourless Chocolate Cake can be the saviour at the end of a dinner party. It's one of those recipes that is really handy to have when the occasion arises and you don't know what to make for dessert.  Some of the advantages to this cake is that not only is it a reasonably simple cake to make but it also tastes absolutely divine and can simply be served with some fresh cream and berries.
This recipe creates a deliciously rich, decadent cake. You do not need have a large serve of it because of this. The flavor is both fudgy and chocolatey and if cut into smaller serves, this could easily serve as a delicious fudge as well. This cake is not light and fluffy but very dense and full of dark chocolate flavors. It will rise a little in the in oven but don't be disheartened if it falls once you take the cake out of the oven as it is a feature of the cake.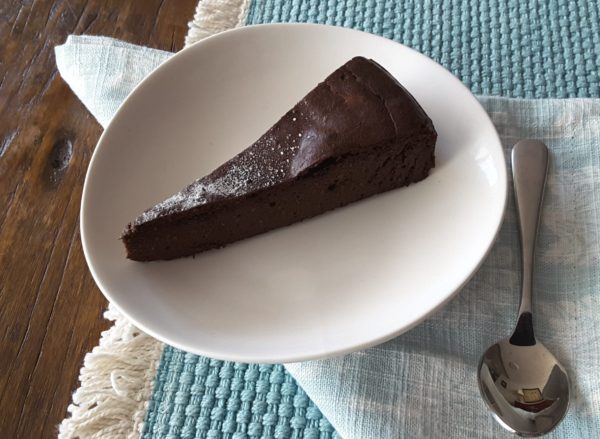 Many flourless chocolate cake recipes call for the use of Dutch Cocoa (basically an acid neutralised cocoa that isn't as bitter as traditional cocoa) but I am going to give you the option of  using  either Dutch cocoa, normal cocoa powder or Cacao powder. I have made the recipe using both ingredients and Dutch cocoa does produce a richer, slightly less bitter (only very slightly) cake but I love the fact that cacao powder could potentially bring with it additional health benefits so it scores bonus points because of that fact. Of course it is hard to know if cacao loses some of these benefits in the cooking process but you can calculate if it's worth using one product or the other.
If you are interested in reading this article on Cacoa vs Cocoa, it might help you understand the differences between these products. If you want the ultimate chocolate flavor then you probably should use Dutch Cocoa, but if you are looking for potential health benefits as well, then you could make it with cacao powder. If you can't source Dutch cocoa and don't have any cacao powder then you could also just use normal cocoa powder in this recipe but remember that it too is a lot more processed, although not quite as much as Dutch cocoa has been.
You will notice that I have used a teaspoon of instant coffee in this recipe. I add a spoonful of coffee to nearly every chocolate cake I make and it really enhances the chocolate flavor. If you added 2 teaspoons you might be able to taste the coffee but trust me, you won't taste 1 spoonful. I really encourage you to leave it in the recipe if you can.
This is a very rich cake that only requires a small serving. I wouldn't eat it every day but it is an amazing dessert or special occasion cake. I would normally get about 20 smaller serves from the recipe. If you have any leftovers or simply think that this cake is too big, I would still make the recipe as specified and you can simply freeze the rest for use on another day. If there's one thing that I have learnt with this way of eating, it's that you are much better to have a low carb compliant food such as this on hand to eat from the freezer, rather than to make a bad food decision.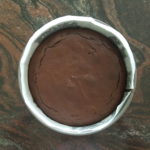 This Low Carb Flourless Chocolate Cake can be modified to be 'nut free' by simply omitting the almond flour and replacing it with an extra 1/2 cup of cacao or Dutch cocoa. The end result will be a slightly more fudgy cake but it still works really well if you need to avoid using nuts. Equally, it can be used to make individual ramekins of chocolate delight but I would decrease the cooking down to around 10-12 minutes if you do this. This cake should still have moist crumbs sticking to a skewer if you poke it when it has finished cooking.
You are far better to under cook this recipe rather than overcook so do keep an eye on it when it's in the oven.
Kxx