Low Carb Flourless Chocolate Cake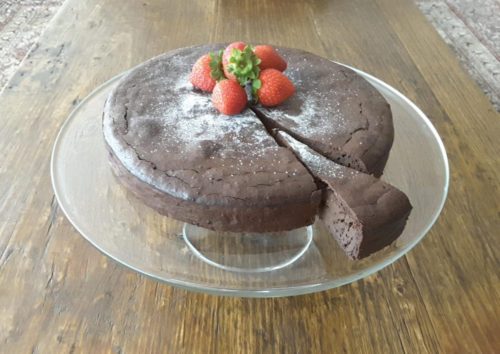 Low Carb Flourless Chocolate Cake
A great recipe for a Low Carb Flourless Chocolate Cake can be the saviour at the end of a dinner party. It's one of those recipes that is really handy to have when the occasion arises and you don't know what to make for dessert. Not only is it simple cake to make but it also tastes absolutely divine. Serve it simply topped with with fresh whipped cream and berries.
RICH AND DECADENT
This recipe creates a deliciously rich, decadent cake. You do not need have a large serve of it because of this. The flavor is both fudgy and chocolatey and if cut into smaller serves could easily serve as fudge cake. This cake is not light and fluffy but very dense and full of dark chocolate flavors and will only rise a little in the in oven. Don't be disheartened if it falls once you take the cake out of the oven, as it's a feature of the cake.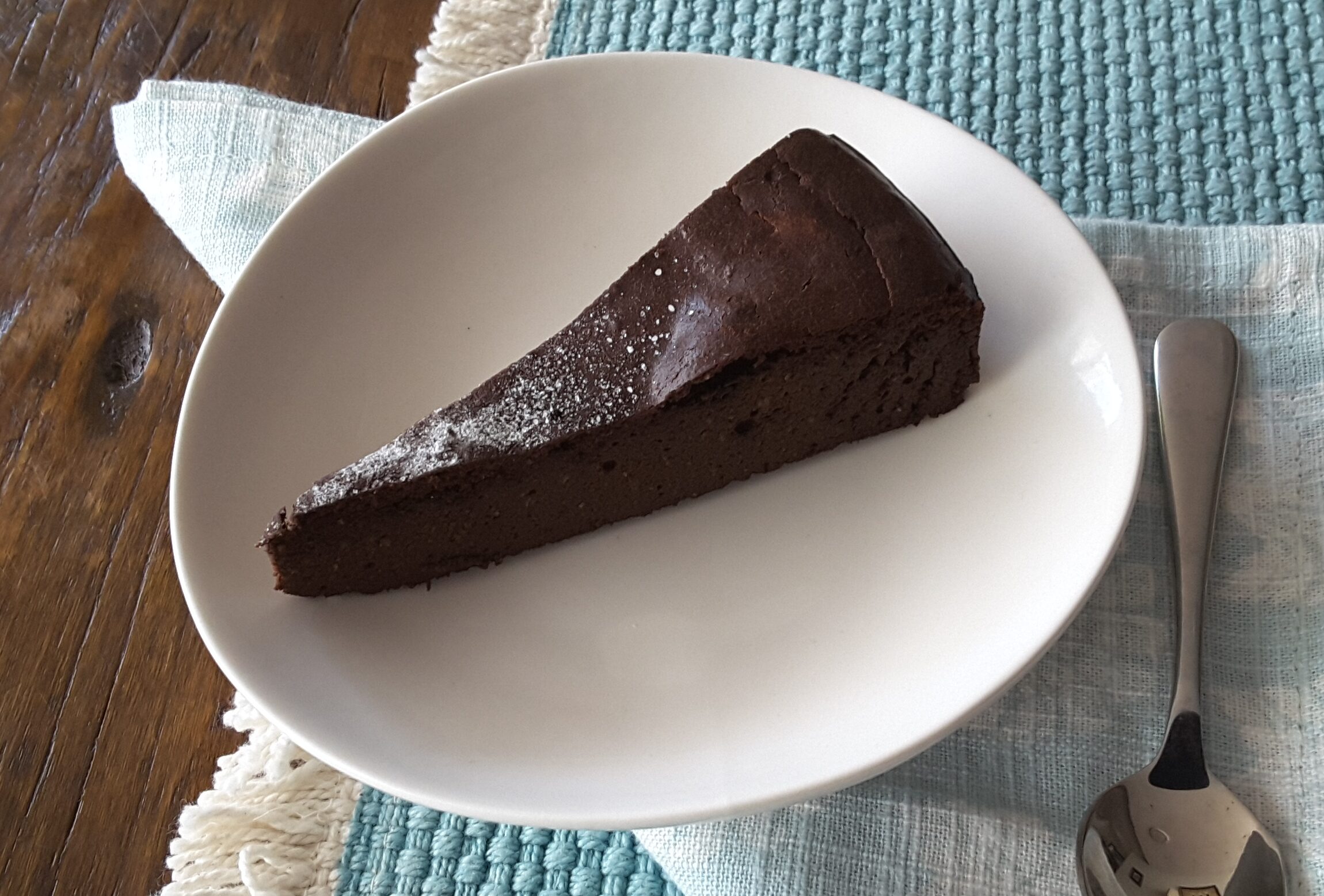 DUTCH COCOA, COCAO AND COCOA
Many flourless chocolate cake recipes call for the use of Dutched cocoa which is basically an acid neutralised cocoa that isn't as bitter as traditional cocoa. You have the option of  using  either Dutch cocoa, normal cocoa powder or cacao powder. I have made the recipe using all ingredients and Dutch cocoa does produce a richer, slightly less bitter cake. For a healthier option you may want to use cacao powder because of it's additional health benefits. Of course it's hard to know if cacao loses some of these benefits in the cooking process, so I'll leave it to you to determine if it's worth using it.
Cacao vs Cocoa
If you are interested in reading this article on Cacoa vs Cocoa, it might help you understand the differences between these products. For the ultimate chocolate flavor I suggest you use Dutch cocoa. If you are looking for potential health benefits as well then you could make it with cacao powder. If you can't source Dutch cocoa or cacao powder,  regular cocoa powder can also be used. You always gave the option of using a mix of these chocolate cocoa/cacao options as well.
COFFEE AND CHOCOLATE
You will notice that I have used a teaspoon of instant coffee in this recipe. I add a spoonful of coffee to nearly every chocolate cake I make and it really enhances the chocolate flavor. If you added 2 teaspoons you might be able to taste the coffee but trust me, you won't taste 1 spoonful. I really encourage you to leave it in the recipe if you can. Feel free to omit if desired.
SERVING SUGGESTIONS
This is a very rich cake that only requires a small serving. I wouldn't eat it every day but it is an amazing dessert or special occasion cake. I would normally get about 20 smaller serves from the recipe. If you have any leftovers or simply think that this cake is too big, I would still make the recipe as specified and you can simply freeze the rest for use on another day. If there's one thing that I have learnt with this way of eating, it's that you are much better to have a low carb compliant food such as this on hand to eat from the freezer, rather than to make a bad food decision.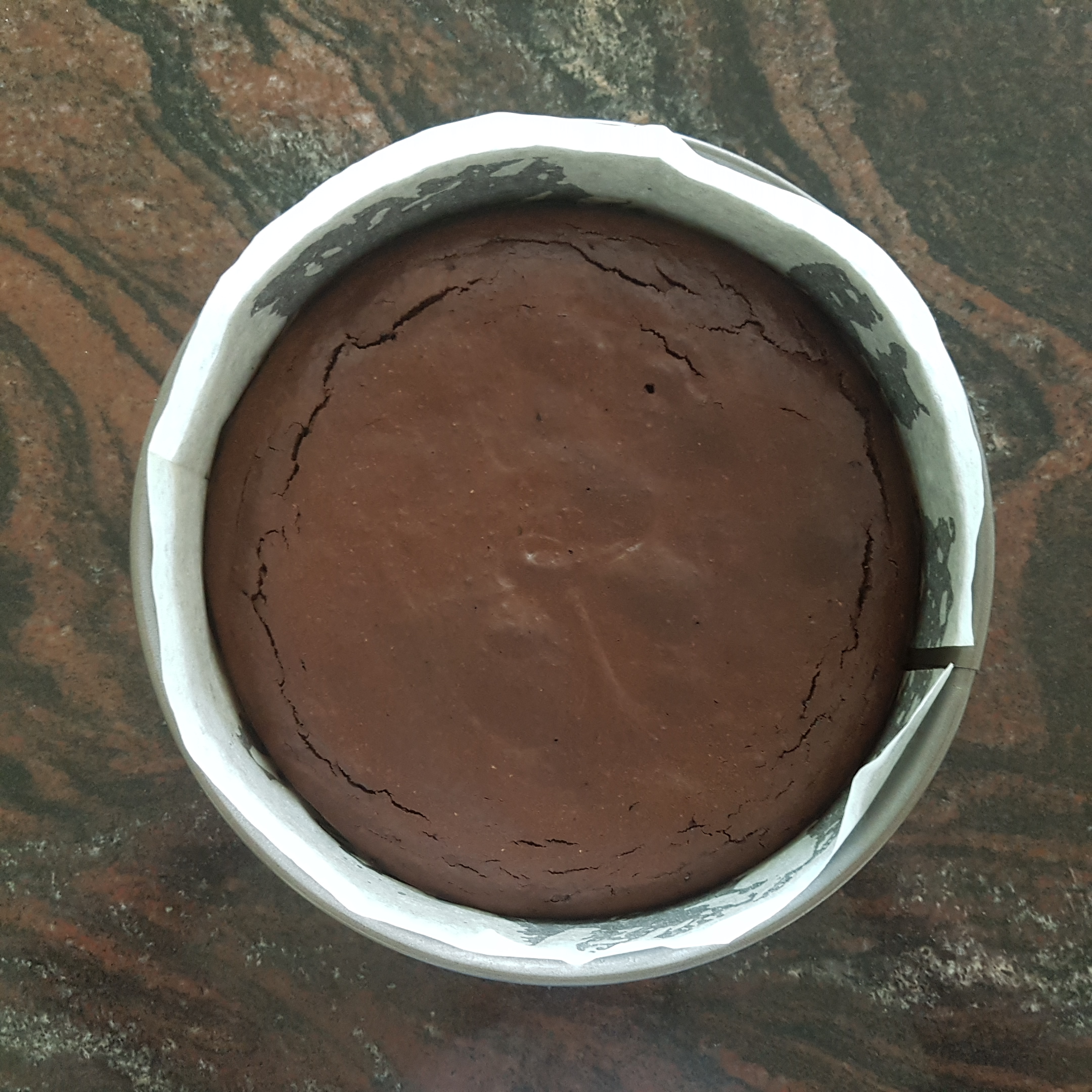 NUTFREE VERSION
This Low Carb Flourless Chocolate Cake can be modified to be 'nut free'. Simply omit the almond flour and replace it with an extra 1/2 cup of Dutch cocoa. The end result will be a slightly more fudgy cake but it still works really well if you need to avoid using nuts. Equally, it can be used to make individual ramekins of chocolate delight. Divide batter equally between ramekins and decrease the cooking down to around 10-12 minutes, for pots of chocolate delight.
You are far better to under cook this recipe rather than overcook so do keep an eye on it when it's in the oven.This cake should still have moist crumbs sticking to a skewer if you poke it when it has finished cooking.
Kxx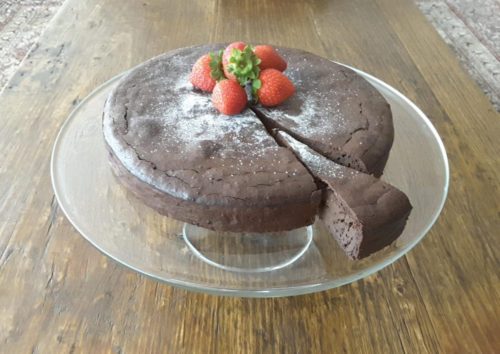 Ingredients
200

grams

dark chocolate 85% couverture or more

200

grams

butter

6

large eggs separated

100

grams

/1 cup almond flour

50

gms

/½ cup Dutch porcessed cocoa

cocoa or cacao

3

tablespoons

Stevia Blend

or alternative sweetener

1

teaspoon

quality instant coffee

or to taste/optional

¼

cup

boiling water

1

teaspoon

tspn vanilla extract

A pinch of salt
Instructions
Preheat the oven to 160 C/320 F fan forced

Beat the egg whites with a whisk until soft peaks form. Dissolve the instant coffee powder and sweetener in 1/4 cup boiling water or alternatively make an espresso out of your favorite coffee and add the sweetener to it if you want 'real' coffee.

Zap/melt the butter and chocolate in a suitable large container in the microwave in short bursts till the chocolate has melted, taking care not to over cook. Alternatively melt on the stove top in a bain marie if required.

Using electric beaters/a mixer, add the egg yolks to the chocolate and butter mix beating until well combined. Continue beating and add the sifted Dutch cocoa and almond meal, mixing till really well combined. Make sure the almond meal has been thoroughly mixed through.

Continue mixing and add the water with the dissolved coffee and sweetener, a pinch of salt and the vanilla extract.

Using a spatula, gently fold the egg whites into the chocolate mix till combined, without over mixing.

Pour the batter into a prepared 8" pan.

Bake for 30 - 40 minutes or until a toothpick inserted into the centre comes out with moist crumbs clinging to it.

Cool the cake completely in the pan before removing.

This serves approximately 20 due to the richness of recipe.
Recipe Notes
To Serve
Dust with a tiny amount of cacao powder.
Serve with fresh whipped cream and strawberries or raspberries.
Take care not to overcook the cake as you want it soft on the inside.
Check it at 30 minutes to make sure it doesn't overcook.
Recipe is ideal to freeze.
Nutritional Information
Serving:
1
slice
|
Calories:
193
kcal
|
Carbohydrates:
4
g
|
Protein:
5
g
|
Fat:
17
g
|
Fiber:
1
g
Note that we calculate our own nutritional values so they may not be precise. Calculate your own if desired. Carb values exclude sugar alcohols such as Erythritol, as they generally have no impact on blood sugar levels. 50% of the carbs from Xylitol is added to nutritional values. This is consistent with industry practice.
Do you want to receive more recipes like this one? Subscribe to our newsletter now!