Low Carb Microwave Seed Crackers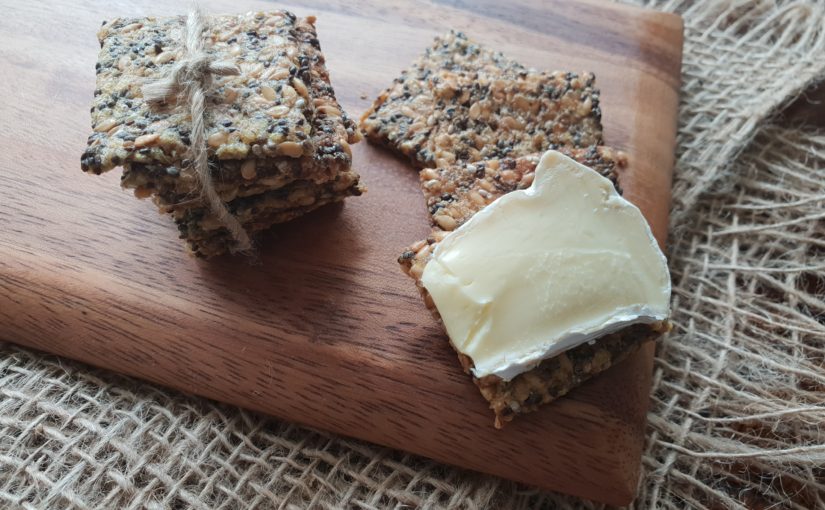 Low Carb Microwave Seed Crackers
Don't you hate it when you run out of seed crackers! Although I have bought processed ones from the supermarket, there really is no comparison to eating home made seed crackers. I'm a cheese fiend which is why I love to have crackers on hand and of course they are great for dippers as well. My quest (yep..another quest) recently was to come up with a microwave recipe for seed crackers. I am very happy to say that my quest was extremely successful and this recipe for Low Carb Microwave Seed Crackers is absolutely brilliant.
The thing that I love about this recipe is that if I run out of crackers and know that I have people coming over, or need some in a hurry, I can make these in about 8 minutes. That includes preparation and cooking. How brilliant is that? Part of the problem with the seed cracker supply in my house is that my non keto friends love them and they eat them!! I think I'm going to have to hide them to prevent this happening. You know, sometimes I tell them they can't eat my crackers….is that a bit rude???
This recipe would be perfect to make in the hot weather as well, when you don't want to turn the oven on and would probably save on energy as well. If you want to see how easy it is to make these delicious crackers, check out the video below. If you aren't sure about how you roll the crackers out you might find this particularly useful. Don't forget to subscribe to my youTube channel while you are there to make sure you don't miss out on any recipe posts.
The Soft and Soggy Microwave Myth
I didn't believe that I was going to be able to produce crispy seed crackers in the microwave. Don't microwaves make food soggy? This recipe will show you how that is actually a myth. These Low Carb Microwave Seed Crackers are as crispy as oven baked crackers and they store for just as long. I was going to say last but seed crackers don't really last in my house.
Just wait until you try these. Just remember that you are going to be limited by the size of your microwave, which is why the recipe doesn't make a large number of crackers. You also may have to be flexible with the shape of your crackers, especially if you have a round microwave dish/platter as it will determine how you roll and shape your crackers. I'd just tell people that they are artisan crackers. You then have a creative license to do whatever you want to.
More Delicious Cracker Recipes
If you have time to bake a larger amount, you may want to check out the numerous seed cracker recipes on the blog such as-
Low Carb Seed Crackers
Low Carb Almond Seed Crackers
Healthy Lavosh Crackers
There are quite a few more to choose from. Just type in crackers and you will be able to see them all. Don't forget about the Cheese Crisp recipes as well on the blog, as they are also quick to make cracker options.
I hope you get around to making these because I think its a winning recipe.
Kxx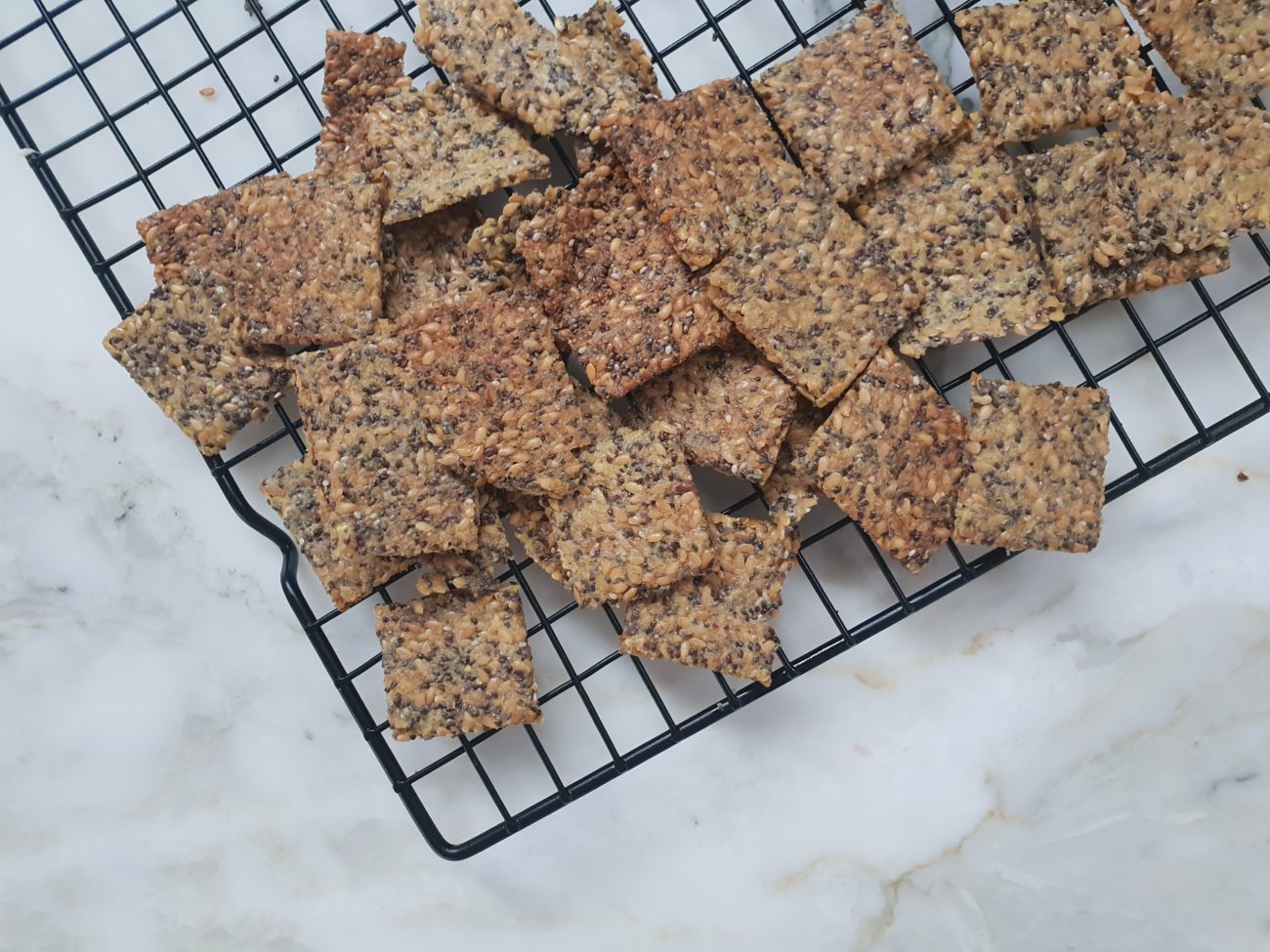 Servings:
10
serves- about 4 crackers
Ingredients
2

tablespoons

chia seed

2

tablespoons

flax seed/linseed

2

tablespoons

flax seed/linseed ground

2

tablespoons

psyllium husk

1

tablespoon

sesame seeds

1/2

teaspoon

onion powder

1/2

teaspoon

salt

1/4

teaspoon

garlic powder

1

tablespoon

EVOO- extra virgin olive oil

1

large

egg
Instructions
Combine all ingredients together.

Roll out to about 3mm/1/8 inch thick between two sheets of quality baking paper. Use the tray from your microwave if you have one as a size guide.

Peel the top piece of baking paper off and using a large knife cut into cracker shapes using one cutting motion downwards, to prevent tearing the edges of your dough.

Cook in the microwave for about 4 minutes or until cooked through. Break the crackers up and check if they are cooked through. You may have to remove the outer edge crackers and cook the ones that were in the middle a little longer. They shouldnt need more than 1 additional minute.

Store in an airtight container once they have cooled.
Recipe Notes
You can switch the seeds for seeds of choice. Just keep the seed ratio similar and always add the linseed/flax seed powder and the psyllium. Alternatives include pepita seeds and black sesame seeds.
Add a tablespoon of Parmesan cheese shredded and 1/4 teaspoon of paprika for a lovely variation.
If your mixture is crumbly at all and not sticking together, bring the mixture back together add a little more moisture such as water or some egg white and allow to sit for about 10 minutes before rolling out again. The other alternative is to add some additional psyllium husks or a little psyllium powder, mix through and let sit for about 10 minutes before rolling out. Using different brands and types of nuts and seeds can impact on your mixture binding following the steps above will resolve your issue.
Nutritional Information
Serving:
1
of 10
|
Calories:
99
kcal
|
Carbohydrates:
2
g
|
Protein:
3
g
|
Fat:
7
g
|
Fiber:
3
g
Note that we calculate our own nutritional values so they may not be precise. Calculate your own if desired. Carb values exclude sugar alcohols such as Erythritol, as they generally have no impact on blood sugar levels. 50% of the carbs from Xylitol is added to nutritional values. This is consistent with industry practice.
Do you want to receive more recipes like this one? Subscribe to our newsletter now!