Low Carb Peanut Butter Choc Chip Ice Cream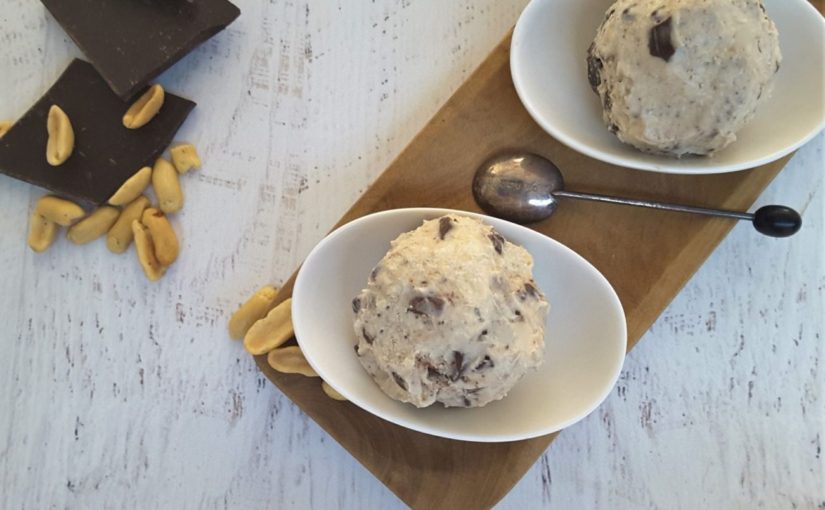 Low Carb Peanut Butter Choc Chip Ice Cream
Delicious and simple to make no churn Sugar Free Peanut Butter Choc Chip Ice Cream tastes absolutely divine. If you are a peanut butter fan you are going to love it. Simple to make and without the need for an ice cream maker, this recipe is going to be one to book mark. With variations to suit low carb or keto, paleo and vegan, it's a brilliant recipe that caters for many different ways of eating.
Recipe Ingredients
There are some less common ingredients in this recipe such as guar gum and MCT oil but having tried to make so many different recipes, I have worked out what works and what doesn't. There are switches that can be made, so check the notes below if you can't source some of the items. If you are an ice cream lover though, I highly recommend that you try to source them. Many more ice cream recipes will be featured over the next month, so they will be put to good use.
Why Guar Gum and MCT oil?
For anyone who has made ice cream before it is very common for it to crystallize and to have an icy texture. By using guar gum and MCT oil, the texture will be smoother and the ice cream won't ice up over time in the freezer. For variations to these products pleae read the notes below the recipe.
Save Money
This recipe is a copycat version of what I believe is the best low carb ice cream on the market here in Australia. I think that the end result is the best textured and tasting homemade ice cream I have ever made. In fact, I think it tastes better than the basic recipe I was trying to emulate. It also isn't going to cost you $13 for 500 gms/17 oz to buy either. Now that is what I call a win!
Sweeteners
For a vegan and/or paleo version of this delicious Low Carb Peanut Butter Choc Chip Ice Cream, use your sweetener of choice. Coconut sugar, maple syrup and even banana can be used to sweeten this recipe. While you will get the best outcome for a low carb or keto version using xylitol, other sweeteners can be used as well. The reason xylitol works so well is that it doesn't crystallize once frozen like other sweeteners do.
Dog Lovers Beware
For anyone with dogs, please take care with xylitol as it can cause harm and kill dogs. I am an avid dog lover and have 2 beautiful schnauzers who I would never want to harm. Just as I am extremely careful with chocolate as it can kill dogs, I am cautious with xylitol as well. The fact that I am not partial to sharing my ice cream with anyone makes this quite easy to abide by.
I've given a lot of thought to the use of xylitol because of my dogs and I refused to use it initially out of concern for them. After much thought, I finally decided that I would use it but would have to take care with it around the dogs. There have been a couple of issues with dark chocolate with one of my dogs and it made her so ill, we thought we would lose her. This hasn't stopped me from having dark chocolate in the house (sacrilege!!) but it has caused me to be vigilant. So dark chocolate and xylitol are back on the menu in my house.
My Preferred Ice Cream Container
For anyone interested in the containers that I use to make my ice cream, I bought these ones in Australia.  They are available overseas as well in other online stores. They are the perfect size and keep the ice cream air tight. Note that I don't benefit from this recommendation, it is just a suggestion. Just make sure that your container is air tight. Air will cause your ice cream to crystallize.
https://www.kitchenwarehouse.com.au/Retro-Kitchen-Ice-Cream-Storer-1L-Pink?gclid=Cj0KCQjw6KrtBRDLARIsAKzvQIGdlXD8oa52a7_TlzjzdyQowltgsxrdCBqYCcfnDZp1wZBX9IloEcgaAo-OEALw_wcB
More Ice Cream To Come
Stay posted for many more fabulous ice cream recipe that will be shared soon. Flavors such as buttered pecan,  strawberry cream cheese, vanilla macadamia and a wonderful plain vanilla will be added over the next few months. If you haven't already tried this delicious recipe for a No Churn Chocolate Ice Cream, I highly recommend you have a go at making it, as it is superb.
I hope you enjoy this delicious recipe.
Kxx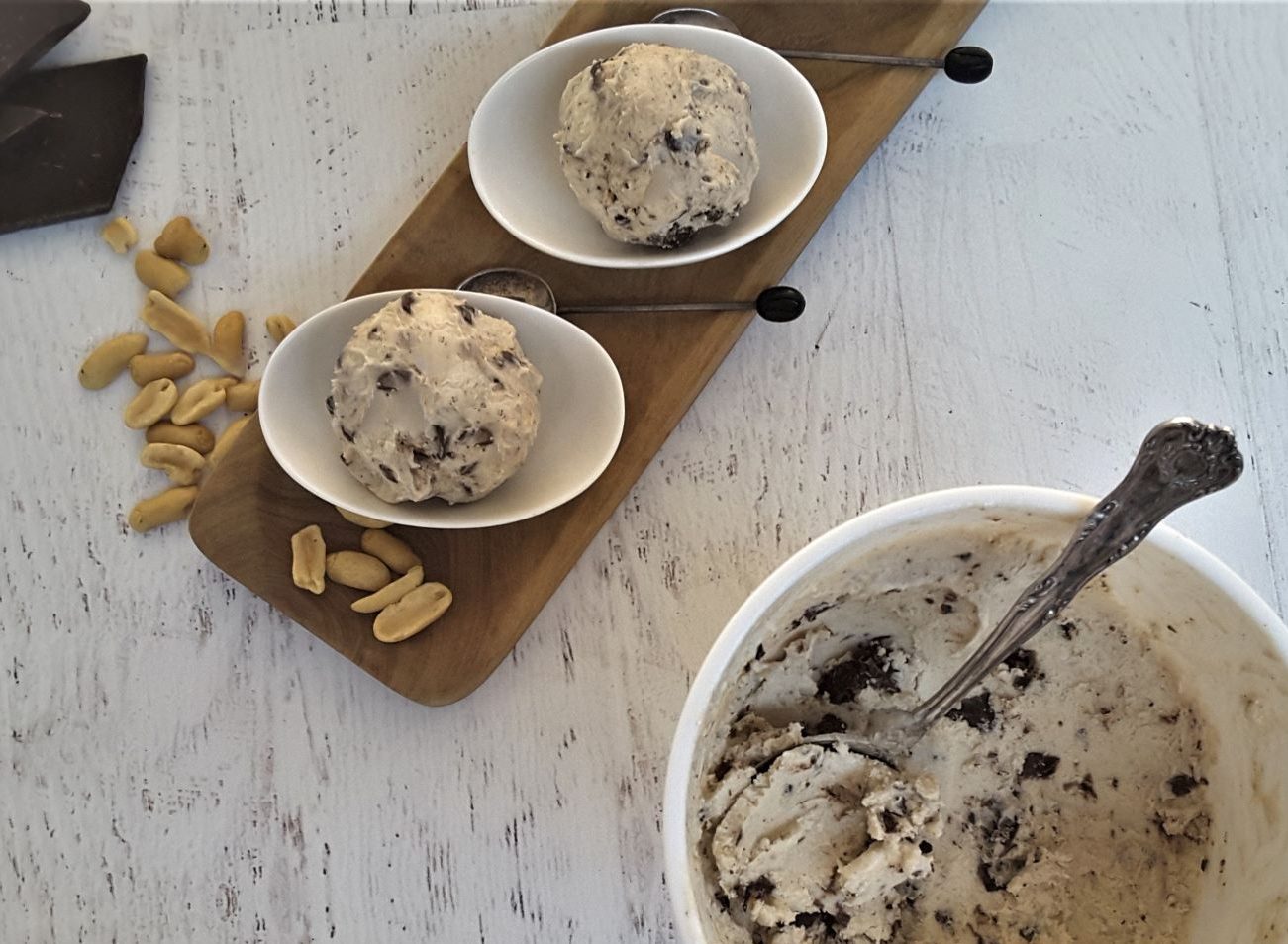 Ingredients
2/3

cup

smooth peanut butter sugar free

or switch for preferred nut butter

1/2

cup

xylitol

see notes for using alternative sweeteners and for paleo instructions

700

ml

coconut cream

sugar free

2

teaspoons

vanilla extract

2

tablespoons

MCT oil

see notes for alternatives

A pinch of sea salt

1/2

teaspoon

guar gum

very accurately measured or see notes for using xanthan gum

100

gms

dark chocolate choc chips

use a block of dark choc and cut into chips
Instructions
Using electric beaters, beat the peanut butter with the xylitol (or sweetener of choice), vanilla extract, MCT oil and sea salt until smooth and creamy.

Add the coconut cream and continue to beat until well combined.

Sprinkle the guar gum on top of the ice cream mixture and using electric beaters, mix until well combined without over beating.

Fold the choc chips through the ice cream mixture so they are well dispersed.

Pour your ice cream mixture into a freeze proof container that has a lid or ensure your ice cream container is well sealed.

Leave the ice cream to freeze until firm. Generally overnight is ideal. The ice cream will firm up the longer it is in the freezer, which is when you will be grateful that softening agents (the oil and the gum) are used in the recipe.

Allow the ice cream to sit on the bench for 15- 20 minutes or until soft enough to serve, prior to serving if it is too firm to scoop.
Recipe Notes
This recipe was made to be no churn ice cream so you don't need an ice cream maker. The ice cream can be made in the churner if desired.
Use smooth or crunchy peanut butter. Your favorite nut butter can also be used.
If you don't have guar gum, try adding ½ teaspoon of xanthan gum in its place. Guar gum is preferred if possible. Add the xanthan gum as per the instructions for the guar gum Ensure you accurately measure the guar gum or the xanthan gum before adding one of them to the recipe. If you use too much, your ice cream will end up being too claggy.
Use coconut sugar or maple syrup for paleo or vegan versions.
Mashed banana can also be added for natural sweetening if it fits in with your way of eating. Note that this this is not low carb or keto.
Although testing showed excellent results using a range of sweeteners, xylitol is the best sweetener to use in ice cream as it doesn't crystallize when frozen. If you use an alternative sweetener, there is no guarantee that the end result will be the same as it would be if xylitol was used. Replace the xylitol with the equivalent erythritol or ¼ cup of a stevia or monk fruit blend.
If you don't have MCT oil simply omit. Try switching for the equivalent amount of EVOO- extra virgin olive oil, as long as it is a light tasting EVOO and not light olive oil. You can also switch it for melted quality light flavored coconut oil as well.
Pure cream can be used in place of the coconut cream. You can also use half coconut cream and half cream with great results.
The volume gained by beating the coconut cream will determine how much ice cream you make. 1 litre/35 oz is just an approximate.
For a richer chocolate variation add an 3-4 tablespoons of cocoa powder, Dutch-processed cocoa powder or cacao powder.
The benefits of the oil and the gum will be noticed once the ice cream has firmed up properly in the freezer. The ice cream will be smoother and not crystallize.
Nutritional Information
Serving:
1
serve
|
Calories:
236
kcal
|
Carbohydrates:
3.2
g
|
Protein:
2.5
g
|
Fat:
19
g
|
Fiber:
1
g
Note that we calculate our own nutritional values so they may not be precise. Calculate your own if desired. Carb values exclude sugar alcohols such as Erythritol, as they generally have no impact on blood sugar levels. 50% of the carbs from Xylitol is added to nutritional values. This is consistent with industry practice.
Do you want to receive more recipes like this one? Subscribe to our newsletter now!