Low Carb Quiche Lorraine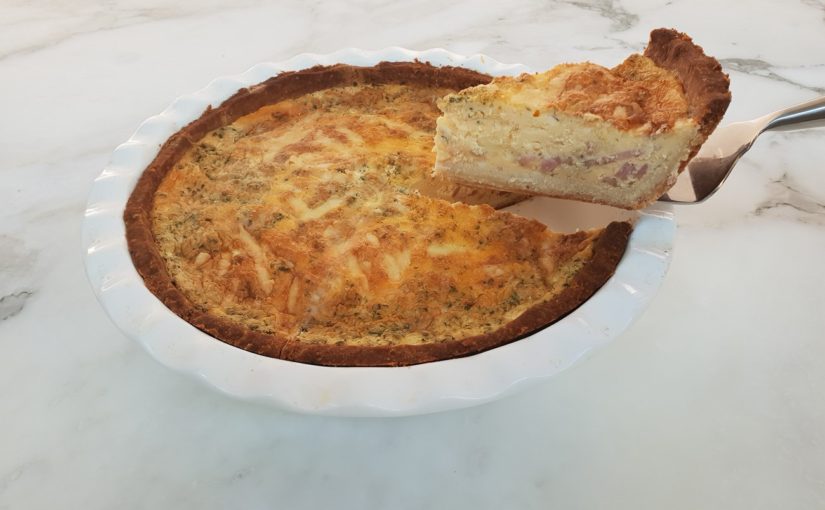 This delicious recipe for a Low Carb Quiche Lorraine deserves to be bookmarked as a low carb and keto classic. Featuring a rich and creamy centre baked in a gluten free, keto friendly pie crust, you will understand why it is a classic. The history of quiche, a dish we think of as French is actually of German origin. The word 'quiche' comes from the German word kuchen, meaning cake, so quiche is essentially a savoury cake. Quiche Lorraine was developed in the French region of Lorraine. Lorraine was earlier under German rule, which explains how the name came to be.
Quiche Lorraine Origins
The oldest recipes for quiche Lorraine were simply an open pie filled with a mixture of egg, chopped bacon and cream. The dough was simply bread dough, but in the 20th century this was replaced with a puff pastry crust. The traditional recipe simply sautes the bacon and onion, which is then laid in the pie crust with a mixture of eggs, cream and cheese poured on top. There's really no difference to today's recipe.
To see just how easy this recipe is to make, check out this recipe video on youTube.

Low Carb Quiche Lorraine
This low carb version doesn't use a dough crust or a puff pastry crust because of the carbs. The replacement low carb pie crust is more like a short crust pastry and works wonderfully with the recipe. Although the traditional recipe doesn't add any herbs or spices, I couldn't help adding minced garlic to the recipe. I've also added a little sour cream, just in case the recipe wasn't creamy enough.
Making The Crust
There are 2 methods for making the dough. One uses a food processor while the other method (featured in the video) zaps the cheese and butter in the microwave briefly until just soft but not melted.
The food processor method dough will be firmer than the microwave method. The microwave method is the simplest and cleanest way to make your dough. To be honest, it's the only method I use now but I am a bit of a lazy cook.
If you ever over work the pastry, you may have to refrigerate it to firm it up as the butter in it will make it harder to work with if warm. Through experimenting, I have found a combination of rolling and using your fingers is the best way to create your tart base. Watch the video if you need clarification of how to do this.
If you ever tear your pastry, simply press the dough back into shape using your fingers. It is pretty forgiving. The pastry base recipe makes a generous amount of pastry. If you wish to make a thinner base, simply use less of the pastry. Leftover pastry can be frozen for use at another time but will also keep in the fridge for a couple of days.
Feeling Lazy- Make a Crustless Quiche Lorraine
If you want to make an instant version of this recipe you can omit the pastry crust. Rub your pie dish liberally with butter all over. Using 3 Tablespoons of almond meal (grated parmesan cheese can also be used in the mix as well) sprinkle all over the dish, moving the dish around so it disperses. Pour the filling into your dish and bake as per the instructions. If you are pushed for time, you can also add the onion and bacon without sauteing to the filling.
To Serve
A slice of Low Carb Quiche Lorraine is wonderful for breakfast or a light lunch. Make it more substantial and serve it with salad or your favorite low carb vegetables. Freeze any leftovers in individual servings for a quick and easy meal or for a meal or snack option for on the go.
Variations
There are so many options available to vary this recipe. Make it vegetarian by not adding any meat. Add ham, chicken or tuna instead of the bacon and use any vegetables that you desire such as tomato, asparagus, mushrooms, spinach and kale, par boiled broccoli, zoodles etc. Use any cheese that you like in the recipe, including feta and any other cheese that melts under heat. Herbs also go well so be a little adventurous.
If you are looking for some other delicious quiches and tarts make sure you check out these recipes.
Oven Roasted Pumpkin, Spinach and Feta Quiche
Low Carb Zucchini Slice
Low Carb Mushroom and Goats Cheese Quiche
Enjoy!
Kxx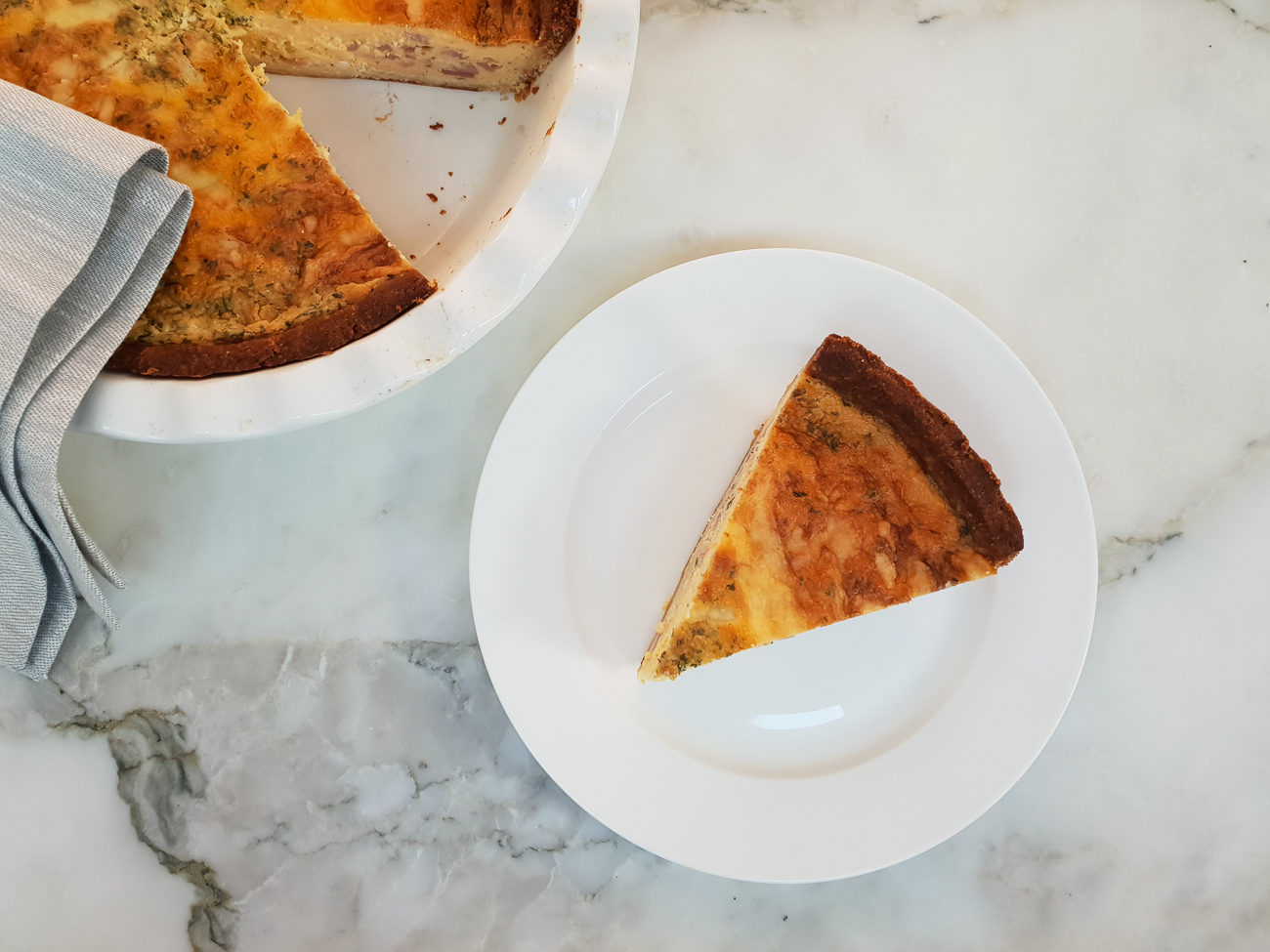 Ingredients
Tart Base
200

gms

almond flour/almond meal

40

gms

coconut flour

1

teaspoon

psyllium powder

1

teaspoon

xanthan gum

or use 2 teaspoons of additional psyllium powder

100

gms

butter

1

tablespoon

cream cheese

1

egg

A pinch of salt
Filling Ingredients
6

large

eggs

Salt and pepper to taste

1

teaspoon

parsley flakes

2

teaspoons

minced garlic

1

cup

pure cream/ heavy cream

2

tablespoons

sour cream

1

cup

grated/shredded cheese

200

grms

diced bacon

1

small

onion finely diced
Instructions
To make the tart base
Place all ingredients in a food processor and blitz until processed and combined. Alternatively roughly chop the butter and cream cheese then zap in the microwave until just soft but not melted. Use a fork to break up the chunks.. Add the remaining tart base ingredients and stir until just combined taking care not to over mix. Tip mixture out onto a bench and bring together using your hands. Don't over mix. Shape into a ball and refrigerate covered until the dough firms up- for about 30 minutes.

Line a 20-25 cm quiche dish with the dough. Either roll out the dough with a rolling pin between 2 sheets of baking paper or use your fingers to press the dough into the sides and base of the dish. If the dough tears use your fingers to patch it. Create a nice line along the edges by using your fingers to shape it. Trim with a knife if need be. If dough is too soft to use, refrigerate until it firms.

Use a fork to prick the base all over. Bake at 165C/ 330 F fan forced for 10 minutes. Allow to cool while you prepare the filling.
To make the filling
Cook the bacon and onion in a frying pan until the bacon browns.

Whisk the eggs, salt and pepper, garlic and parsley in a medium bowl until smooth. Beat in the sour cream and cream and whisk till combined. Fold the cheese through the egg

Meanwhile, pour the cooked bacon and onion into the quiche base and distrubute evenly. Pour the egg mixture over the bacon and onion.

Bake at 165 C / 330 F fan forced for 40-45 minutes or the quiche has set. The centre can still very slightly jiggly and will firm up once the quiche cools.
Recipe Notes
Use blanched almond flour if you want a pastry more like a traditional short crust pastry. The recipe works fine with almond meal as well but it may look a bit more like whole meal pastry. You will find if you use almond meal that the mix absorbs more moisture so the base may be slightly drier.
The xanthan gum is integral to the recipe to hold the pastry together. However is you do not have it on hand use additional psyllium powder as specified. You may find that the pastry doesn't hold together as well and will probably have to do some patching but this won't impact on the recipe.
For a crustless quiche, rub the base of your quiche dish generously with butter and sprinkle with 3-4 tablespoons of either almond meal/flour or an even mix of grated Parmesan cheese and almond meal. Follow the final instructions in the recipe to cook the filling. This is perfect for a simple throw together meal. You can also add the bacon and the onion without cooking if desired.
If the crust starts to darken too much, cover the quiche with aluminium (aluminum) foil. This may impact on cooking times so monitor the quiche if you do this.
Nutritional Information
Serving:
1
slice
|
Calories:
247
kcal
|
Carbohydrates:
4
g
|
Protein:
8
g
|
Fat:
22
g
|
Fiber:
2
g
Note that we calculate our own nutritional values so they may not be precise. Calculate your own if desired. Carb values exclude sugar alcohols such as Erythritol, as they generally have no impact on blood sugar levels. 50% of the carbs from Xylitol is added to nutritional values. This is consistent with industry practice.
Do you want to receive more recipes like this one? Subscribe to our newsletter now!