Low Carb Slow Cooker Beef Stroganoff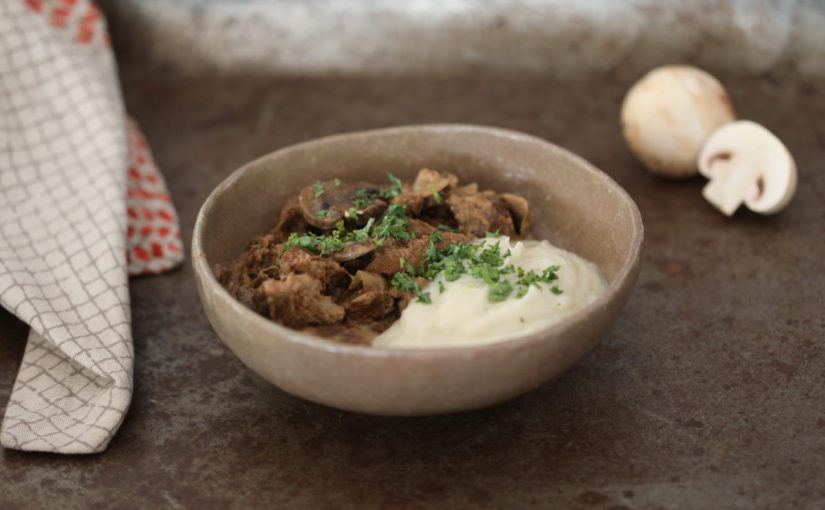 Low Carb Slow Cooker Beef Stroganoff
A simple slow cooked beef recipe that's rich and creamy but is Keto friendly and low in carbs. Leave it to cook whole you're at work, add a little sour cream and parsley and it's ready to eat. Low Carb Slow Cooker Beef Stroganoff is delicious and so easy to make that you are going to want to pin this recipe for future use.
What Cut Of Meat Should You Use
Because of the slow cooking process, you can use cheaper cuts of beef in this recipe and the meat cooks up really tender and succulent. If I was making this on the stove top, I would use better cuts of meat because it isn't cooked for as long as this slow cooker recipe is. I've also added white wine to this recipe, which enhances the taste of the finished dish. If I didn't have any leftover/cooking white wine, I wouldn't hesitate to use red wine either. It is going to impart a slightly different taste to the recipe but if it means not wasting left over wine, then I would use it.
Adapt this recipe by using chicken, veal or pork in place of beef and follow the exact same instructions, although the chicken will need less time to cook and will be a little drier.
Chia Seeds In A Casserole??
I have used a chia seed gel to slightly thicken the dish in place of flour and love that you get the added nutritional benefits of chia by doing this. You cannot taste the chia seeds at all as they are ground. Please don't be tempted to add any stock to this recipe if slow cooking, as the dish will create enough juice on its own. Remember also that you will add sour cream at the end of cooking. If you made this dish with chicken and it was a bit dry, then you could simply add a little stock and omit the chia gel if desired.
How To Serve This Dish
My favorite way to serve this delicious dish is with Cauliflower Mash. Try it also on top of some hot buttered zucchini noodles, to serve it in the more traditional way. Simply spiralize your zucchini or slice it into long flat ribbons. Toss them liberally in butter in a hot frying pan for 2 minutes or until cooked to your taste. Season with salt and pepper and serve with the Beef Stroganoff on the side.
Note that the recipe below is for 1 kg/2.2 oz of meat. I like to fully utilize my slow cooker by cooking large batches in it. It saves on energy costs plus it means that I have leftovers to freeze or use for another meal. You can half the recipe if you wish to.
Enjoy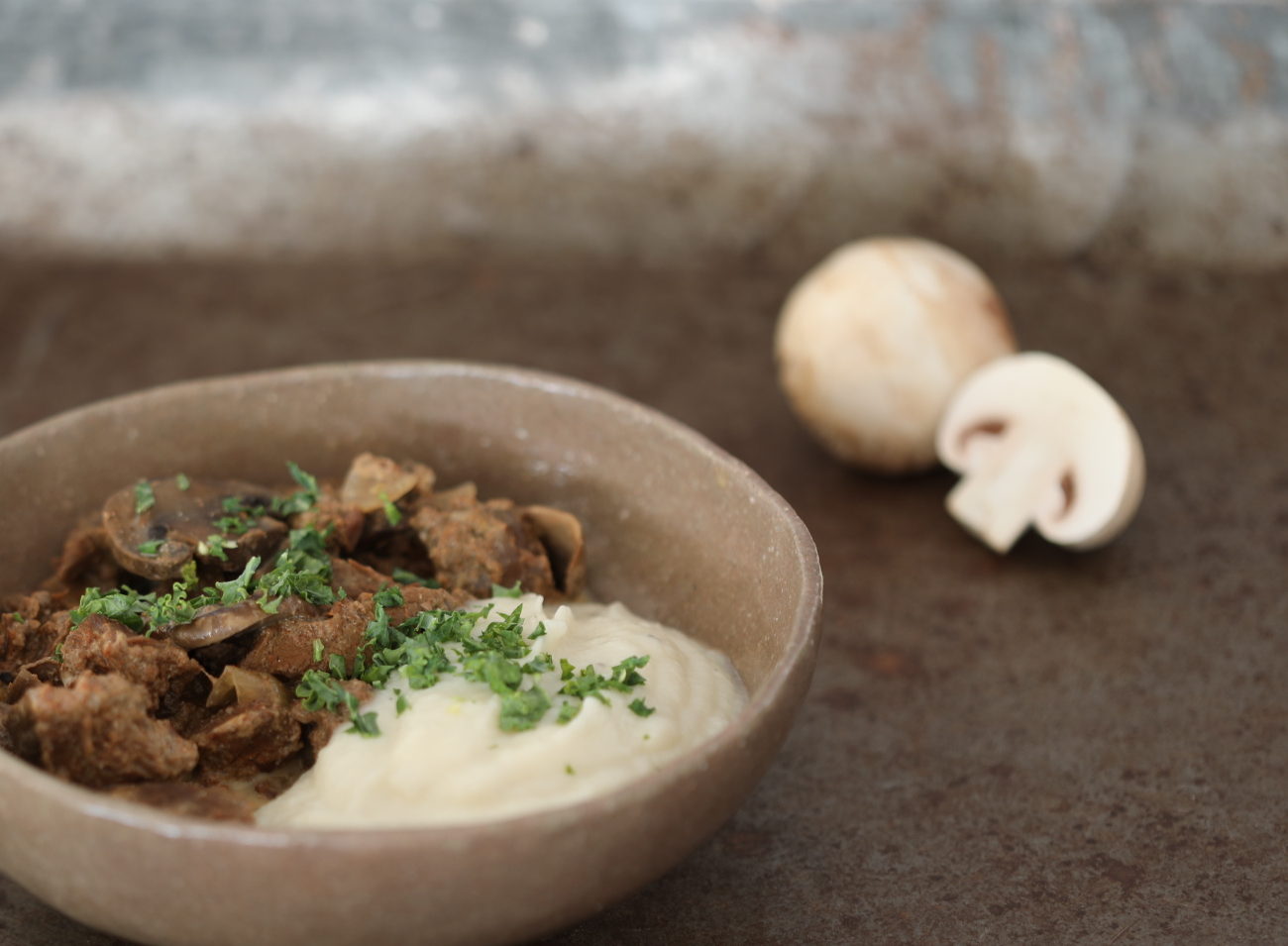 Ingredients
1

kg

diced beef- recipe pictured used gravy beef. Pork

veal and chicken also suitable

2

large onions sliced finely

700

gms

sliced button mushrooms

150

gms

sour cream

1/2

cup

white wine

1.5

tablespoons

mild paprika

5

teaspoons

minced garlic

2

teaspoons

Dijon mustard

1/2

teaspoon

cracked black pepper

1

teaspoon

salt or to taste

Fresh chopped parsley to garnish
Instructions
Add the beef, mushrooms, onion, wine, paprika, garlic, Dijon mustard, pepper and salt into a slow cooker pot and mix to combine.

Cook on High for 2 hours then Medium for 3 hours or leave on low for a minimum of 6 hours (or while you are at work) or until meat is tender. You may need to adjust times to suit your slow cooker.

Add Chia Gel (see recipe below) during the last 30-60 minutes of cooking if needed-both a nutritional boost and thickener.

Just prior to serving, mix through the sour cream.

*Note if you use chicken reduce cooking time down by 1 hour.
To Serve
Serve with Cauliflower Mash

Delicious served with hot buttered zucchini noodles. Top with Beef Stroganoff and garnish with fresh chopped parsley.

To make Hot Buttered Zoodles- Simply toss zucchini ribbons/spiralised zucchini in butter in a heavy pan on the stove top for 2 minutes, season with salt and pepper and serve.
Chia Gel
Mix 1 tablespoon of finely ground chia seeds with 1/4 cup of water. Let sit for 10 minutes.
Chia Gel Method
Mix the gel to combine, stir well and leave to sit for 10 minutes before adding to your Stroganoff. I like to add it about 1 hour prior to eating. Stir it in so it is well combined. You cannot taste the chia seeds. Suitable to use as a thickener in soups, casseroles and stews.
Nutritional Information
Serving:
1
g
|
Calories:
258
kcal
|
Carbohydrates:
7
g
|
Protein:
31
g
|
Fat:
12
g
|
Fiber:
2
g
Note that we calculate our own nutritional values so they may not be precise. Calculate your own if desired. Carb values exclude sugar alcohols such as Erythritol, as they generally have no impact on blood sugar levels. 50% of the carbs from Xylitol is added to nutritional values. This is consistent with industry practice.
Do you want to receive more recipes like this one? Subscribe to our newsletter now!