Low Carb Spaghetti Bolognese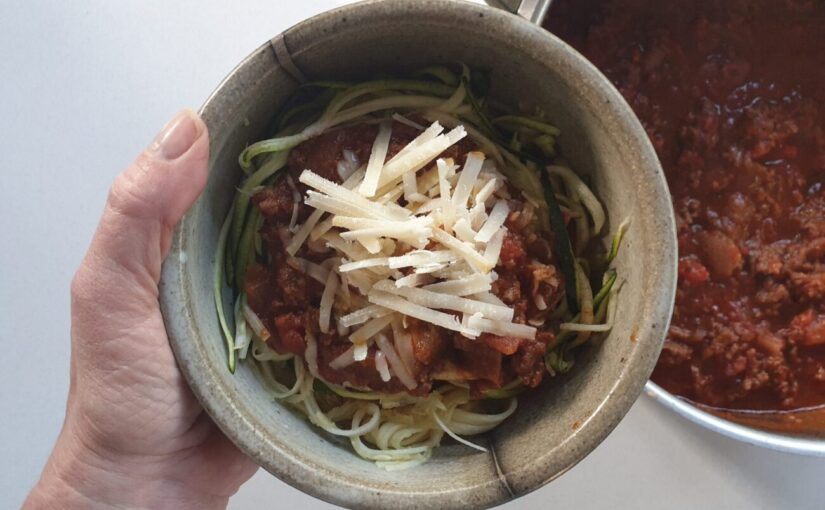 Low Carb Spaghetti Bolognese
Everyone needs a great everyday Low Carb Spaghetti Bolognese recipe! This recipe is one that has sustained my family over the years and is a real family favorite. Low Carb Spaghetti Bolognese is an authentic rich sauce that has wonderful robust flavors, especially if you simmer the sauce for a long period of time. A good Bolognese sauce is so versatile. Not only is it ideal for a quick throw together family meal but the sauce can be used in so many other recipes.
IDEAS FOR SERVING LOW CARB SPAGHETTI BOLOGNESE
Not only is it perfect to serve it over zoodles or pasta but you can also use the sauce to make a delicious lasagne. Of course if you want to make it a low carb lasagna, simply use zucchini or eggplant slices to replace the pasta sheets.
Included in the recipe is how to serve your Low Carb Spaghetti Bolognese with zucchini zoodles. This is my personal favorite way to serve Low Carb Spaghetti Bolognese. Of course a bowl of spaghetti Bolognese wouldn't be right without a generous sprinkling of fresh Parmesan cheese.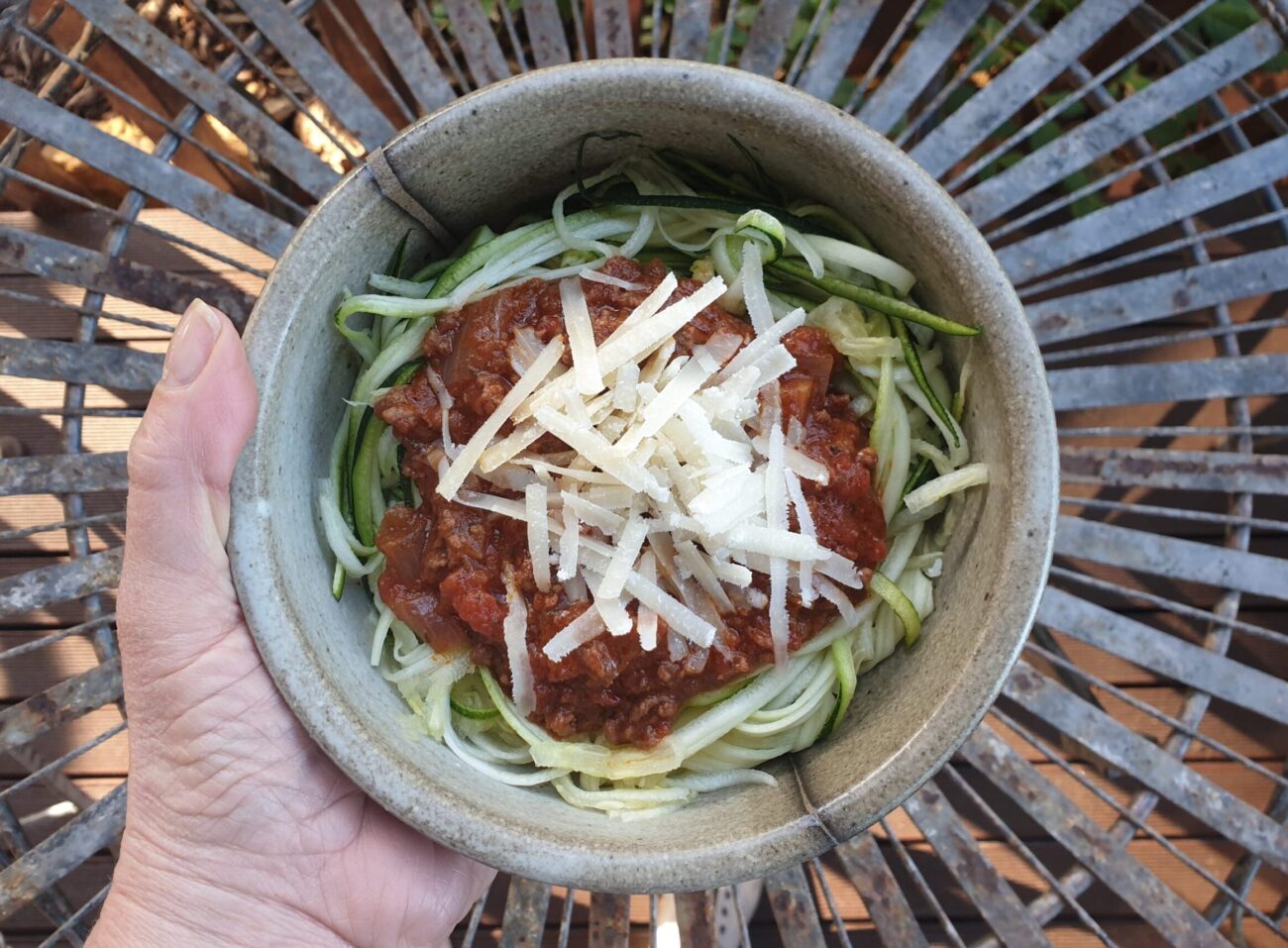 MORE DELICIOUS ITALIAN INSPIRED RECIPES
There are some really fabulous Italian recipes to be found on this website. One of my favorite Italian vegetarian dishes is Eggplant Parmigiana. Another vegetarian option is Low Carb Sunflower Seed Mushroom Risotto, that features sunflower seeds in place of rice. For a crumbed chicken parmigiana you simply can't go past this Keto Chicken Parmigiana recipe.
Make sure you are also check out the following Italian inspired recipes-
Classic Marinara Sauce– including how to turn this basic recipe into Puttanesca sauce, Arabbiata sauce and a simple to make Seafood Marinara Sauce.
Italian Meatballs with Marinara Sauce
Low Carb Zoodles and Meatballs
Creamy Tuscan Chicken
Then there are a couple of recipes for pizza, including a recipe for Eggplant Pizza, Cauliflower Pizza Base and a delicious Keto Pizza Base, which is a healthier version of a 'fat head' pizza recipe.
And of course, don't forget to top your Italian Meal off with a delicious side serve of Low Carb Garlic Bread and end on a high note by serving Keto Low Carb Tiramasu Pots.
Awhhh….take me back to Italy!!!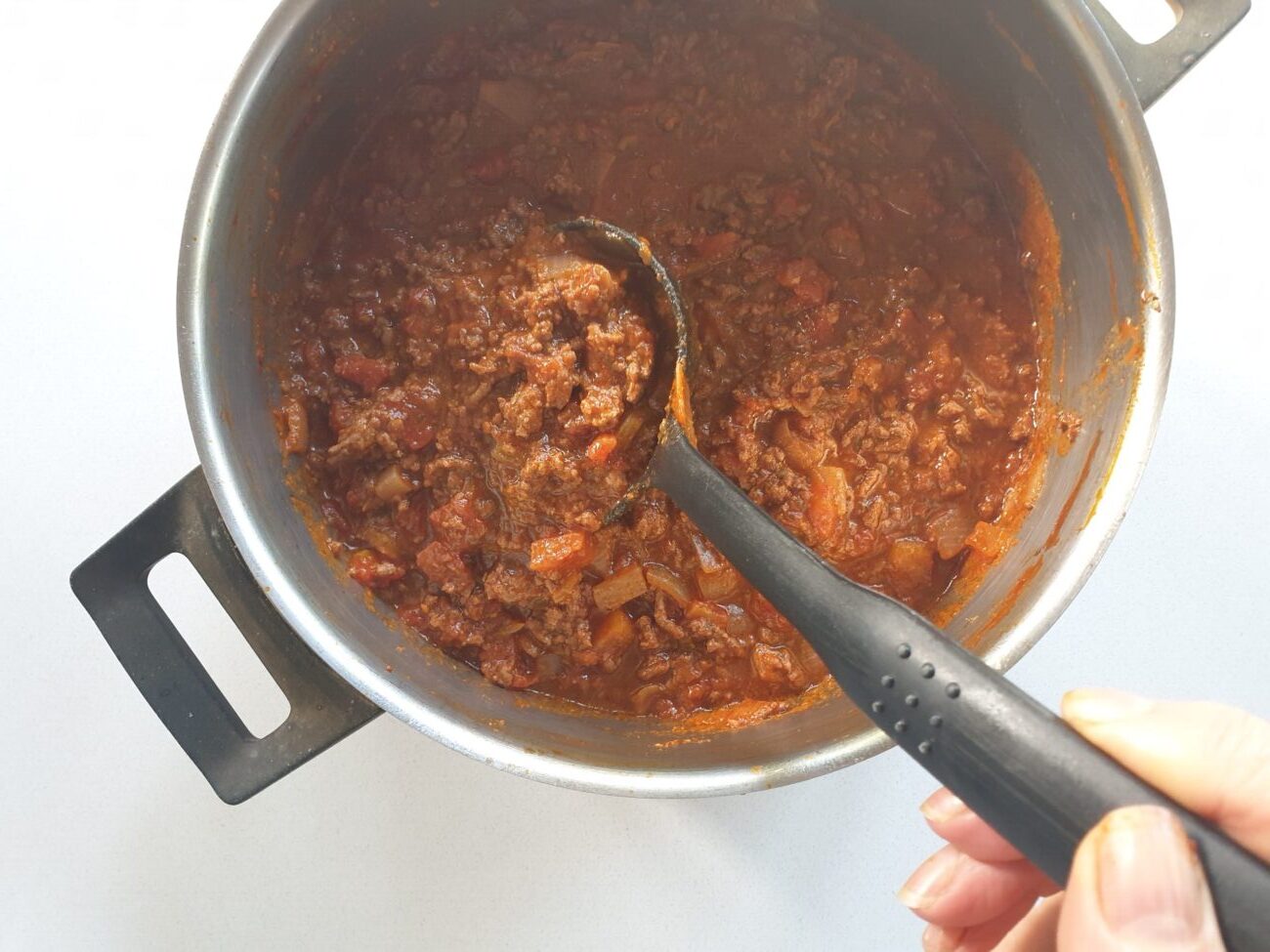 Ingredients
1

large

onion finely chopped

4

teaspoons

garlic minced

500

grams

minced/ground beef

1/2

cup

red/white wine

or 2 tablespoons of red or white vinegar

800

grams

crushed/diced tomatoes sugar free

2

tablespoons

tomato paste sugar free

1

tablespoon

parsley chopped

2

teaspoons

oregano chopped

or Italian herbs/mixed herbs

1-2

bay

leaves

salt and pepper to taste

4-6

medium zucchini spiralized

or pasta of choice
Instructions
Heat a splash of olive oil on medium heat in the pan and saute the chopped onion and garlic until soft and translucent. Add the ground/minced meat and continue to cook until browned.

Add the wine and continue to simmer for about 5 minutes to reduce the wine.

Add the vinegar, tinned tomatoes, herbs and simmer without the lid for about 20-30 minutes or until the sauce thickens. If adding additional vegetables, add now. Season with salt and pepper. For a supreme Bolognese sauce, allow to simmer gently for up to 2 hours.
To Make Zoodles
Spiralize approximately 1 medium zucchini per serve (dependent on the size of zucchini) so you have enough for 4-6 serves of zoodles.

Add a splash of olive oil to a hot frying pan and saute the zoodles for 1-2 minutes until 'al dente', taking care not to overcook. Alternatively microwave your zoodles for a few minutes.

Serve the zoodles into serving bowls and top them with the Bolognese sauce. Top with grated Parmesan cheese to taste.

Another alternative is to serve the sauce on top of your zoodles and heat in the microwave for 1-2 minutes until hot.
Variations
My favorite variation is to make this sauce is by adding low carb vegetables sourced from a 'fridge clean out', including rocket, sliced mushrooms, diced red peppers/capsicum, diced zucchini, diced celery and diced eggplant. For fussy eaters, disguise the vegetables by grating or dicing very small.

Add any other vegetable that fits in with your way of eating such as carrot and celery.

Add finely chopped bacon or pancetta and cook with the onion.

Add fresh or dried red chili.

Add any herbs of choice including mixed herbs, Italian herbs, thyme and rosemary.

Add 1 tablespoon of Worcestershire sauce or Tamari/soy sauce for additional flavor.
Recipe Notes
Meat - Switch the beef for a mixture of beef and pork mince or use chicken, turkey or veal.
Use red wine in the recipe for a lovely robust flavor. My family won't allow me to use anything else and know when I haven't added red wine. I freeze leftover wine in small water bottles to use in Bolognese sauce. Although recipe specifies 1/2 cup, I am extremely generous when adding red wine to this recipe.
Add a beef stock cube for additional flavor.
Try to use tinned tomato that is sugar free and without additives.
If you have the time, simmer your sauce as long as 2 hours for a wonderfully aromatic sauce. If you don't have the time the sauce can simmer for about 30 minutes with the lid off and can be used immediately.
Nutritional Information
Serving:
1
serve of sauce only
|
Calories:
273
kcal
|
Carbohydrates:
9
g
|
Protein:
15
g
|
Fat:
13
g
|
Fiber:
2
g
Note that we calculate our own nutritional values so they may not be precise. Calculate your own if desired. Carb values exclude sugar alcohols such as Erythritol, as they generally have no impact on blood sugar levels. 50% of the carbs from Xylitol is added to nutritional values. This is consistent with industry practice.
Do you want to receive more recipes like this one? Subscribe to our newsletter now!