Low Carb Sugar Free Pavlova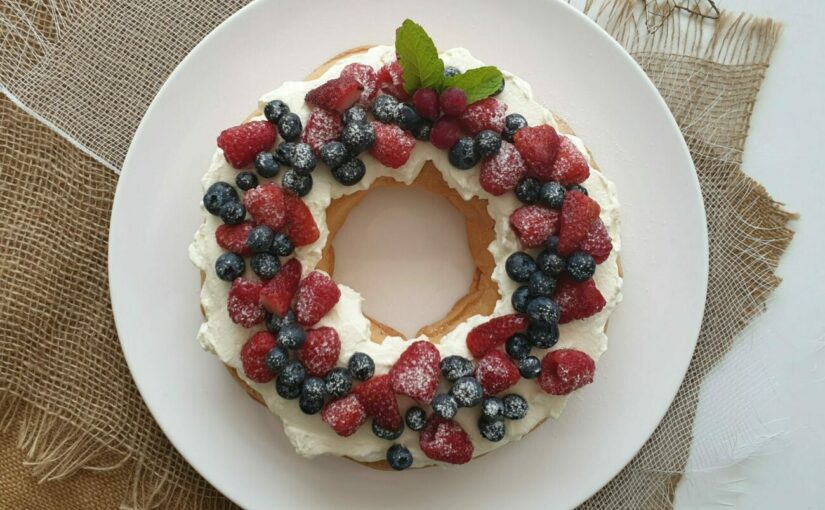 Low Carb Sugar Free Pavlova
Life is great when you know you can still enjoy a piece of Low Carb Sugar Free Pavlova made without sugar. This wasn't one of the recipes that I intended to develop, as there are quite a few recipes around. My frustrations with making many of these recipes led to me decide to share a recipe that I found actually worked. This might save you some disaster bakes as well. I took the traditional pavlova recipe back to basics and found that it was the best recipe.
Hints to help make a successful Low Carb Sugar Free Pavlova
Stick to the recipe and you will have success. Little things like ensuring that your bowl is super clean and wiping it out with vinegar will help guarantee a successful bake. Any grease in your bowl can prevent the egg whites from whipping up properly.
Make sure you spray your baking paper with a little coconut or olive oil. Some of my disasters centred around the pavlova sticking to the paper. By wiping the baking paper with a little oil, the problem is solved.
Meringue Stabiliser
Using a meringue stabiliser to help get the right texture  with your egg whites is absolutely vital. I've experimented with vinegar, cream of tartar and xanthan gum and found that the cream of tartar wins hands down. I definitely wouldn't bother adding xanthan gum. I had more disasters when adding this to recipes (both my own and recipes from the net) than when I used vinegar or cream of tartar.
Oven Temperature
Bake your pavlova on the lowest temperature that you can. At 120 C/ 248 F fan forced, I still found that the pavlova browned a little too much.  I'd recommend baking it at about 100 C- 110 C /212-130 F for approximately 90 minutes (60 minutes for the wreath). All ovens are different though so keep an eye on your pavlova and turn the temperature down if it is browning too quickly. After your pavlova/wreath is cooked, turn the oven off and open the oven door slightly and leave your pavlova in the oven until completely cool.
Creating Your Shape
Draw your shape onto the back of some quality baking paper and use the outline as a guide. For a traditional round shape, create one circle approximately 20 cm/8″ in diameter. To create a wreath, draw 2 circles with the outer one about 25 cms/10 " in diameter. Spoon the meringue onto the baking paper and shape using a spatula or knife. Create whisps of meringue using the edge of your knife or spatula or leave the edges smooth.
Get Creative
Let the fun begin when it's time to decorate your Low Carb Sugar Free Pavlova. My personal favorite way to top a pavlova is to laden on the whipped cream and top with your favorite fresh berries. If you want to create a wreath as pictured, use basil leaves or mint leaves to create the mistletoe garnishes. You have the further option of drizzling with berry coulis.
Enjoy!!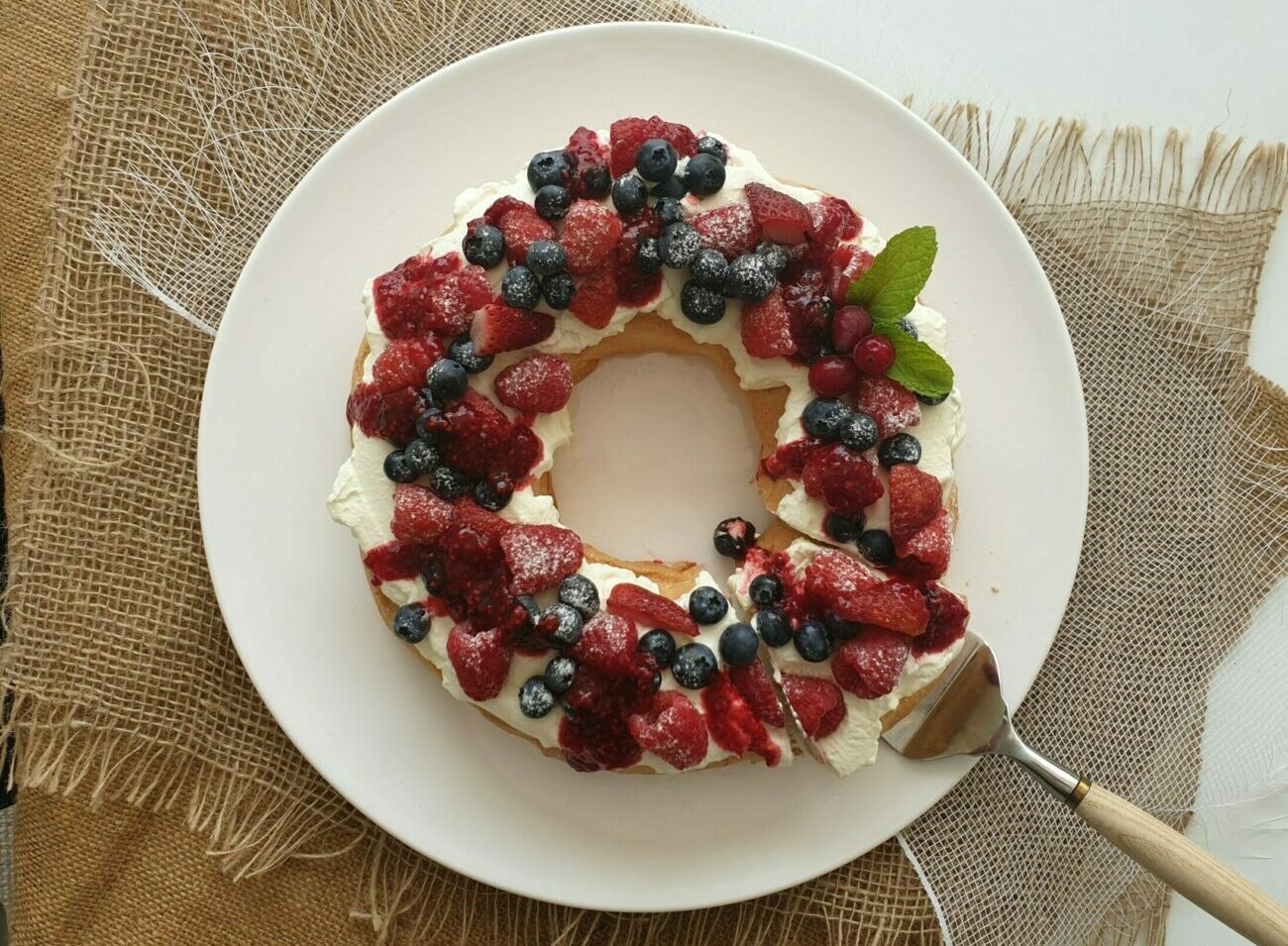 Ingredients
Berry Coulis Option
1.5

cup

raspberries

strawberries or blackberries or a combination

1/4

cup

water

1

tablespoon

stevia blend

/monk fruit blend
Topping Ingredients Options
1

cup

sweetened whipped pure cream

whipped with 1 teaspoon vanilla extract and 1-2 tablespoons stevia blend

1-1½

cups

berries of choice such as raspberries, strawberries, blueberries

Mint leaves or basil leaves for garnish

optional
Instructions
Make the Pavlova
Preheat your oven to 150 C/ 302 F fan forced.

Draw either a round shape of a wreath shape on a piece of quality baking paper. The round shape is about 20 cm/ 8" in diameter. The wreaths outer circle is about 25 cm/10 " in diameter. Turn the paper upside down and spray or wipe oil onto the baking paper to prevent sticking.

Wipe out a large mixing bowl with paper towel dipped in vinegar.

Add the egg whites and cream of tartar to the mixing bowl. Whisk on high until the egg whites become firm and form peaks.

Slowly add the powdered erythritol, 1 tablespoon at a time to the whipped egg whites, whisking in well before adding the next tablespoon.

Finally add the vanilla extract and continue to whisk the meringue mixture until it becomes glossy, which usually takes about 3-5 minutes. Once the mixture is shiny and glossy, stop beating or risk over mixing your meringue.

Spoon the meringue out onto your baking paper and shape using a knife or a spatula. Create little peaks with the edge of your knife/spatula if desired or leave smooth.

Turn the oven down to 100 C/ 212 F fan forced.

Bake your round pavlova for 90 minutes or your wreath for about 60 minutes or until crisp and dry. Turn the oven off after appropriate time and open the oven door slightly. Leave your pavlova in the oven until it has completely cooled before removing.

Low carb pavlovas are best eaten as soon as possible as they will soften.

Top with fresh whipped cream and decorate with berries and leaves if desired. Drizzle with a berry coulis if desired.
To Create a Berry Coulis
Place the berries, water and sweetener in a saucepan and bring to a boil and then turn down to a simmer for about 5 minutes. The berries will break down quite quickly and the mixture can burn, so make sure you stir it fairly regularly. Remove from heat and mash any larger chunks with a fork if required. Allow it to cool before serving it on top of your pavlova

If you wish to strain the coulis to get rid of the seeds, wait until it cools down but this is optional. Note that if you use strawberries they break down more slowly, so it is better to chop them into smaller pieces before cooking them. You can also process your coulis to get a smoother sauce. I find this works particularly well with a strawberry coulis.
Recipe Notes
Erythritol can be switched for about 1/3 cup of a stevia or monk fruit blend but ensure it has been powdered. 
You can increase the number of egg whites up to 7 for a larger yield. The amount of cream of tartar specified will hold this many egg whites.
Nutritional Information
Serving:
1
serve
|
Calories:
102
kcal
|
Carbohydrates:
2.1
g
|
Protein:
1.6
g
|
Fat:
9.2
g
Note that we calculate our own nutritional values so they may not be precise. Calculate your own if desired. Carb values exclude sugar alcohols such as Erythritol, as they generally have no impact on blood sugar levels. 50% of the carbs from Xylitol is added to nutritional values. This is consistent with industry practice.
Do you want to receive more recipes like this one? Subscribe to our newsletter now!