Low Carb Swedish Meatballs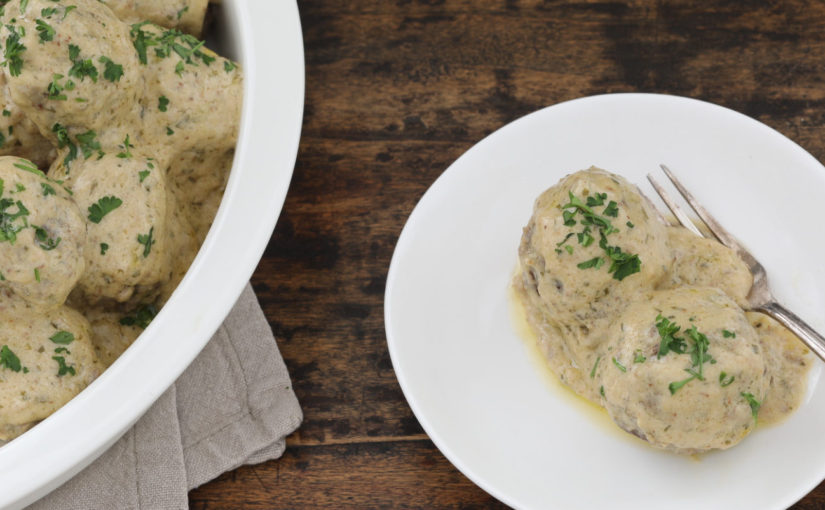 Low Carb Swedish Meatballs
This delicious recipe for Low Carb Swedish Meatballs is one of those dishes that the whole family is going to love. They are not only simple to make, low in carbs and free from sugar, but they taste divine and can be made in a reasonable amount of time as well.
The recipe asks for beef, but feel free to switch the beef for any combination of minced or ground meat, such as veal, or pork. If you use chicken or turkey, you may have to thicken the mince with extra almond meal, so that it is thick enough to form into meatballs. One of my favorite combinations and a more traditional mix of meat is to combine beef with veal. The flavors go really well with the creamy sauce that the meatballs are served with.
I have added a couple of tablespoons of almond meal/almond flour to use as a binder for the meatballs. Note that I make this recipe without adding it at times, and the meatballs still work out really well. They may be a little wetter when forming into balls, but they still hold their shape and brown off just fine, so this recipe can easily be nut free if you need to avoid nuts for any reason. You could also add a tablespoon of psyllium to thicken the mix if it is too wet without the almond meal. I personally am not a fan of using psyllium in recipes like this one, because it makes the end result a bit rubbery. Please feel free to use it if you wish or need to though.
My favorite way to eat these is with a side of Cauliflower Mash along with some cabbage simply sauteed in butter till soft, but there are many great ways to serve these wonderful tasting meatballs. Try serving them with zucchini noodles or some cauliflower rice. If you aren't concerned about your carb intake, serve these with buttered cooked egg noodles, rice or mashed potato. These are also traditionally served with Lingonberry Jam, which unfortunately has lots of sugar in it, but it is suitable for anyone not concerned about their carbs. Lingonberry Jam is always available at Ikea and specialty stores.
This recipe serves 4 but you can simply double the recipe if you need to cater for larger numbers or if you wish to have some left overs for another meal. You may have to hide the leftovers though, as these delicious meatballs might disappear as everyone seems to love this recipe. If you want to make enough for a couple of meals, I would make and cook the meatballs but put them aside and make a fresh sauce when you want to eat them. You Can reheat the sauce but as it doesn't have a binder in it, the fats can break down a little if reheated.
I hope you find the time to make this recipe as it really is delicious.
Kxx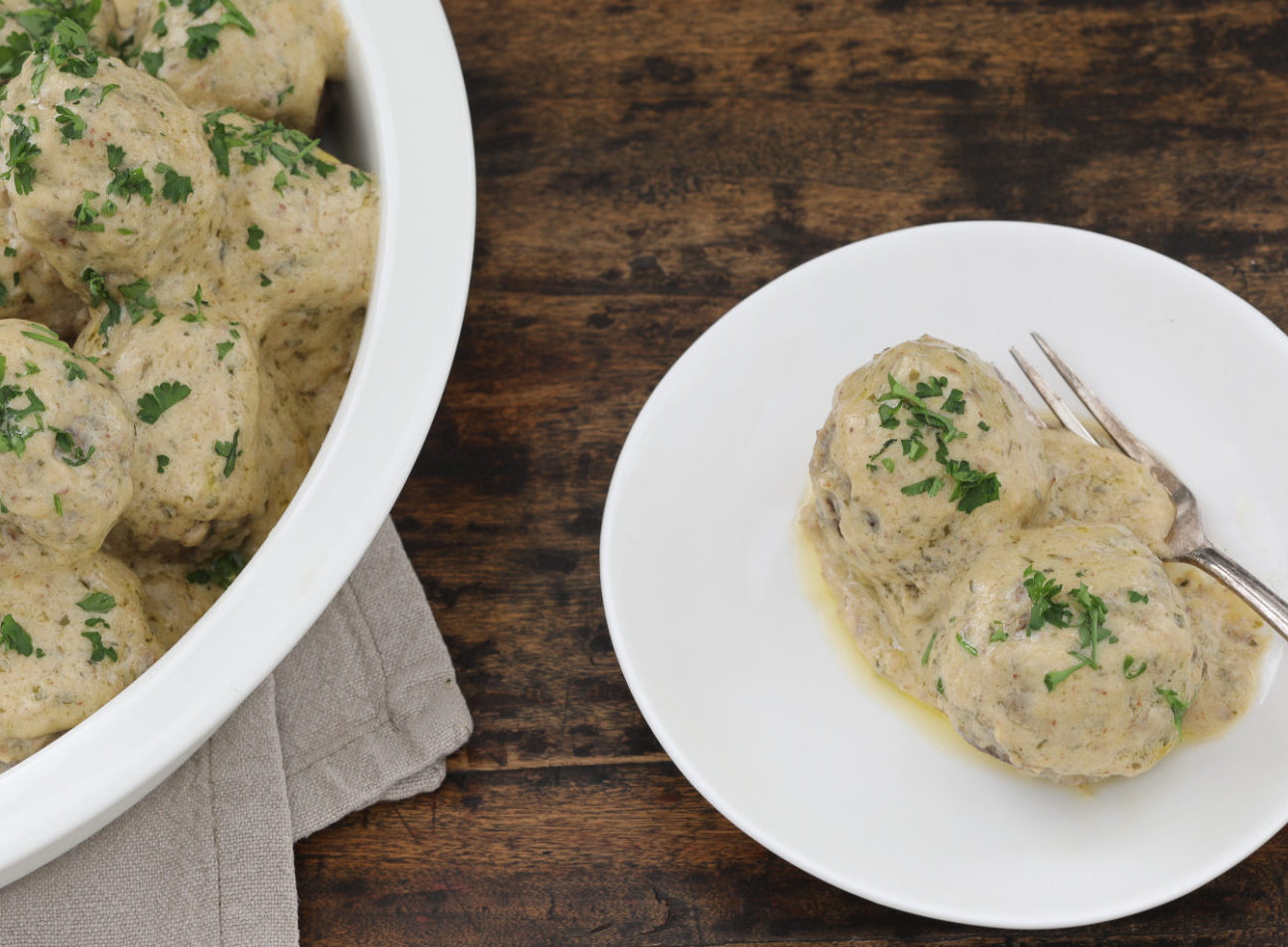 Ingredients
Meatballs Ingredients
500

gms

/1.1 lb minced beef/ground beef

or use an alternative such as pork or veal

1

egg

2

tablespoons

almond meal/almond flour- optional

1

small onion finely chopped or 1/2 Tbspn onion powder

2

teaspoons

minced garlic

1

teaspoon

fresh/dried parsley

1/4

teaspoon

salt

1/4

teaspoon

pepper

1/4

teaspoons

nutmeg

1/4

teaspoons

allspice

a pinch of powdered ginger

1

tablespoon

butter for sauteeing meatballs
Cream Sauce Ingredients
2

tablespoons

butter

1

cup

beef broth/beef stock

3

tablespoons

our cream

1/2

cup

cream

1

teaspoon

Dijon mustard

Salt and pepper to taste

Chopped fresh parsley for garnish.
Instructions
Meatballs Method
Mix all ingredients till well combined.

Using a tablespoon or a teaspoon, create meatballs to desired size and compress with hands so that they retain their shape when cooking.

Gently pan fry the meatballs in 1 tablespoon of butter in a large frying pan on medium heat, until cooked through.

Remove meat balls from the pan to prepare the sauce.
Cream Sauce Method
Once you have removed the meatballs from the pan, turn the heat up and pour the stock in with the juices. Simmer for about 5 minutes on high or until the stock reduces by about 1/3.

Turn the heat down to a slow simmer and add the cream, sour cream and 2 tablespoons of butter to the pan. Continue stirring till combined. Season with salt and pepper.

Add the meatballs back into the pan.

Simmer very gently for about 5 minutes or until meatballs are heated through.

Sprinkle with fresh chopped parsley just prior to serving.
To Serve
For a simple low carb serving option, serve with ribbons of zucchini zoodles that have been sauteed in fresh butter to desired taste. Try it served with cauliflower mash or cauliflower rice. It's delicious also served simply with cabbage sauteed in butter.

Serve with buttered egg noodles, rice or mashed potato for anyone not watching their carb intake. You can also buy lingonberry jam, which is traditionally served with Swedish Meatballs, to serve on the side, although it is not ideal for anyone watching their carb or sugar intake.
Nutritional Information
Serving:
1
serve
|
Calories:
518
kcal
|
Carbohydrates:
5
g
|
Protein:
33
g
|
Fat:
40
g
|
Fiber:
1
g
Note that we calculate our own nutritional values so they may not be precise. Calculate your own if desired. Carb values exclude sugar alcohols such as Erythritol, as they generally have no impact on blood sugar levels. 50% of the carbs from Xylitol is added to nutritional values. This is consistent with industry practice.
Do you want to receive more recipes like this one? Subscribe to our newsletter now!