Shepherd's Pie with Cauliflower Mash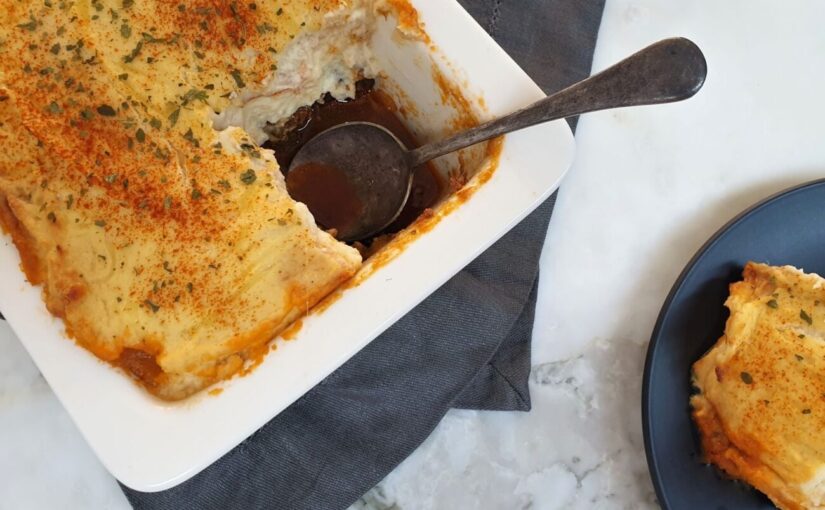 Shepherd's Pie with Cauliflower Mash
There are some recipes that just remind you of home and all of the comforts associated with home. This delicious Shepherd's Pie with Cauliflower Mash is one of those recipes. Note that if you use minced lamb in the recipe it could also be labelled a Cottage Pie. This definitely comes under the umbrella of food for the soul. Whether you are watching your carb intake or not, this is a recipe that everyone will love. You'd be hard pressed to guess that it was a low carb recipe, as the flavors are absolutely spot on.
While this recipe is perfect for a cold evening, don't limit it to the cooler seasons, as it is the perfect meal for any occasion. It's also one of those meals that develops with age so if you have left overs, it tastes just as good as the original dish. I probably wouldn't recommend freezing because of the combination of the cauliflower and the egg in the 'mash' but the recipe will store for up to 3 days in the fridge.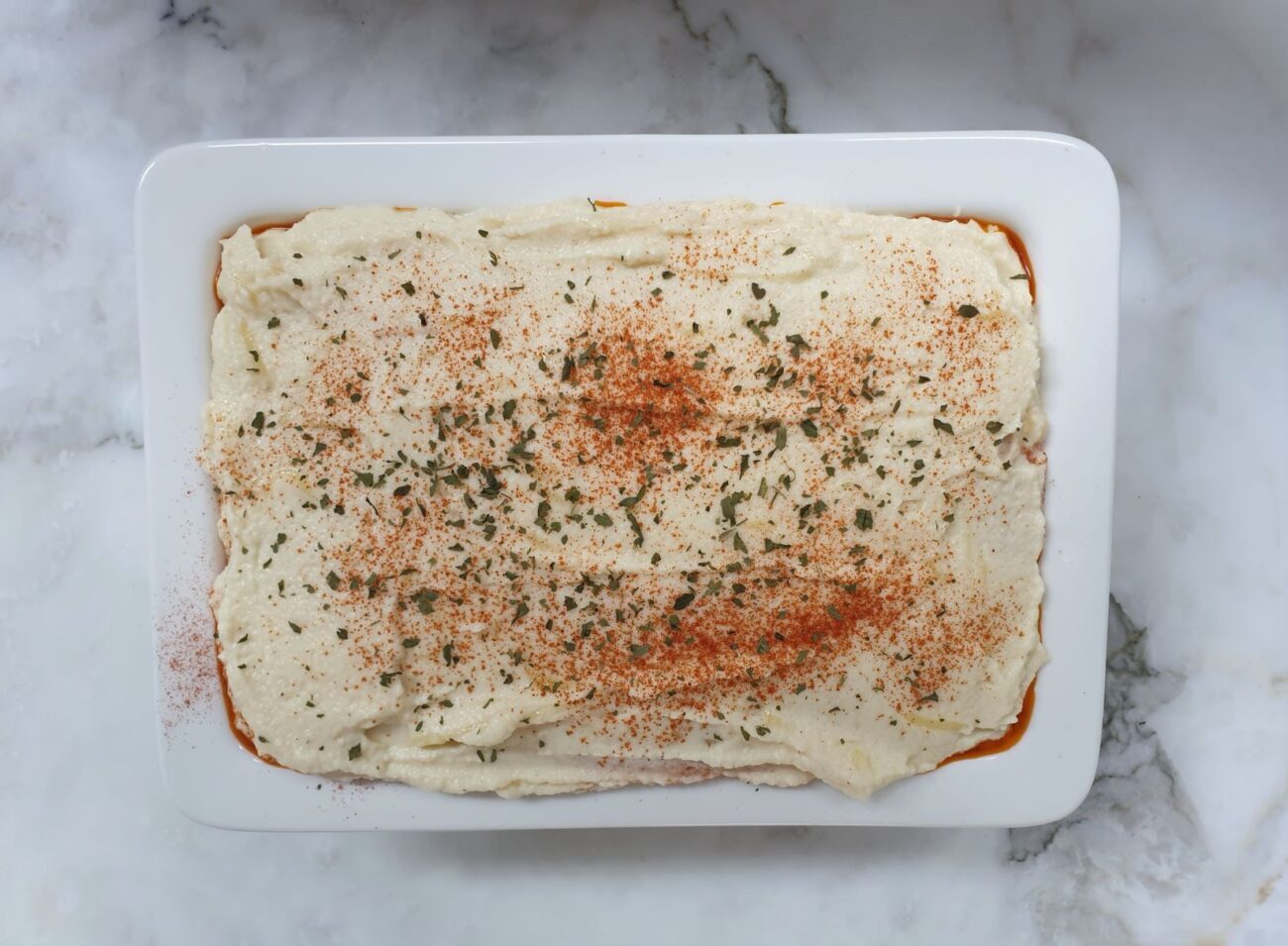 Cauliflower Mash
The mash topping for this recipe is based on the recipe for Duchess Potatoes. Egg yolks are used to add texture, flavor and color to mashed potato that is piped into rounds and baked in the oven. The key to making the perfect mash is to drain the cauliflower really well before mashing. This will ensure that the mash isn't too sloppy. Butter, cream cheese and egg yolks are then added to the mash to create a wonderfully creamy mash that bakes up beautifully on top of the simmered savory mince base.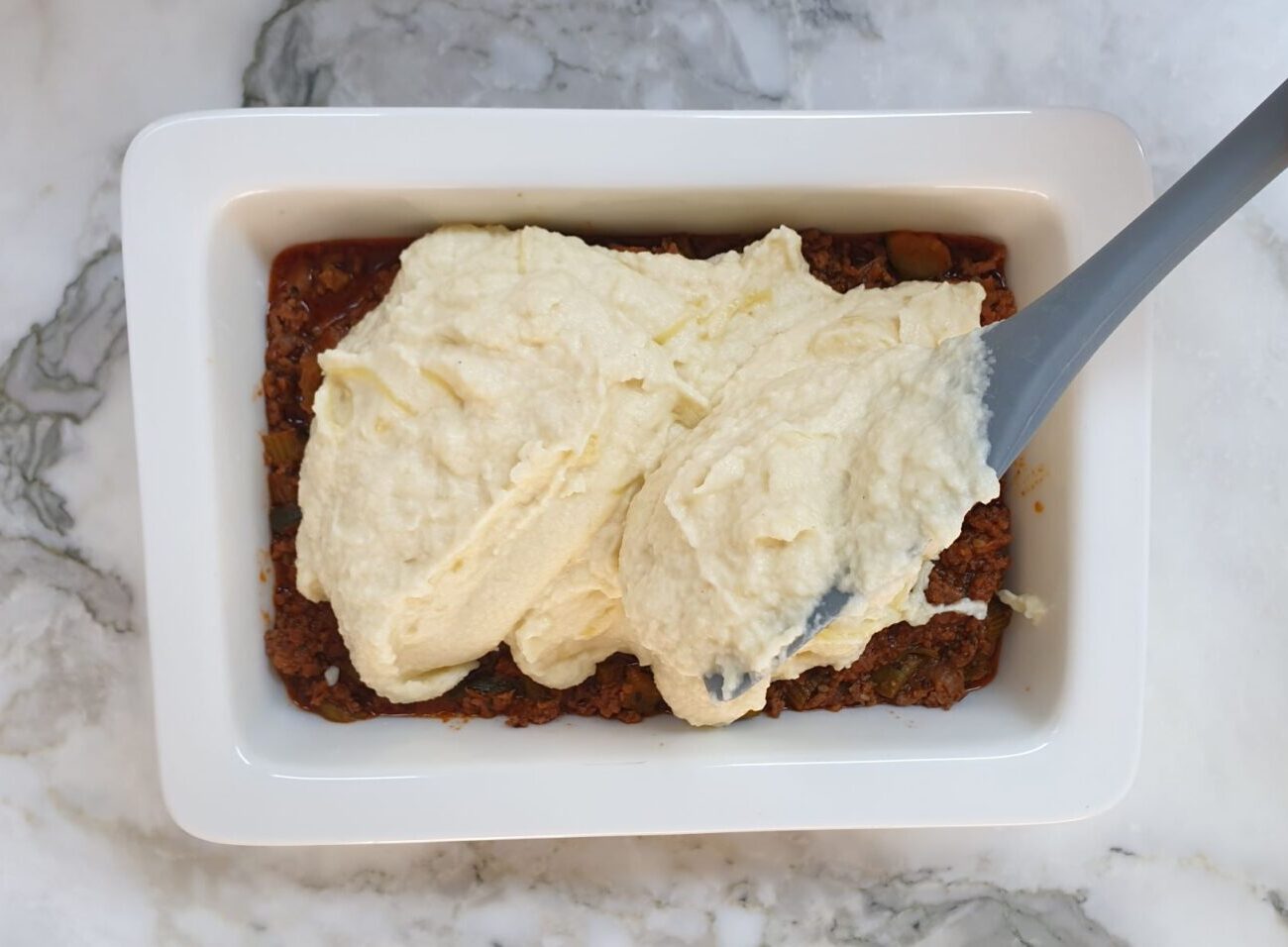 To Serve Shepherd's Pie with Cauliflower Mash
This dish is substantial enough to serve on its own because it contains substantial vegetables in proportion to the meat in the recipe. Fore more of a vegetable boost, serve it with a simple side serve of buttered green beans or any other hot vegetable of choice. Creamy Buttered Cabbage or Oven Roasted Brussel Sprouts would be wonderful options as well.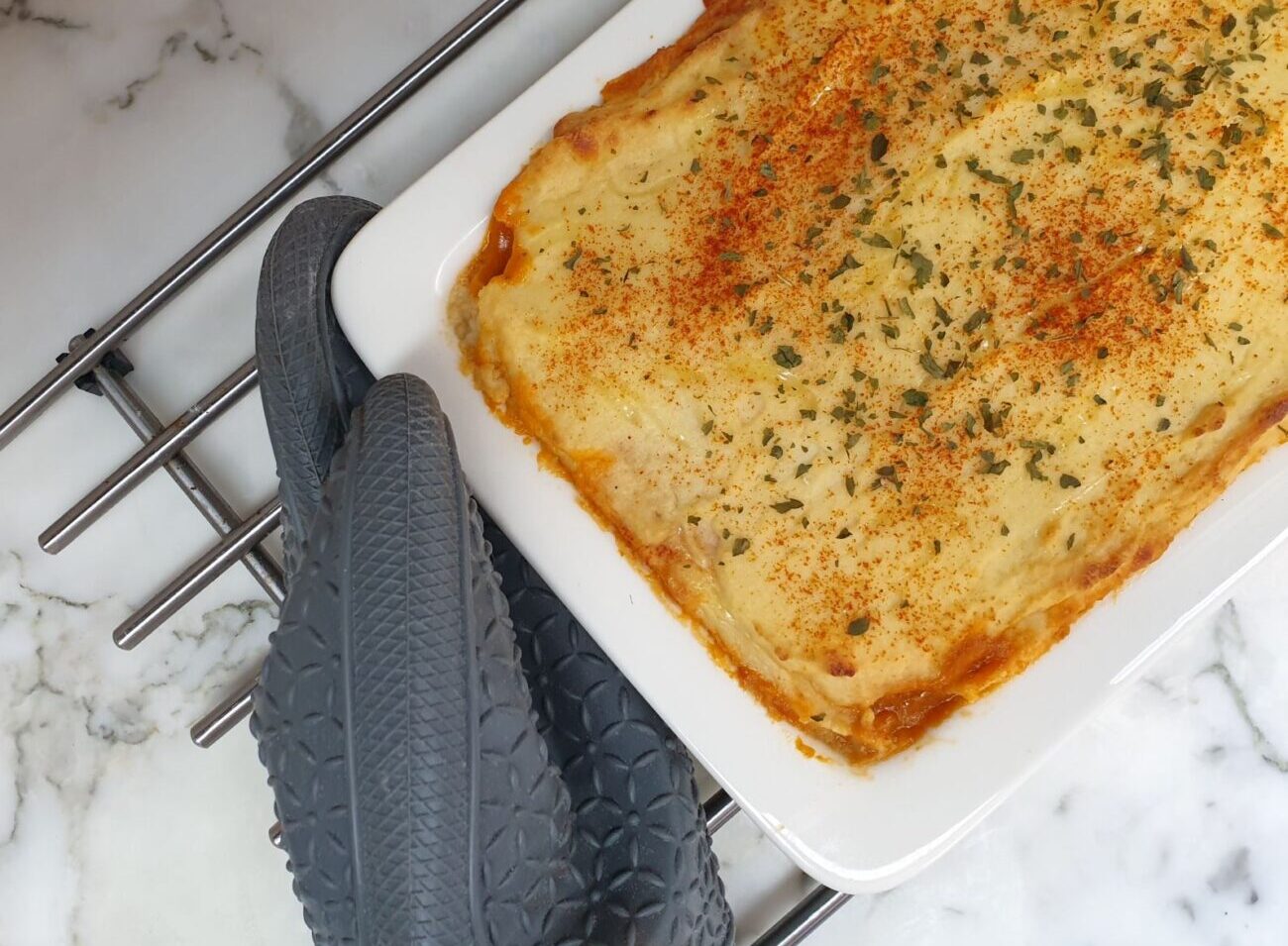 Variations
Feel free to play around with the vegetables that you use in the meat base. While I have selected lower carb vegetables to feature in the recipe, you could also add other low carb vegetables such as eggplant. If you aren't so concerned about the carbs, you could also add vegetables such as carrots and peas.
Whether made specifically to the recipe or with your own influences on the recipe, this is a recipe that everyone will love. Please share your efforts and leave feedback on the recipe, as I always love to see your creations and hear what you think of my recipes.
Enjoy!
Karen x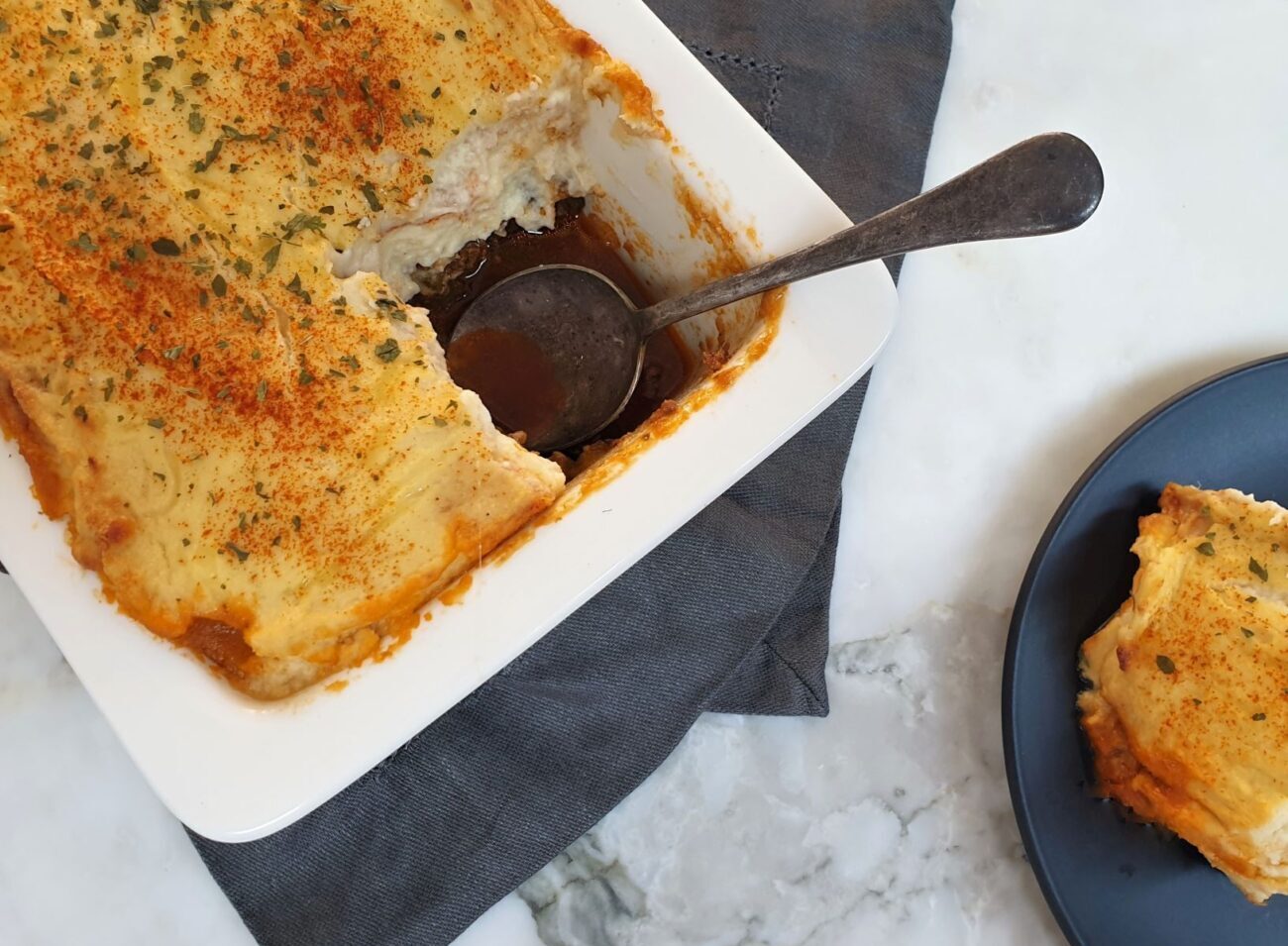 Ingredients
Savory Mince Base
A dash of extra virgin olive oil

1

medium

onion diced

500

gms

minced/ground beef

or lamb

2

teaspoons

minced garlic

2

stalks

celery diced

1

medium

zucchini diced

¼

cup

tomato paste

⅓

cup

beef or vegetable stock

2

teaspoons

mixed herbs

such as thyme, rosemary etc

2

tablespoons

ACV (apple cider vinegar) or red wine vinegar

1

tablespoon

Worcestershire sauce

Salt and pepper to taste
Creamy Cauliflower Mash Topping
1

cauliflower cut into large florets

2

tablespoons

butter

omit for paleo version

2

tablespoons

cream cheese

or sour cream or pure/heavy cream - omit for paleo version

2

egg yolks

Salt and pepper to taste
Instructions
Preheat the oven to 180 C/ 360 F fan forced
Savory Mince Instructions
Heat the olive oil in a large saucepan and fry the onion until translucent.

Add the minced beef or lamb and pan fry until browned and cooked through.

Add the garlic and diced vegetables and continue to cook for 5 minutes on high. Add the beef stock, mixed herbs, tomato paste, vinegar and Worcestershire sauce and continue to cook for another 5 minutes on high. Turn the heat down and simmer uncovered until the liquid evaporates and the meat mixture thickens. This could take between 20-30 minutes.

Cauliflower Mash Instructions

Boil or microwave the cauliflower until soft and you can easily insert a skewer into the stalk area without any effort. This could take about 8-10 minutes on the stove top or around 8-10 minutes in the microwave.

Drain the cauliflower and place in a mixing bowl, ensuring there is absolutely no liquid in the bottom of the bowl. Make sure you wipe any additional liquid out with paper toweling or you will end up with mash that is too wet and sloppy.

Using a stick blender, puree the cauliflower until smooth without any lumps. Add the butter, cream cheese (or substitute), egg yolks, alt and pepper and continue to blend until smooth and creamy.
To Assemble
Place the savory meat mixture in the bottom of a medium to large casserole dish. Top with the creamy cauliflower mash and smooth out with a spatula. Use a fork to create a ridge pattern if desired. Dust the top with sweet paprika and parsley flakes if desired.

Bake for approximately 30 minutes or until the dish has cooked through and the top has browned slightly.
Recipe Notes
Use vegetables of choice in the savory mince such as carrot and peas if they fit in with your way of eating.
Vinegar can be switched for red wine or white wine.
Ensure the savory meat mixture isn't too wet and is quite thick. You can add 1-2 tablespoons chia powder near the end of cooking the meat mixture for a nutritional boost and to thicken slightly.
A small tin of diced tomato (400 gms/ 14 oz) can be used to replace the tomato paste if desired but the tomato taste won't be as pronounced in the dish.
Nutritional Information
Calories:
456
kcal
|
Carbohydrates:
9
g
|
Protein:
19
g
|
Fat:
29
g
|
Fiber:
3.9
g
Note that we calculate our own nutritional values so they may not be precise. Calculate your own if desired. Carb values exclude sugar alcohols such as Erythritol, as they generally have no impact on blood sugar levels. 50% of the carbs from Xylitol is added to nutritional values. This is consistent with industry practice.
Do you want to receive more recipes like this one? Subscribe to our newsletter now!