Sugar Free Dried Cranberries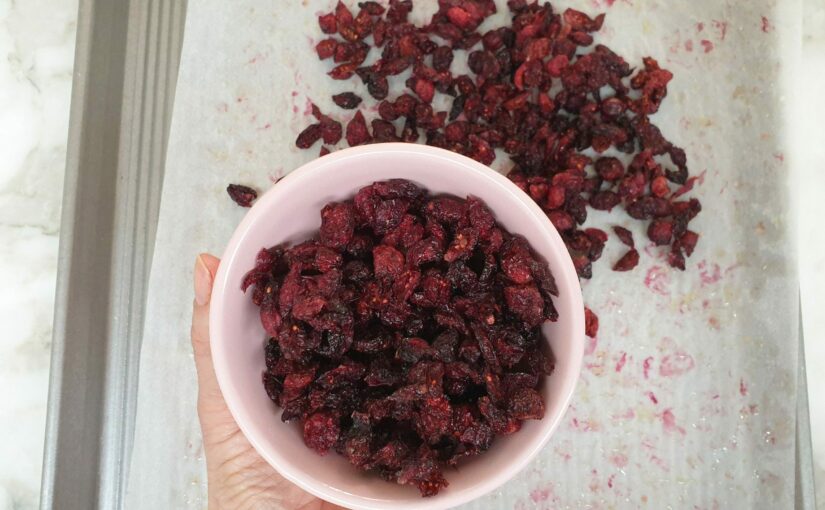 Sugar Free Dried Cranberries
Have you struggled to find dried cranberries that aren't laden with sugar? Fresh cranberries just don't exist in Australia so often the only option we have here is to buy processed dried cranberries. If you have ever tried to buy dried cranberries, then you will understand my frustrations over the amount of sugar a packet off the shelf can contain. If dried cranberries don't contain processed sugars then generally they contain apple juice, and both products are really high in sugars and carbs.
Fresh or Frozen Cranberries
If you live in an area where you can source fresh cranberries, then you can dry them by following this recipe. Fresh cranberries can't be sourced in many places. Thankfully here in Australia, Woolworths stocks frozen cranberries. You can easily dry these yourself at a low temperature in the oven. If you want to be prepared for some of the fabulous festive season recipes I have coming up, you might want to get your own batch underway.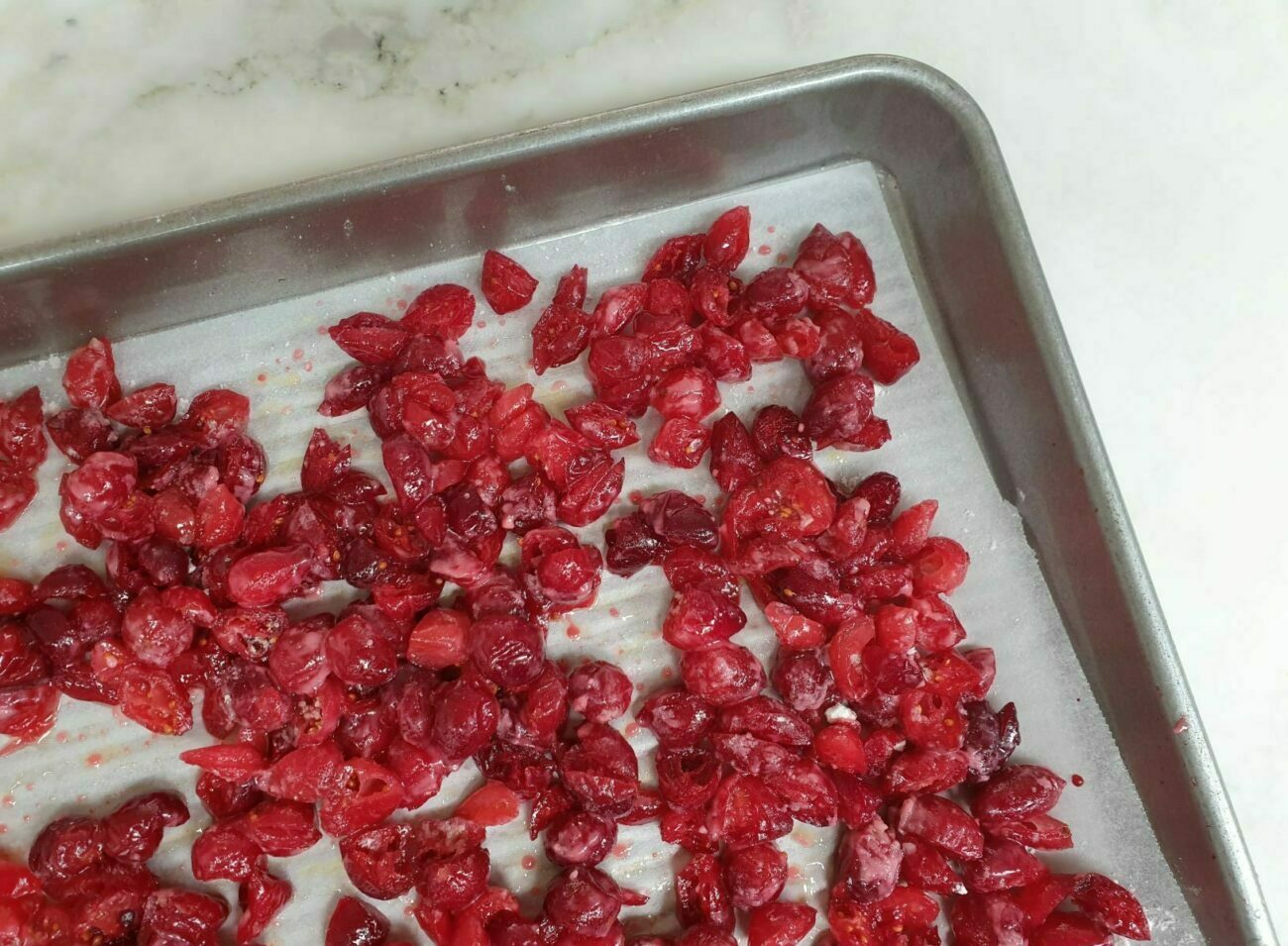 Easy to Make
Simply defrost a 500 gm/17.6 oz bag of frozen cranberries on some paper towelling to absorb the moisture. Once defrosted, cut the cranberries in half. Place them in a mixing bowl and add 2 tablespoons of powdered erythritol. Stir until well combined. I like my cranberries quite tart, so you can add more erythritol if you want your cranberries sweeter.
Add 1/2 tablespoon of mild flavored oil such as extra virgin olive oil, macadamiia or avocado oil. Toss through the cranberries until they are all coated with oil. Place the cranberries on a large lined baking tray and spread them out as much as you can. Dry out in the oven at 105 C/221 F for between 3-4 hours, or until the cranberries have dried out. To store your cranberries in the pantry, make sure they have dried out properly or you risk them going rancid. If you want your cranberries a little juicier, you can also them in the freezer.
How To Use Sugar Free Dried Cranberries
How easy is that? Not only are these perfect to use in recipes, cakes and puddings, but they taste delicious in a trail mix and are perfect to add to your muesli as well. I have plans to use these in some up and coming recipes such as Cranberry and Almond Biscotti, White Christmas as well as a fabulous Low Carb Christmas Fruit Cake, so make sure you stay posted! If you haven't tried the Low Carb Christmas Pudding recipe, they feature in that as well. It's a truly wonderful recipe that tastes just like Christmas should.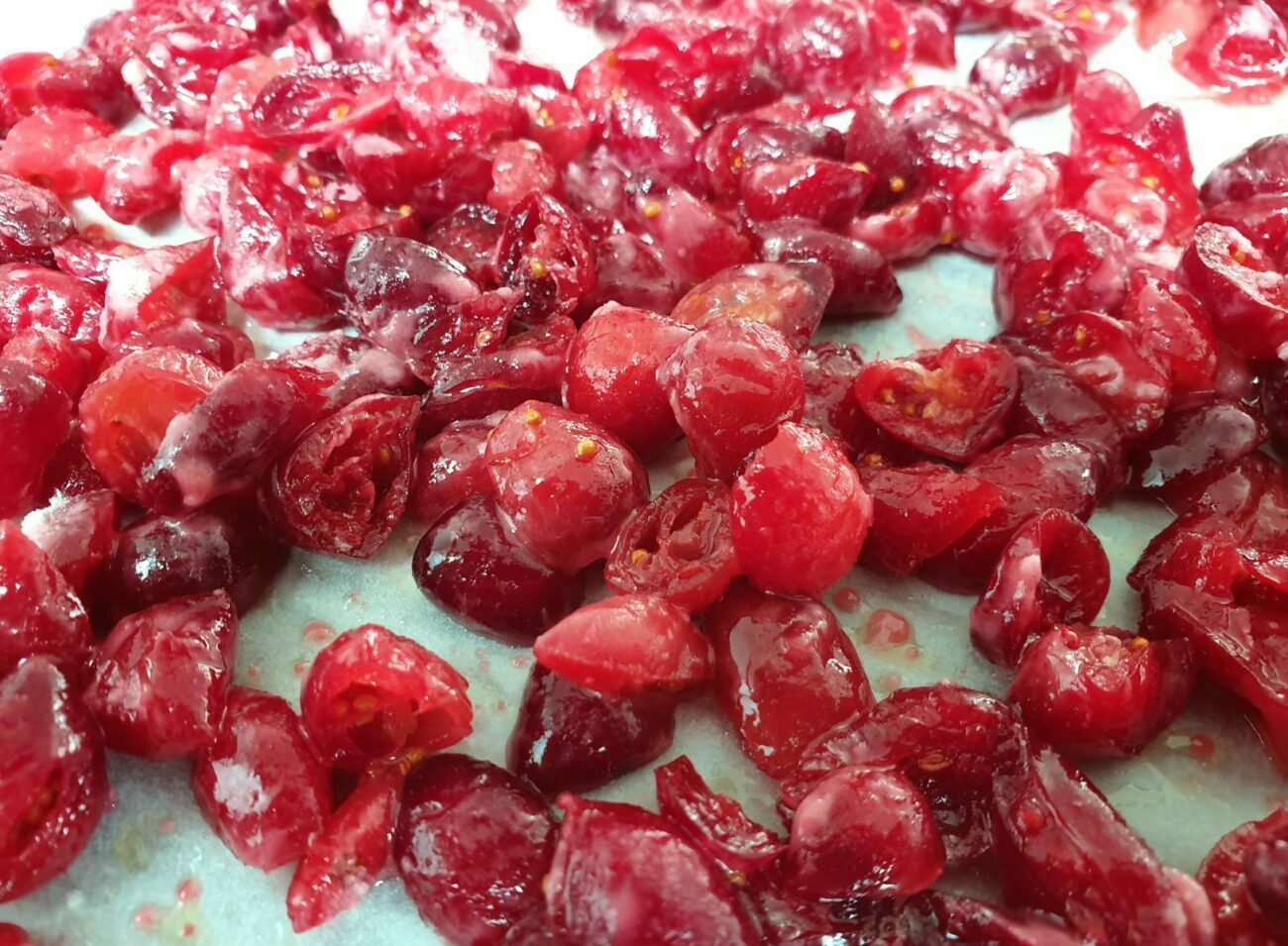 Ingredients
500

gms

frozen (or fresh) cranberries

2

tablespoons

stevia blend

½

tablespoon

mild tasting extra virgin olive oil (EVOO)

or macadamia or avocado oil
Instructions
Preheat oven to 105 C/220 F fan forced

Defrost the cranberries. Dry them with a cloth or paper towel and cut in half. If using fresh cranberries simply cut them half.

Toss the cranberries in a large bowl with sweetener of choice and oil. Spread out as thinly as you can on a large baking tray lined with baking paper.

Bake for 3-4 hours until the cranberries have dried out sufficiently. Check them at 3 hours to ensure they aren't drying out too much and then keep a regular eye on them until they have dried out enough.

If they have dried out enough they can be stored in an airtight jar in the fridge. If they still have a little moisture in them they are more susceptible to going off, so store them in the freezer.

The yield from this recipe is approximately 130 gms/4.5 oz of dried cranberries.
Recipe Notes
Adjust the sweetener to your taste. My preference is for a slightly tart lightly sweetened cranberry and the recipe reflects this.
A dehydrator can also be used to dry cranberries in lieu of the oven method. 
Nutritional Information
Serving:
1
serve
|
Calories:
25
kcal
|
Carbohydrates:
10
g
|
Protein:
0.05
g
|
Fat:
0.05
g
|
Fiber:
1.25
g
Note that we calculate our own nutritional values so they may not be precise. Calculate your own if desired. Carb values exclude sugar alcohols such as Erythritol, as they generally have no impact on blood sugar levels. 50% of the carbs from Xylitol is added to nutritional values. This is consistent with industry practice.
Do you want to receive more recipes like this one? Subscribe to our newsletter now!