Sugar Free No Bake Cheesecake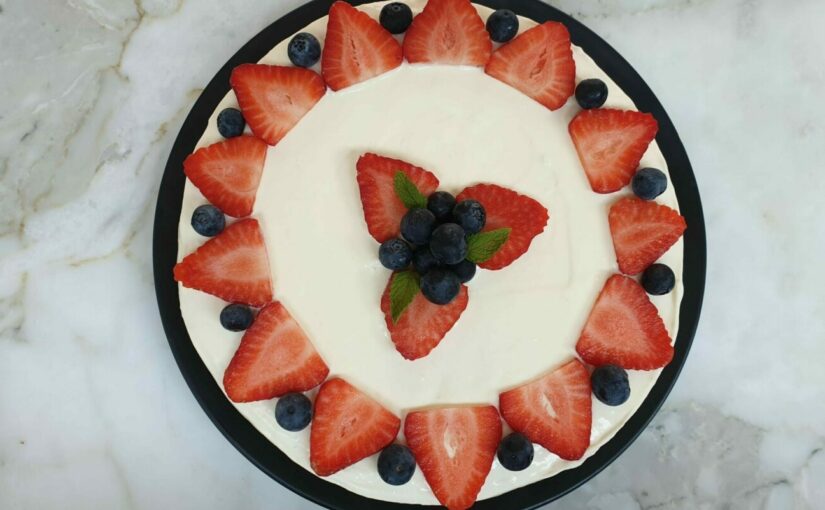 Sugar Free No Bake Cheesecake
Wait until you taste this simple to make but delicious Sugar Free No Bake Cheesecake recipe. Not only does it fit in with a low carb and keto way of eating but it's also gluten free and ideal for diabetics as well. This is the ideal dessert to cater for many different ways of eating, so would be a great choice for when you're entertaining. It's also another recipe that proves that there doesn't have to be a compromise on taste just because a recipe is low carb.
Baked Cheesecake vs Sugar Free No Bake Cheesecake
People generally have a preference for either a baked cheesecake or they prefer a no bake cheesecake. No bake cheesecakes are generally a little lighter in texture and probably a little creamier as well. They are also a little simpler and less time consuming to make. Although the effort required to make a baked cheesecake is well worth the end result, it is great to have a couple of cheesecake recipes up your sleeve. The other benefit to a no bake cheesecake is that it is egg free as well.
If you're looking for a fantastic recipe for a keto friendly sugar free baked cheesecake, check out this recipe for New York Baked Cheesecake. As with this recipe for a Sugar Free No Bake Cheesecake, no one is ever going to guess that this isn't a traditional recipe. It tastes exactly like cheesecake should.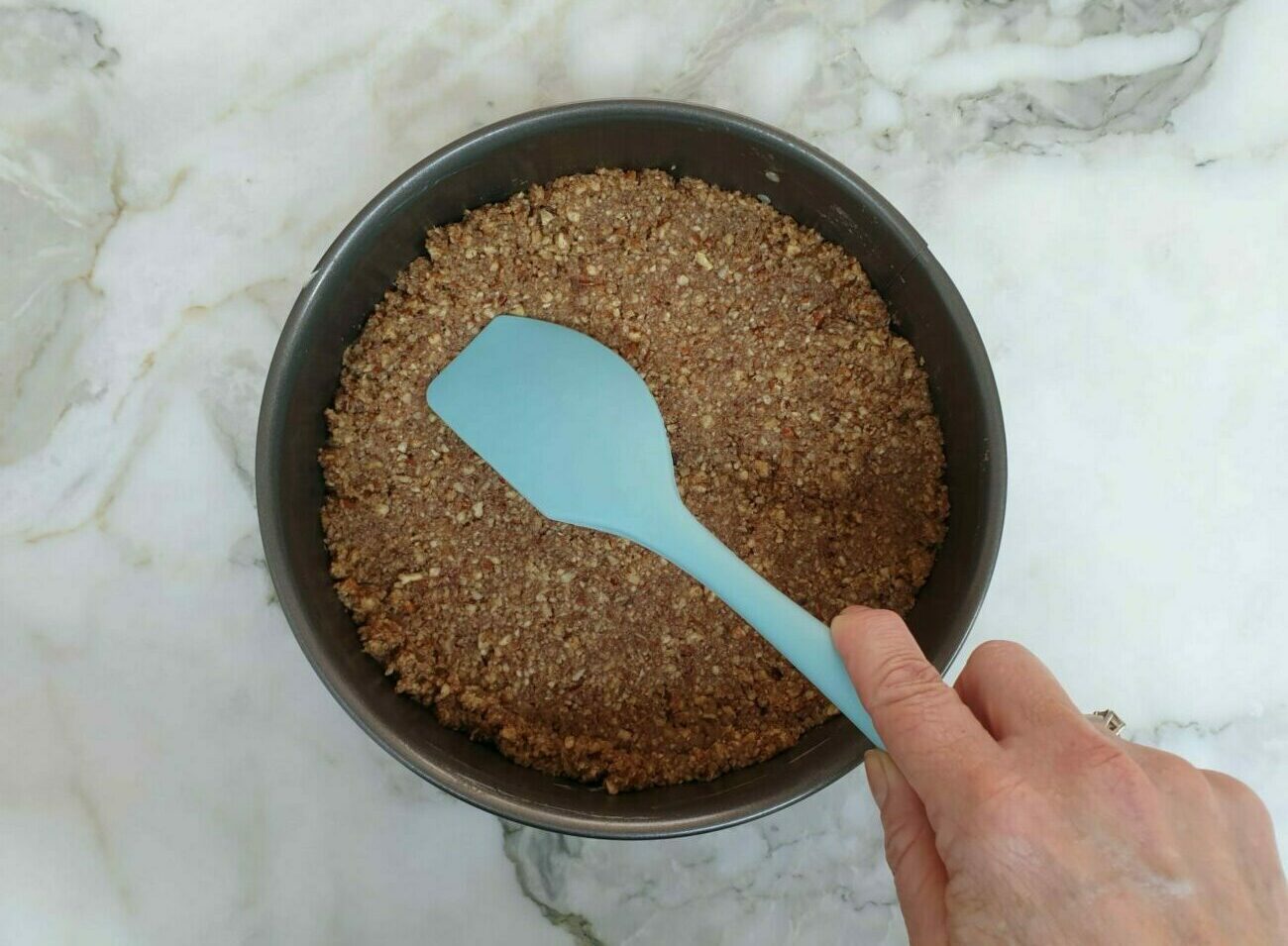 Cheesecake Pots
As an alternative, you could make your cheesecakes into individual serves so there is no need to cut your cheesecake. I recommend serving the recipe into about 12 pots for a more substantial serve. Pots can then be garnished with fresh fruit, whipped cream or drizzled with a berry coulis if desired.
To Serve Sugar Free No Bake Cheesecake
Try serving this delicious recipe simply on it's own dusted with some cinnamon powder. Fresh berries and fresh whipped cream served on top taste delicious.  Berry Coulis drizzled on top tastes divine, especially when served with a dollop of fresh whipped cream. See the recipe below to learn how to make a simple Berry Coulis. Grated dark chocolate would also be a delicious option if you are a bit of a chocolate fiend.
Make sure you serve this Sugar Free No Bake Cheesecake straight from the fridge. Because it has no setting agents in it, it will soften at room temperature. This recipe will keep for about 4-5 days in the fridge and also freezes really well.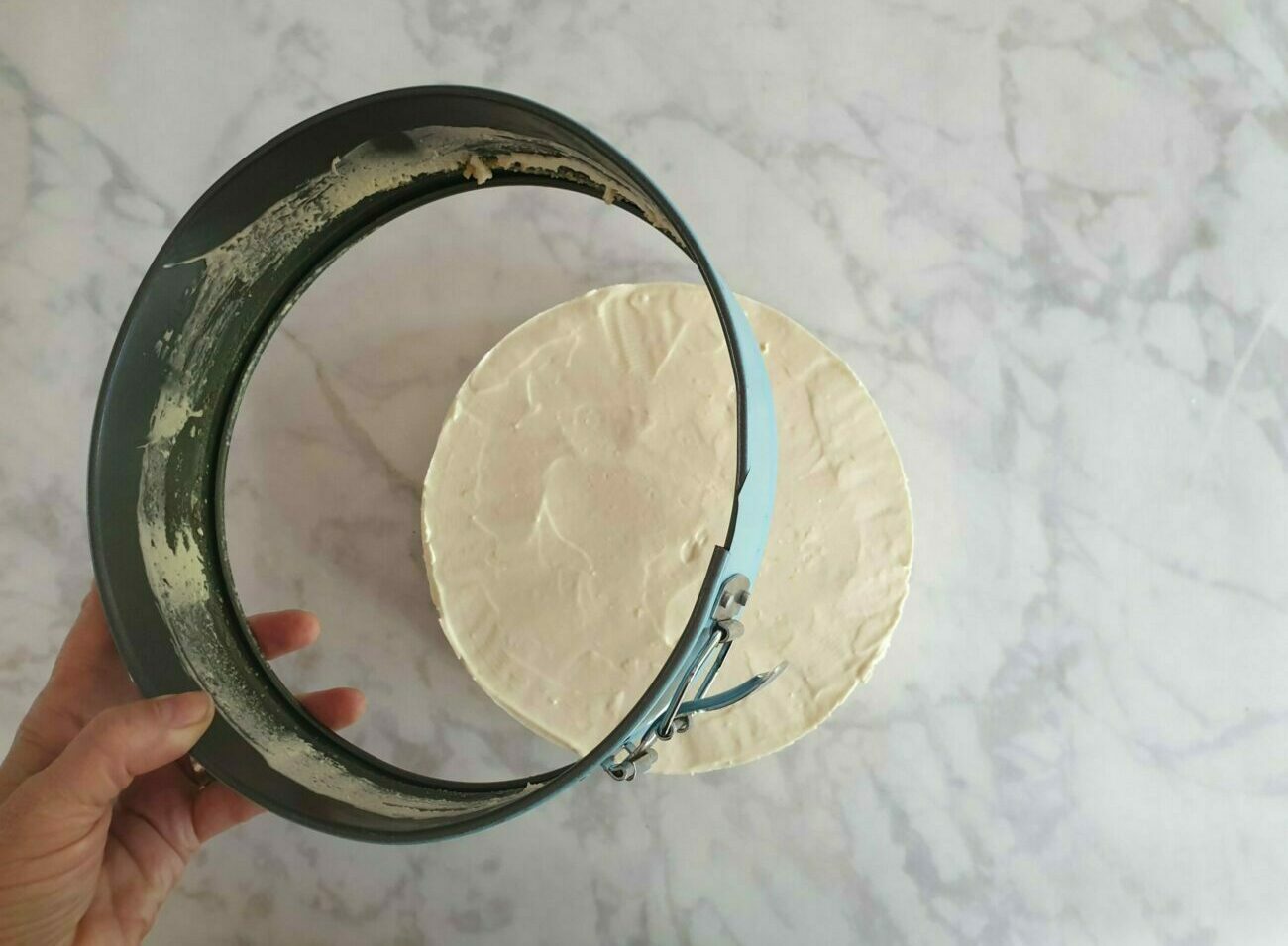 Berry Coulis Recipe
Place 1 1/2 cups frozen or fresh berries, 1/4 cup water and 1-2 tablespoons of sweetener in a saucepan and bring to a boil. Turn down the heat to a simmer for about 5 minutes. The berries will break down quite quickly and the mixture can burn, so make sure you stir it fairly regularly. Remove from heat and mash any larger chunks with a fork if required. Allow it to cool before serving.
If you wish to strain the coulis to get rid of the seeds, wait until it cools down but this is optional. Note that if you use strawberries they break down more slowly, so it is better to chop them into smaller pieces before cooking them. You can also blitz your coulis to get a smoother sauce. I find this works particularly well with a strawberry coulis.
I hope you enjoy this recipe!
Kxx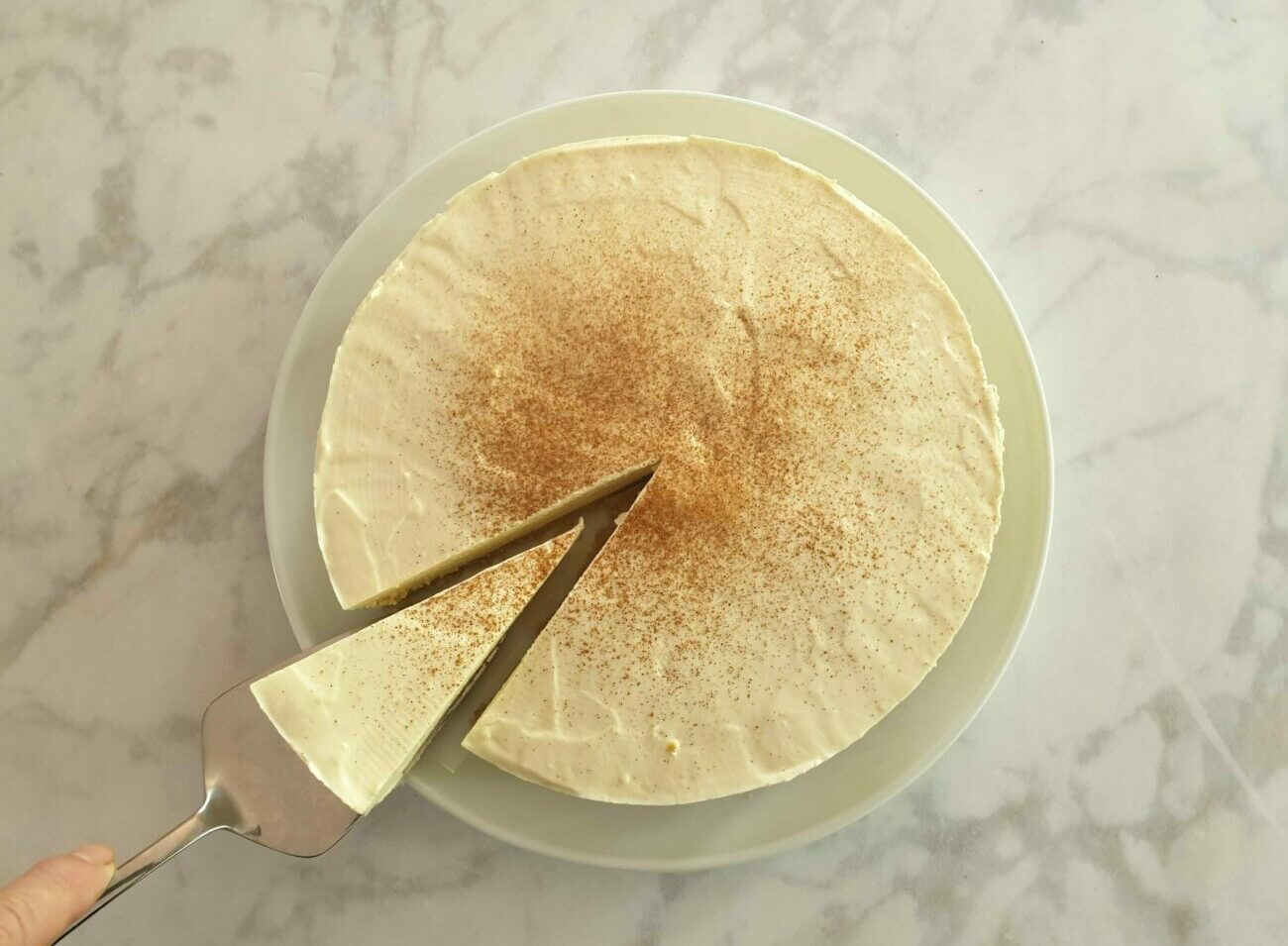 Ingredients
CHEESECAKE BASE INGREDIENTS
2

cups

pecan meal or almond meal

see notes

1

teaspoon

ground cinnamon

or to taste

1

teaspoon

stevia blend

A pinch of salt

75

gms

butter melted
CHEESECAKE FILLING
500

gms

cream cheese full fat at room temperature

¼

cup

stevia blend

/monkfruit blend or 1/2 cup erythritol or coconut sugar

3

tablespoons

sour cream full fat

1

tablespoon

lemon juice

1

teaspoon

vanilla extract

3/4

cup

heavy/pure cream
Instructions
In a medium bowl, combine the cheesecake base ingredients. Mix well until combined.

Prepare your spring pan by rubbing the sides of the pan with butter to prevent your filling sticking if it touches the sides. Line the base of the pan with baking paper before assembling the spring pan.

Press the base mixture into the spring form pan, pressing up the sides as well. It is ok if the base mixture doesn't go all the way up the sides as long as you grease your pan. Compress the base and sides base firmly to prevent it from crumbling using a heavy flat based jar if need be. Refrigerate while preparing the filling.

In a large mixing bowl, beat the cream cheese and sweetener together until very smooth and creamy, and lump free.

Add the sour cream, lemon juice and vanilla extract and continue to mix until well combined and really smooth.

Whip the cream in another mixing bowl until it forms firm peaks. Add to the cream cheese mixture and beat until the mixture is smooth and creamy without over mixing.

Spoon the filling into the cheesecake base and smooth off the top.

Refrigerate cheesecake until firm, for about 12 hours or overnight.

To serve the cheesecake, remove it from the spring form pan and set on a plate or serving platter. You will need to run a sharp knife around the edges to help the cheesecake to release. For a simple topping, dust with cinnamon powder. Alternatively top with fresh berries and fresh whipped cream.

Because nothing is used to set the cheesecake, refrigerate until ready to serve. Cheesecake will keep for 4-5 days and can be frozen.
Recipe Notes
My preference is to use pecans and process them to meal for this recipe. A mix of almond meal and pecan meal also works well. Almond meal also works well but my preference is to use whole almonds with the skin instead of blanched almond meal.
Press the base in very firmly to help prevent it crumbling. Use the base of heavy jar to compress it into the spring form pan and up the sides.
Use alternative sweetener of choice int he filling such as coconut sugar or an alternative low carb sweetener. Be conservative with how much you use and taste the filling mixture before adding any additional.
My preference is to not have a sweet base as I like the contrast between the flavors of the base and the filling. Add more sweetener to taste if required.
Make sure you use fresh pure cream and whip it as instructed as it makes the cheesecake lighter in texture. 
Add the zest of one lemon for additional lemon flavor.
If you are in the US and wish to utilize all of your cream cheese, you can add all of the cream cheese from three 8 oz packets without making any other changes to the recipe.
Nutritional Information
Serving:
1
serve
|
Calories:
238
kcal
|
Carbohydrates:
3
g
|
Protein:
3
g
|
Fat:
25
g
|
Fiber:
1
g
Note that we calculate our own nutritional values so they may not be precise. Calculate your own if desired. Carb values exclude sugar alcohols such as Erythritol, as they generally have no impact on blood sugar levels. 50% of the carbs from Xylitol is added to nutritional values. This is consistent with industry practice.
Do you want to receive more recipes like this one? Subscribe to our newsletter now!