Sugar Free No Churn Vanilla Ice Cream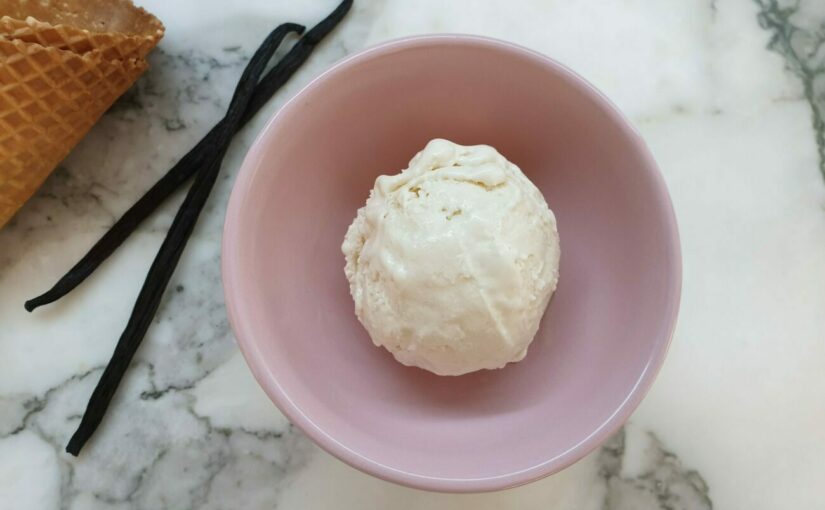 Sugar Free No Churn Vanilla Ice Cream
Sugar Free No Churn Vanilla Ice Cream is a simple to make but absolutely delicious ice cream recipe that doesn't require the use of a churner. Having to buy a churner is just another added expense and gadget to fill your cupboards. You'll discover that they aren't necessary, especially when you have recipes like this one to make delicious ice cream.
The Reason This Ice Cream Works
While there are some less common ingredients in Sugar Free No Churn Vanilla Ice Cream, they are the reason this recipe is so amazing. In the past I have tried to make so many different ice creams and have never been happy with the end result. I believe that this is the best homemade ice cream recipe you are going to make.
This is another ice cream recipe where I emulated one of the best ones you can buy from the store. Although this Sugar Free No Churn Vanilla Ice Cream actually tastes better than the any store bought versions I've tried. You'll also save plenty of money as it definitely isn't going to cost you $13 for 500 gms/17 oz, which is what you pay for premium low carb ice cream in Australia.
Dairy Free and Paleo Option
If you are trying to avoid dairy, you can sub the cream for coconut cream. Simply switch the cream in full for coconut cream but still follow the instructions, ie heat up 400 gms/14 oz coconut cream with your sweetener and also beat the coconut cream before adding the chilled sweetener mixture. Just don't expect to get the peaks that you would get by using pure or heavy cream though.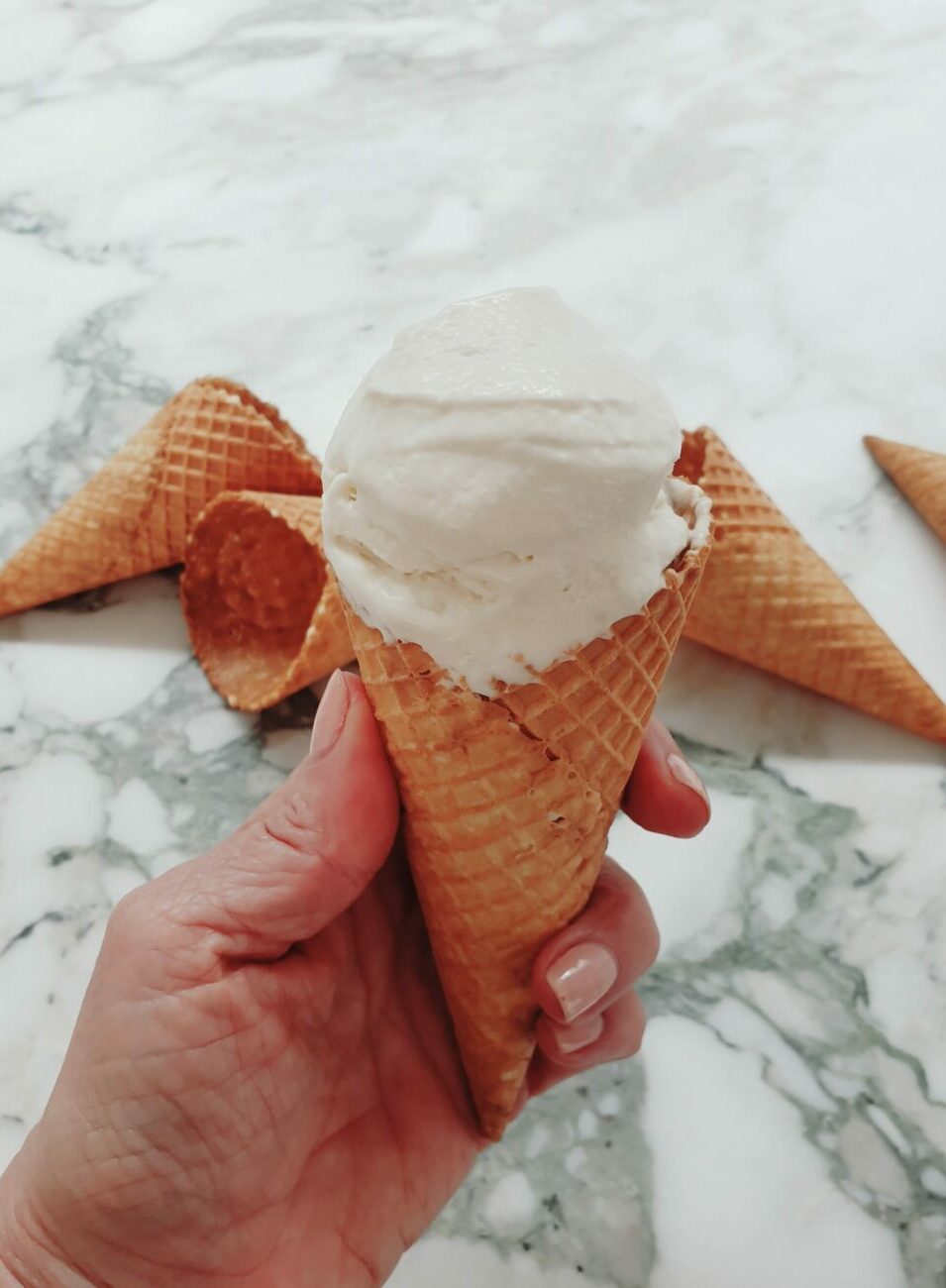 Where To Buy MCT oil and Guar Gum or Xanthan Gum
Regarding buying MCT oil and guar gum/xanthan gum, which are the stars of this recipe, you'll find both at iherb and specialty stores. MCT oil is also available in some chemists and supermarkets as well. Some people get a laxative affect from using MCT oil but you can switch it for EVOO- extra virgin olive oil. You cannot taste the olive oil at all and it works brilliantly as a replacement in this recipe.
Serving Sugar Free No Churn Vanilla Ice Cream
A feature of low carb and sugar free ice creams is that they do tend to firm up in the freezer. Unlike regular ice cream that you can pull out and scoop into straight away, you may need to let this ice cream sit at room temperature to soften a little. Trust me, it is going to be worth your wait!
The reason why xylitol is brilliant in ice cream recipes is because it doesn't crystallize like other sweeteners do in the freezer. I've found that this vanilla recipe remains soft and creamy, so you probably won't need to let it sit before you scoop it out. What's going to impact on this though is what sweetener you use.
Dog Lovers Beware
For anyone with dogs, please take care with xylitol as it can cause harm and kill dogs. I am an avid dog lover and have 2 beautiful schnauzers who I would never want to harm. Just as I'm careful with chocolate, as it can kill dogs, I make sure that I never leave food with xylitol around so they can reach it. The fact that I am not partial to sharing my ice cream with anyone, makes this easy to abide by.
I've given a lot of thought to the use of xylitol because of my dogs and refused to use it initially, out of concern for them. After giving this lots of thought I finally decided that I would continue to use it but would be cautious with it. I have had issues with dark chocolate with one of my dogs and it made her so ill we thought we would lose her. But even given this situation, it hasn't stopped me from having dark chocolate in the house. What it has done is caused me to be more vigilant when the dogs are around. So dark chocolate and xylitol are back on the menu in my house.
Please feel free to share this recipe to your hearts content to help me get this recipe out into the big wide world.Please also share any photos of your cooking efforts as well, as I always love to see what you create at home.
More Fabulous Ice Cream Recipes
Make sure you try the other fab ice cream recipes on the blog such as this Peanut Butter Choc Chip Ice Cream recipe. For a couple of delicious flavoured ice creams, check out No Churn Chocolate Ice Cream and Strawberry Swirl Cheesecake Ice Cream.
If you want to be a bit more creative with an ice cream dessert make sure you also check out these recipes for an Ice Cream Pudding Cake as well as a more traditional Ice Cream Cake. Both of these recipes are perfect for celebration cakes such as dinner parties, birthdays and Christmas. THey are always crowd favorites with both the young and old coming back for more.
I hope you enjoy this one as much as I do!
Kxx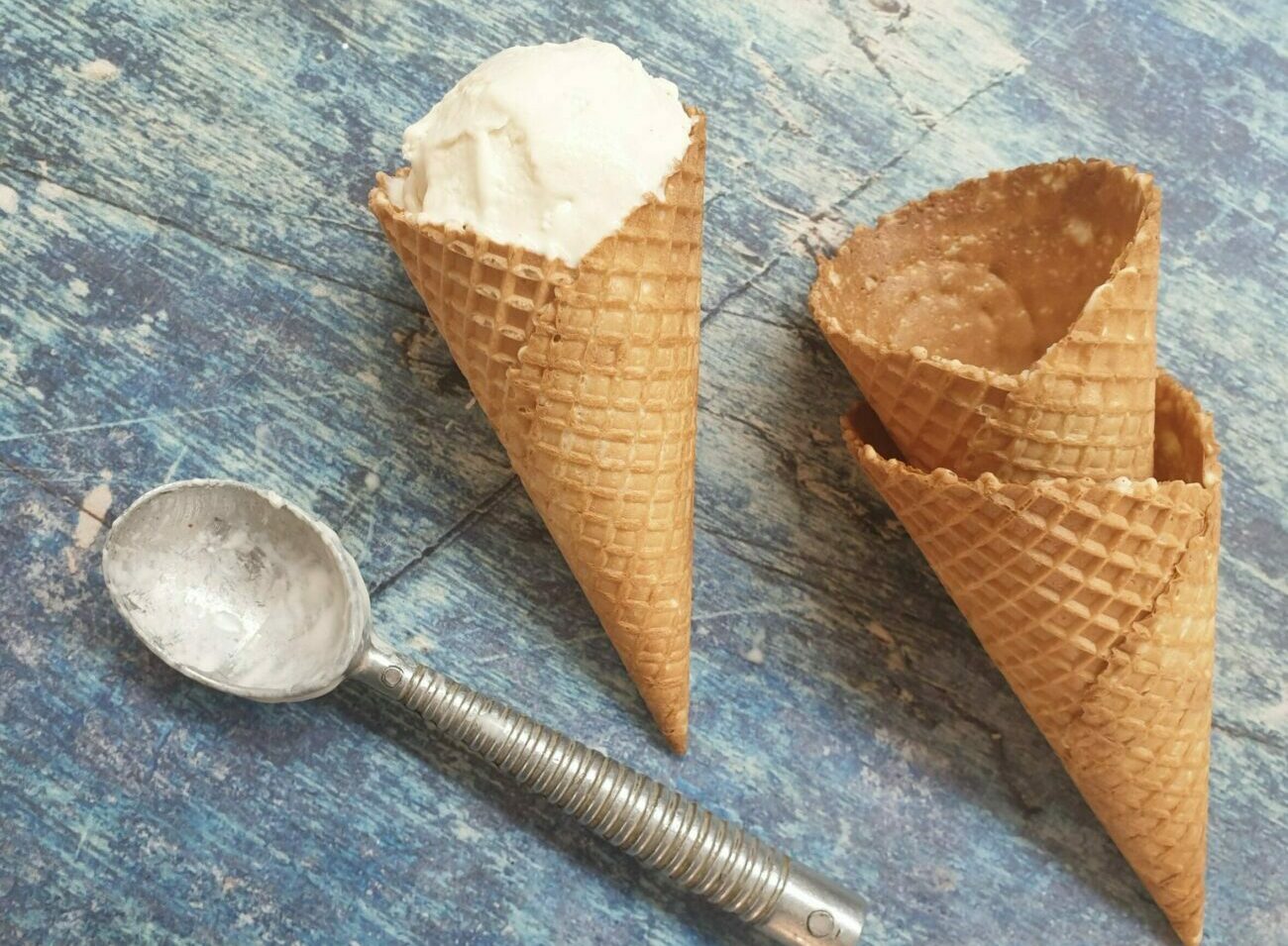 Ingredients
600

ml

pure/heavy cream

½

cup

xylitol

see notes for using alternative sweeteners

1

tablespoon

MCT oil or EVOO- extra virgin olive oil

400

ml

coconut cream sugar free

or quality full fat coconut milk. See notes about this.

2

teaspoons

vanilla extract

Scraped vanilla bean can also be added

A pinch of sea salt

½

teaspoon

guar gum

- very accurately measured. See notes regarding adding xanthan gum instead.
Instructions
Bring the coconut cream, xylitol, salt and vanilla extract to just below boiling point on the stove top. Add scraped vanilla bean at the same time if using. Hand whisk the mixture to ensure the sweetener has dissolved. Allow the mixture to cool completely in the fridge.

Once coconut cream mixture has cooled, using electric beaters, beat the mixture with the MCT oil and salt until smooth and creamy.

Whip the cream in a large mixing bowl until it thickens and forms peaks. Add the coconut cream mixture to the whipped cream and beat the mixture until it is well combined.

Finally, sprinkle or sift your precisely measured guar gum over the ice cream mixture and beat it in quickly until it is well combined with electric beaters. Take particular care here not to over mix but ensure that the guar gum( or xanthan gum) is well mixed in. Note- sprinkle the guar gum away from the edges of the bowl as it can clump there. Scrape the sides of your bowl down while beating to ensure all of the gum is mixed in.

Pour your ice cream mixture into a freeze proof container that has a lid, or ensure your ice cream container can be well sealed to prevent icing up and your ice cream hardening.

Leave the ice cream to freeze until firm. Generally overnight is ideal. The ice cream will firm up the longer it is in the freezer, which is when you will be grateful that softening agents (the oil and the gum) are used in the recipe.

You may need to allow the ice cream to sit on the bench for up to 20 minutes prior to serving if it is too firm to scoop. If you have used xylitol your ice cream should be scoopable straight from the freezer.
Recipe Notes
This recipe was made to be no churn ice cream so you don't need an ice cream maker. The ice cream can be made in the churner if desired by following your churners instructions once it has been created following the instructions above.
If you want a creamier ice cream, make sure you use coconut cream instead of coconut milk. Coconut milk will reduce the calories slightly but the end result will be slightly icier and not quite as creamy. Coconut cream (my favorite) is creamier and richer in flavor. 
For creamy creamy ice cream, increase the amount of cream and reduce the amount of coconut cream.
For a dairy free/paleo version,  simply switch the pure/heavy cream for coconut cream, following the exact same steps. You're coconut cream won't whip up like cream will but this still works beautifully. You can also use an alternative sweetener but your icecream won't be as creamy as it would be by using xylitol.
If you don't have guar gum, try adding ½ teaspoon of xanthan gum in its place. Guar gum is preferred if possible.  Ensure you accurately measure the guar gum or the xanthan gum before adding one of them to the recipe. If you use too much, your ice cream will end up being too claggy. 
Although testing showed excellent results using a range of sweeteners, xylitol is the best sweetener to use in ice cream as it doesn't crystallize when frozen. If you use an alternative sweetener, there is no guarantee that the end result will be the same as it would be if xylitol was used. You can replace the xylitol with the equivalent amount of erythritol or about ¼ cup of a stevia or monk fruit blend. Taste the ice cream mixture so you can adjust the sweetness to your own taste.
If you don't have MCT oil you can simply omit. Try switching it for the equivalent amount of EVOO- extra virgin olive oil, as long as it is a light tasting EVOO and not "light olive oil." This will help prevent your ice cream from icing up and create a smoother texture. You will not be able to taste it.
Nutritional Information
Serving:
1
of 12 serves
|
Calories:
289
kcal
|
Carbohydrates:
1.9
g
|
Protein:
11.7
g
|
Fat:
19.8
g
Note that we calculate our own nutritional values so they may not be precise. Calculate your own if desired. Carb values exclude sugar alcohols such as Erythritol, as they generally have no impact on blood sugar levels. 50% of the carbs from Xylitol is added to nutritional values. This is consistent with industry practice.
Do you want to receive more recipes like this one? Subscribe to our newsletter now!