The Best Keto Chocolate Cupcakes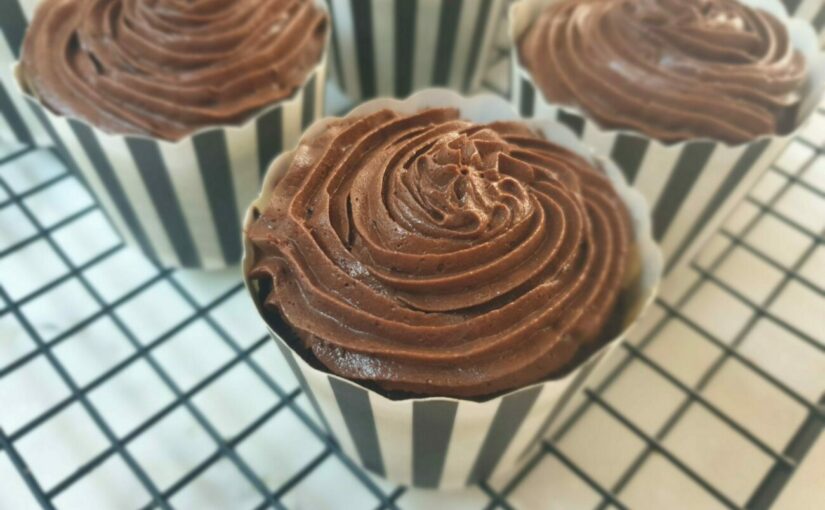 The Best Keto Chocolate Cupcakes
This is probably one of the most requested recipes on the planet. Chocolate cupcakes are always in demand so the quest was on to try to make The Best Keto Chocolate Cupcakes. Of course these also had to fit in with a low carb, keto and gluten free way of eating and of course they had to taste amazing. After lots of attempts in the test kitchen, this delicious recipe for The Best Keto Chocolate Cupcakes is ready to be unleashed.
Simple to make and reasonably healthy, these delicious cupcakes will keep fresh for about 3 days but they also freeze perfectly. This makes them ideal to grab for a snack on the run. I find that having treats like this on hand is a great way to stop being tempted by the wrong foods.
Frosting/Icing Options and serving ideas
You can simply enjoy these cupcakes on their own or choose from a selection of frosting/icing options. While the cupcakes featured have been frosted with buttercream icing, you can also top them with a simple ganache topping or this delicious recipe for Low Carb Chocolate Cream Cheese icing. The ganache frosting features in the recipe below as does the buttercream frosting.
Perfect for an afternoon snack when the children get home for school. Delicious and easy to make, The Best Keto Chocolate Cupcakes are perfect for a party or special afternoon tea. Serve them warm drizzled with chocolate ganache and they make a wonderful simple dessert. Top them with a dollop of whipped cream and some fresh berries to take them to the next level.
Simple Variations
Try adding 1/4 cup dark chocolate chips for choc chip cupcakes. Adding 1/2 cup of frozen or fresh raspberries to the batter just before baking is another delicious variation. To keep these paleo, you can switch the butter for the same amount of a mild tasting EVOO- extra virgin olive oil. You cannot taste the olive oil at all, and this is probably my preferred fat option to use in these delicious cup cakes.
Prevent Your Cupcakes From Sticking
Recipes with coconut flour in them can be prone to sticking. To be on the safe side, lightly spray any pans that you use, including paper patty pans with coconut oil or light flavored EVOO (extra virgin olive oil.) The cupcakes featured were baked in cardboard patty pans and there was no issue with sticking so there's probably no need to spray them.
More Fabulous Cupcake Recipes
If you are looking for some other delicious low carb cup cake recipes, make sure you check these recipes out on this blog. For a decadent but healthy dark chocolate muffin, you may want to whip up a batch of these delicious Low Carb Dark Chocolate Zucchini Muffins. For a lovely blueberry muffin, you simply cannot go past this delicious recipe for Sugar Free Blueberry Cream Cheese Muffins.
If you love the taste of raspberries and macadamias, then you may want to try these Low Carb Raspberry Macadamia Muffins. Last but definitely not least is this wonderful recipe for Sugar Free Lemon Poppy Seed Muffins.
So many wonderful choices,all of them gluten free and ideal for keto and low carb.
I hope you enjoy this recipe.
Karen x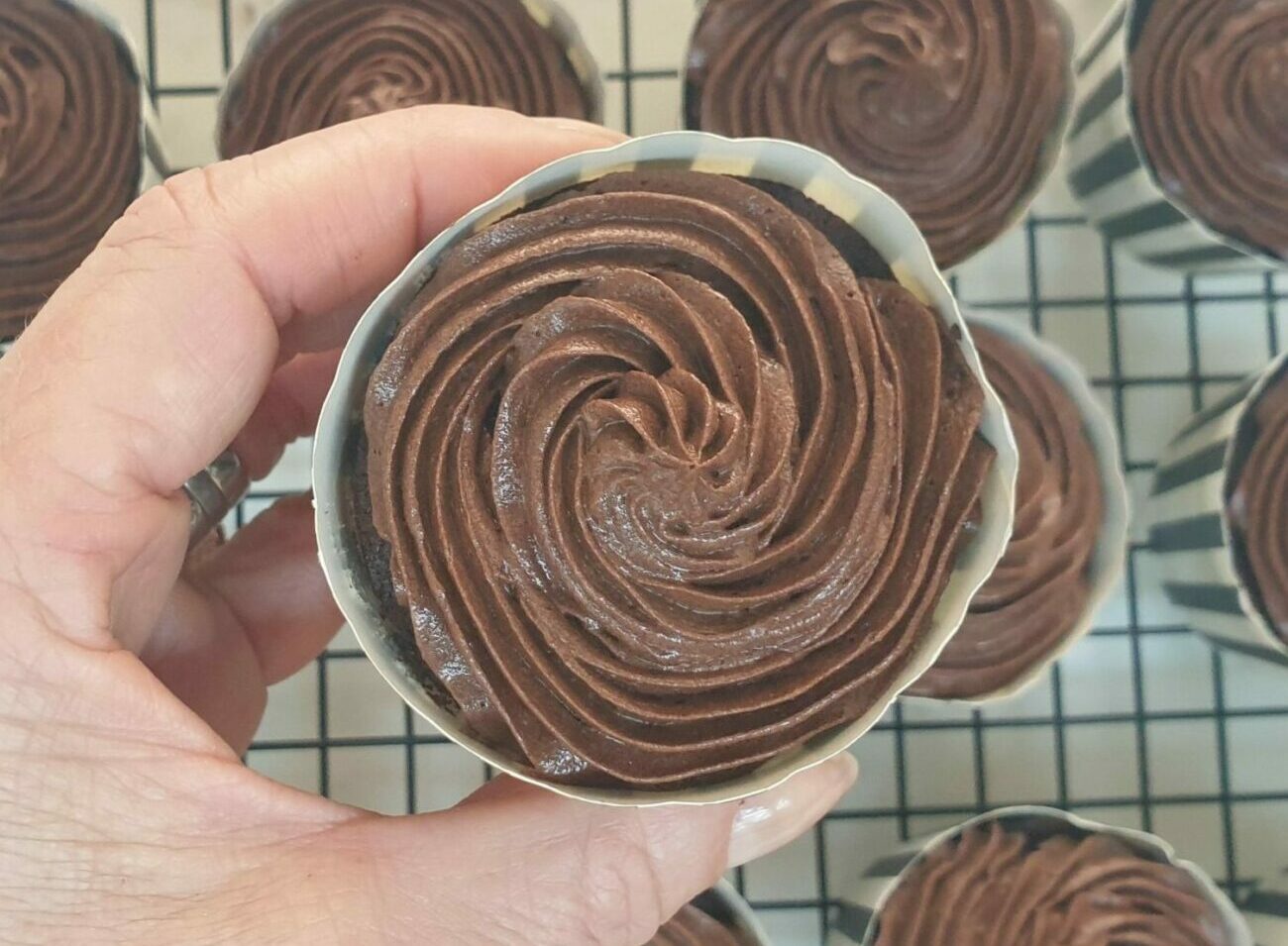 Ingredients
125

gms

almond meal/almond flour

2

tablespoons

coconut flour

1

teaspoon

psyllium powder

3

tablespoons

stevia blend

/monk fruit blend or sweetener of choice

60

gms

cocoa powder

1.5

teaspoons

baking powder

A pinch of salt

50

mls

boiling water

switch for almond milk if not adding coffee

1

teaspoon

ground coffee

optional but recommend for richer chocolate flavors

3

large

eggs

75

gms

butter melted

2

tablespoons

extra virgin olive oil-EVOO

100

mls

almond milk or nut milk of choice

1

teaspoon

vanilla extract
Instructions
Method
Mix all dry ingredients in a medium mixing bowl, ensuring they are really well combined, especially the baking powder.

Dissolve the coffee in the boiling water and allow to dissolve.

Beat the eggs with a hand mixer in a large bowl until light and frothy. Add the melted butter, extra virgin olive oil, almond milk, vanilla extract and coffee mixture, continuing to mix until well combined.

Add the dry ingredients into the wet ingredients and using the hand mixer, mix until combined.

Spoon into cupcake pans/prepared cupcake trays and smooth off the tops.

Bake for 18-23 minutes at 165 C/330 F Fan Forced. Allow to cool before frosting/icing.
Ganache Drizzle Recipe
Bring 75 gms/2.6 oz heavy/pure cream just to the boil (on stove top or in microwave), taking care not to boil or the ganache will split. Remove from heat and stir in 50 gms/1.8 oz of dark chocolate (85% couveture). It will gradually melt into the cream. Stir until well blended.

Allow to thicken to desired consistency, or thicken by placing in the fridge. Spread or drizzle onto cool cupcakes.
Chocolate Buttercream Recipe
Beat 100 gms/3.5 oz butter for about 2-3 minutes, until light and creamy.

Add 100 gms/3.5 oz powdered (confectioners/icing) sweetener and 1/3 cup cocoa, and continue to beat until mixture is smooth and creamy, for about 1-2 minutes.

Finally add 1 teaspoon vanilla extract and 2 tablespoons of heavy/pure cream and continue to beat until smooth and creamy, for about 1 minute.

Use either a knife or a piping bag to frost/ice your cupcakes.
Recipe Notes
Use sweetener of choice in the cup cakes. You will need to add 1/2 cup of erythritol, xylitol or coconut sugar in lieu of the stevia blend specified in the recipe. Taste the batter to ensure that the cupcakes are sweet enough for your taste. Add additional sweetener if desired.
Add 1/3 cup chopped walnuts or 1/3 cup of raspberries for variation.
Omit coffee at own risk as it enhances the chocolate flavor. If serving to children you may wish to leave it out.
Add 1/4 cup of roughly chopped dark chocolate (small choc chip size) or choc chips and stir through the batter prior to baking.
Muffins can be made instead of cupcakes.
Recipes containing coconut flour can stick at times. If you are using quality silicon pans then you should be ok but if they have stuck before spray them with coconut oil. If you use patty pans, spray with coconut oil before spooning the batter in.
Note that nutritional information does not include icing/frosting.
Nutritional Information
Serving:
1
cupcake without frosting
|
Calories:
174
kcal
|
Carbohydrates:
2
g
|
Protein:
5
g
|
Fat:
16
g
|
Fiber:
2
g
Note that we calculate our own nutritional values so they may not be precise. Calculate your own if desired. Carb values exclude sugar alcohols such as Erythritol, as they generally have no impact on blood sugar levels. 50% of the carbs from Xylitol is added to nutritional values. This is consistent with industry practice.
Do you want to receive more recipes like this one? Subscribe to our newsletter now!