The Best Low Carb Donuts Recipe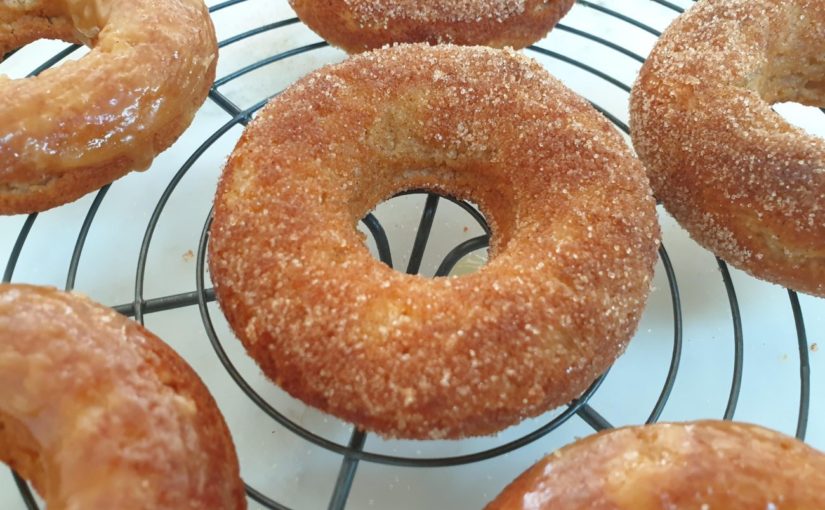 The Best Low Carb Donuts Recipe
Are you ready to make a batch of The Best Low Carb Donuts Recipe? Back in my carb eating days, there were certain places where buying donuts was mandatory. We used to buy them whenever we frequented the Queen Victoria markets and when it was cold at the football. They went down a treat. Donut recipes have abounded over the past few years and I wasn't interested in recipes that were probably nothing like a real donut. Grand final day changed that for me as I really wanted to eat a donut.
I was trying to emulate the wonderful yeasty flavors of a real donut in my recipe and I am so happy with the end result. Soft and doughy with a hint of the yeasty flavor I was looking for, this donut recipe is a real winner. Topping this great recipe off is the fact that you have 3 different topping options so you can make your favorite donut how you like it!
Check out the video to see just how easy it is to make these delicious donuts.

The Best Low Carb Donuts Recipe Topping Options
Choose from one of three options to finish these delicious donuts off-
Buttery Cinnamon Sugar- my personal favorite!
Chocolate Topping – topped with real chocolate for the chocolate lovers out there!
Sweet Glazed Topping- a little like the traditional Krispy Kreme sugar glaze.
Ingredients
Featuring almond flour/meal and coconut flour, the addition of dry yeast to the mixture gives an additional boost to the delicious flavor of these donuts. Yeast helps develop the batter so it is a little more like a conventional donut by being light but full of flavor.
You are given the option of using psyllium powder or xanthan gum in the recipe, so I highly recommend using one or the other. Cooking without gluten means that you don't get the doughy texture in baked goods which can make them a little delicate. Adding psyllium or xanthan gum, you will counterbalance this making the end result less crumbly.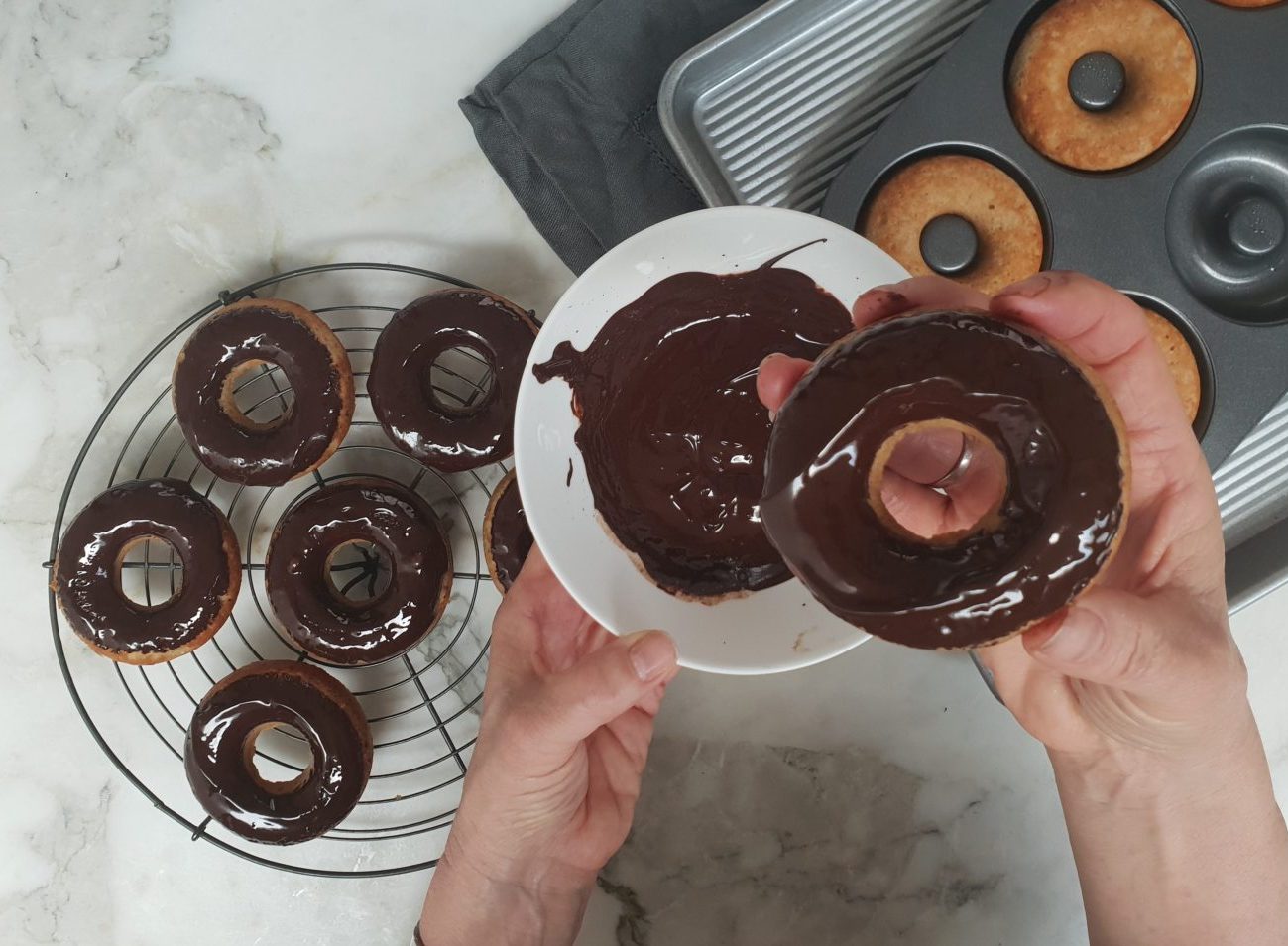 Yeast
After sampling some low carb recipes, I decided that what I was looking for was a yeasty tasting donut more like a traditional donut. By adding dried yeast to the recipe, I discovered that these were the flavors I was trying to emulate. If you don't have dried yeast you can omit but it will impact on the end result. For recipe integrity I recommend you add it to the recipe. Switch out dried yeast for compressed yeast by doubling the specified dried amount, ie use 14 grams of compressed yeast where the recipe asks for 7 grams of dried.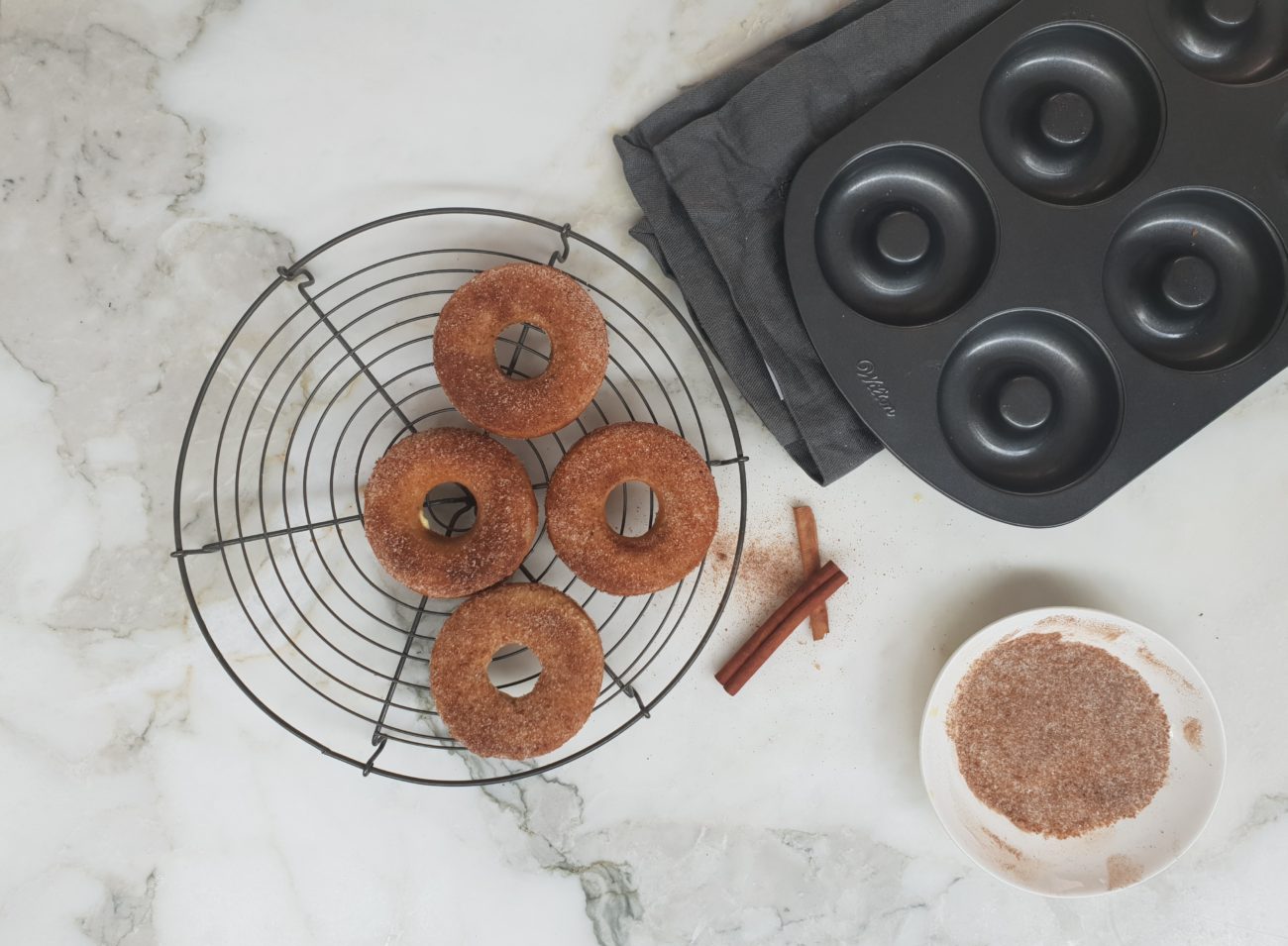 Donut Baking Tray
While the images for this recipe show a metal baking pan, there can be an issue with the donuts sticking, particularly around the donut hole part of the pan. It's a common issue with these pans and isn't isolated to this recipe. Make sure you oil/grease your pans really well (and then do it again) to try to prevent this happening. Allowing the donuts to cool for about 5-10 minutes in the pan will also help prevent sticking. One final thing that I do is use a very flixible silicone spatula which I run around the donut just before I remove them from the tray. Watch the embedded video to see how this is done.
If you are considering purchasing a donut pan then you may want to consider a silicon pan.  I purchased these food quality grade Wilton Silicon Donut Pans from Amazon and they work brilliantly for this recipe.
What is Xanthan Gum?
Xanthan gum is basically a food thickener that has been made from bacteria that infects numerous plants and causes fermentation. Xanthomonas campestris infects a wide range of cruciferous plants such as cabbage, cauliflower, and brussels sprouts, causing them to wilt and rot. You'll find xanthan gum is used in a wide variety of processed foods as well as products such as toothpaste. Xanthan gum does offer a few health benefits but it is actually used to change the texture of food and products, not for any specific health purposes. Xanthan gum is detracted bacteria from the plants, but the finished product does not contain any of the initial bacteria, so there is no risk of xanthan gum causing infections. To read more on xanthan gum check out this link.
Now xanthan gum is not an unnatural food, but it has been processed and many don't like to use it because of this reason. Xanthan gum also doesn't agree with certain people for some reason. If you're one of them just don't add it to recipes. Although generally I try to avoid using xanthan gum in recipes although not because of any health reasons associated with it. This is to try to keep my recipes true to being 'real food'. Xanthan gum does add structure to certain recipes, so if it is recommended and you have it in your pantry, be sure to add it. You'll find it is available in most supermarkets and specialty stores, as well as online.
Feel free to share this recipe and the video to your hearts content. This helps get the recipe out into the big wide world and is how I manage to create free recipes. Make sure you tag any effort with #ketohh #alowcarblowsugarlifestyle.
Kxx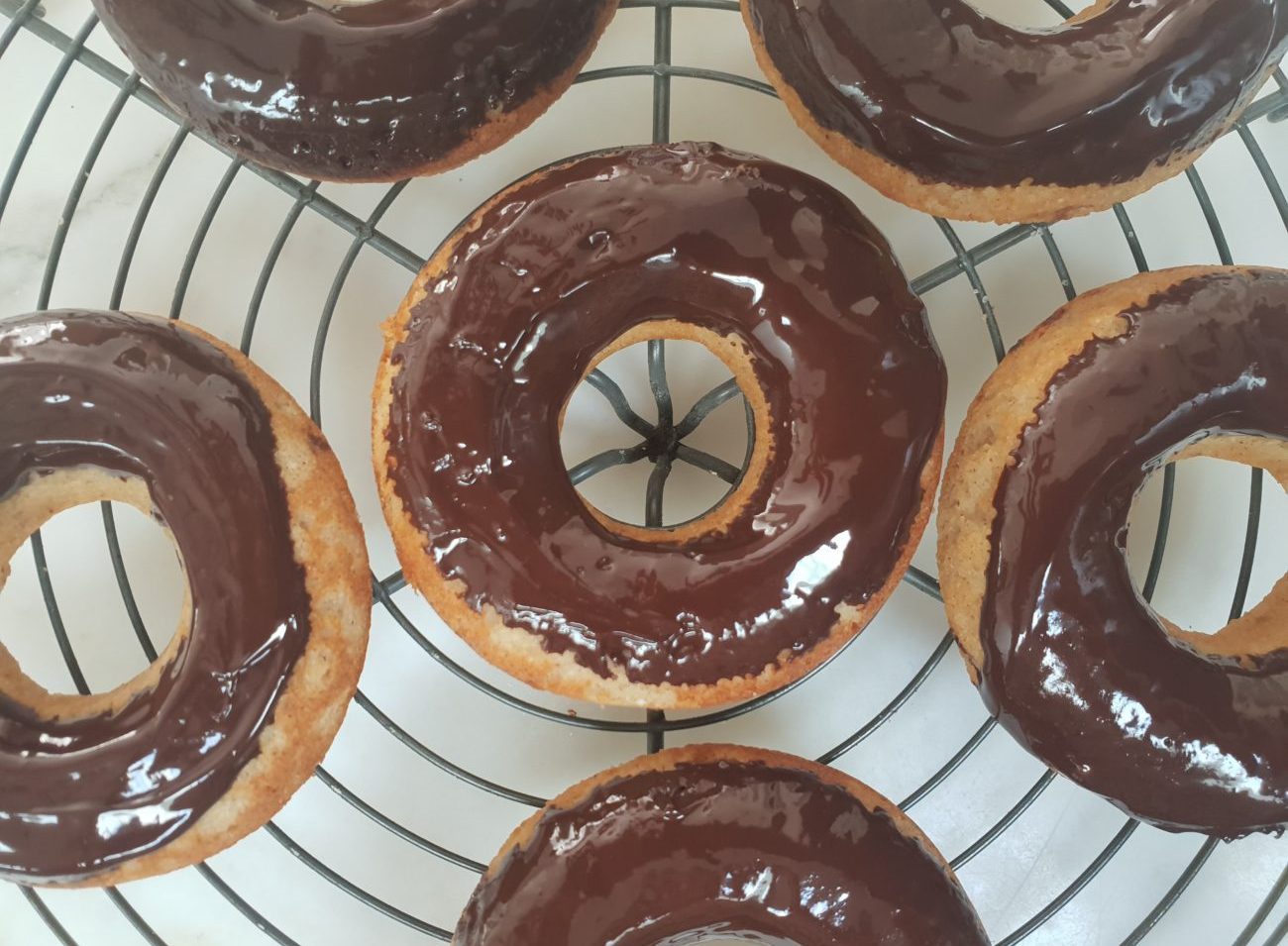 Ingredients
Instructions
Create Yeast Mixture
Combine the yeast liquid ingredients and mix yeast in with a whisk. Allow to sit for 10-15 minutes
Create Donut Batter
Beat the egg in a large mixing bowl, add the yeast mixture, vanilla extract and mix in the melted butter. Stir until well combined.

Add remaining donut batter dry ingredients to the wet mixture and whisk until well combined. Allow to sit for a few minutes to thicken.

Spoon the donut batter into a piping bag (or plastic bag with corner snipped off) and pipe into a very well oiled metal donut tray or a silicon donut tray. Allow to sit at room temperature for about 10-15 minutes while heating the oven up to 165 C/ 330 F fan forced.

Bake in the oven for approximately 16-20 minutes or until donuts are cooked through but still light and springy.

Allow to cool in the tray for about 5 -10 minutes before turning out onto a cooling rack. If using a metal pan, use a flexible silicon spatula to run around the edges of the donut to help release from the pan. Flip donuts up so the rounded side is on top.
Optional Topping Instructions
Buttered Cinnamon Sugar Topping

Melt the butter in a small dish. Mix the sweetener with the cinnamon. Brush the butter onto both sides of a donut before dipping both sides into the cinnamon mixture.

Sugar Glazed Topping

Combine the butter, sweetener and cream in a heavy based saucepan. Bring to a simmer and reduce heat so it is a very low simmer, stirring occasionally for about 5 minutes. Once slightly cool, brush onto donuts or spoon over with a spoon. You can do one side or both.

Chocolate Topping

Melt the dark chocolate under a watchful eye in 10-20 second bursts in the microwave until melted. Stir in the coconut oil and the stevia drops until blended. Dip each donut into the chocolate mixture and allow to cool on a cooling rack.
Recipe Notes
Note that the nutritional value is for a donut with the cinnamon sugar topping.
Use either psyllium powder or xanthan gum in the recipe to get the right texture. To avoid any gritty taste, regrind/process the psyllium powder yourself to ensure it is smooth.
Omit yeast at your own risk. It adds amazing flavors so to keep integrity of the recipe, try to use it. It adds to the authentic donut taste of the recipe.
When the recipe calls for powdered sweetener, use either a confectioners sweetener or powder your own granulated sweetener in a blender. Granulated sweetener can be too grainy which is why recipes ask for powdered or confectioners sweetener.
To activate yeast the water should be around 43 C/110 F. If it is too hot it will kill the yeast and too cold and it won't activate. 
If you don't have a donut tray, pour into cup cake trays and bake for about 15- 20 minutes or until cooked through. I have tried free form donuts on baking paper but wasn't happy with the outcome.
The recipe for the donuts makes about 6 donuts. I generally bake double the recipe. Donuts will last about 3 days stored in an airtight container. They are best eaten fresh!
Nutritional Information
Serving:
1
donut
|
Calories:
241
kcal
|
Carbohydrates:
3
g
|
Protein:
5
g
|
Fat:
22
g
|
Fiber:
3
g
Note that we calculate our own nutritional values so they may not be precise. Calculate your own if desired. Carb values exclude sugar alcohols such as Erythritol, as they generally have no impact on blood sugar levels. 50% of the carbs from Xylitol is added to nutritional values. This is consistent with industry practice.
Do you want to receive more recipes like this one? Subscribe to our newsletter now!