Blackened Fish Tacos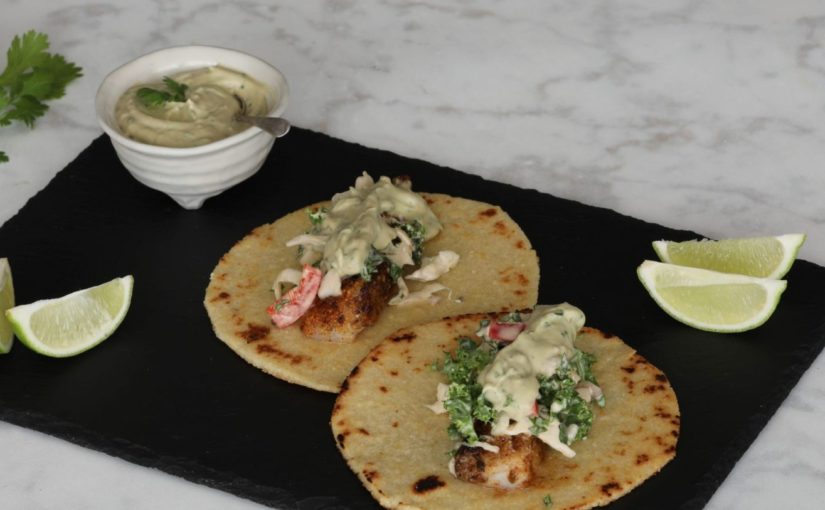 I worked in a Mexican restaurant when I was younger which has had a huge influence on my tastes, as you can tell by the number of Mexican recipes I share with you. We didn't have fish tacos on the menu, nor did any other Mexican restaurant I visited have them back then have them. It's a very different story today though, where you will find fish tacos in many restaurants, pubs and bars. When I first tried them, I was not a big fan. The one I tried was very fishy in flavor and really didn't have a lot going for it, which turned me off eating them. Then I tried a blackened fish taco, and they are what inspired me to develop this low carb Blackened Fish Taco recipe
Blackened Fish Tacos are dusted with a delicious blend of spices, and can be either pan fried, grilled or battered. They are served simply in a tortilla, with a small serving of cabbage slaw and are topped with a wonderful creamy avocado salsa. The reason I love these fish tacos is because of the spices used in the rub on them. You don't need a lot of flavor coming from anywhere else, because the fish is the star of the show.
I have added coconut flour to the spice mix recipe to make the spice mix a little more crust like when it's cooked. If you don't have any coconut flour, you could simply leave it out. While the recipe for the simple slaw in this recipe does go brilliantly with the fish tacos and is my preferred way to eat Blackened Fish Tacos. I will also use ingredients that I have on hand such as kale and red and green peppers as well. I have also made these and topped them with the Low Carb Mexican Slaw, which also works well.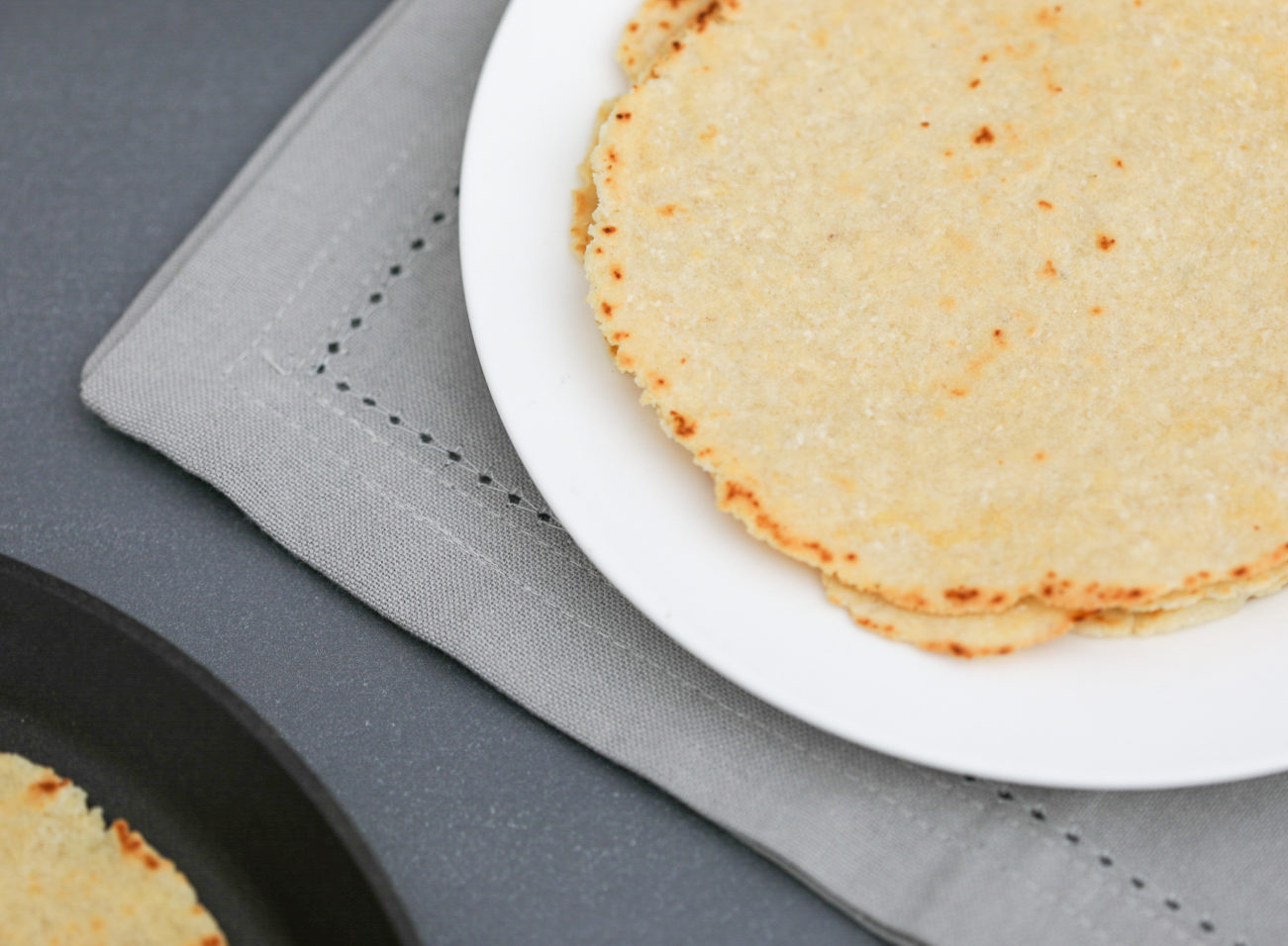 This recipe for Low Carb Blackened Fish Tacos features home made Low Carb Gluten Free Tortillas served with the pan fried fish, and topped with a little slaw made from cabbage, onion and coriander, with a squeeze of lime juice. They are then topped with an avocado salsa that has been blitzed smooth. The fresh flavors are a perfect contrast to the flavors from the fish.
Try to use a fairly light flavored, salt water white fish for fish tacos. I often buy tilipia from Costco and it works really well and some other great choices are mahi mahi, snapper, cod and bass. I also bought some pink ling from Coles the other day, and it also worked really well. It's what is featured in the photo.
When I make these at home, I make a batch of low carb tortillas for myself, while I serve my husbands in normal soft flour or even corn tortillas. It's a brilliant recipe that is perfect for the carb lovers in your life as well as for anyone following a low carb lifestyle. Feel free to buy tortillas if you don't want to make your own. If you are after a brilliant low carb soft white tortilla recipe though, I highly recommend that you try the featured recipe, as they are really pliable tortillas with a fairly neutral taste, and suit this recipe perfectly.
If you are looking for any other Mexican recipes on this blog, just do a search for Mexican and all of my Mexican recipes should come up the popular Low Carb Chilli Con Queso Dip and Low Carb Cauliflower Mexican Rice.
Kxx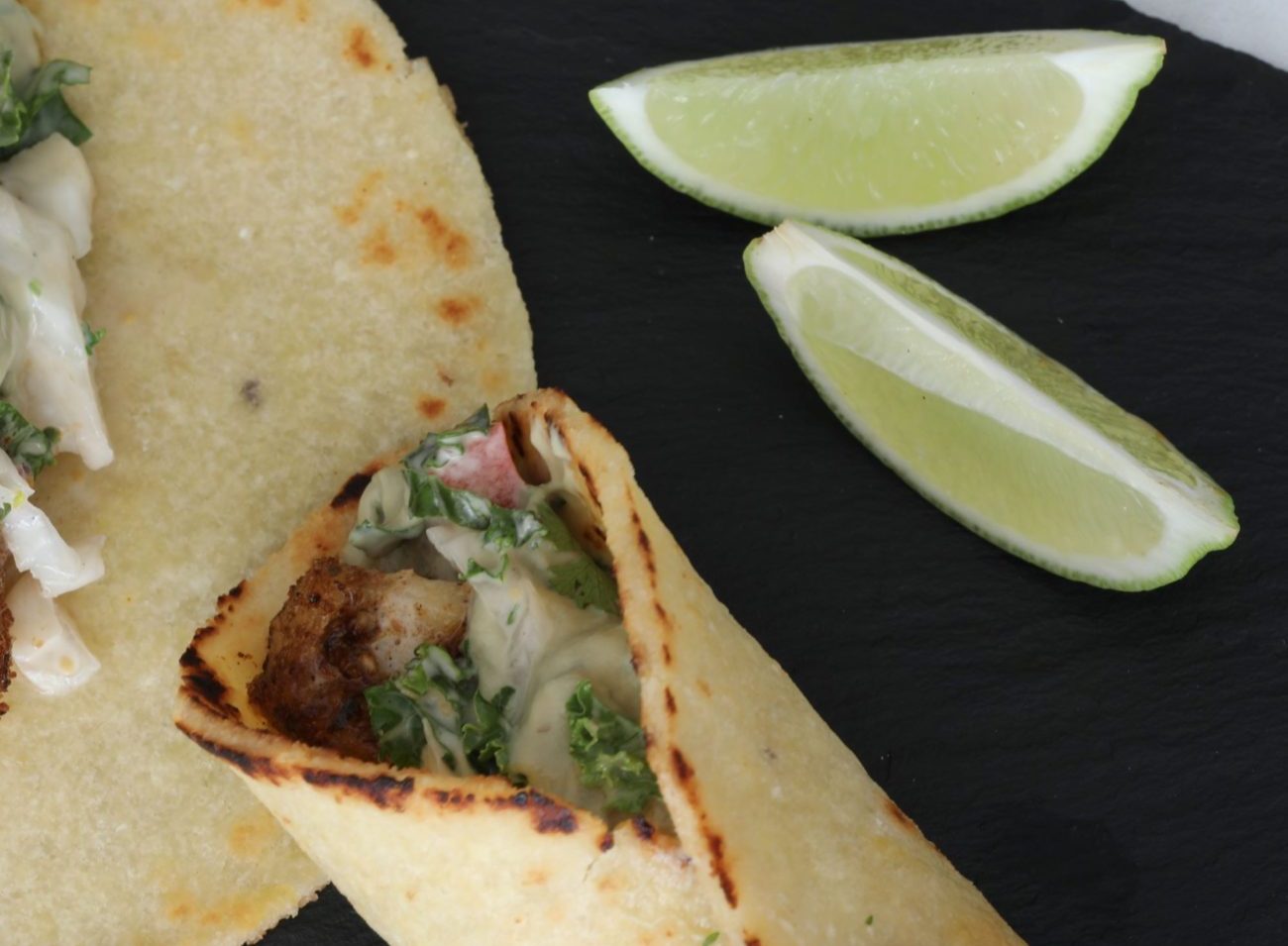 Ingredients
8 Small Tortilla's of Choice
Blackened Fish Ingredients
500

gms

/17.5 oz white fish-Tilipia, bass, cod, snapper, ling

1

tablespoon

coconut flour

1

teaspoon

mild paprika

1

teaspoon

cumin powder

1

teaspoon

oregano dried

½

teaspoon

mustard powder

½

teaspoon

garlic powder

½

teaspoon

onion powder

¼

teaspoon

salt

¼

teaspoon

cayenne powder- adjust taste for spice control

1

tablespoon

butter

1

tablespoon

EVOO extra virgin olive oil
Cabbage Slaw Ingredients
1 ½

cups

red cabbage very finely sliced

1 ½

cups

savoy cabbage very finely sliced

½

red onion finely diced

¼

cup

coriander fresh roughly chopped

The juice of 1 lime

salt and pepper to taste
Avocado Dressing Ingredients
1

large avocado

½

cup

sour cream

Juice of 1 lime

2

tablespoons

coriander leaves

1

tablespoon

jalapeno fresh or pickled-drain if pickled

¼

teaspoon

garlic powder

½

teaspoon

onion powder

Salt to taste
Instructions
Mix all ingredients for the slaw together and season with salt and pepper

Combine all of the ingredients for the Avocado Dressing together and blitz until smooth in a food processor.

Combine all of the spices and the coconut flour together.

Slice the fish into 8 finger length serves. Coat the fish pieces evenly in the spice mix.

Heat a frying pan to medium heat and add the EVOO and the butter.

Fry the fish until cooked through, cooking for 2-3 minutes on each side, only turning once, as you want to try to get a bit of a crust on the fish. Thicker slices will take longer to cook. Take care not to overcook.
Create Your Fish Taco
Heat your tortillas if you wish to, either for a few seconds in the microwave, on the stove top in a frying pan or place in some aluminium foil and heat them up in the oven. If using the Low Carb Gluten Free Tortilla recipe, make sure you do not over heat.

Place one piece of fish in the centre of each tortilla.

Add a couple of tablespoons of the Cabbage Slaw on top of the fish and drizzle with the Avocado Dressing.

Garnish with some chopped fresh coriander to serve.
Recipe Notes
Try to buy fish that is fairly uniform in size so you have a uniform look to the fish slices and so they cook in similar times. This recipe is best with a light tasting, salt water, white fish such as snapper, tilipia, bass, cod, mahi mahi and ling.
Nutritional Information
Serving:
1
taco
|
Calories:
153
kcal
|
Carbohydrates:
6
g
|
Protein:
12
g
|
Fat:
9
g
|
Fiber:
3
g
Note that we calculate our own nutritional values so they may not be precise. Calculate your own if desired. Carb values exclude sugar alcohols such as Erythritol, as they generally have no impact on blood sugar levels. 50% of the carbs from Xylitol is added to nutritional values. This is consistent with industry practice.
Do you want to receive more recipes like this one? Subscribe to our newsletter now!