Cauliflower Rice Nasi Goreng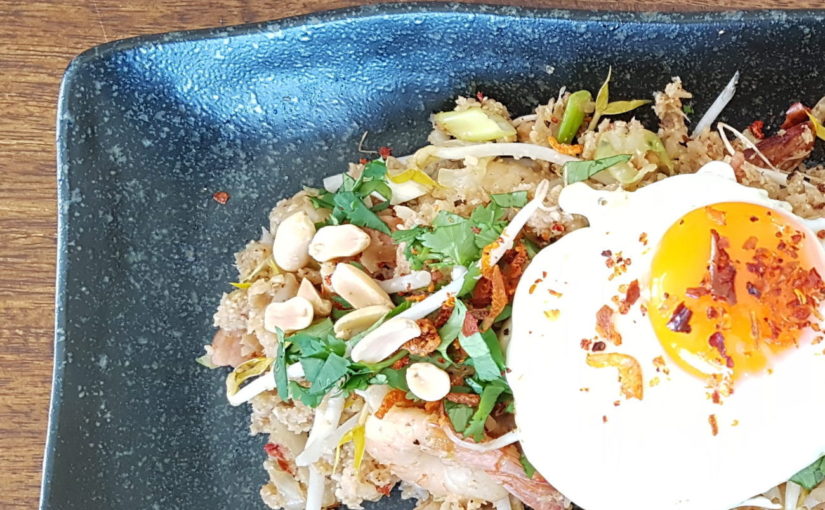 Cauliflower Rice Nasi Goreng
Cauliflower Rice Nasi Goreng is a low carb version of the classic dish Nasi Goreng, and it tastes amazing. You probably won't even realise that you are missing out on rice in this dish as the cauliflower works so well as a substitute. Feel free to switch ingredients to suit your dietary requirements, ie., omit the chicken if you're vegetarian or the egg to make it egg free, as these changes won't detract from the wonderful flavours in this dish.
Original Nasi Goreng recipes call for Sambal Oeleck- a Malaysian chilli paste which has a lot of sugar added. I have omitted this and added my own homemade chilli paste which has a little sweetener in it. Feel free to use Sambol Oelek if you aren't so concerned about the amount of carbs in this dish or you can use just plain chilli/ chilli paste. If you use a plain chilli/chilli paste, you may want to add a tiny amount of sweetener just to offset the saltiness of this dish. I would be very cautious about adding any salt as the fish sauce and soy sauce are salt laden. Please try it before you add any.
If you struggle with eating a soft fried egg on top, you could substitute it with a Chinese style omelette sliced and scattered on top or mixed through. A tip for the fried egg if you want to cook off the globby (is that even a word) whites on top of the egg is to pan fry the egg as usual. Once the white is cooked underneath, place a saucepan lid that will fit right onto the base of the frying pan, onto the base of the pan so it covers the egg/s. Turn the heat off once the egg is cooked underneath and allow the steam to cook off the whites on top of the egg. Remove the lid once the egg is to cooked to your liking on top.
If you are after a drier texture you could use Oven Baked Cauliflower Rice in place of cooking the cauliflower rice on the stovetop. Simply add the oven baked rice at the end, heating it minimally to prevent it from softening too much.
I have topped my dish off with a crispy prawn sambal I purchased from an Asian store. It goes really well with Nasi Goreng so I recommend you try some if you can. Just read the labels on these sambols as a lot of them are filled with sugars and trans fats.
I have created this dish to be a substantial main meal which is why I have added chicken. You could omit the chicken and serve satay chicken sticks on the side if you wish, which is more in keeping with the traditional way to serve Nasi Goreng. This dish does taste great just as it is though so I will leave that choice up to you.
Selamat menjamu selera!
Karen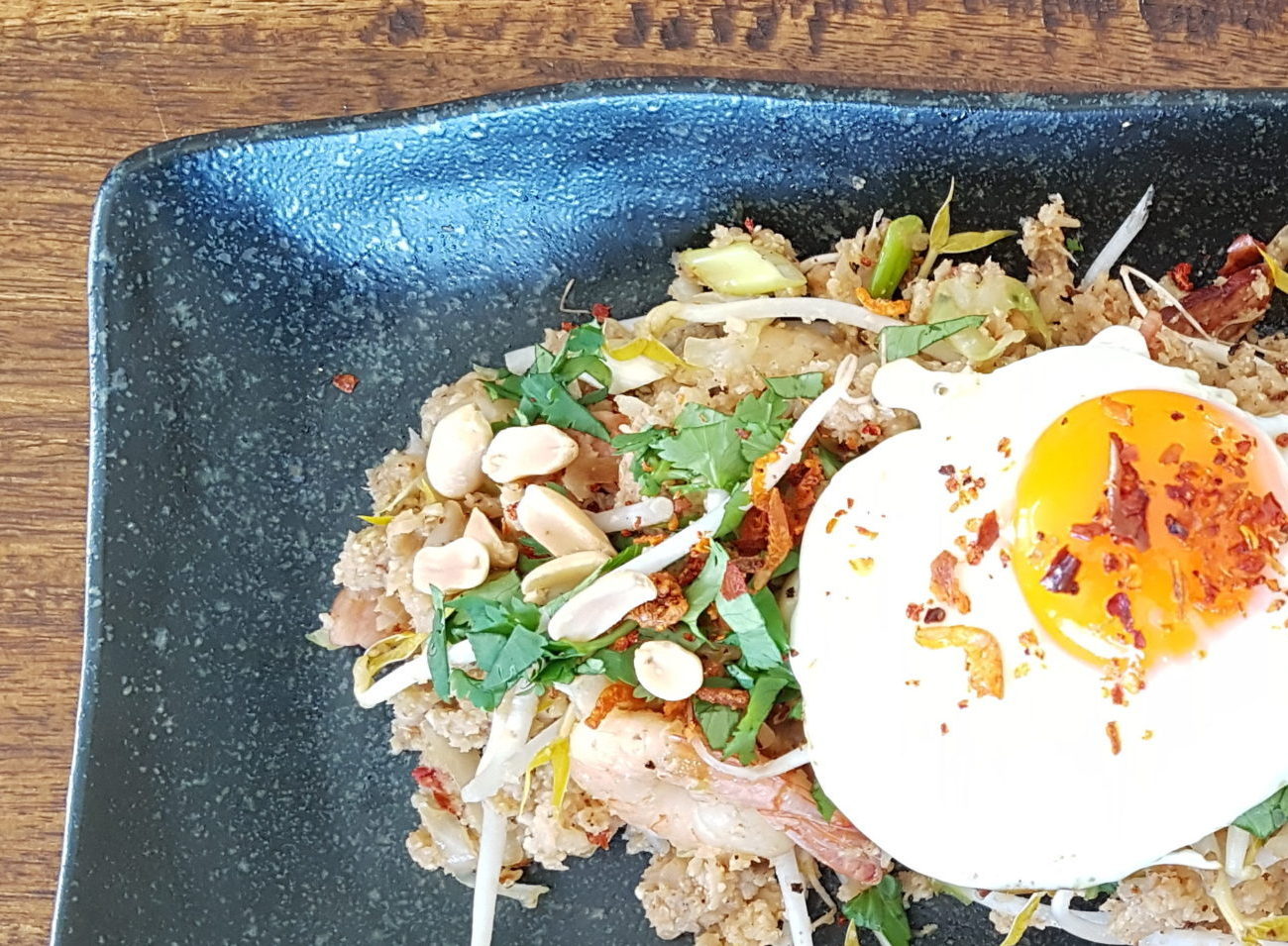 Ingredients
1

onion diced

2

teaspoons

garlic chopped

1

teaspoons

chill paste- to taste

300

gms

chicken thighs cubed

200

gms

prawns/shrimp

4 rashers of bacon diced

optional

1.5

cups

shredded cabbage

4

spring onions chopped

2

tablespoons

olive oil- or oil of choice

1

medium cauliflower riced

2

tablespoons

Tamari

2

tablespoons

fish sauce

200

gms

bean sprouts- optional

4

tablespoons

unsalted peanuts to garnish-to taste

2

tablespoons

chopped coriander

chopped red chilli to garnish- to taste

Salt and pepper to taste
Instructions
Heat a splash of oil in a large frying pan on medium heat, add the onion and cook until soft. Add garlic, chilli paste and chicken and cook until the chicken is cooked through and no longer pink, taking care not to brown. Remove chicken.

Add the prawns and cook until no longer transparent. Remove prawns. If adding bacon, cook the bacon now and remove from pan.

Add the cabbage and 3/4 of the spring onions including the white fleshy pieces to the frying pan, plus extra oil if required. Stir occasionally until the cabbage is soft but not overcooked. Remove from pan.

Turn up the heat and add a little more oil in the pan. Add the cauliflower rice to the pan and cook for approximately 5 minutes (or to your taste) stirring continually so it doesn't stick.

Add the fish sauce and soy sauce to the pan and mix through rice.

Add all previously cooked ingredients back into pan. and toss through the mixture till hot and well combined and remove from heat.

Cook 4 fried eggs to taste in a frying pan to taste.
To Serve
Serve the Nasi Goreng into 4 bowls. Divide the beansprouts amongst bowls and toss through. Top each bowl with a fried egg and freshly chopped red chilli to taste.

Garnish each bowl with remaining spring onions, coriander and a sprinkling unsalted peanuts (optional).
Nutritional Information
Serving:
1
serve
|
Calories:
376
kcal
|
Carbohydrates:
11.8
g
|
Protein:
35.2
g
|
Fat:
10.1
g
|
Fiber:
5.1
g
Note that we calculate our own nutritional values so they may not be precise. Calculate your own if desired. Carb values exclude sugar alcohols such as Erythritol, as they generally have no impact on blood sugar levels. 50% of the carbs from Xylitol is added to nutritional values. This is consistent with industry practice.
Do you want to receive more recipes like this one? Subscribe to our newsletter now!