Gong Bao Ji Ding (Kung Pao Chicken)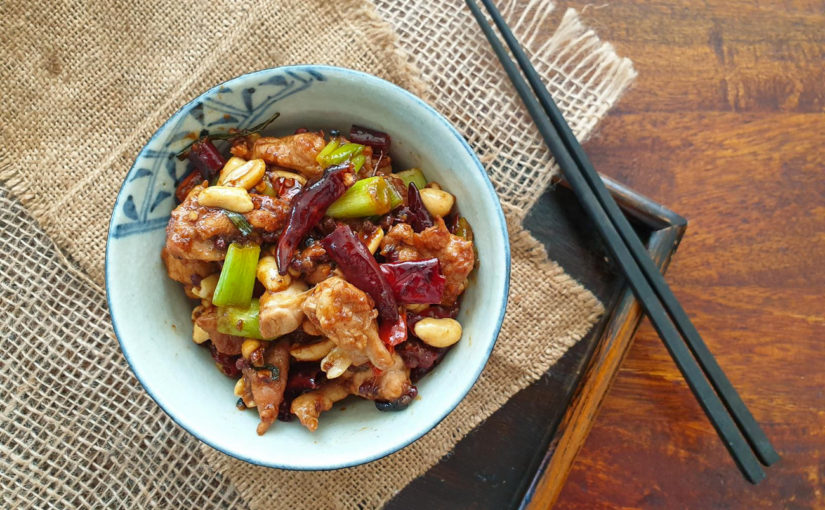 Gong Bao Ji Ding (Kung Pao Chicken)
Are you a fan of authentic Chinese food? If you love the Chinese dish featuring peanuts and dried chilli, then you are going to love this dish. Gong Bao Ji Ding (Kung Pao Chicken) is one of those recipes that you will find in many restaurants in China. This recipe comes from Sichuan province, China, where you will find many regional dishes featuring the famous Sichuan peppercorn.
Sichuan food is renowned for 'ma-la', which is the combination of Sichuan peppercorns and chili, and leaves you with a numbing sensation in your mouth. Please alter the chili and pepper in the recipe to suit your taste if need be.
What is a Sichaun Pepper
Sichuan pepper corns is a spice that has a very unique aroma and flavor. The flavour is really hard to explain as it isn't spicy or pungent but has slight lemony overtones and creates a tingly numbness in the mouth. The flavor is very addictive and is unlike any other spice or food that you would have tried in your life.
Chilli and Sichaun Pepper- This Dish Must be Spicy?
Gong Bao Ji Ding (Kung Pao Chicken) is designed to be picked through. Although the recipe features a lot of chilli and Sichuan peppercorns, you don't end up eating them all, as their role is to impart flavor. Generally you pick through the chilli to pull out delicious chunks of chicken, pepper/capsicum, spring onions and crunchy peanuts. They've been imbibed with the delicious flavors from the peppercorns and the chilli, but the dish isn't too spicy.
How To Serve Gong Bao Ji Ding (Kung Pao Chicken)
Try serving this with cauliflower rice or fried rice on the side. One of my favorite ways to serve it is with brocolli that has been sauteed in garlic. Sauteed green beans cooked the same way taste brilliant as well.
Sourcing Ingredients
Ingredients such as the dried chilli, rice wine vinegar, Sichuan peppers and Chongxing vinegar can be sourced from Asian specialty stores. If you have a few bottles of the rice wine vinegar to choose from try to select the one that is lower in carbs. Make sure you try to source the Chongxing vinegar as it is one ingredient that makes this dish so distictive.
More Delicious Authentic Tasting Asian Dishes
If you are looking for some more delicious Asian dishes, do a search in the search bar and the recipes will populate. You may also want to check out some of these delicious recipes.
Keto Indonesian Nasi Goreng
Thai Green Chicken Curry
Low Carb Pad Thai
Low Carb Asian Beef Salad
Asian Slaw with Konjac Noodles
Low Carb Asian Chicken Salad
Sugar Free Satay Chicken Skewers
Malaysian Street Noodles-Char Kway Teow with Konjac Noodles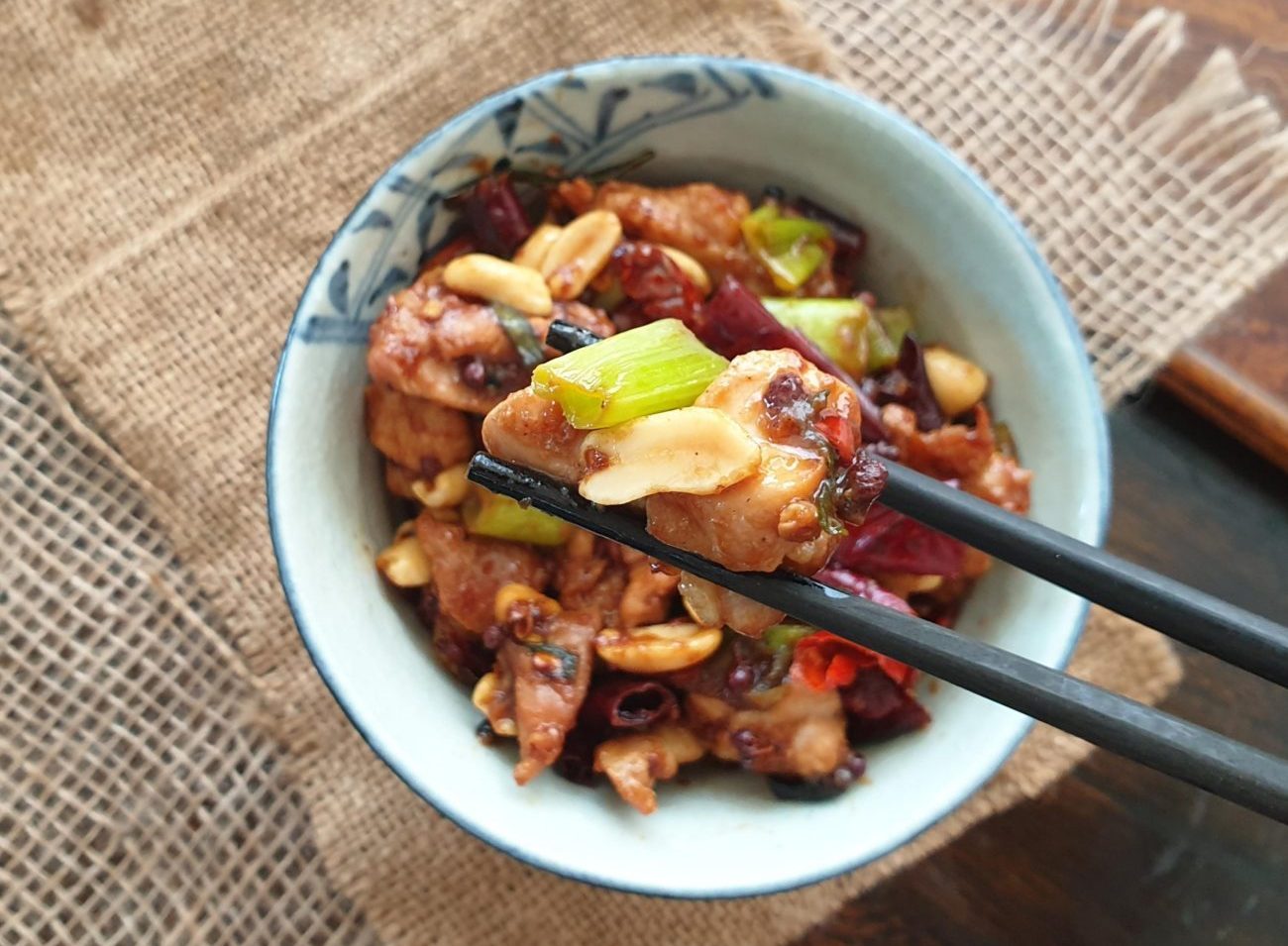 Ingredients
Chicken Marinade
2

large

chicken breasts or 4 thighs cut into 2 cm/.8" cubes

1

tablespoon

tamari

1

tablespoon

Shaoxing wine

alternatively use dry sherry or dry white wine

½

teaspoon

stevia blend

or alternative sweetener
Stirfry Ingredients
1

tablespoon

of sesame oil

12-20

large dried red chili cut into 1cm lengths with seeds removed

use home grown or source from Asian stores

2-3

teaspoons

Sichuan peppercorns

source from Asian stores

4

teaspoons

minced garlic

3

teaspoons

minced ginger

1

red or green pepper deseeded and diced into 2 cm/.8" cubes

optional

4

spring onions diced on the diagonal

½

cup

unsalted roasted peanuts
Gong Bao Sauce Ingredients
1

tablespoon

sesame oil

1

tablespoon

rice wine vinegar

1

tablespoon

Tamari

½

teaspoon

stevia blend

or alternative sweetener

¼

teaspoon

xanthan gum

optional
Instructions
Dice the chicken and marinade for in the chicken marinade for as long as possible.

Heat a wok or a heavy frying pan over a high heat until hot, add the sesame oil and once hot, add the dried chili and Sichuan peppercorns, tossing with a spatula to impart flavor. Pan fry for just a few seconds.

Add the chicken and toss for a few minutes until the chicken has browned slightly.

Add the garlic and ginger, as well as the pepper/capsicum if using. Pan fry until cooked through.

Fnally add the peanuts and spring onion to the pan and stir fry for a couple of minutes. If more oil is required, add a dash to the pan.

Combine the Gong Bao Sauce ingredients in a small dish and whisk until smooth. Stir the sauce through the stir fry allowing it to heat for a couple of minutes and serve.
Recipe Notes
Switch the dry chilli for approximately 2-4 teaspoons of red chilli. This will change the recipe totally though and it will not be an authentic dish.
You aren't meant to eat all of the chili and peppercorns although feel free to try if you wish to. They are used more to impart flavor the dish. 
If any lumps of xanthan gum remain in the sauce while mixing it with a whisk, use the back of a spoon to press the lumps into the side of the bowl to remove them.
The red pepper/capsicum is optional although it does add a vegetable boost to the recipe. Feel free to omit if you want to.
You can source the rice wine vinegar, Shaoxing wine, dried chili and Sichuan peppers from Asian specialty stores.
Nutritional Information
Serving:
1
serve
|
Calories:
225
kcal
|
Carbohydrates:
2.1
g
|
Protein:
11.3
g
|
Fat:
3.7
g
|
Fiber:
1.3
g
Note that we calculate our own nutritional values so they may not be precise. Calculate your own if desired. Carb values exclude sugar alcohols such as Erythritol, as they generally have no impact on blood sugar levels. 50% of the carbs from Xylitol is added to nutritional values. This is consistent with industry practice.
Do you want to receive more recipes like this one? Subscribe to our newsletter now!