Cauliflower Rice Recipe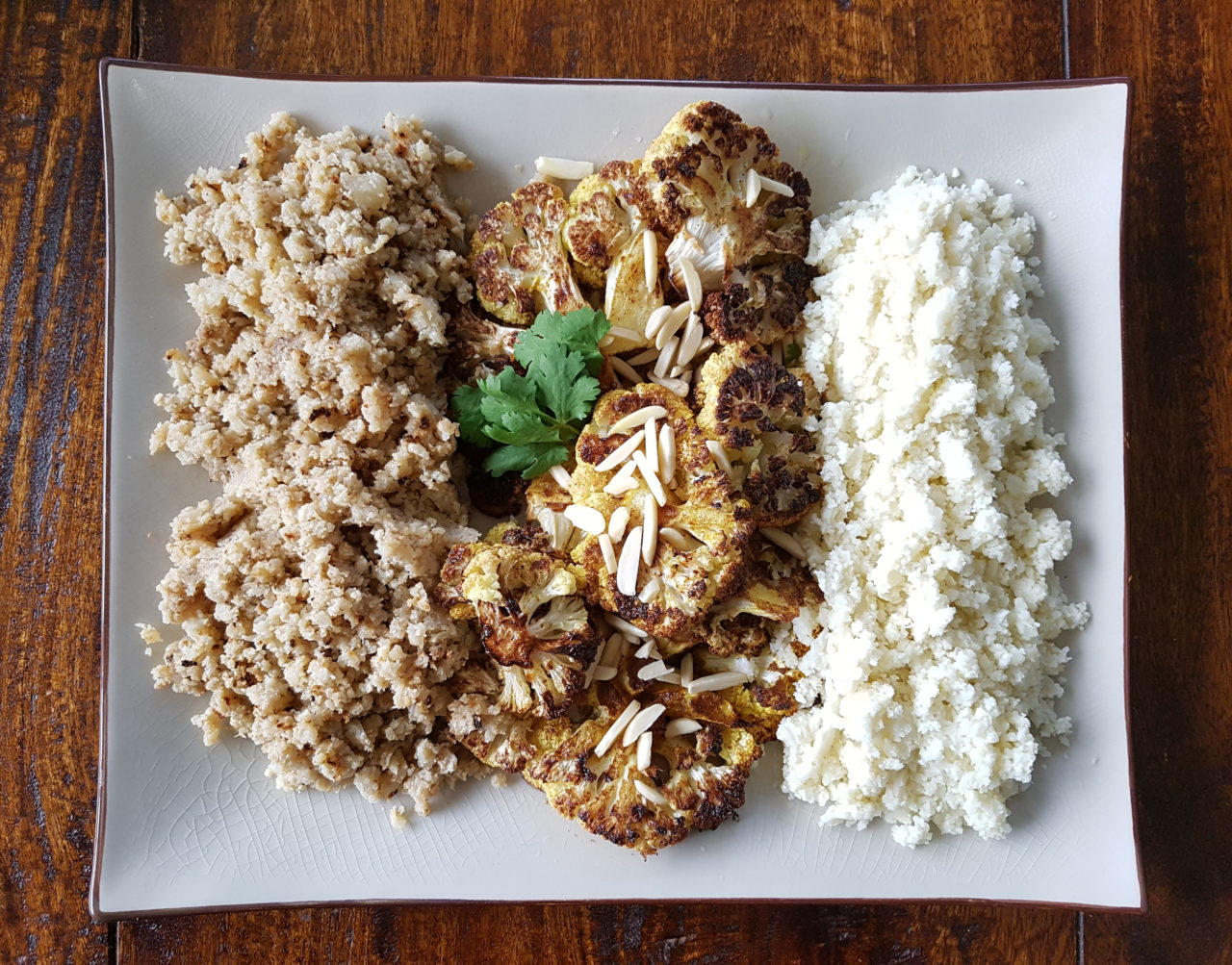 This Cauliflower Rice Recipe creates the perfect tasty, healthy, low carb substitute for rice. If you haven't tried it before, I urge you try making it and guarantee that you will be surprised at how unlike cauliflower it can taste and also how simple it is to make. The great thing about cauliflower is that it can be very subtle in flavor if that is what you want but equally, with the addition of some spices and other flavors, you can create really tasty and fulfilling dishes such as Cauliflower Rice Nasi Goreng, one of my favorite dishes or this delicious Mexican Cauliflower Rice. Simply use cauliflower rice wherever you would use conventional rice. You can even use it to make sushi.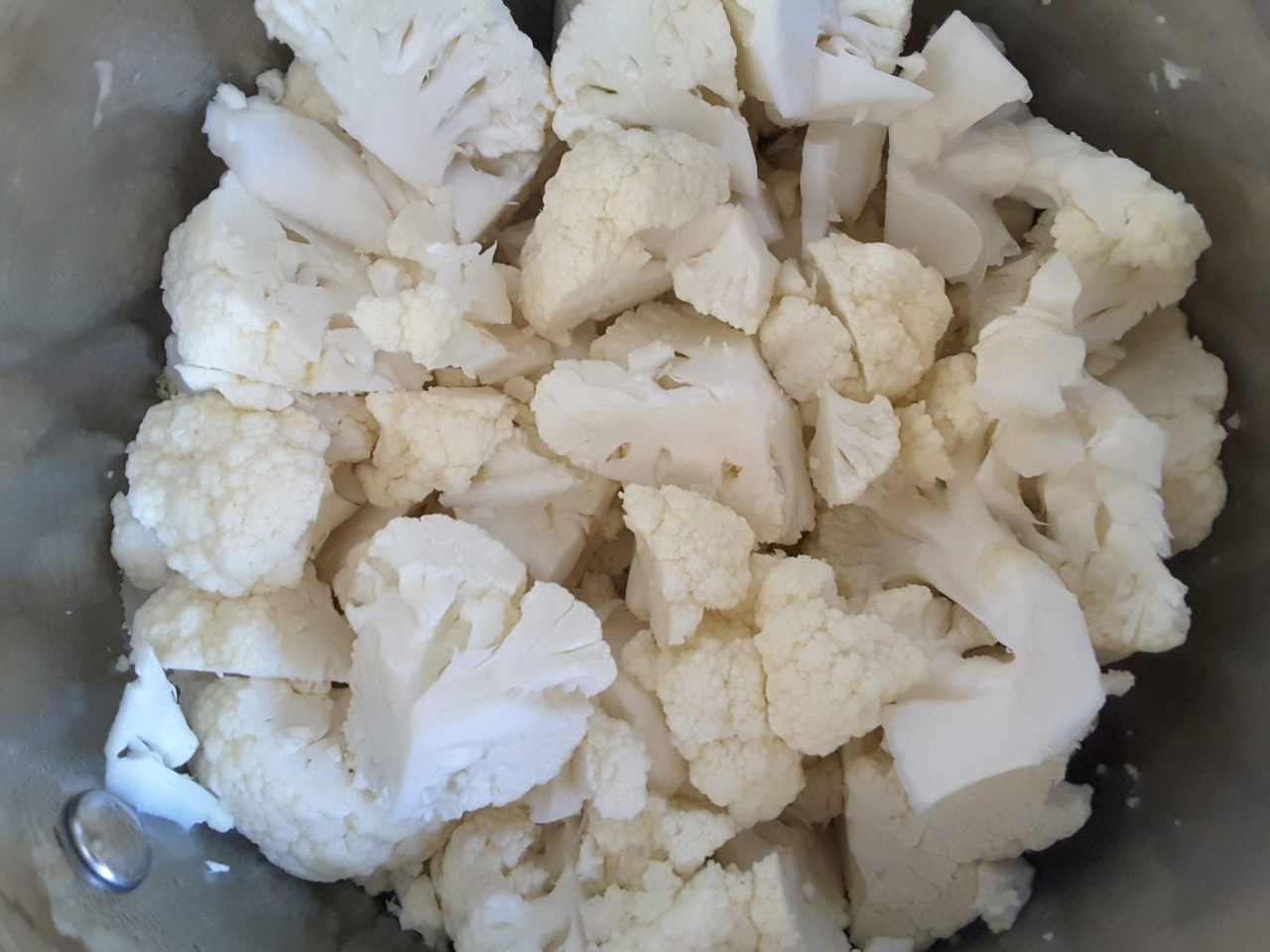 I am going to give you three recipes for cauliflower rice, and you will come to understand why I have done this when you make it yourself. The different cooking methods impact on both the texture and the taste of the rice. This means that you can create the perfect rice to suit any dish you want it to be part of.
To Rice Your Cauliflower
To get started, firstly remove the leaves and the stalky part of the cauliflower. You can use this in soup or to make cauliflower patties etc. Cut the cauliflower into large florets and 'rice' your cauliflower. I like to put smaller batch quantities in my food processor and blitz them quickly until they are roughly the size of rice or Cous Cous. Take care not to over process the cauliflower or you will end up with mush. You can also use a grater to rice the cauliflower and I have also resorted to using a knife but it is a tedious process.
Microwaved or Steamed Rice
Microwaved rice creates a softer, less textured rice very subtle in flavor. It is very quick to make and there is no mess involved and it is the ideal rice to serve with a dish that has lots of flavor such as curries, Beef Stroganoff etc. It's also the rice you would cook if you were pushed for time, as it is so quick and easy to cook. You can add some flavor to your rice by seasoning it with butter, salt and pepper and you can also add herbs such as parsley and chives.
Pan Fried Rice
Pan fried rice has a roasted taste to it and the rice is more textured than microwaved rice. You can pan fry spices, onions, garlic etc., to enhance the flavor of the rice and you can also add liquids such as stock and coconut cream if you wish, as you can dry the rice out by using the stove heat to reduce the liquid. Pan fried rice can have quite a neutral flavor if it is just pan fried in or use it when you want a more flavored rice or for when you want to make fried rice or a dish such as Nasi Goreng.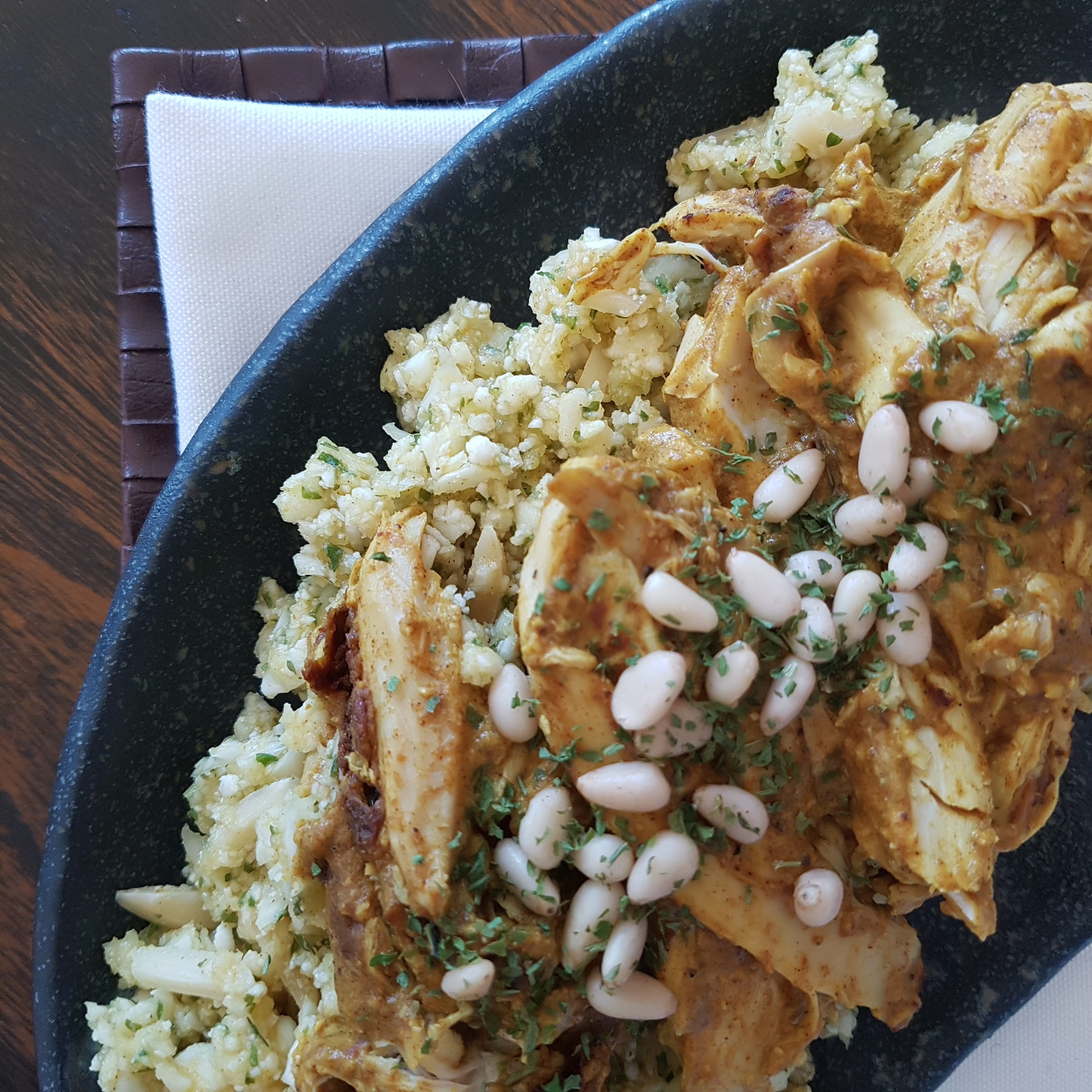 Oven Baked Rice
Oven baked rice creates a rice very similar in taste to pan fried but the rice is really textured and the 'grains' are much drier. If I ever Nasi Goreng or fried rice I occasionally use this method (although I still make it using the pan fried method purely out of convenience at times.) It is more difficult to flavor oven baked rice because of the cooking process. I get around this by simply pan fry any seasonings that I want to add to the rice and either mix them through the rice before I bake it or just quickly stir the oven baked rice through the pan fried spices/onions etc., on the stove top after it has been cooked, ensuring of course that I don't overcook it and lose its lovely nuttier, drier consistency.
Who would have thought that a simple cauliflower could be so versatile and so good at mimicking other foods. That is why I love cauliflower so much…..because it is a great imposter and so healthy for you at the same time.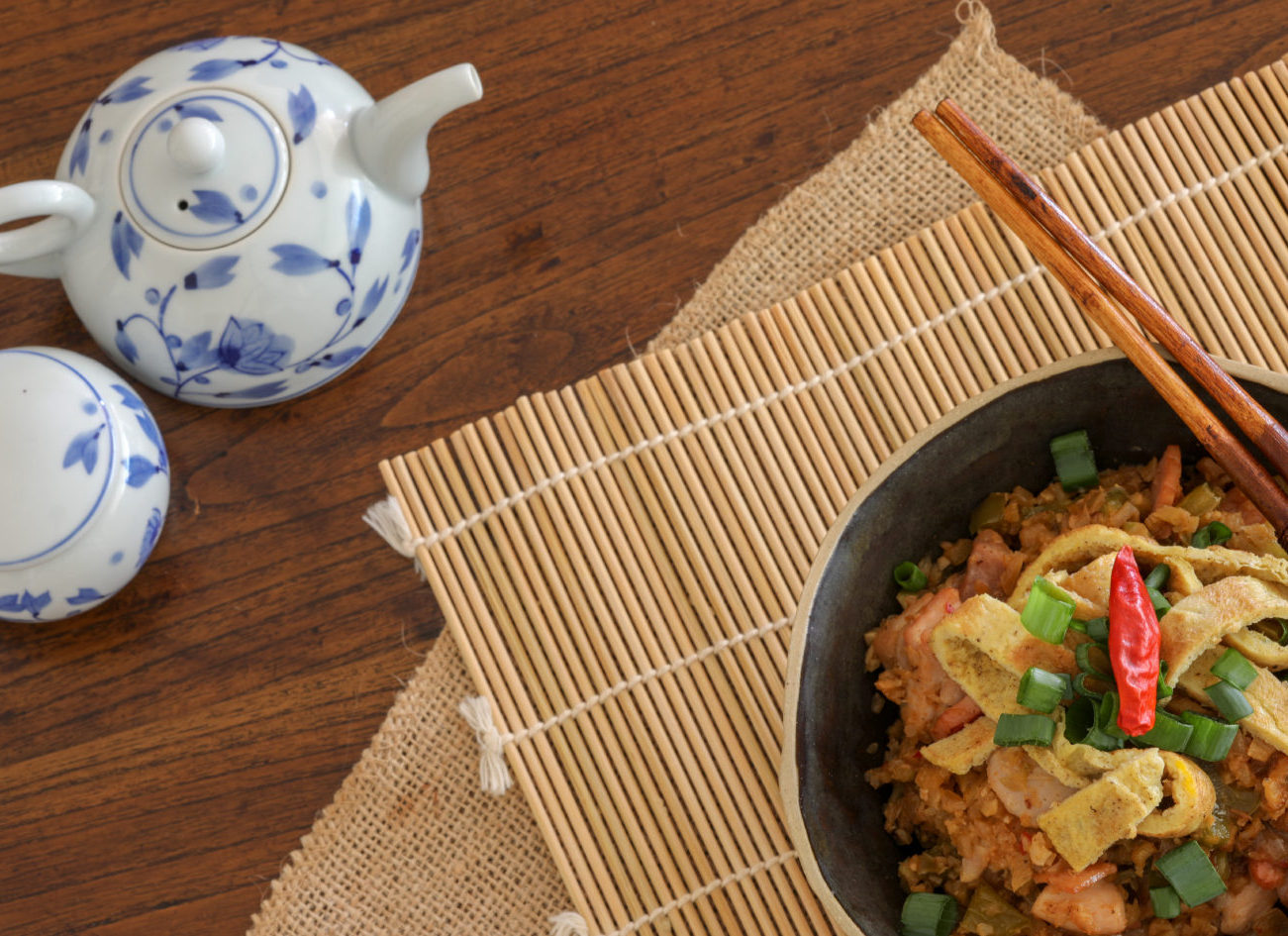 Instructions
Remove hard stalks and leaves from a head of cauliflower. Cut it into large florets and process.
Process in small batches in a food processor to create 'grains' of rice. Take care not to over process the cauliflower to mush. Smaller batches are good for preventing this. You can also use a grater on the coarsest side to rice your cauliflower.. Store cooked rice in the fridge for up to 3 days. One head of cauliflower yields about 4-5 cups of rice. You can also use ready made cauliflower rice. My preference is for fresh cauliflower rice if store bought for these methods of cooking.
Microwave rice
Place riced cauliflower in a microwave proof bowl covered with a lid or cling wrap. Cook on high for around 3 minutes and let stand for another couple of minutes to continue cooking. Fluff the rice with a fork and add some butter if desired and season with salt and pepper. You can add herbs such as parsley or chives. You can also steam the rice on the stove top to achieve the same result. Both of these methods produce a soft, white subtle flavored cauliflower rice.
Pan Fried rice
Heat a generous splash of your preferred oil in a large frying pan. If you want to add any garlic, onion or spices that need cooking off, cook them off first at a lower temperature so they don't burn. Turn the temperature up to high and add the rice. Spread the rice over the base of the pan and stir gently so it doesn't stick or burn. Add a bit more oil if is sticking. Cook for around 3-4 minutes or until the rice is cooked to your taste.

A higher temperature will yield a more toasted flavored rice while a lower temperature will create a more subtle flavored rice. Take care not to overcook the rice.

If you want to add any stock or liquid such as coconut cream, add it now and cook until the stock reduces and the rice dries out slightly. Limit the liquid to approximately 50-100 mls/3-7 ozs, so it doesn't make the rice too wet unless you that is what you desire. This method produces a slightly roasted, slightly drier rice that is also suitable for enhancing with spices, onions etc.
Oven baked rice
Preheat your oven to approximately 200 C/400 F. Spread your cauliflower rice out thinly on baking paper on a hot baking tray and drizzle or spray with a little oil of your choice. Bake for approximately 10-15 minutes, turning every few minutes so it doesn't burn or stick.

This produces a roasted much drier textured rice than the methods above. It is ideal for drier style dishes such as Cous Cous, fried rice, Nasi Goreng etc.
Recipe Notes
Some people freeze their rice raw or cooked but I don't recommend to as it tends to go too soft and soggy for my liking. You may not mind it so please freeze if you wish to.
Nutritional Information
Serving:
1
serve
|
Calories:
4
kcal
|
Carbohydrates:
3
g
|
Protein:
1.1
g
|
Fat:
3.4
g
|
Fiber:
1.4
g
Note that we calculate our own nutritional values so they may not be precise. Calculate your own if desired. Carb values exclude sugar alcohols such as Erythritol, as they generally have no impact on blood sugar levels. 50% of the carbs from Xylitol is added to nutritional values. This is consistent with industry practice.
Do you want to receive more recipes like this one? Subscribe to our newsletter now!