Low Carb Palak Paneer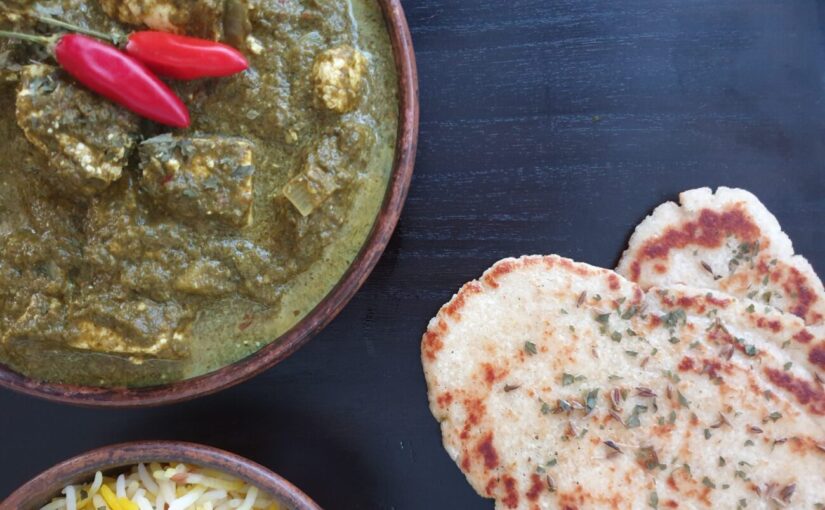 Low carb Palak Paneer is a lovely keto dish that makes the perfect vegetarian accompaniment to to go with Indian food. Paneer is Indian cottage cheese and it's cooked with spinach (palak) to create a lovely creamy curry with traditional Indian spices. The traditional recipe uses fresh spinach that is blanched and pureed but to make things easier I have used frozen spinach. Please use fresh spinach if desired and see the notes for instructions on how to cook it below.
Because spinach can be a little bitter, adding cream can neutralize the taste. Adding the teaspoon of sweetener will also help reduce the bitterness and really helps balance out the flavors. Note that my ratio of spinach to paneer is higher than in a traditional recipe. I have done this on purpose to increase the fibre in the recipe and also to reduce the carbs per serve.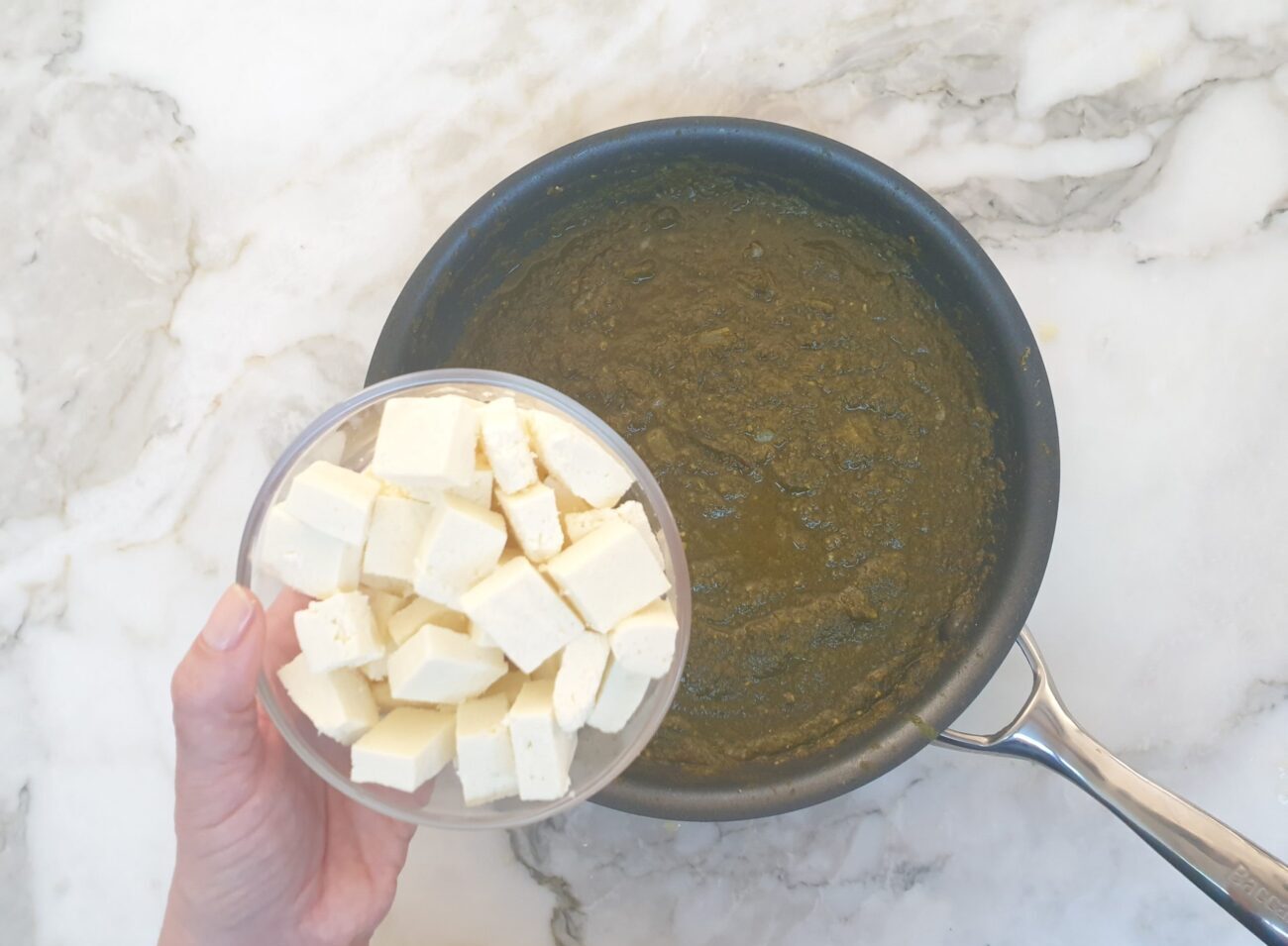 Paneer
Sourcing paneer can sometimes be a problem but you will always find it in Indian grocery stores, either in the freezer section or fresh in the fridge. Occasionally you can find it in supermarkets and smaller stores as well. You can pay up to $8 or $9 for paneer but to save money you can also make your own.
Making your own is really quick and easy to do. Basically the cost will only be what you paid for 2 litres/2 quarts of milk- for me this is about $3.00. Make sure you use full fat fresh milk for the best results. UHT milk won't give you a great yield in this recipe so make sure you avoid it. You can also increase the creaminess of your paneer by adding some additional pure/heavy cream. Make sure you check out this recipe for Homemade Paneer to discover how quick, easy and cheap it is to make your own paneer.
To Make Your Own Paneer
I make my own paneer sometimes and it is really simple to do. To make enough for this recipe I use 2 litres or about 2 quarts of fresh full fat full cream milk (not UHT milk) and the yield ends up being about 250gms/ 8.8 oz. The higher the fat content of your milk the creamier the paneer which is what you want and remember to add cream for a creamier paneer. For full instructions including images to help you make your own, check out the recipe for Homemade Paneer. If you don't have the time to make your own just use store bought paneer.
Quick and Easy Vegan Version
To convert this recipe to a vegan dish, simply switch the paneer for tofu and use coconut cream in place of the heavy cream. This doesn't impact on the flavors at all and creates a flavorsome, healthy dish that you are going to love.
How To Serve Low Carb Palak Paneer
Serve Palak Paneer simply on it's own with cauliflower rice and a piece of this delicious Low Carb Naan Bread. If you are serving Indian curries and need a vegetarian side dish, this is always a crowd favorite.
Some fabulous dishes that go really well with this delicious recipe include this Butter Chicken recipe and this fabulousLamb and Yoghurt Curry. There's also Low Carb Cauliflower, Broccoli and Sunflower Seed Dahl, which actually tastes like authentic Dahl. Another great accompaniment is Low Carb Coconut Sambal, a family favorite in my house (we fight over this and hide the leftovers from each other).
This is hands down one of my favorite Indian recipes that fits in really well with a low carb way of eating. I hope you enjoy it and look forward to hearing your feedback on the recipe.
Enjoy!
Kx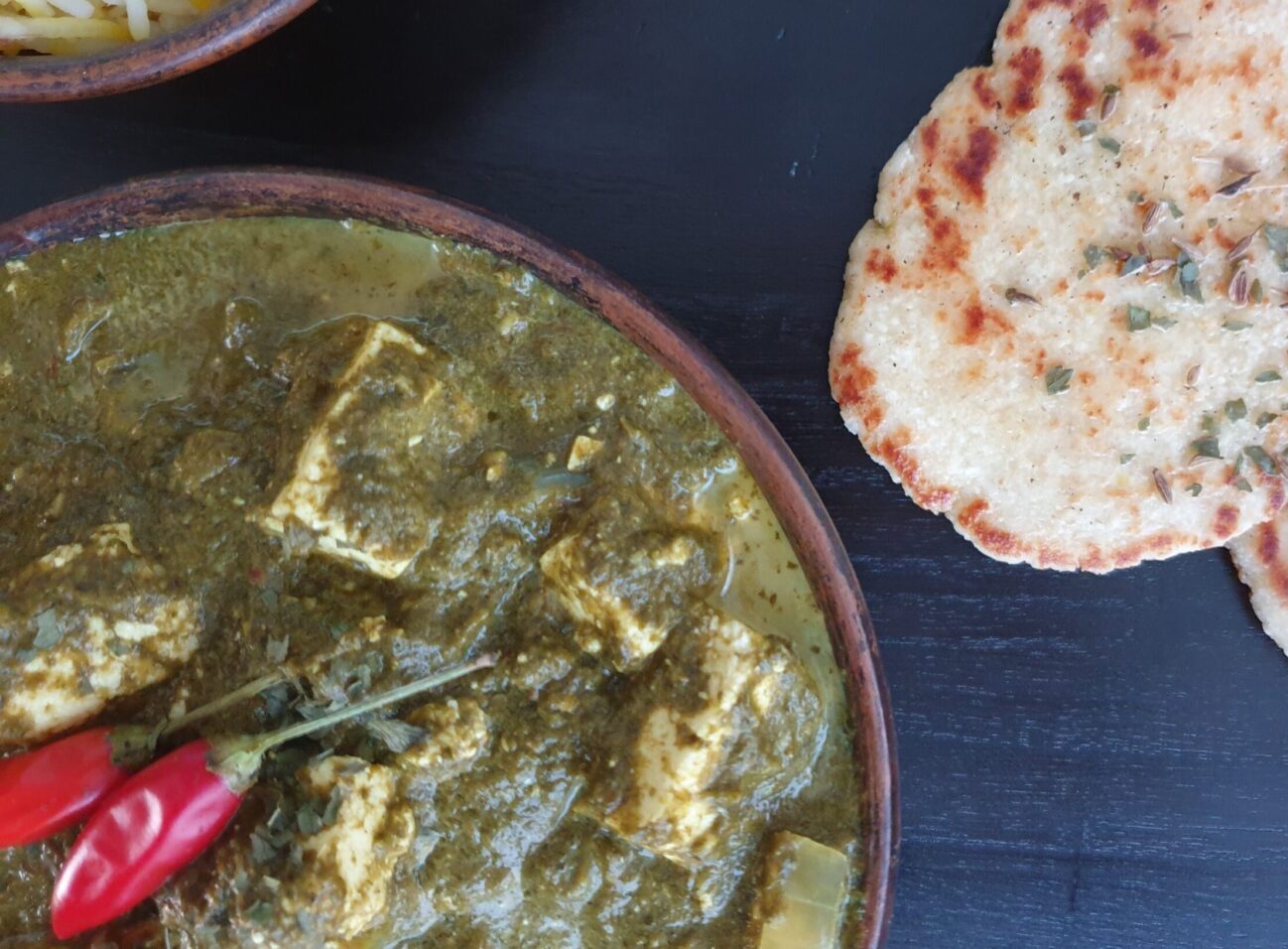 Ingredients
500

gms

frozen chopped leaf spinach defrosted

-see notes for using fresh baby spinach leaves

1

large tomato cut into chunks

1½

teaspoon

minced ginger

½

teaspoon

minced red chili

to taste

1

small green chili

½

cup

water

½

teaspoon

cumin powder

½

teaspoon

turmeric powder

½

tablespoon

EVOO extra virgin olive oil or oil of choice

1

large onion finely chopped

4

teaspoons

garlic minced

1½

teaspoons

garam masala

1

teaspoon

monk fruit

or to taste/ sweetener of choice

¾

teaspoon

salt or to taste

3

tablespoons

pure/heavy cream or to taste

250

grams

paneer cut into cubes

A generous squeeze of lemon juice

1

teaspoon

dried fenugreek leaves

for garnish if you can source
Instructions
Blitz the spinach, tomato, ginger and green and red chili and water in a blender until smooth.

Heat a heavy frying pan on medium heat. Add the oil, garlic and the onions. Sauté for 5-7 minutes until onion is soft and translucent.

Add the pureed spinach mixture and gently simmer for about 10 minutes. Stir regularly to prevent sticking.

Once the spinach is cooked, add the turmeric, garam masala and turmeric powder. Mix through and cook for 1 minute.

Add sweetener and season with salt. Stir through the cream until well combined.

Stir the paneer through gently. Allow to simmer for a few minutes or until the paneer heats though. Remove from heat and stir through the lemon juice. If you can source fenugreek leaves, sprinkle on top before serving.

Serve hot with Indian curries, naan, roti or cauliflower rice/rice.
Recipe Notes
For a completely smooth textured sauce, blitz the onion and garlic with the spinach mixture- I personally like the texture the onion and garlic add to the recipe.
If using fresh spinach, add about 300 gms/ oz to a pot boiled water. Allow to sit for about 2 minutes then remove spinach with tongs into a colander. Pour cold water over the spinach and allow to drain before blitzing with the tomato, ginger and chili in step 1.
Fresh spinach will give you a brighter texture but I love the fact that you get more fibre by using the frozen chopped spinach as it includes the stalks as well. The color will be duller but the dish is slightly more nutritious.
For a vegan dish you can switch the paneer for tofu and use coconut cream to stir in at the end instead of cream.
Nutritional Information
Serving:
1
serve
|
Calories:
145
kcal
|
Carbohydrates:
6.4
g
|
Protein:
9
g
|
Fat:
10
g
|
Fiber:
2.2
g
Note that we calculate our own nutritional values so they may not be precise. Calculate your own if desired. Carb values exclude sugar alcohols such as Erythritol, as they generally have no impact on blood sugar levels. 50% of the carbs from Xylitol is added to nutritional values. This is consistent with industry practice.
Do you want to receive more recipes like this one? Subscribe to our newsletter now!