Low Carb Naan Bread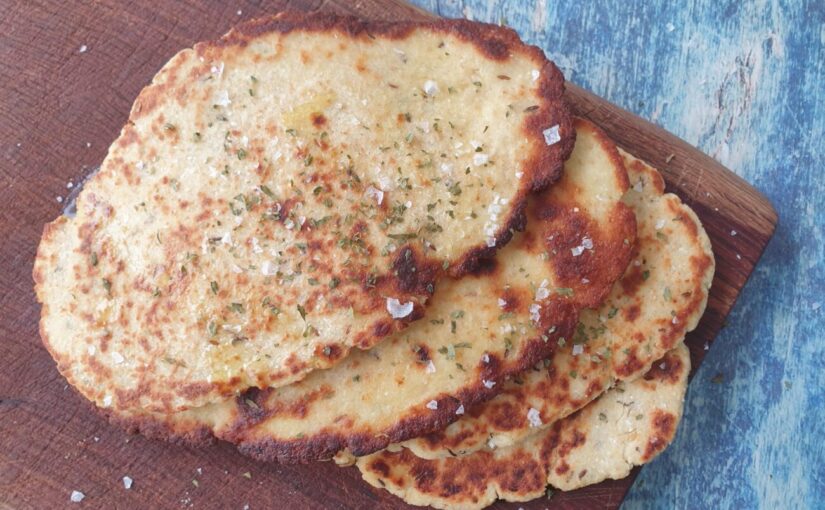 This low carb naan bread recipe is the perfect side dish to enjoy with your favorite curries. The flavours are as good as traditional naan bread and these are just perfect for using to dip into your favorite Indian curry. The recipe uses yeast to impart that yeasty flavor that traditional breads made with gluten have and the imparted flavors are wonderful.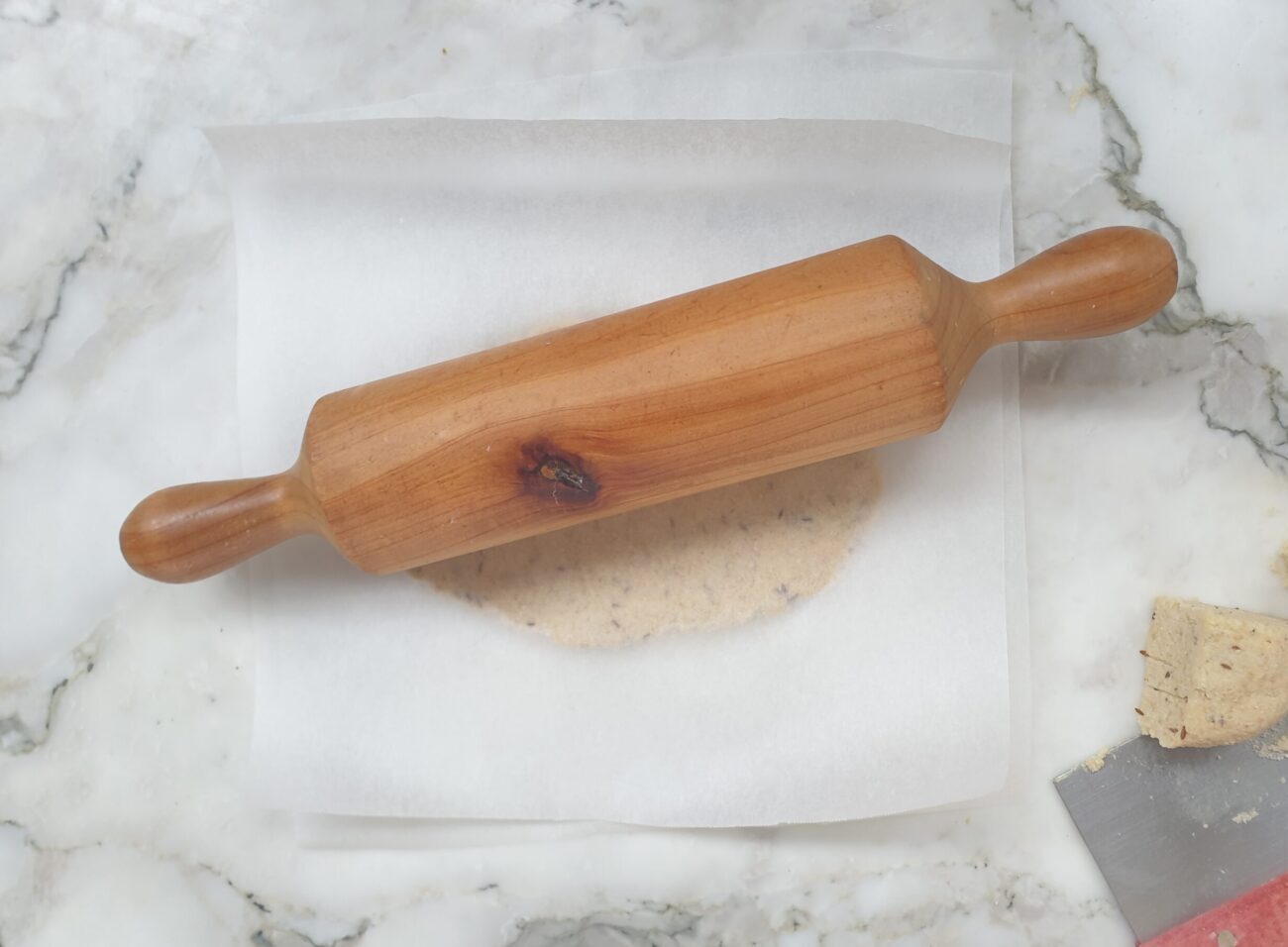 VARIATIONS IN FLAVORING YOUR LOW CARB NAAN BREAD
While you can make a plain naan bread, my favorite addition is sprinkling the dough with some cumin seeds prior to cooking. The cumin seeds roast and are a delicious combination when serving naan with Indian food. Other options include adding nigella seeds or sesame seeds. You can also serve your naan with a garlic butter for garlic naan fans.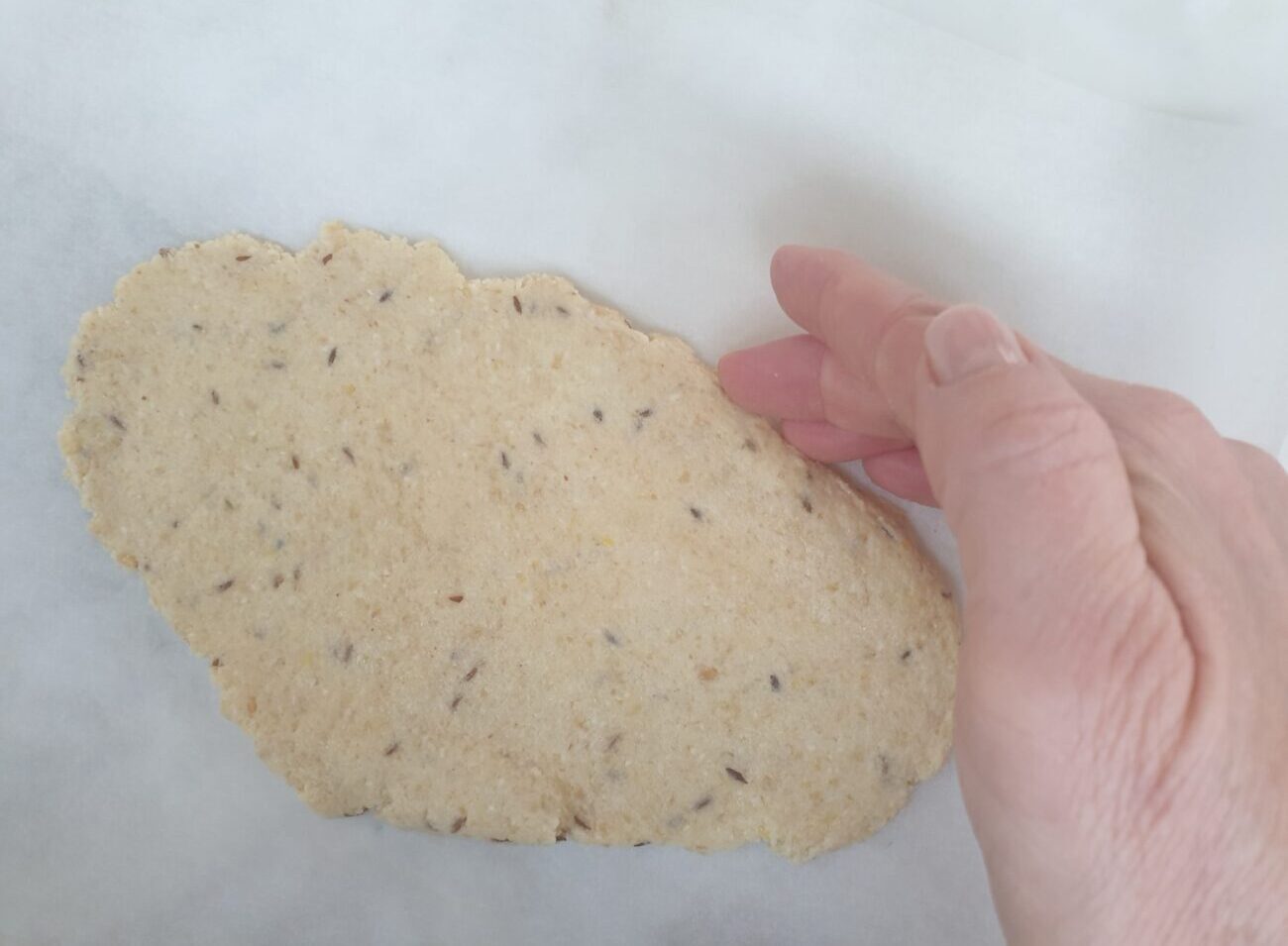 WHAT REPLACES GLUTEN IN THIS RECIPE?
This recipe calls for ground psyllium husk powder as well as ground linseed/flaxseed. Both of these are great sources of fibre that help give the bread texture and also to hold its shape. Make sure you grind both of these quite finely to avoid any gritty taste. Note also that your coarser psyllium husks need to be powdered to use in this recipe. The recipe also features xanthan gum and it is vital as it also contributes to the bread like consistency of the naan bread.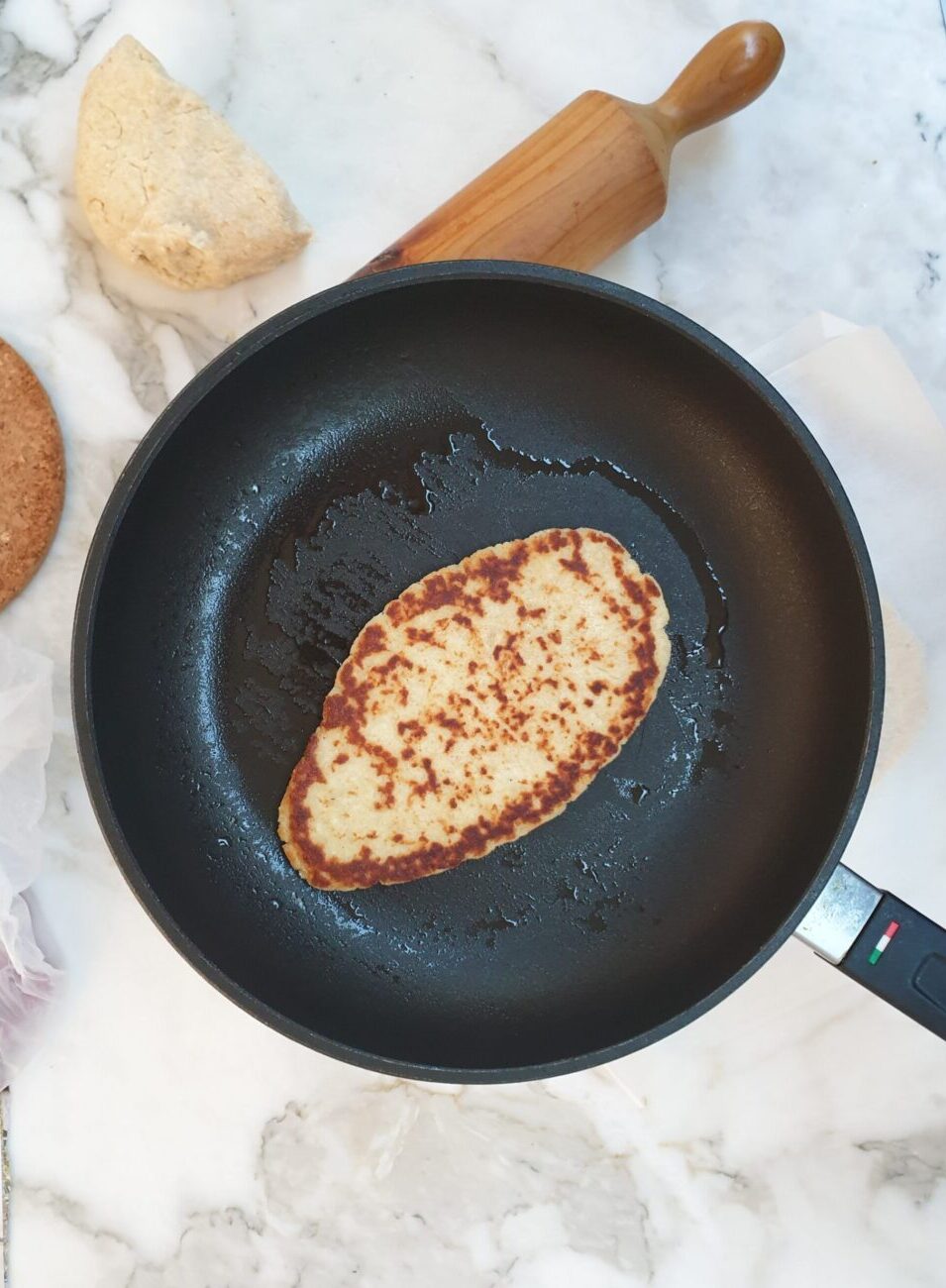 PAN FRIED LOW CARB NAAN BREAD
I have only given you a pan fried option to cook your low carb naan bread. I have tried to oven bake this recipe but the result isn't great so I don't recommend it. Panfrying is a quick and easy way to cook your naan and the method also adds moisture to the bread. Pan fry in either a mixture of butter and EVOO- extra virgin olive oil, or use only one of these ingredients.
HOW TO SERVE LOW CARB NAAN BREAD
Use your naan bread to mop up your favorite Indian food. Some fantastic low carb and keto options would compliment it and also feature on this site include-
Cauliflower Broccoli Dahl
Quick and Easy Butter Chicken
Lamb and Yoghurt Curry
Palak Paneer– spinach and cottage cheese curry
Low Carb Coconut Fish Curry
I'm looking forward to hearing your feedback on this fabulous recipe. If you are an Indian food lover, I know you are going to love it.
Kx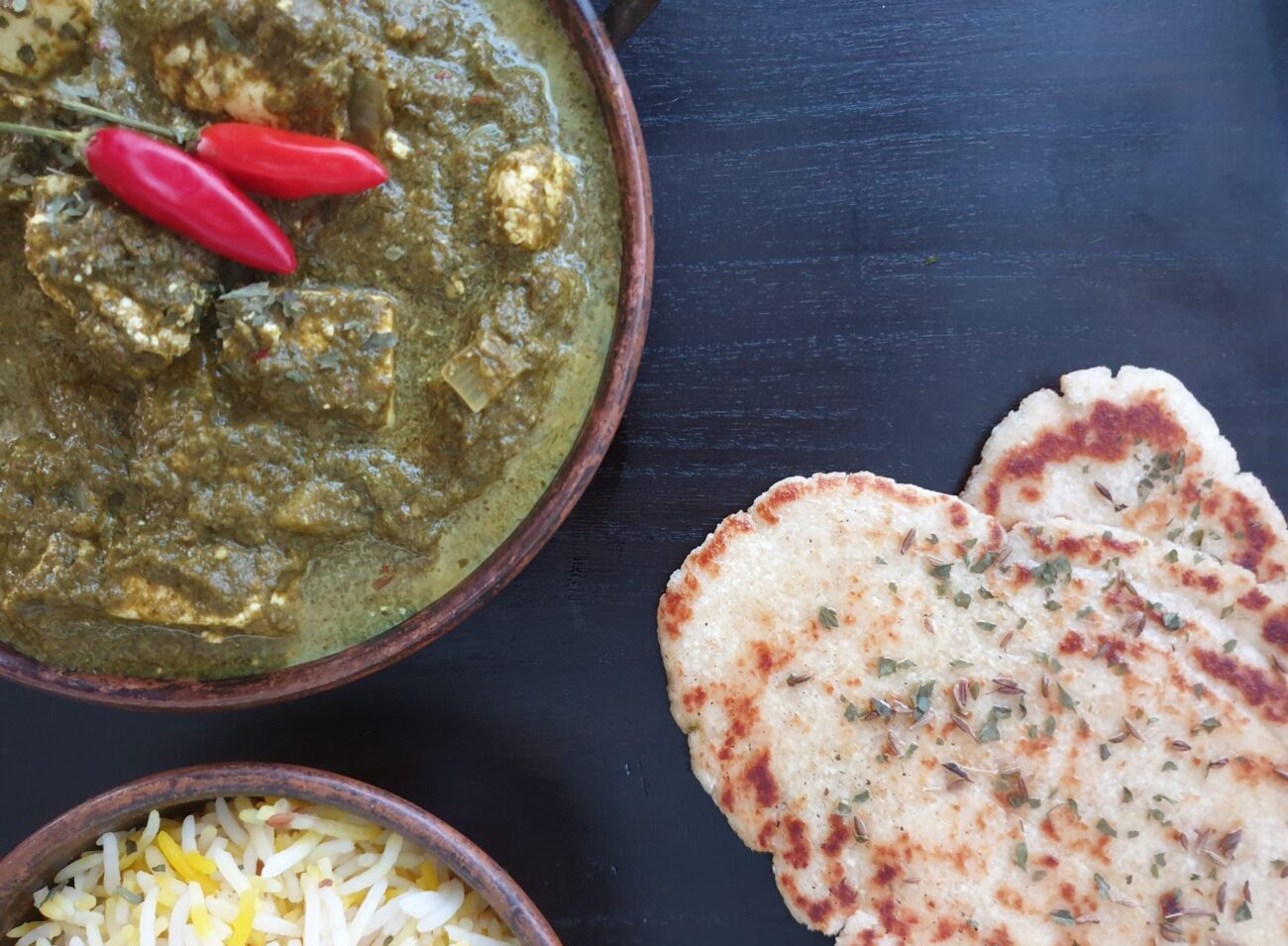 Ingredients
1

tablespoon

/sachet active dry yeast

I used the Tandaco dried yeast 7 gm sachet

125

ml

warm water

1

large egg white

85

grams

Greek yogurt

200

grams

almond flour/almond meal

40

grams

coconut flour

40

grams

linseed powder

1.5

tablespoons

psyllium husk powder

make sure it is finely ground to prevent grittiness

2

teaspoons

xanthan gum

1

teaspoon

baking powder

1

teaspoon

salt

1

tablespoon

apple cider vinegar

1

tablespoon

EVOO-extra virgin olive oil

¼

teaspoon

cumin seeds for each naan bread
GARLIC BUTTER OPTION
5

tablespoons

grass fed butter melted

2

cloves

fresh minced garlic

salt to taste
Instructions
Activate the yeast by mixing it the luke warm water in a small bowl. Allow to rest for about 5 minutes.

Add almond flour, coconut flour, linseed powder, psyllium husk powder, xanthan gum, baking powder and salt to a large bowl and mix until well combined.

Add the yogurt, apple cider vinegar, egg white and EVOO to the yeast mixture. Whisk lightly and then pour into the dry ingredients. Mix wet and dry ingredients to combine then knead quickly in the bowl to form into a ball. Cover your bowl with a clean tea towel/cling wrap and leave to rest in a warm place for about 30 minutes.

Divide the dough into about 8 pieces and roll each portion out between two sheets of baking paper with a rolling pin. I like to roll them out to about 4mm/1/8 inch thick, so that they are about the size of a small oblong side plate. Use your fingers to push and pull the shaggy edges on your naan bread into a nice line.

Sprinkle naan on one or both sides with about ¼ teaspoon of cumin seeds. Top with baking paper and gently roll with rolling pin to press seeds into the naan.

Heat a heavy based frying pan over medium to high heat. Add a dash of oil and a dab of butter and flip in your naan bread. Place the lid on your frying pan and cook for about 45 seconds on each side. Don't over cook or your naan bread or it will no longer be pliable and soft. Top up the oil and/or butter when required and continue cooking the rest of your naan bread.
Garlic Butter Topping Option
Brush your cooked naan with the garlic butter mixture and garnish with chopped coriander and or chopped parsley.
Recipe Notes
If you use regular yogurt the mixture may be a little wetter than if you use Greek yogurt. You may need to adjust amounts used to compensate.
My favorite way to make this naan recipe is simply with the cumin seeds. I've added the garlic option for garlic naan lovers but I recommend you try the simpler version first, especially when served with flavorsome curries.

Nigella seeds or black/white sesame seeds can also be used in lieu of the cumin seeds or don't use any seeds.
Naan tastes best eaten straight away but can also be reheated by-
-wrapping desired amount of naan bread that has been sprinkled with a tiny amount of water in foil and heat in a hot oven for about 5 minutes.
-melting a dob of butter and a dash of EVOO on medium heat in a frying pan on the stove top. Heat the bread on each side until just warm taking care not to over heat. Top up the butter and EVOO before heating each serve of naan bread.
I have tried to bake naan in the oven and don't recommend it. Use the stovetop method with a lid for the ultimate naan bread.
Portions of naan dough can be frozen to use at a later date. Simply defrost at room temperature and cook as per instructions. I seal them in an airtight zip lock bag in individual portions.
Nutritional Information
Serving:
1
naan bread
|
Calories:
229
kcal
|
Carbohydrates:
5.5
g
|
Protein:
1.1
g
|
Fat:
18
g
Note that we calculate our own nutritional values so they may not be precise. Calculate your own if desired. Carb values exclude sugar alcohols such as Erythritol, as they generally have no impact on blood sugar levels. 50% of the carbs from Xylitol is added to nutritional values. This is consistent with industry practice.
Do you want to receive more recipes like this one? Subscribe to our newsletter now!