Low Carb Mexican Cauliflower Rice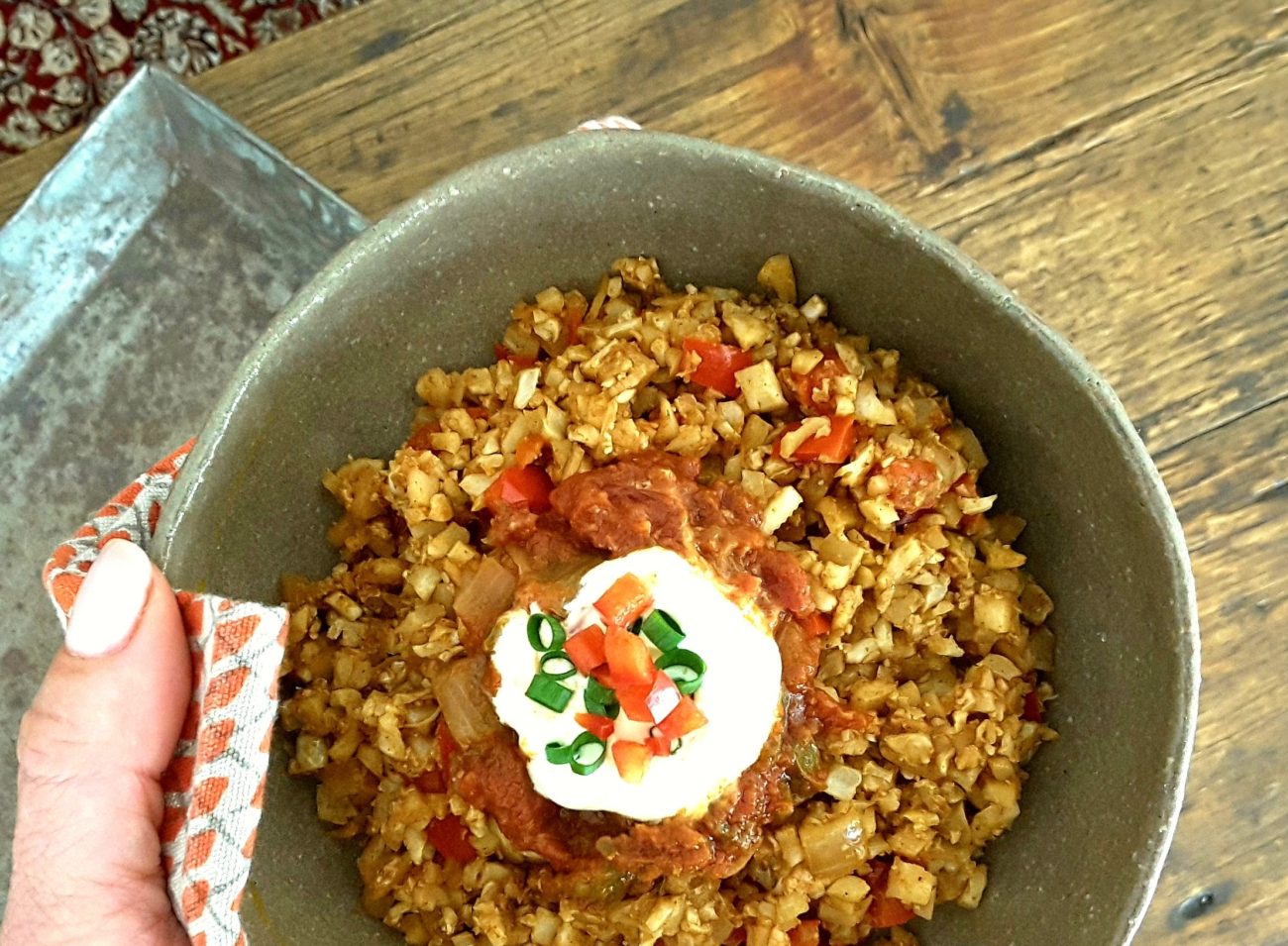 Low Carb Mexican Cauliflower Rice
This delicious recipe for Low Carb Mexican Cauliflower Rice is one of those recipes where you realize that you really aren't compromising on flavor when it comes to reducing the carbs in your life. I used to work in a Mexican restaurant when I was younger and loved to eat a bowl of Mexican Rice simply topped with salsa and sour cream and today, I still enjoy that same meal but without the rice. Rice has simply been subbed for much healthier cauliflower rice. The flavors are the same, the texture is similar and the end result is a much healthier low carb Mexican cauliflower rice. I also suggest you try making your own Sugar Free Fresh Tomato Salsa or home made Sugar Free Salsa Picante. Both recipes are simple to make and go really well with this dish.
I love to use red peppers in this recipe but you can use green or yellow if you prefer. Feel free also to add some additional vegetables if you wish to. I sometimes buy cauliflower rice from the supermarket to make this or else I rice a full head of cauliflower, which equates to about 4 to 4 1/2 cups of cauliflower rice. I have tried to keep the spice a little more subtle in this as well, as I like my Mexican rice to not be overpowering. In saying that, this is still a very flavorsome dish, so don't go adding any extra chilli until you have tried the recipe.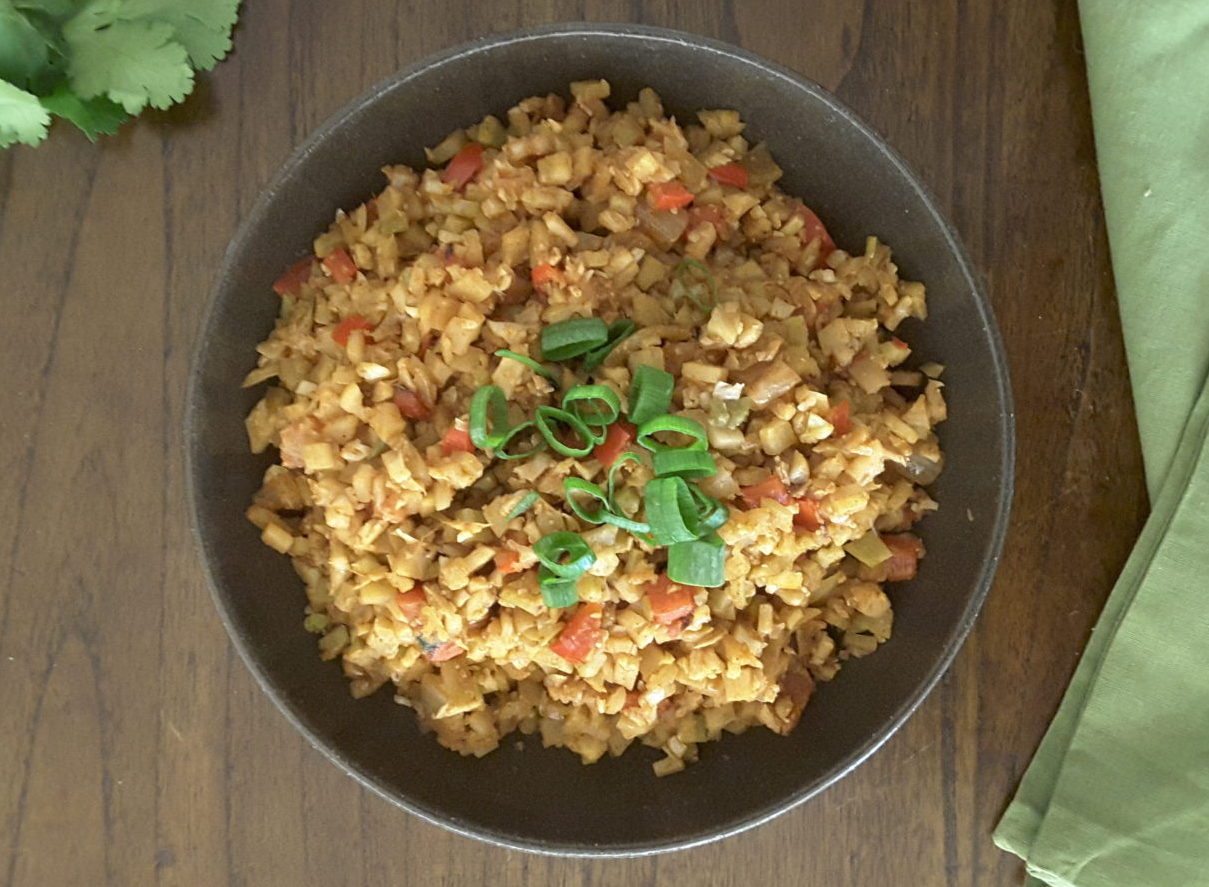 This dish will freeze really well and it can also simply be converted into a main dish, rather than a side dish. Simply add some shredded chicken and serve with a salad for something more substantial. Try it topped with salsa, avocado and sour cream. You could also top this recipe with cheese and bake it in the oven for about 30-40 minutes on medium heat to create a Cheesy Mexican Cauliflower Rice Bake.
Don't forget to check out some of my other Mexican recipes that will go with this dish. I have an amazing recipe for Sugar Free Slow Cooker Drunken Pulled Pork and also for a delicious Mexican Slow Cooker Beef Brisket. You could also try making some Low Carb Mexican Tortillas and then there's my favorite dip recipe, Chilli Con Queso Dip.  I also recommend that you try to make  your own Mexican Spice Mix as well as it is so simple to make.
You could have yourself a Mexican feast with all of these fabulous recipes.
Kxx
Mexican Cauliflower Rice
Serves 4-6

Ingredients
4 cups or 1 medium head of cauliflower rice
1/2 onion finely diced
1/2 red pepper finely diced- or peppers of choice
4 Tbspns pureed tinned tomato
1 Tbspn EVOO- Extra Virgin Olive Oil
1/2 Tbspn ACV- apple cider vinegar/or regular vinegar
3 tspns minced garlic
1 tspn cumin powder
1 tspn paprika powder
1 tspn Mexican Spice Mix
1/4 -1/2 tspn chili powder - optional or to taste

Method
1. Heat the EVOO in a large frying pan on medium heat and add the onions, garlic and red pepper, sauteing till soft.
2. Add the cauliflower to the pan, along with the rest of the ingredients and mix through to combine the flavors and continue cooking for another 5 minutes, or until the cauliflower is cooked to your taste.

To Serve
Garnish with chopped spring onions and /or chopped coriander and finely chopped red pepper.

Serving Suggestion
Serve as a side to accompany Mexican food
Top with a dollop of sour cream and some Salsa Picante.
A main dish suggestion- mix some shredded chicken into the rice. Spoon into a casserole dish, top with cheese and bake in a moderate oven for about 30-40 minutes.  Serve with a simple salad.

A KETohh creation
www.ketohh.com