Slow Cooker Mexican Beef Brisket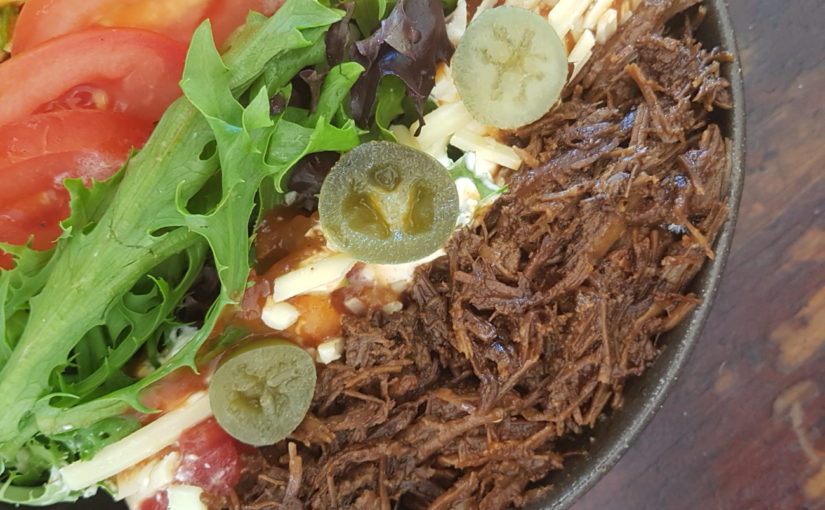 Slow Cooker Mexican Beef Brisket
Delicious and tender slow cooker Mexican Beef Brisket creates the most amazing tender meat that shreds beautifully. The meat simply falls apart once cooked and the Mexican spices add wonderful flavors ideal for all of your Mexican recipes.
Make sure you use your own home made Mexican Spice Mix in this recipe. It is a really easy recipe made with ingredients that most of you will have already in your pantry. If you want to make soft tacos or burritos and need a low carb wrap then you really need to try this recipe for Low Carb Gluten Free Tortillas. I also suggest trying this slow cooked meat in this Low Carb Mexican Salad Bowl. If you are after some sides to go with this recipe, you should try this delicious Mexican Slaw recipe and of course a serve of Low Carb Cauliflower Mexican Rice.
What type of Meat Can you use in This Recipe
While brisket is ideal for this way of cooking, any cut and any type of meat will work with this recipe. Lamb and pork both cook up really well in the slow cooker and go well with these flavors as well. In regards to cooking times, all slow cookers are different so you need to adapt the times to your cooker. Also adjust the times so they fit in with your lifestyle. A long slow cook while you're at work might be more suitable than cooking on high and reducing to low after a few hours. Slower cooking is of course going to take longer though.
Trimming your Meat
Some brisket cuts can have a really high percentage of fat in them but sometimes there is a ridiculously huge amount of fat in brisket. If you want to decrease the amount of fat you could trim the brisket before you cook it, or I suggest that you simply drain most of liquid off the meat once it has finished cooking. You can either scoop some of the excess fat off the top of the juices, as fat sits on the top of liquid. Alternatively, put the juices in the fridge until the fat solidifies and use a spoon to scoop out the fat you don't want. Make sure you retain a reasonable amount of the fat in the juice or the meat will dry out. Add the juices back into the meat and reheat if you need to. If the meat dries out, simply add some more water to get the desired consistency or you can always add some of the fat back in. Note that the fat you have collected is ideal to store in the fridge to use to bake vegetables in the oven, or in a pan to fry your meat or chicken etc.,.
If you are after a crispier finish to your meat, simply pan fry the meat on a high temperature after you have finished slow cooking it and it has been shredded.
Adjusting the Recipe for larger cuts of meat
If the amount of meat you want too cook is larger than 1.5 kg, simply increase the amount of spices required by the approximate relative amount. You can always add some additional Mexican Spice Mix at the end if you want the dish more flavorsome. I haven't made this dish too spicy so that it caters in general for a crowd. If you want to spice this up a bit more, please add some extra chili or some cayenne pepper if you wish to. You could also add a little more Mexican Spice Mix. You don't want this dish to be too overpowering though so perhaps add more spices towards the end of cooking, when you can taste the dish. If you are after more subtle flavors simply reduce the amount of spices but I wouldn't suggest reducing by any more than half the suggested amount. Again, you can always add additional spice once the dish has finished cooking.
Enjoy!
Karen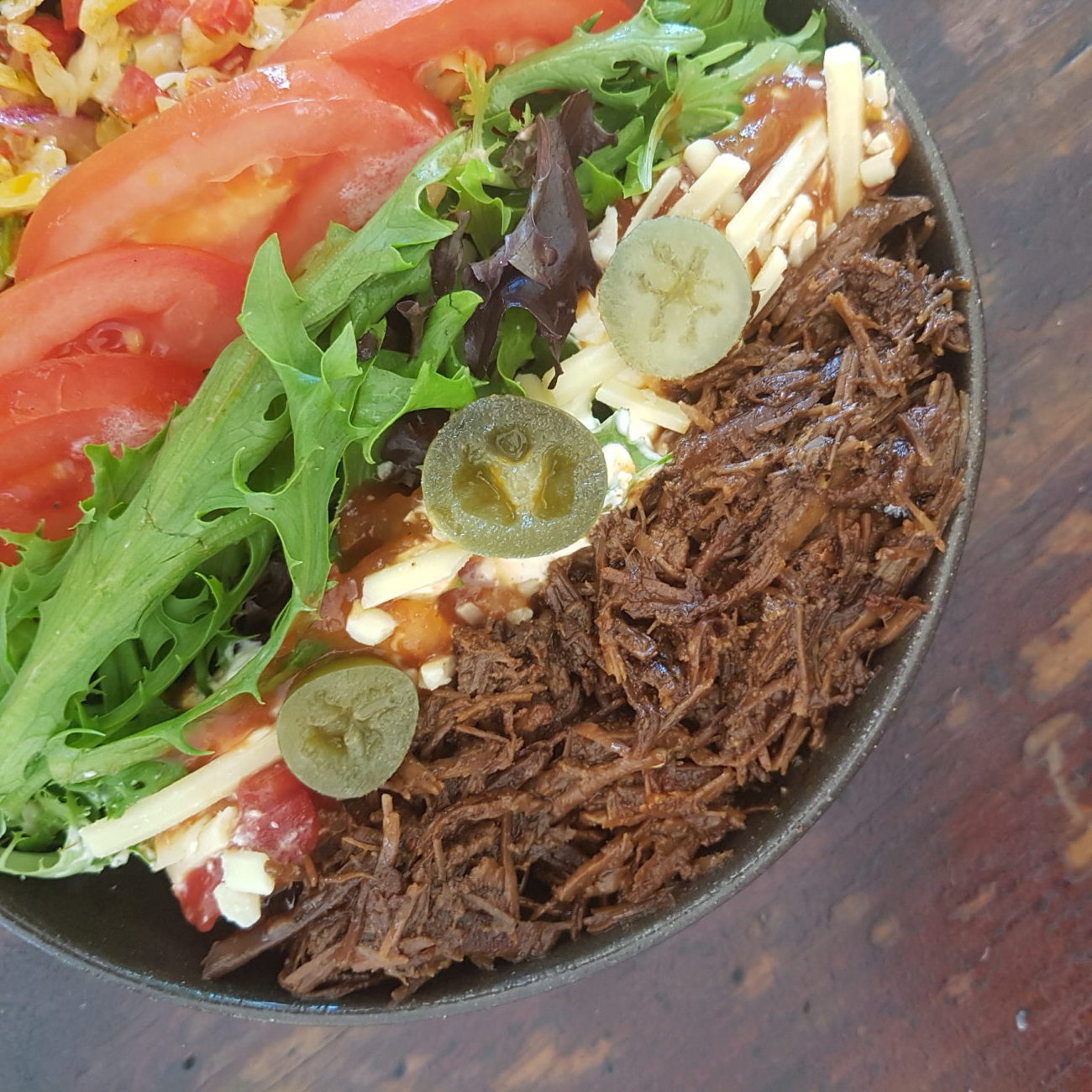 Ingredients
1.5

kgs

beef brisket

3

tablespoons

Mexican Spice Mix

1

tablespoon

onion powder

1

tablespoon

minced garlic

2

teaspoons

cumin powder

½

teaspoons

coriander powder

¼

cup

water

1 ½

teaspoon

salt

½

teaspoon

pepper
Instructions
Place Brisket fatty side up in a slow cooker. Rub the garlic onto the brisket.
Add 1/4 cup of water to the pan and sprinkle the remaining spices on to the top of the brisket.

Cook for approximately 4-5 hrs on high and turn to low for another 2-3 hours. You can also cook on low for approximately 8-10 hours on low. Time will be dependent on the type of slow cooker that you have. The meat should be easily shreddable with a fork when it is cooked.

Shred the meat with a fork in each hand and stir through the pan juices to serve. You may need to use kitchen scissors to cut the meat into shorter lengths.
Serving Suggestions
Delicious in all Mexican dishes.

Use in tacos, enchilada's, taquito's, burrito's, tostada's, Mexican salad/burrito bowls or on top of nachos.

Freeze into individual serves for an easy to assemble Mexican salad.

Omit beef for lamb or pork with similar cooking times.

To get a crispier finish, you can pan fry the beef once cooked and shredded, on medium to high, till cooked as you like it.
Nutritional Information
Serving:
1
g
|
Calories:
304
kcal
|
Carbohydrates:
1
g
|
Protein:
40
g
|
Fat:
14
g
Note that we calculate our own nutritional values so they may not be precise. Calculate your own if desired. Carb values exclude sugar alcohols such as Erythritol, as they generally have no impact on blood sugar levels. 50% of the carbs from Xylitol is added to nutritional values. This is consistent with industry practice.
Do you want to receive more recipes like this one? Subscribe to our newsletter now!