Low Carb Mexican Stuffed Peppers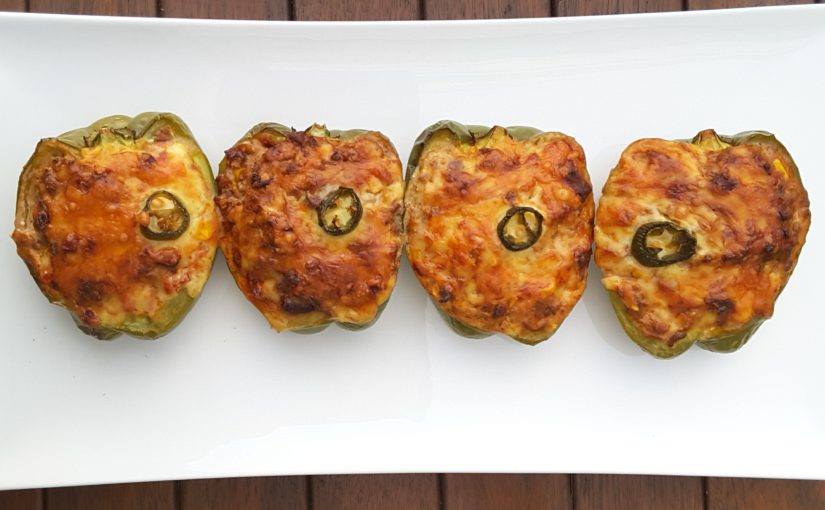 Low Carb Mexican Stuffed Peppers
I am certain you are going to love this recipe for Low Carb Mexican Stuffed Peppers. A delicious creamy blend of beef with Mexican spices, tomato, onion, cream cheese and sour cream, oven baked to perfection in green peppers. These are quite simple to make and are sure to become a hit in your house. There are also some simple variations that you can try if you want to add some carbs for any carb lovers in your life, which makes this a really versatile dish. I simply add the additional ingredients such as corn and/or kidney beans after I have made the number of low carb stuffed peppers that I need.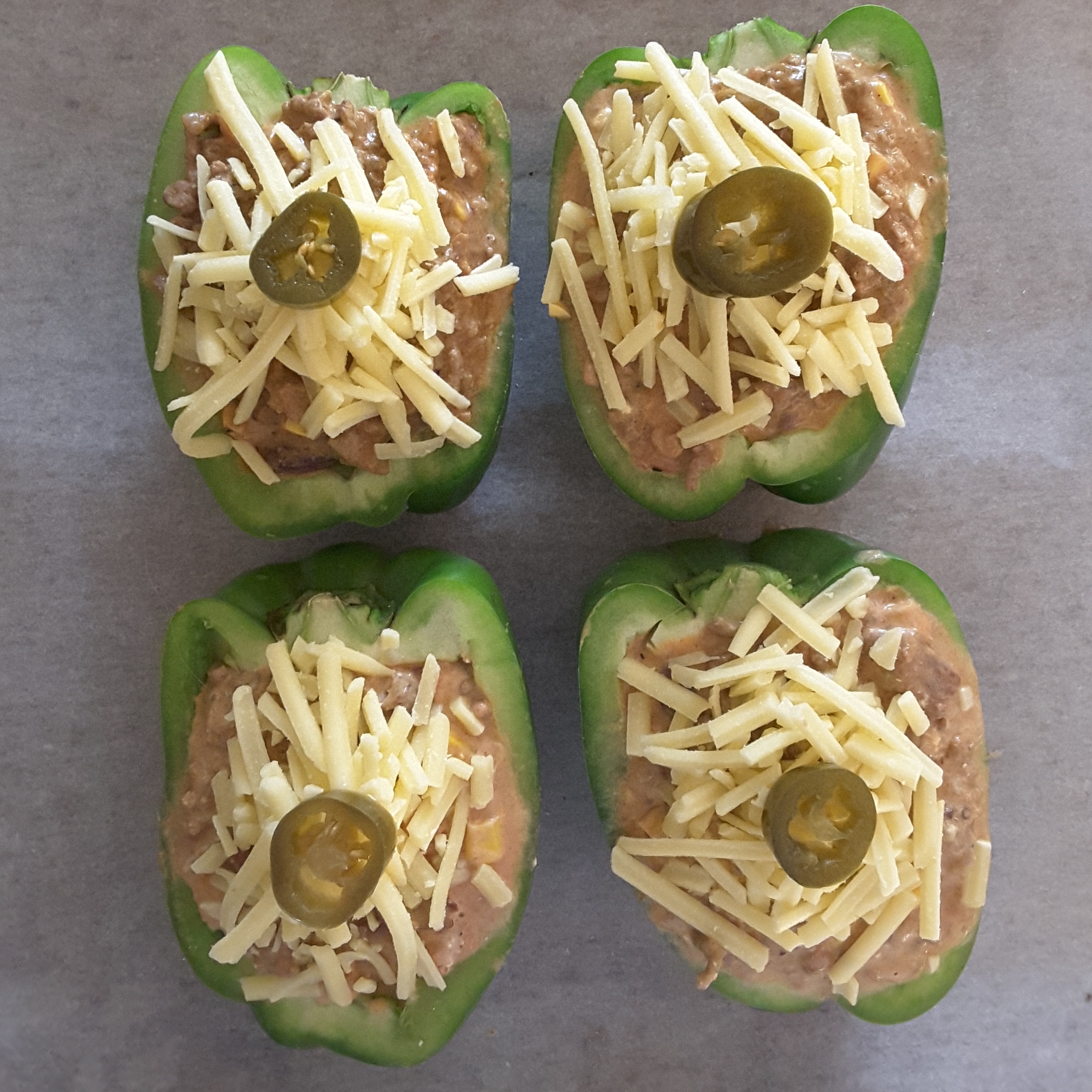 Simple Variations
I love this recipe made out of beef mince but you could simply swap the beef for chicken, turkey or your meat of choice, and the flavors will still work really well together. I tend to like a bit of spice in my Mexican but you can vary the amount that you add, by simply cutting back on the Mexican Spice Mix as well as the jalapeno's if you wish to. You can also use either red or green peppers in this recipe, but my preference is for green as I think they compliment the flavor of the spices better. Instead of buying Mexican Spice Mix, why don't you try making your own by following this recipe.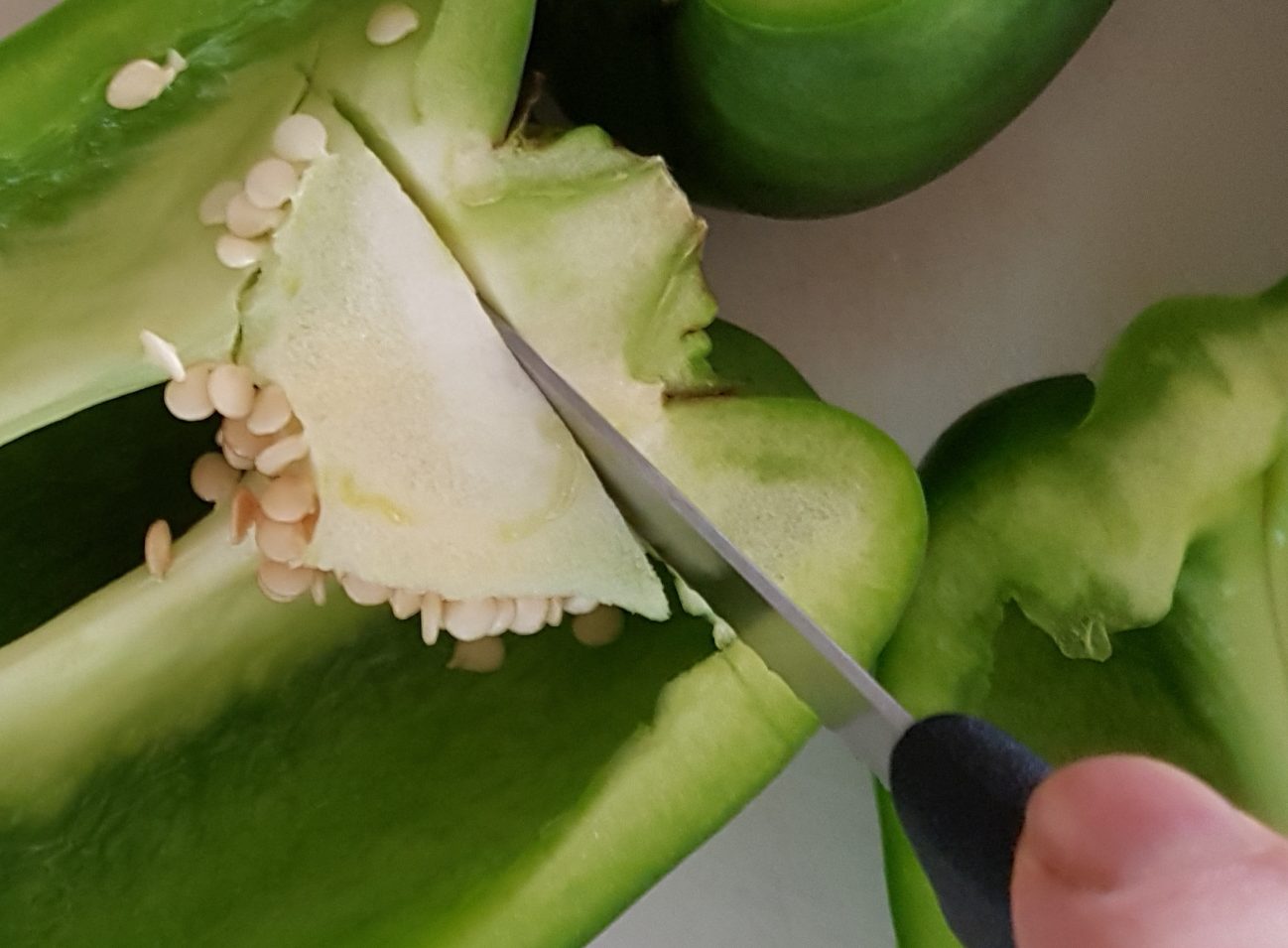 I like to cut the peppers in half to make these but you could also simply top the peppers and fill them if you wanted to. I like to halve them as it allows them to cook quicker and it also means that I get to top them with extra grated cheese. If you find there is too much filling, you can simply freeze it and use it at a later date. If I make these for my husband and I, I always freeze the left overs, which means that I get to eat these again without cooking the filling. You could also double the recipe for the mince filling and freeze portions of it for use at a later date.
Simple Variations for Carb Lovers
You can easily "carb this up" by simply adding some red kidney beans and/or corn to the cooked filling, and you could also add a little cooked rice into the mix as well. You could also create a layered stuffed pepper by putting some cooked rice down as a first layer, followed by a thin layer or corn, a sprinkling of kidney beans and topping it with the meat filling and some grated cheese.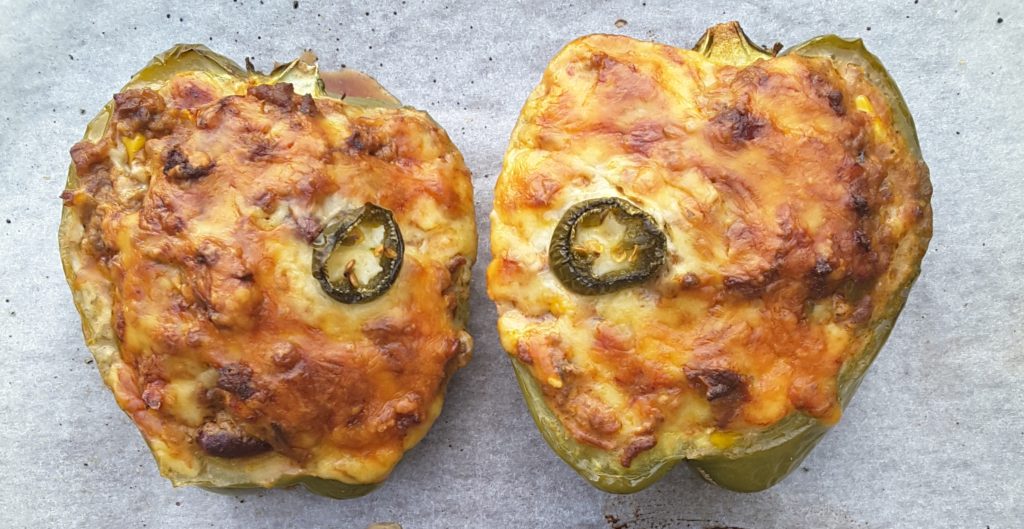 Note that I have microwaved the peppers prior to filling and cooking. I do this simply to reduce the cooking time. If you don't want to use the microwave, you could simply add an additional 15 minutes of cooking time in the oven so the peppers will be cooked through. Equally, you could cook the peppers for longer in the microwave to reduce the amount of time they will take to cook in the oven.
Create a Mexican feast and begin with some Low Carb Chilli Con Queso and serve these peppers with some Low Carb Mexican Cauliflower Rice on the side.
Kxx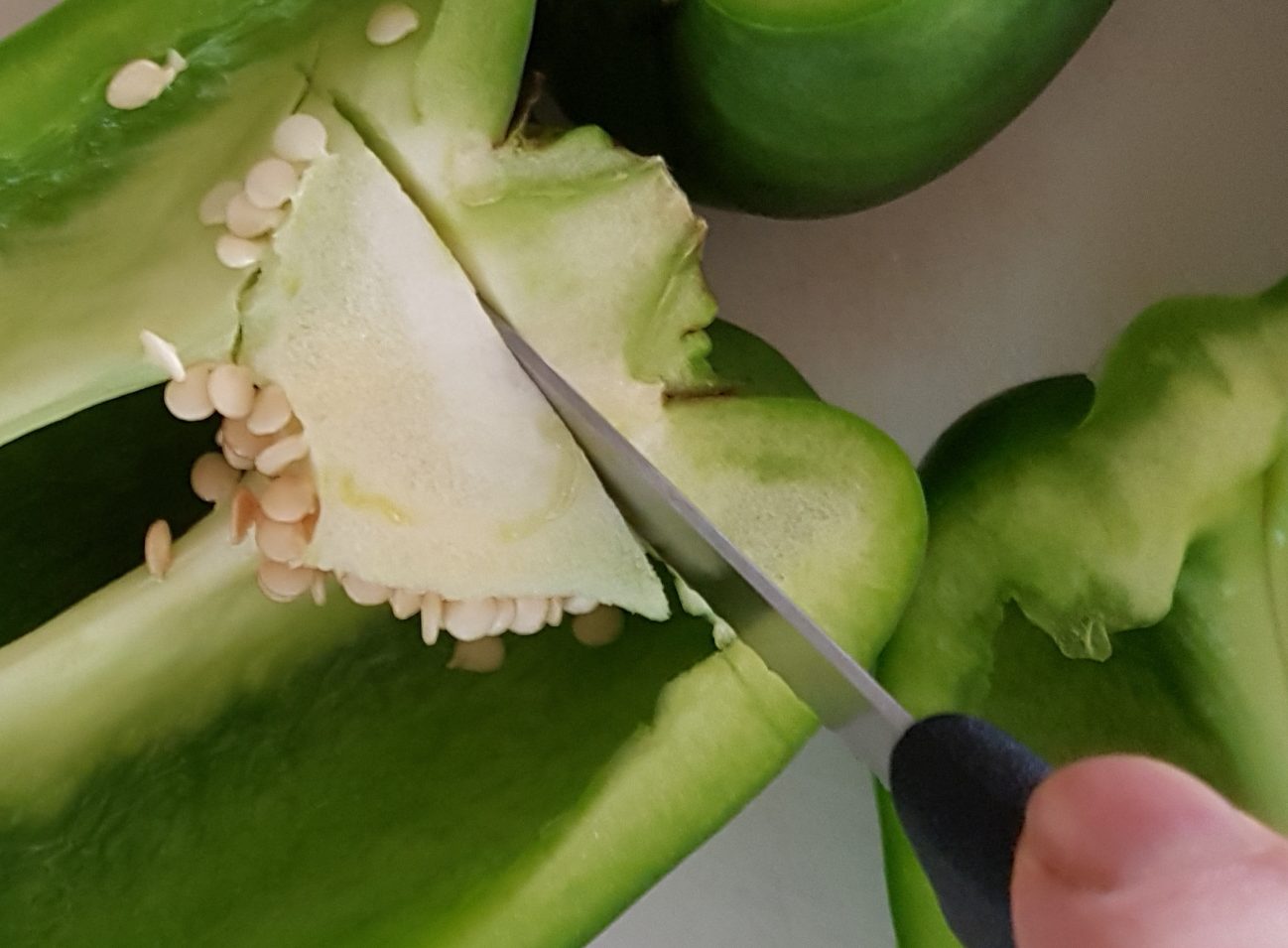 Ingredients
500

gms

/18 oz minced beef

400

gms

/14 oz crushed/diced tinned tomato-sugar free

1

large

lge onion diced

1.5

tablespoons

garlic minced

A splash of extra virgin olive oil- EVOO

1.5

tablespoons

Mexican Spice Mix

or to taste

1

teaspoon

ground cumin

1/2

teaspoon

oregano

2

tablespoons

cream cheese- full fat

4

tablespoons

sour cream- full fat

1- 2

tablespoons

chopped jalapenos- or to taste. If in brine drain off juice

4

large

green peppers- or color of choice

4

tablespoons

grated/shredded cheese for topping

Jalapeno's for garnish

Salt and Pepper to taste.
Instructions
Preheat oven to 190- 200 C/ 375-400

Saute onions in a little oil until translucent.

Add garlic and minced meat and continue to cook till meat has browned off.

Add Mexican spice mix and blend till combined, cooking for a further few minutes.

Add the tomato and remaining spice mix and simmer mixture for a further 20 minutes.

Add the cream cheese and sour cream to the filling, stir well and remove from heat. Add jalapenos to taste and mix well.

Meanwhile, cut the peppers in half and remove any unwanted pith.

Zap the peppers in the microwave for 3-4 minutes to pre-cook them or cook in the oven for 15 minutes

Place peppers on a baking tray and spoon the filling into the peppers.

Top with grated/shredded cheese and a jalapeno slice to garnish.

Bake in oven for 30 minutes or until filling is hot, cheese has melted and the peppers have started to brown in places.
Recipe Notes
Use alternative minced meat of choice such as chicken, turkey, pork or veal.
Add 1 cup of cauliflower rice to the filling to increase the nutritional value.
Add additional vegetables to the filling such as more peppers, diced zucchini, or grated pumpkin.
"Up the carbs" by adding corn kernels and/or red kidney beans to the filling. Cooked rice could also be added or served on the side.
Any left over filling can be frozen for later use.
Nutritional Information
Serving:
1
serve
|
Calories:
100
kcal
|
Carbohydrates:
1
g
Note that we calculate our own nutritional values so they may not be precise. Calculate your own if desired. Carb values exclude sugar alcohols such as Erythritol, as they generally have no impact on blood sugar levels. 50% of the carbs from Xylitol is added to nutritional values. This is consistent with industry practice.
Do you want to receive more recipes like this one? Subscribe to our newsletter now!