Keto Soy Drumsticks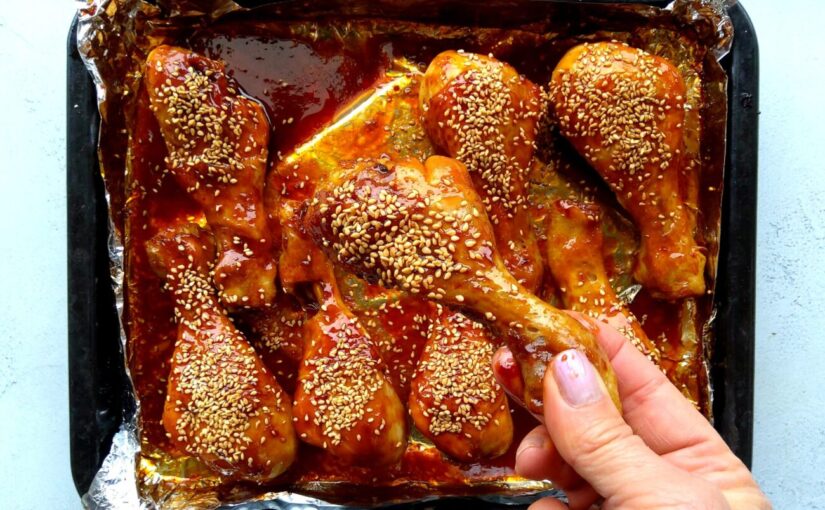 Keto Soy Drumsticks aka 'honey soy drumsticks' are made using a low carb sweetener as a substitute for the honey. With no compromise on flavor at all you'll find these drumsticks simple to make but as good as the traditional recipe.
Not only are these really simple to make but it's a dish the whole family will love. Being both sugar free and gluten free, these are perfect to serve up to diabetics and celiacs. The flavors are the perfect mix of sweet and salty and that is what makes this dish a crowd favorite. Kids in particular love this recipe (even the big ones) and the leftovers taste great cold as well. I particularly love the slightly sticky sauce combined with the sesame seeds and chicken flavors.
KETO CHICKEN DRUMSTICKS aka HONEY SOY DRUMSTICKS
These featured on the table often in my house when I was young but were made with honey. Of course honey doesn't fit in with a low carb way of eating. By switching the honey for a low carb sweetener, these delicious drumsticks are back on the menu.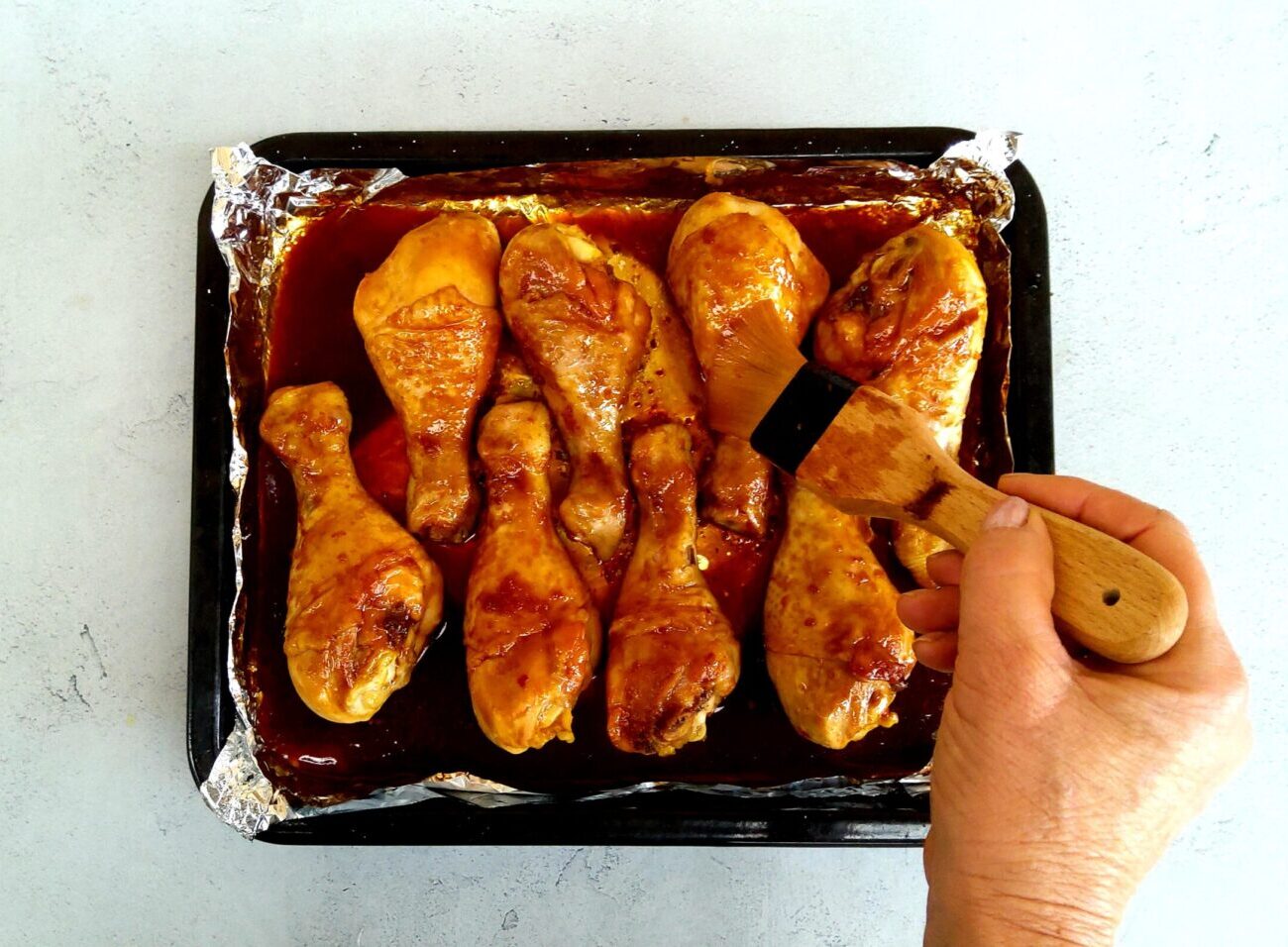 CHICKEN OPTIONS
Chicken is always a fabulous source of protein and are ideal for a low carb way of eating. Drumsticks are a cheaper cut of chicken and are just perfect for baking in the oven. Make sure you keep the skin on as it tastes delicious cooked in the soy glaze.  Feel free to crisp the drumsticks under the grill at the end cooking if it isn't crispy enough. You can also select other chicken cuts for this recipe such as thighs with skin on and bone, or you could also use boneless thighs or breast as well if preferred.
Drumettes and wings are ideal for this recipe, which are fabulous to serve for appetizers.  Drummettes, wings and smaller cuts of chicken will cook a lot quicker than larger drumsticks, so reduce the cooking time to suit. Pork also goes well with this sauce, including pork belly.
HOW TO SERVE KETO SOY DRUMSTICKS
These taste fabulous served over Cauliflower Rice (or rice for the carb eaters in your house) along with a serving of Asian Slaw or Asian Slaw with Konjac Noodles. This recipe for Cauliflower Fried Rice is also fabulous served with these drumsticks. Pan fried Boy Choy goes wonderfully with this recipe or saute a mix of your favorite vegetables in garlic for a quick and easy side serve. A simple salad on the side is also a quick and easy to make option.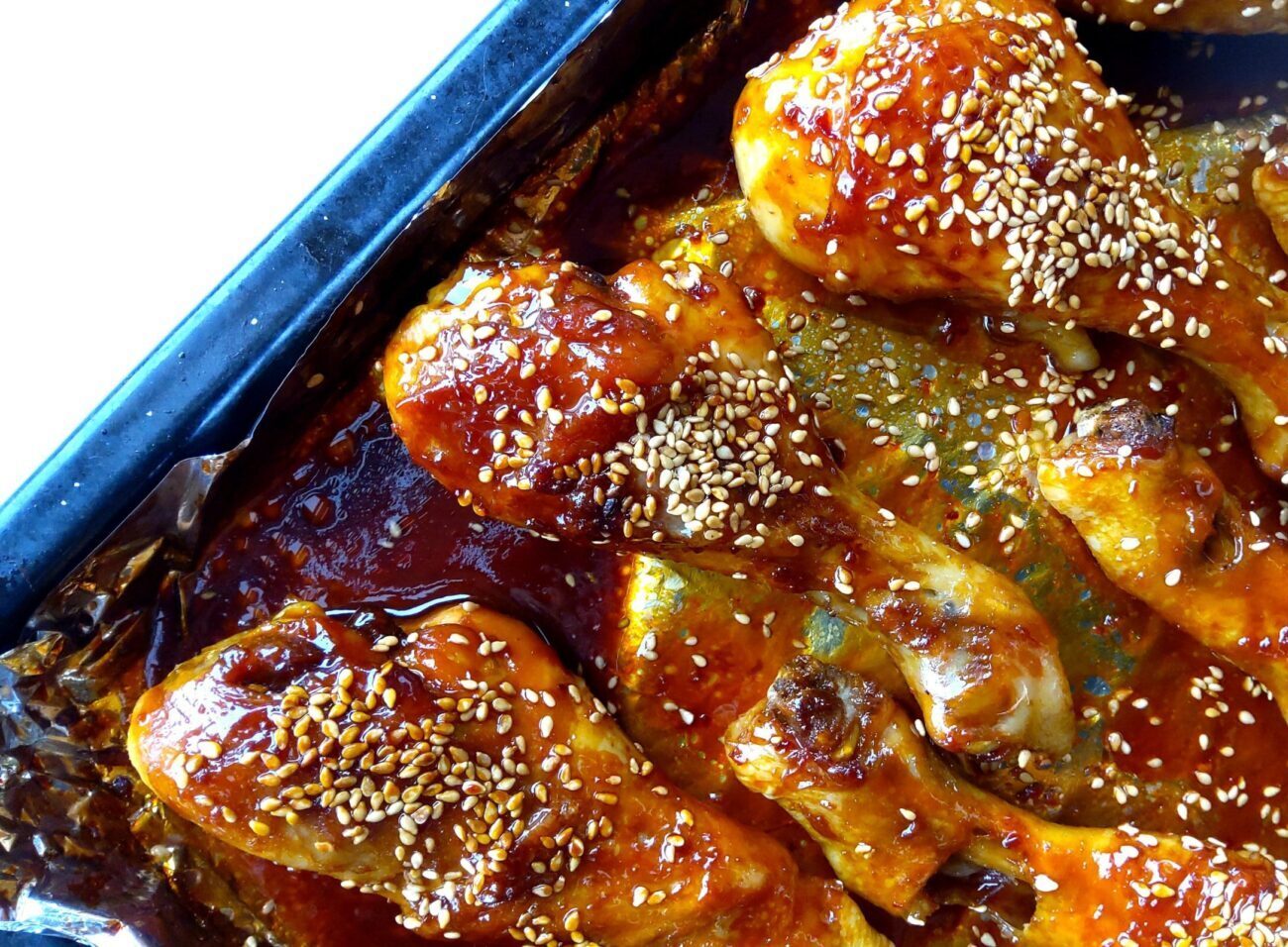 Ingredients
8

large

Chicken Drumsticks

½

cup

Tamari

coconut aminos or soy sauce

⅓

cup

monk fruit blend

,stevia blend, xylitol or erythritol. Coconut sugar or brown sweetener can also be used

2

teaspoons

minced garlic

1

teaspoon

minced ginger

¼

teaspoon

minced chili

or chili powder

1

tablespoon

sesame seeds toasted pan fry in a hot frying pan for 1-2 minutes till golden
Instructions
Preheat oven to 220C/425F.

Combine the tamari, sweetener,, garlic, ginger and chili in a small microwaveable bowl or saucepan. Zap in the microwave for about 3 minutes on high, stirring after 1 ½ minutes, or bring to boil on the stove top and reduce to simmer for about 3 minutes. Leave sauce to cool and thicken slightly while you prepare the chicken.

Wash and wipe drumsticks. Place in an oven proof dish (you can line with foil to reduce the mess) and pour the soy mixture over the drumsticks, using a brush to baste the legs with the sauce.

Cook in the oven for approximately 15 mins then flip and baste your drumsticks and continue to cook for a further 15 minutes. Do one final baste and flip before returning to the oven to cook for a further 15 minutes or until the chicken is cooked through. Note that if your drumsticks are small in size you may have to reduce the cooking time.

Sprinkle with toasted sesame seeds and serve.
Recipe Notes
Feel free to add the sesame seeds for the last 15 minutes in the oven instead of sprinkling them on once they have been removed from the oven if desired. You don't have to toast them if you do this.
If you want you drumsticks browned off more place them under the grill for a couple of minutes prior to serving.
If sauce is not thick and sticky when your drumsticks are cooked, drain off the sauce and bring to a simmer in a small saucepan until sauce thickens, Brush over the drums to serve.
Cooking times in this recipe were designed for large drumsticks. Adjust your cooking time if your chicken pieces are smaller or if they are boneless.
Sauce can also be used to create a chicken and vegetable stir fry. Panfry chicken till cooked, add vegetables of choice such as broccoli, asparagus, red or green peppers and cauliflower and saute till cooked through. Stir through the sauce and heat on a high temperature until the sauce thickens slightly.
Nutritional Information
Calories:
184
kcal
|
Carbohydrates:
1
g
|
Protein:
24
g
|
Fat:
11
g
Note that we calculate our own nutritional values so they may not be precise. Calculate your own if desired. Carb values exclude sugar alcohols such as Erythritol, as they generally have no impact on blood sugar levels. 50% of the carbs from Xylitol is added to nutritional values. This is consistent with industry practice.
Do you want to receive more recipes like this one? Subscribe to our newsletter now!