Asian Slaw with Konjac Noodles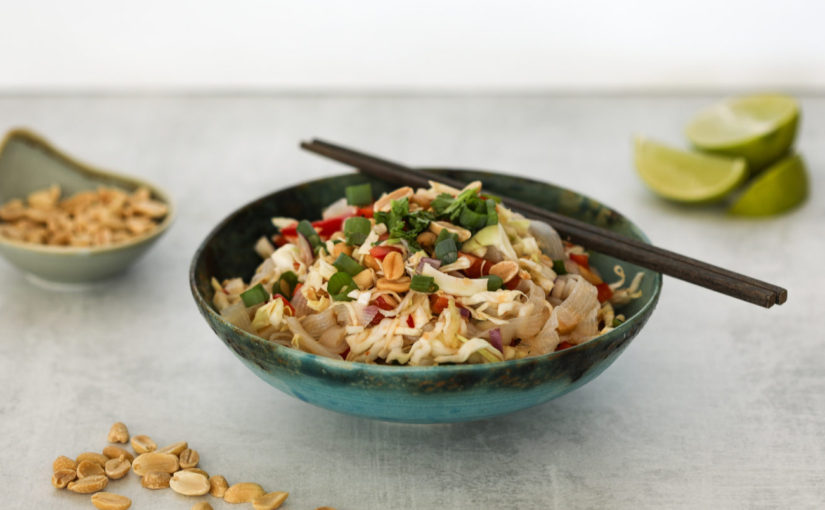 Asian Slaw with Konjac Noodles
I lived in Asia for many years and really enjoyed eating many of their fresh Asian slaw like salads, which often featured rice noodles. Having been on the low carb band wagon for many years now, I haven't eaten one of these types of salads for a long time but then….along came Konjac Noodles. Well, I say along came..they have actually been used for a long time in Japan, but they have just become popular in the rest of the world. Konjac noodles are prefect for this type of salad and are very similar in texture to rice noodles, so are ideal to use in any salad that you would normally use rice noodles. Needless to say, I'm pretty excited about this recipe for Asian Slaw with Konjac Noodles.
Konjac Noodles
This recipe is ideal for anyone following a low carb, ketogenic, lchf or sugar free way of eating. It's also a great recipe for diabetics, celiacs and anyone with gluten intolerances. It's healthy and delicious and really simple to make with a few simple ingredients. I source my Konjac noodles from Aldi or from my local supermarket. You can also buy them in Japanese or Asian specialty stores. Konjac noodles can also be called Shirataki noodles, and both are the same thing.
Make sure you cook your noodles according to the instructions on the packet. Some people complain of a funny smell but I have never had an issue with that, and I cook with many different brands. There can be a bit of a strange smell when you first open them, as they are stored in liquid, but it dissipates once they have drained and are cooked.
I was trying to come up with a lovely side dish to go with another recipe for Sugar Free Vietnamese Chicken Wings and this salad is the absolute perfect accompaniment. So, I'm really recommending that if you make one of these recipes, you make the other one to go with it.  You could also simply serve this as a salad or side dish, or you could also add some shredded chicken to it to make it a more substantial meal.
If you are looking for some more recipes a little similar to this one, check out these recipes for Low Carb Pad Thai,  Low Carb Asian Slaw with Chicken and Low Carb Mexican Slaw. I hope you manage to find the time to make this recipe for Low Carb Asian Slaw with Konjac Noodles, and I would love to see your efforts.
Kxx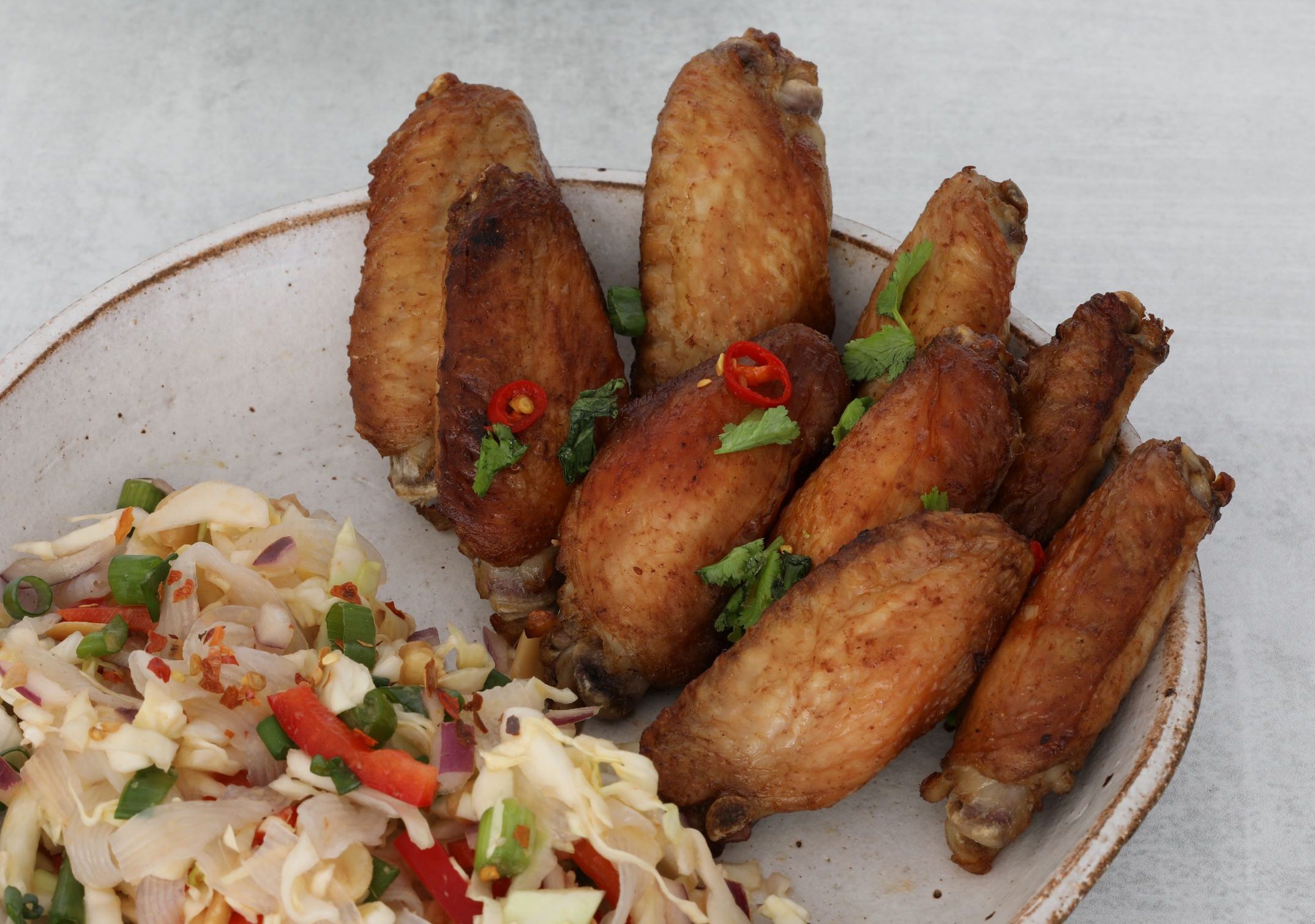 Ingredients
Slaw Ingredients
400gms

Konjac/Shirataki noodles

400gms

cabbage finely sliced cabbage

1

small red onion finely chopped

1

large red pepper/capsicum finely sliced

2

spring onions finely chopped

reserve a little for garnish

1

bunch coriander roughly chopped

reserve a little for garnish

50

gms

unsalted peanuts

for garnish

1

small red chilli finely chopped or to taste

for garnish-optional
Vietnamese Slaw Dressing
3

tablespoons

fish sauce

3

tablespoons

lime juice

1

tablespoon

rice wine vinegar

1

tablespoon

water

1

tablespoon

Lakanto Monkfruit Classic Sweetener

stevia erythritol blend-or to taste

1

teaspoon

garlic minced

1/2

teaspoon

red chilli minced

or to taste
Instructions
Slaw Method
Cook Konjac noodles according to instructions on the packet. Drain and rinse in cold water.

Add Konjac noodles to a large bowl and cut through the longer lengths of the noodles to make them shorter and easier to manage.

Add the remaining slaw ingredients to the noodles and gently mix till well combined.

Combine all of the slaw dressing ingredients together and mix well ensuring the sweetener has dissolved properly.

To Serve
Pour the dressing over the slaw mix and stir gently, till combined

Serve the slaw garnished with peanuts, some chopped spring onions, chopped coriander and additional chopped red chili on the side if desired.
Recipe Notes
Add 100-150 gms/4-5 oz of shredded chicken per person to this recipe to make an Asian Chicken Slaw with Konjac Noodles.
Omit the Konjac noodles and add additional cabbage or 400 gms lightly blanched zoodles if desired.
This recipe was developed to go with Sugar Free Vietnamese Chicken Wings and the flavors go really well together.Check out the recipe at Sugar Free Vietnamese Chicken Wings.
Nutritional Information
Serving:
1
serve
|
Calories:
129
kcal
|
Carbohydrates:
12.4
g
|
Protein:
6.2
g
|
Fat:
7.2
g
|
Fiber:
4
g
Note that we calculate our own nutritional values so they may not be precise. Calculate your own if desired. Carb values exclude sugar alcohols such as Erythritol, as they generally have no impact on blood sugar levels. 50% of the carbs from Xylitol is added to nutritional values. This is consistent with industry practice.
Do you want to receive more recipes like this one? Subscribe to our newsletter now!