Asian Beef Zoodle Salad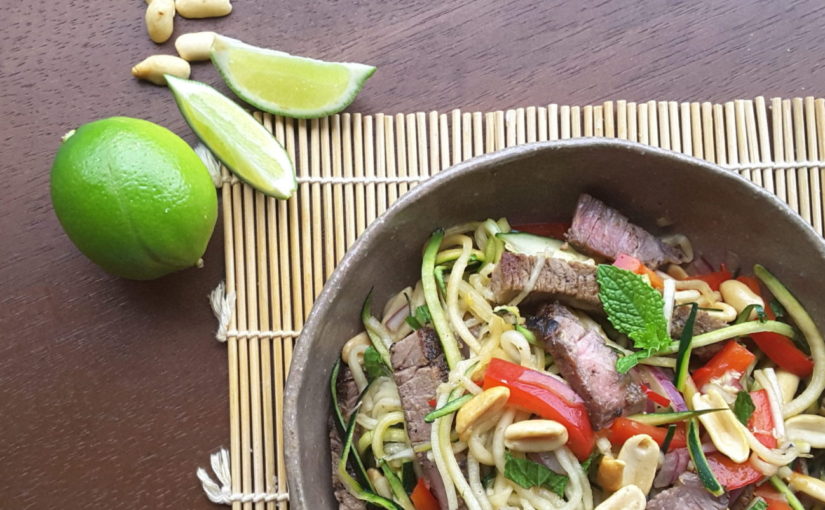 Asian Beef Zoodle Salad is a gluten free, sugar free dish that is very easy to make and tastes absolutely amazing. The combination of the lightly marinated beef with fresh salad ingredients and a refreshing dressing with hints of coriander, lime, kaffir lime and chilli base make this recipe a winner.
This dish even tastes great as a vegetarian option. You could easily add fried firm tofu and bean sprouts to make it a more substantial vegetarian meal. If you want to omit the peanuts you can also substitute them with almonds, sunflower or pepita seeds. Feel free to adjust the spices and condiments in this dressing to your own taste, especially the chili. The other thing that I love about this dish is that you can easily 'carb it up' for people who aren't watching their carbs by serving portions with rice vermicelli or hokkein noodles, which is how this recipe was originally made. However, get them to try this version first as it tastes fantastic and they might not even miss the carbs.
To cook the zoodles for this recipe, just soak them for about 5 minutes in boiling water, rinse till cool in cold water and drain well before mixing through the salad. This just makes them a little tender without overcooking them and is just perfect for this recipe. You could also serve chicken instead of beef in this recipe. You could marinate it as well or you could just use shredded cooked chicken for an easy option. If you don't have any limes, you could also use rice wine vinegar to replace it or a little lemon juice and/or normal table vinegar.
You also add some shirataki or konjac noodles to Asian Beef Zoodle Salad as another low carb noodle option. Simply cook one or two packets of noodles as per instructions on the packet. Rinse and allow to cool before tossing thorough the salad. This is a really lovely way to serve this dish. Another delicious low carb dish a little similar to this one with noodles is Low Carb Asian slaw with Konjac Noodles and there is another really simple dish, Low Carb Asian Slaw with Chicken.
A couple of tips for when you buy fish sauce and Tamari. Make sure you check the carb content on the bottle. I buy my sauces from a local Asian store and there is a huge variety to choose from, all with varying amounts of carbs in them. It is amazing how much difference there can be in the one product. The carbs are generally added sugars which just aren't necessary in these condiments.
Note that I use Tamari instead of Soy Sauce in this recipe. You could use Soy Sauce instead of Tamari but Tamari is a much healthier choice over Soy Sauce and should also be gluten free. If you buy Tamari, make sure you buy the real Japanese version as it is gluten free and has been slowly and naturally fermented. China produces some Tamari as well, but it generally isn't made the traditional way and it often has gluten in it. Please check the ingredients of these sauces first, to confirm whether they are gluten free before you buy them, particularly if gluten is an issue for you.
I hope you enjoy this recipe for Asian Beef Zoodle Salad. If you're looking for some other delicious salads that are a bit more substantial, you might want to look at these other recipes.
Low Carb Asian Slaw with Chicken
Asian Slaw with Konjac Noodle Salad
Low Carb Mexican Salad Bowl
Low Carb Cauliflower Potato Salad
Low Carb Lamb, Haloumi and Roasted Pumpkin Salad
Kxx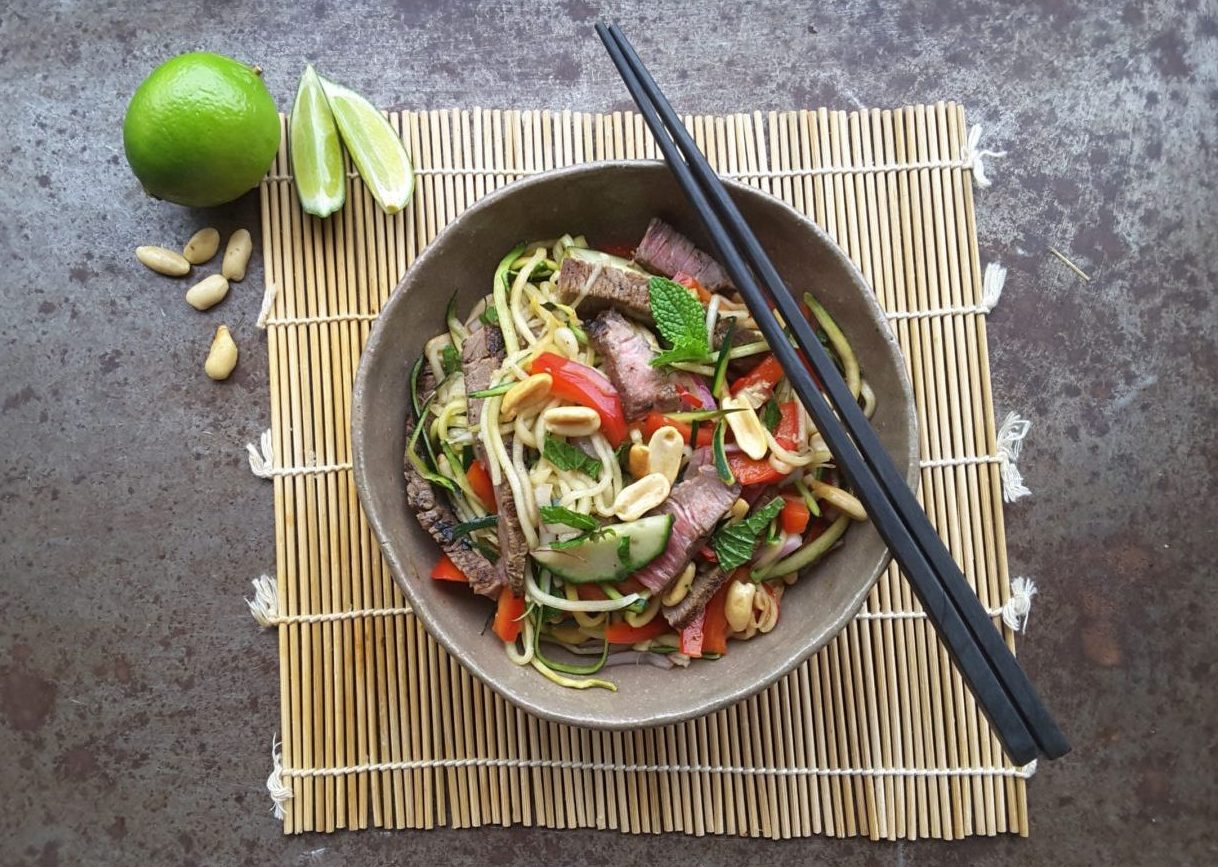 Ingredients
Salad Ingredients
500

gms

/17.5 oz rump steak

1

tablespoon

EVOO

extra virgin olive oil

1

tablespoon

Tamari

2

teaspoons

curry powder

1

teaspoon

Natvia sweetener

Stevia Erythritol Blend

1

Lebanese cucumber halved and thinly sliced

1/2

red onion thinly sliced

1

red capsicum/pepper thinly sliced

1/4

cup

chopped mint

1/3

cup

unsalted peanuts

4

small

zucchinis zoodled

enough for 4 serves
Dressing
2

teaspoons

Tamari

3

tablespoons

fish sauce

4

tablespoons

lime juice

1-2

teaspoons

Natvia

Stevia Erythritol Blend

1-2

small red chilli's thinly sliced

or to taste

3-4

Kaffir lime leaf very thinly sliced

Chopped coriander to taste

garnish
Instructions
Sprinkle the curry powder and sweetener on both sides of the steak. Add the Tamari and oil and marinade the steak for a couple of hours.

Cook the steak so that it is medium rare, or to taste and allow it to rest for 5 minutes. Slice thinly.

Meanwhile blanch the zoodles by covering them with boiling hot water for 5 minutes. Drain them and rinse with cold water. Note do not boil them!

Combine all of the ingredients for the dressing.

Combine all of the salad ingredients including the zoodles in a large mixing bowl. Mix the steak and dressing gently through the zoodles mixture. Garnish with chopped coriander.
Recipe Notes
You can use vinegar, rice wine vinegar or lemon juice instead of lime juice. Only add 3 tablespoons of these replacements if you use them, and taste before adding the last tablespoon.
This dish can be vegetarian, by switching the beef for firm fried tofu and bean sprouts. The beef can also be switched for chicken, duck or turkey.
Use Hokkein noodles, or a zoodle and Hokkein blend, if carbs aren't an issue.
Nutritional Information
Serving:
1
serve
|
Calories:
267
kcal
|
Carbohydrates:
7.4
g
|
Protein:
31.6
g
|
Fiber:
2.2
g
Note that we calculate our own nutritional values so they may not be precise. Calculate your own if desired. Carb values exclude sugar alcohols such as Erythritol, as they generally have no impact on blood sugar levels. 50% of the carbs from Xylitol is added to nutritional values. This is consistent with industry practice.
Do you want to receive more recipes like this one? Subscribe to our newsletter now!