Low Carb Asian Slaw with Chicken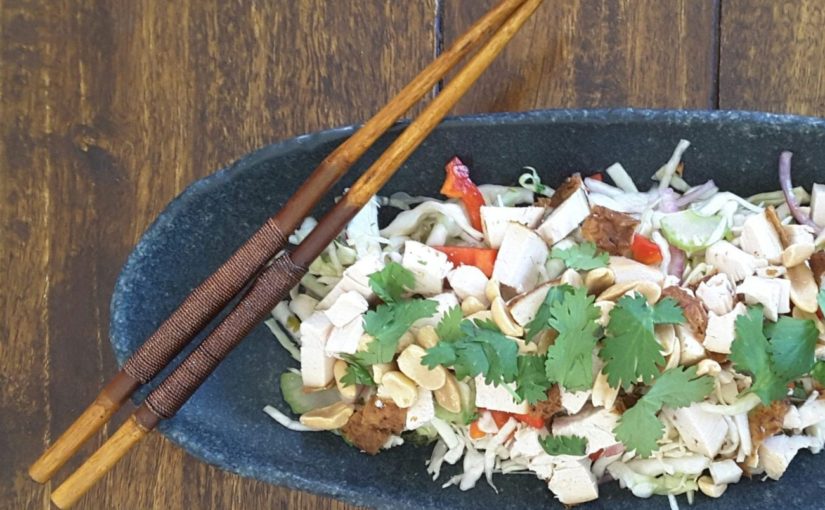 Low Carb Asian Slaw with Chicken
Low Carb Asian Slaw with Chicken is a gluten free, sugar free dish that is very easy to make and yet absolutely amazing. The combination of ginger and coriander with a hint of chili goes really well with the crunchy slaw salad base. You can cook your own chicken but I like to buy a cooked BBQ chicken, to use in this dish. As an alternative, you could pan fry or poach some chicken thighs or breast to use. I like to make the salad without the chicken, and store it in the fridge. If you don't add the chicken to the salad, it will easily last 5 days in the fridge but ensure you add the dressing as the vinegar actually helps to preserve it. I wouldn't store it for that amount of time with the chicken added to it as it chicken just won't last that long. Try the salad without the chicken as well as it tastes great.
Variations
Switch a few ingredients in this dish for a  great vegetarian option. You could easily add fried firm tofu and bean sprouts to make it a more substantial vegetarian meal. If you want to omit the peanuts you can also substitute them with almonds, sunflower or pepita seeds. Feel free to adjust the spices and condiments in this dressing to your own taste, especially the chili and ginger. The other thing that I love about this dish is that you can easily 'carb it up' for people who aren't watching their carbs by serving portions with rice vermicelli- which still means it is a gluten free dish as well. Just soak the vermicelli for about 5 minutes in boiling water, rinse till cool in cold water and drain well before mixing through the salad. This makes its a really versatile family dinner for when you are catering for individuals with different dietary requirements. You could also serve the chicken on the side of this salad as another option.
Shirataki or Konjac Noodle Variation
You also add some shirataki or konjac noodles to this dish as a low carb noodle option. Simply cook one or two packets of noodles as per instructions on the packet. Rinse and allow to cool before tossing thorough the salad. This is a really lovely way to serve this dish. Another delicious low carb dish a little similar to this one with noodles is Low Carb Asian slaw with Konjac Noodles.
Tips On Buying Fish Sauce and Rice Wine Vinegar
A couple of tips for when you buy fish sauce and rice wine vinegar. Make sure you check the carb content on the bottle. I buy mine from a local Asian store and there is a huge variety to choose from all with varying amounts of carbs in them. It is amazing how much difference there can be in the one product. The carbs are generally added sugars which just aren't necessary in these condiments. If you want to use soy sauce instead of fish sauce, Tamari is a good healthy choice. Some Tamari is gluten free as are some of the mushroom soy sauces. Please check the ingredients of these first though to confirm whether they are gluten free before you buy them, particularly if gluten is an issue for you.
More Delicious Low Carb Salad Recipes
Looking for some other delicious salads that are a bit more substantial, you might want to look at these other recipes. There are many other fabulous recipes as well, so you could also just do a search for salads on this website.
Low Carb Caesar Salad
Asian Slaw with Konjac Noodle Salad
Asian Beef Zoodle Salad
Low Carb Mexican Salad Bowl
Low Carb Cauliflower Potato Salad
Low Carb Lamb, Haloumi and Roasted Pumpkin Salad
I hope you enjoy this.
Kxx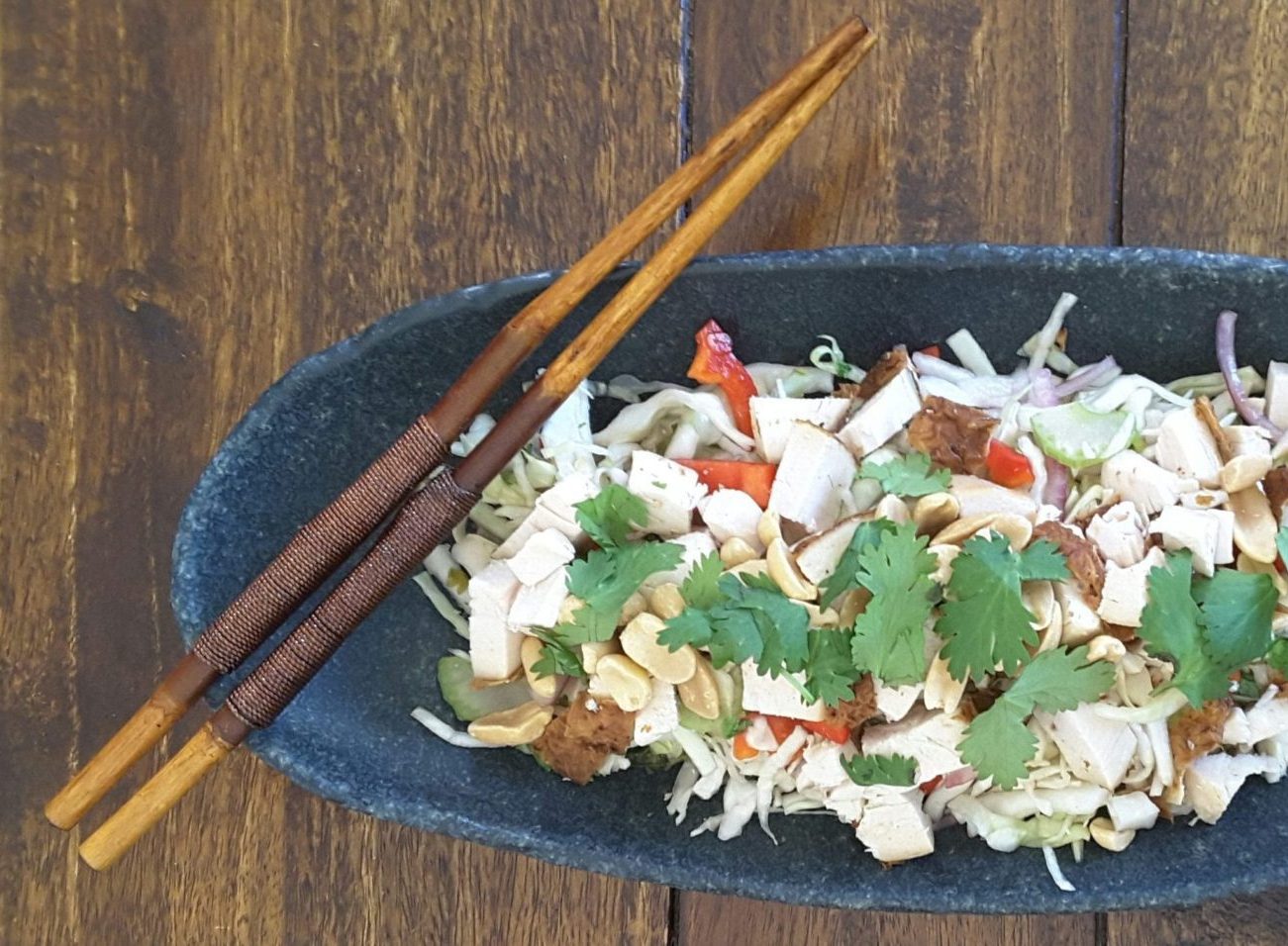 Ingredients
Salad Ingredients
500

gms

cabbage thinly sliced

500

gms

sliced/shredded chicken

3

celery stalks thinly sliced

½

red onion thinly sliced

½

red pepper/capsicum thinly sliced

1

bunch of coriander roughly chopped

Chopped coriander and 4 tablespoons unsalted peanuts to garnish.
Dressing
1

tablespoon

Tbspn fish sauce or 2 Tbspns soy sauce

4

tablespoons

Tbspns rice wine vinegar

1-2

tablespoon

Stevia Erythritol Blend Powder-or to taste

1

small to medium chilli finely chopped- or to taste

1

teaspoon

tspn finely chopped/minced ginger

1

clove

garlic chopped/minced
Instructions
Slice the vegetables for the salad as finely as you can. Toss them together in a large bowl.

Add the chicken and most of the coriander saving some coriander to garnish at the end.

Mix all of the ingredients together for the dressing and pour over the salad.

Allow the flavors to soak in for at least 15 minutes before serving.
To Serve
Divide the slaw into 4 serving bowls and garnish each bowl with 1 tablespoon of unsalted peanuts and leftover coriander leaves.

Carb lovers variation- serve on top of rice vermicelli noodles that have been soaked in hot water for 5 minutes, rinsed in cold water and drained.

Add some konjac noodles/shirataki noodles for a great low carb variation.
Nutritional Information
Serving:
1
serve
|
Calories:
339
kcal
|
Carbohydrates:
13
g
|
Protein:
37
g
|
Fat:
14
g
|
Fiber:
2.1
g
Note that we calculate our own nutritional values so they may not be precise. Calculate your own if desired. Carb values exclude sugar alcohols such as Erythritol, as they generally have no impact on blood sugar levels. 50% of the carbs from Xylitol is added to nutritional values. This is consistent with industry practice.
Do you want to receive more recipes like this one? Subscribe to our newsletter now!