Sugar Free Vietnamese Chicken Wings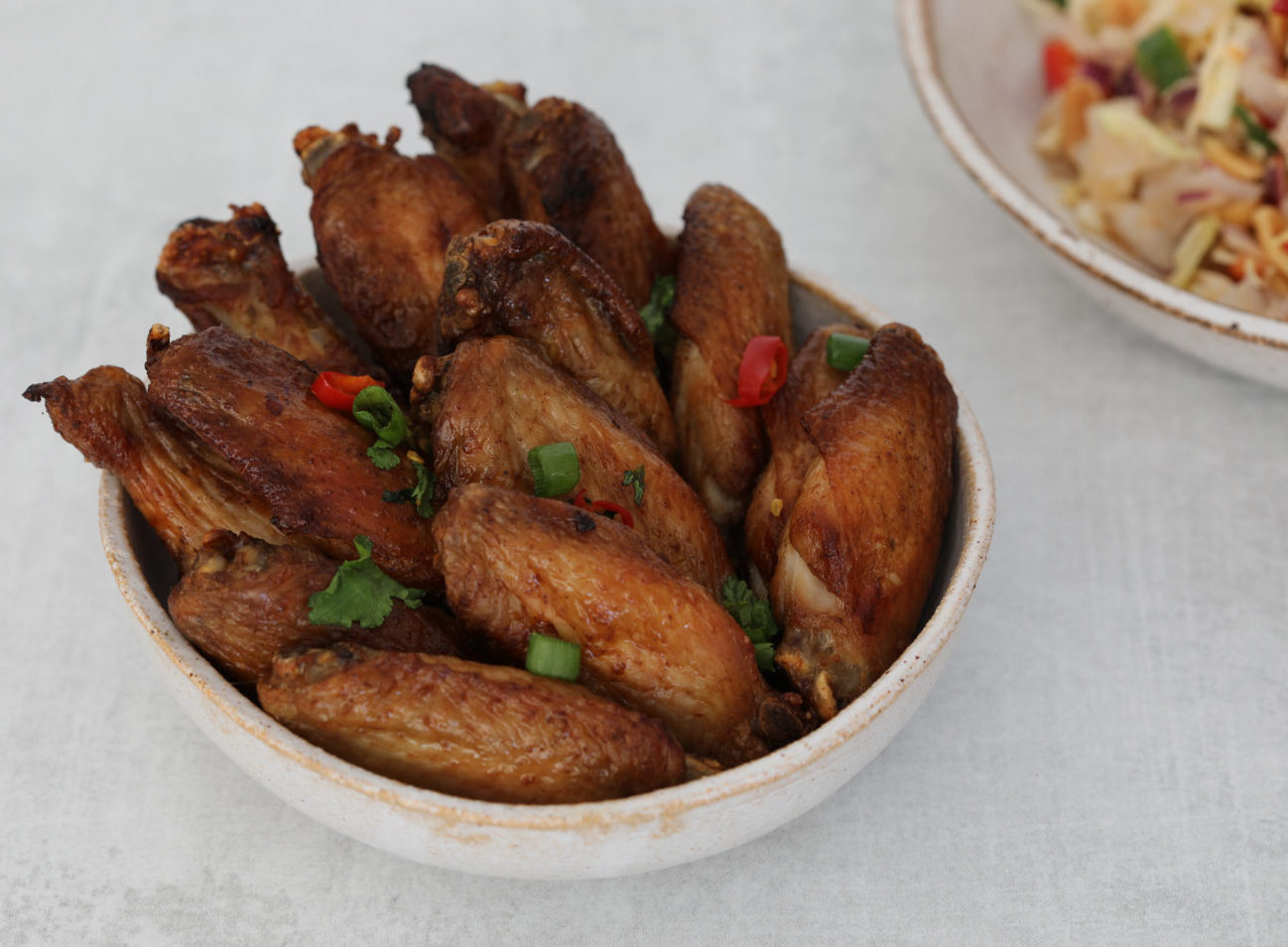 Sugar Free Vietnamese Chicken Wings
These Sugar Free Vietnamese Chicken Wings are cooked in the oven in a such a way that renders the fat on the wings and then turns it really crispy on the outside. I love the cooking method that I use to cook these chicken wings as it produces a really crispy skin on the chicken, yet the meat is still moist on the inside, without the need for frying or adding any additional oil as it is all done in the oven. The flavor of these wings is absolutely delicious. They are subtle enough to not overpower but flavorsome enough to have you reaching for more and cooking this recipe again..and again and again.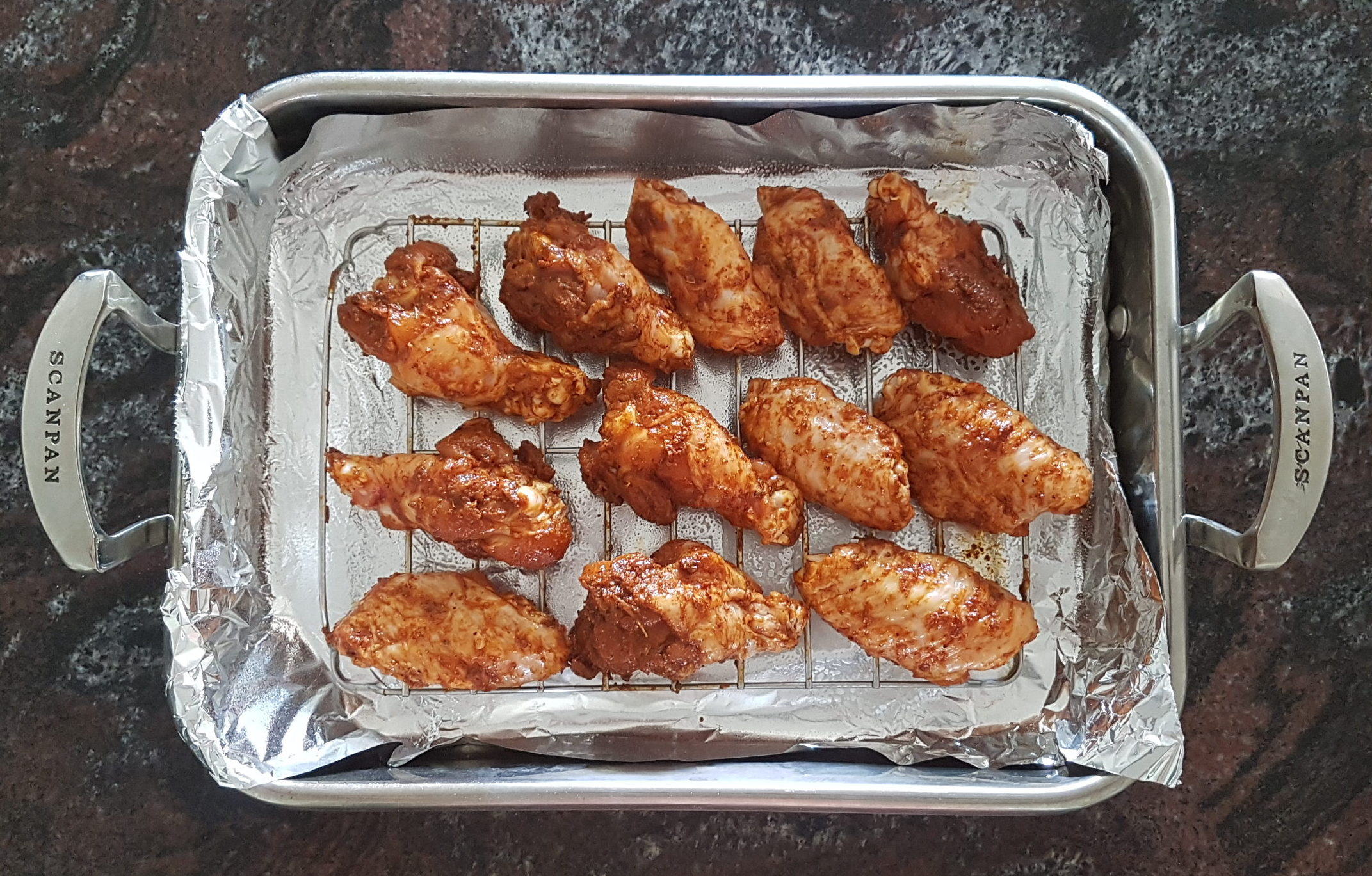 How To Serve Sugar Free Vietnamese Chicken Wings
Try these wings simply on their own as a delicious, simple to make snack that is perfect for LCHF and keto advocates. Aside from being one of my favorite snacks, I really ove to serve these wings as a main dish with a serve of Low Carb Asian Slaw with Konjac Noodles on the side. This particular slaw recipe was actually made to go with this recipe and it can be made with or without Konjac Noodles or Shirataki noodles-both of these are the same product.
Konjac noodles are a little like rice noodles and are a great replacement for rice noodles in recipes like this one. I highly recommend you try it with the noodles, as it really is a lovely recipe and really compliments these wings. You could also serve them with this wonderful, simple to make Asian Slaw. It will really compliment the flavor of the wings.
More Delicious Chicken Wing Recipes
If you are a wing fan, don't forget to make my amazing simple to make Sugar Free Crispy BBQ Wings. The recipe features a delicious creamy dipping sauce which does so well with these wings. They are cooked using the same method as this recipe so have that really crispy skin but are moist and tender on the inside.
Finger licking fantastic!! OMG…..I want some now.
Enjoy.
Kxx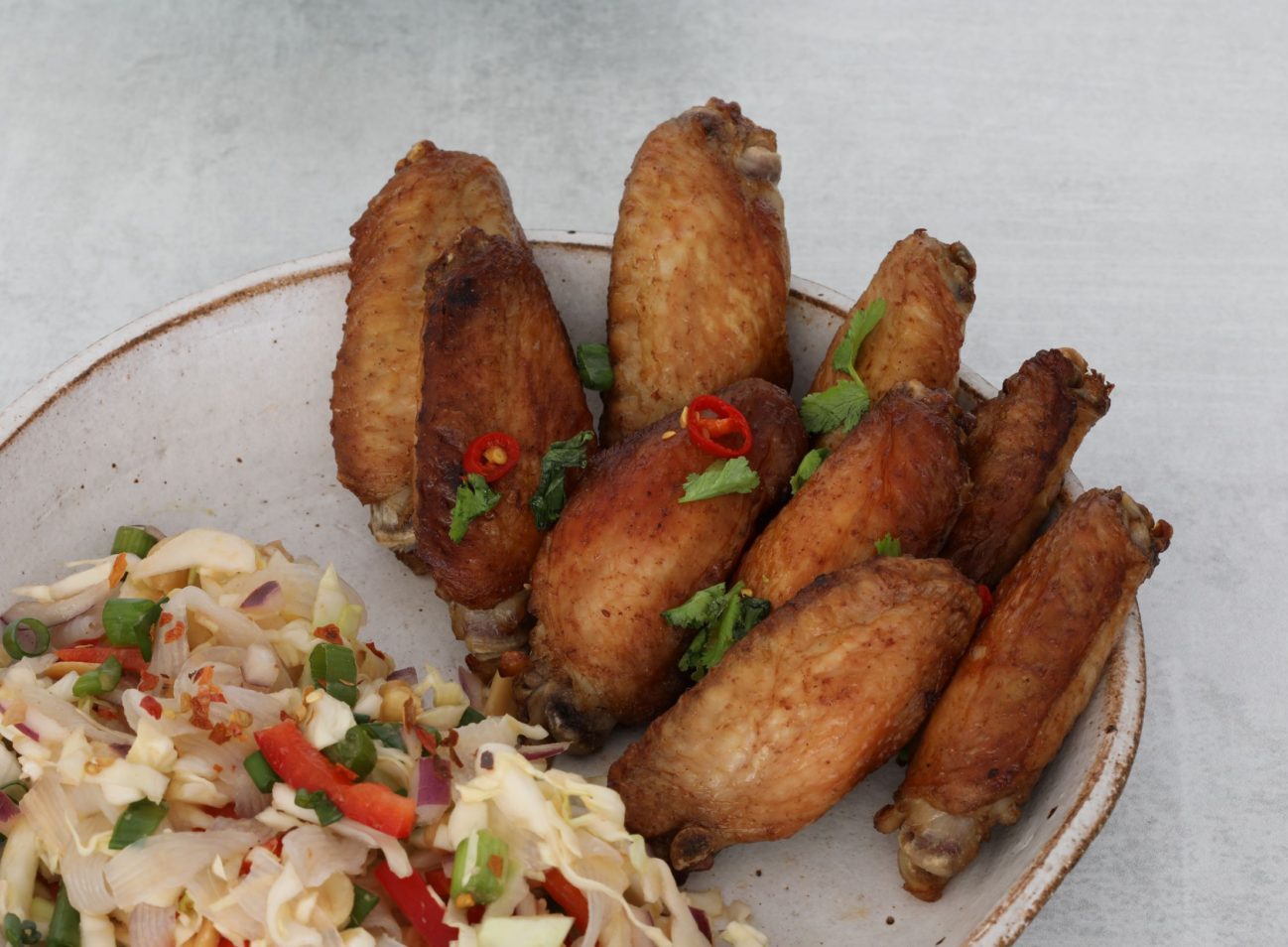 Ingredients
1

kg

chicken wings

1

tablespoon

Tamari

1

tablespoon

fish sauce

1

teaspoon

onion powder

1/2

teaspoon

garlic powder

1/2

teaspoon

chili powder

1/4

teaspoon

5 spice powder

1/2

teaspoon

salt

1/4

teaspoon

ground pepper

1

teaspoon

Monkfruit

or alternative sweetener- or to taste
Instructions
Marinate the Chicken Wings
Wash and dry the chicken wings if desired. Cut the chicken wings into pieces at each segment discarding the wing tips if you don't want them. Hint-dislocate the joint to find the right place to cut through. Alternatively buy wings already cut.

Place chicken wings into a plastic bag and add the dry ingredients. Shake the wings in the bag till the spice mix has evenly coated the wings. Add the Tamari and the fish sauce. Allow the wings to marinate for a few hours or overnight if possible.
Cook the Chicken Wings
Preheat oven to 130 C/260 F fan forced

Line a large shallow baking tray with foil. Place a large baking rack in the baking dish and wipe or spray the rack with oil of choice.

Lay the chicken pieces on top of the cooking rack so they aren't touching each other and cook in the oven at 130 C/260 F fan forced for 15-20 minutes. You may need to use to more than 1 pan to fit all of the chicken pieces.

Keep the chicken in the oven and increase the oven temperature to 210 C/410 F fan forced

Continue cooking the chicken for a further 25-35 minutes, or until the chicken is crispy. If you use 2 pans, rotate them half way through cooking. There is no need to turn the chicken.
To serve the chicken wings, sprinkle with fresh chopped coriander and chopped fresh red chili for a bit more heat.
Eat as a snack or serve with Low Carb Asian Slaw with Konjac Noodles.
Nutritional Information
Serving:
1
serve
|
Calories:
100
kcal
|
Carbohydrates:
1
g
Note that we calculate our own nutritional values so they may not be precise. Calculate your own if desired. Carb values exclude sugar alcohols such as Erythritol, as they generally have no impact on blood sugar levels. 50% of the carbs from Xylitol is added to nutritional values. This is consistent with industry practice.
Do you want to receive more recipes like this one? Subscribe to our newsletter now!