Sugar Free Siracha Chicken Wings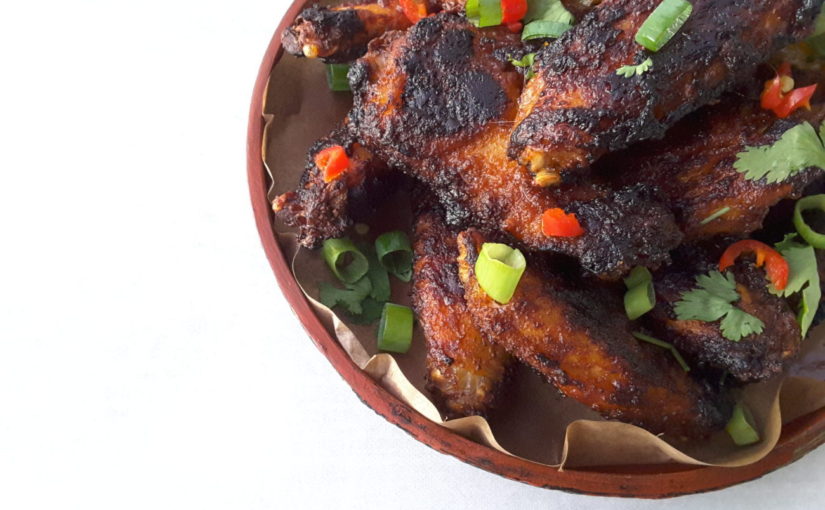 Sugar Free Siracha Chicken Wings
Siracha lovers will devour these crispy Sugar Free Siracha Chicken Wings. They have just the right amount of spice with a hint of sweetness and are wonderfully moist on the inside. Chicken Wing Heaven!! Feel free to turn the heat up or down to suit your taste as well.
You would think that these wings have been fried because of the crispy skin, but they are simply cooked in the oven. This fantastic method of cooking gives this perfect finish to this chicken wing recipe. I personally think it's the best way to cook wings. No additional fat is required to cook these, as the chicken fat in the wings is rendered in the cooking process.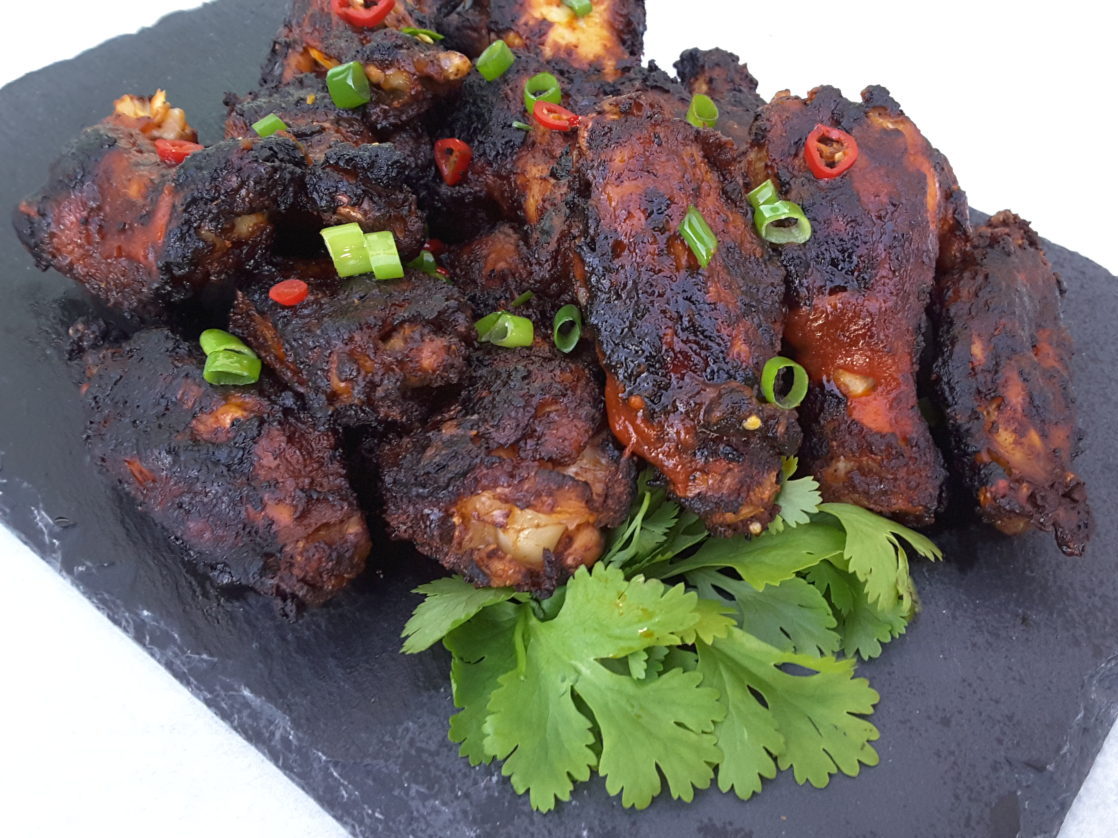 HOw To Serve Sugar Free Siracha chicken Wings
I personally love to eat these fresh from the oven without any dipping sauce. There is plenty of flavor in the wings and they have just the right amount of spice for my taste. If you want to add a dipping sauce, you could use this Sugar Free Ranch Dressing. Alternatively, simply mix 2 tablespoons of Mayonnaise with 2 tablespoons of sour cream, salt and pepper to taste and a teaspoon of chopped chives or spring onions. This dipping sauce will be perfect if you want find the spice is a little too intense for you.
Why Use Baking Powder in this Recipe
You may be wondering why I add a little baking powder to the chicken wings in this recipe. The baking soda actually raises the pH levels in the chicken, allowing the peptide bonds in the skin to break down. This then enables the skin to become more crisp. Feel free to leave out the baking powder as the wings will still really crispen up cooked this way regardless.
Apply this seasoning and cooking method to any chicken or duck recipe where you want the skin to be crisp and brown. Just make sure you use aluminium free baking powder, as some people are really sensitive to the taste of it. And who wants to digest aluminium??? Ensure that the baking powder doesn't clump and is evenly mixed with the spice mix. There is nothing worse than eating a lump of baking powder.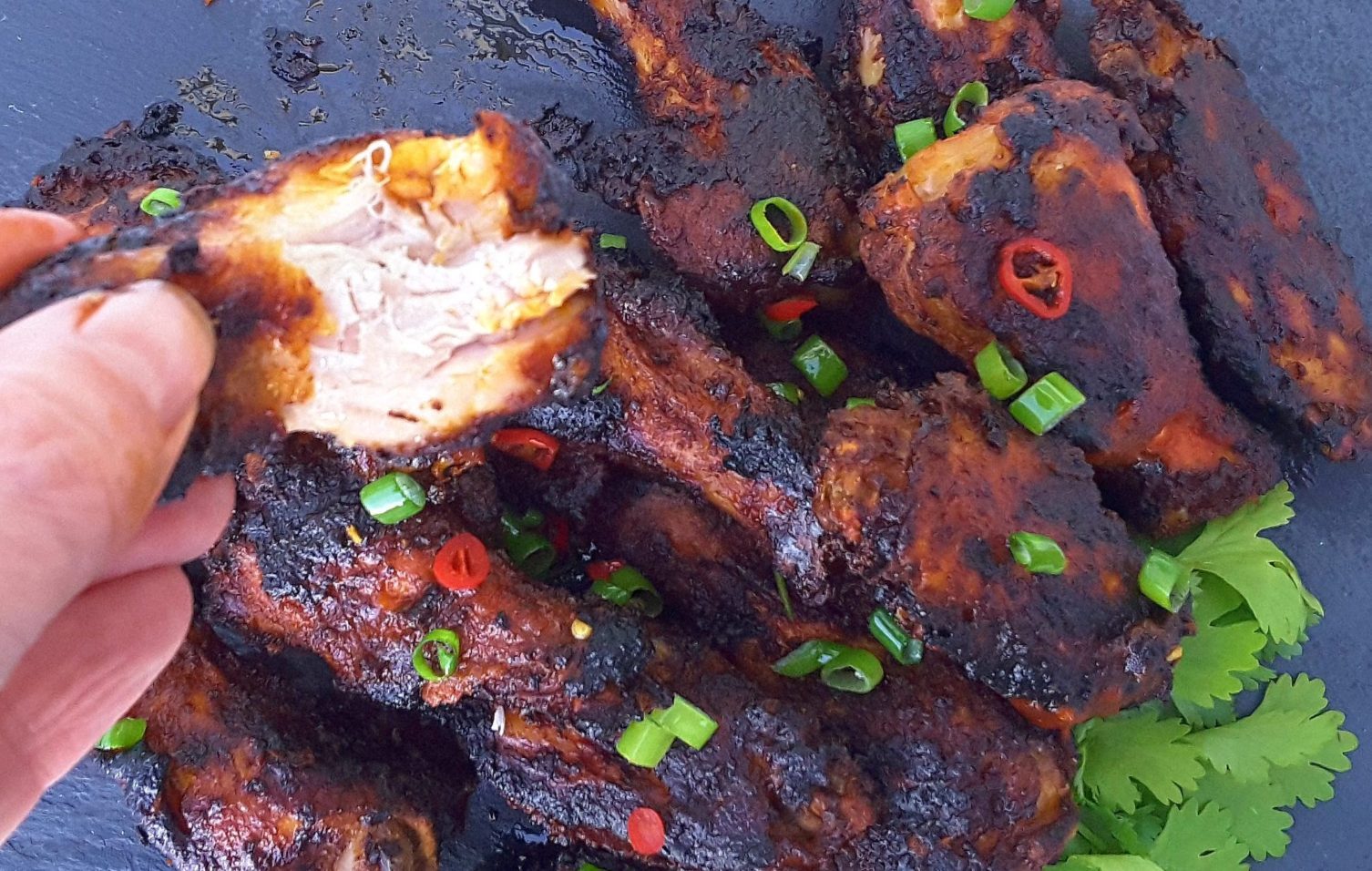 More Delicious Wing Recipes
There are a couple of other wing recipes featured as well that are cooked using the same method so make sure you check them out. There's a fabulous BBQ Chicken Wing Recipe as well as a great recipe for Vietnamese Chicken Wings. All of the recipes are sugar free and low carb so are perfect for any diabetics or anyone trying to reduce the sugar and carbs in their life.
Enjoy Kxx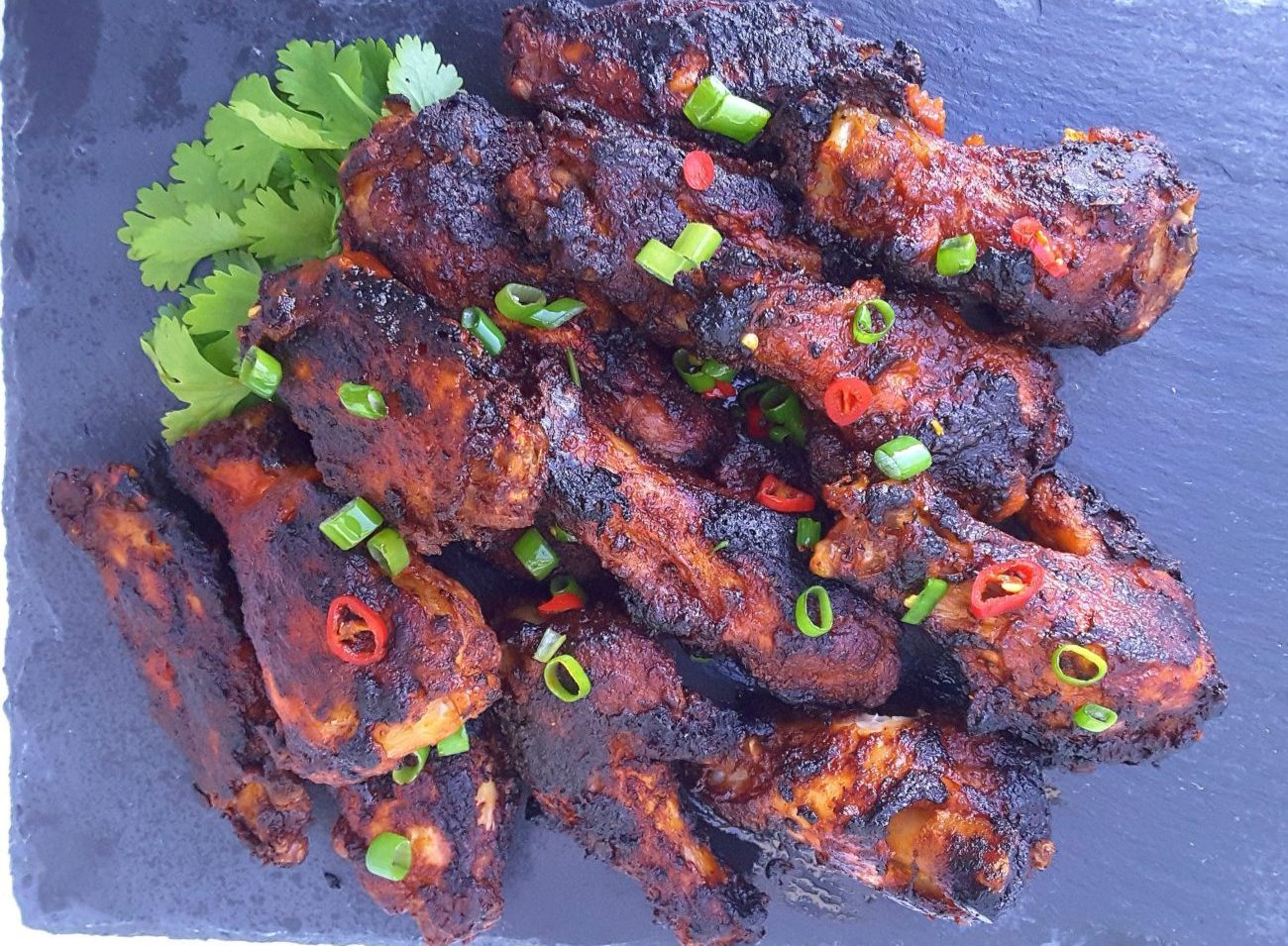 Ingredients
Chicken Wings
1

kg

chicken wings

or 1 kg chicken nibbles

1

tablespoon

mild paprika

1

teaspoon

garlic powder

1

teaspoon

onion powder

1

teaspoon

aluminium free baking powder
Siracha Basting Sauce
1/3

cup

Siracha

2

tablespoons

melted butter

1/2

teaspoon

tamari

1-2

teaspoons

Stevia Erythritol Blend

or Monkfruit Golden -optional and to taste

pinch

salt
Instructions
Preheat the oven to 130 C/ 260 F fan forced.

Wash and dry the chicken wings if desired. If whole wings, cut the chicken wings into pieces at each segment discarding the wing tips if you don't want them. Hint-dislocate the joint to find the right place to cut through.

Line a large baking tray with foil.

Mix the seasonings and baking powder (not baking soda!!) together and add to a large zip lock bag. Shake well to combine before adding the chicken wings. Shake and move the bag till the mix has coated the chicken.

Lay the chicken pieces in the tray so they aren't touching each other and cook in the oven at 130 C/260 F fan forced for 20 minutes. You may need to use to more than 1 pan to fit all of the chicken pieces.

Turn the temperature up to 210 C/410 F and continue cooking the wings for a further 20 minutes. Meanwhile, mix all of the ingredients together for the Siracha Basting Sauce.

Remove the wings from the oven and baste both sides of the wings with the basting sauce. Turn the oven down to 200 C/390 F. Return the wings to the oven and bake for between 5-8 minutes on one side before turning the wings over and cooking for a further 5 8 minutes on the other side. Watch them to make sure they do not burn!

Serve sprinkled with chopped spring onions and chopped red chilli for garnish, or a sprinkling of fresh chopped coriander or parsley. Enjoy as they are fresh from the oven or serve with the sour cream dipping sauce recipe mentioned in the notes or this recipe for a Ranch Dipping Sauce.
Recipe Notes
If you want a dipping sauce for the wings (not necessary but good for extra spice) make some additional basting sauce and use for dipping.
For a more substantial meal serve with salad, vegetables or a simple slaw.
Omit the baking powder if you wish to- although they do help crispen the wings up. They still taste amazing.
Nutritional Information
Serving:
1
serve
|
Calories:
685
kcal
|
Carbohydrates:
5
g
|
Protein:
46
g
|
Fat:
53
g
|
Fiber:
1
g
Note that we calculate our own nutritional values so they may not be precise. Calculate your own if desired. Carb values exclude sugar alcohols such as Erythritol, as they generally have no impact on blood sugar levels. 50% of the carbs from Xylitol is added to nutritional values. This is consistent with industry practice.
Do you want to receive more recipes like this one? Subscribe to our newsletter now!