The Good Fat Mayonnaise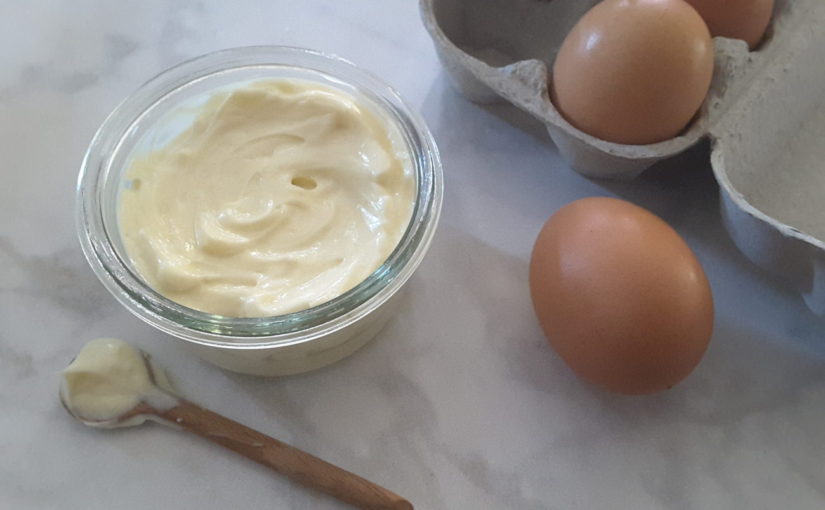 The Good Fat Mayonnaise! Pure, fresh mayonnaise made from scratch in minutes and it tastes divine. You will never buy mayonnaise again. I'm very conscientious of the added ingredients, sugars and preservatives that are common in processed foods that we buy. Equally, I'm also aware of just how convenient some of these foods are. My goal is to share simple recipes with you for products that we have at home in our pantries and fridges. Wait until you discover how easy it to make many processed foods yourself.
I'm starting with a simple recipe for The Good Fat Mayonnaise. A pure, healthy fat based mayonnaise which takes just minutes to prepare. Yes just minutes! Make sure you check out the video below on how to make your own mayonnaise. You will realise how easy it is to make and will never buy store bought Mayonnaise again. Make sure you sign up to my youTube channel, Karen Tremaine's Keto Kitchen so you don't miss out on any new recipes.
Mayonnaise as A Base Recipe
Mayonnaise is made up of a few simple ingredients and is very easy to make. It's a versatile dressing that can be used to enhance anything from salads through to a serve of Japanese style asparagus. Mayonnaise is used as part of a recipe for my favorite artichoke dip, which you will find on this website. It can also be the used to create low carb and sugar free aioli, tartare and seafood sauces. You can adjust the taste of this recipe by adjusting the amount of vinegar and/or lemon juice that you use. You can also add other flavorings such as herbs and spices and also adjust the amount of salt and pepper to your liking.
If Your Mayonnaise Splits
Many people who make mayonnaise have issues with it splitting but I have never had that problem with this recipe. I can remember reading an article that suggested adding Dijon mustard would assist in mayonnaise ingredients emulsifying and helped prevent splitting. As I've never made mayonnaise without Dijon mustard, I can't tell you whether this is true or not. I have never had an issue with it splitting though so maybe it is the mustard! I know that many people fuss over whether eggs are at room temperature but I use them straight from the fridge without any issues.
What Oil Should you Use
Use extra virgin olive oil (EVOO), avocado or macadamia oil in mayonnaise if you want healthy oil choices. You could even try a mix of these oils if you wanted to. I don't like using any processed vegetable, canola, safflower oils etc and also avoid products such as light extra virgin olive oils (not light flavored). Many of these oils are chemically processed, bleached and deodorised to get that lighter and more palatable taste and color. Yes, they are lighter in flavor but for health reasons I avoid using these oils at all costs. Add in the associated health issues with the over consumption of Omega-6 oils with these oils and you really should avoid using them.
Why expose yourself to increased heart and stroke risks and free radicals if you can avoid using them. If you are in Australia, my favorite light flavored EVOO is made by Cobram Estate. It is very mild in flavor and is perfect to use in recipes calling for a mild flavored EVOO.
Some of you may find that the taste of home made mayonnaise is very different to the commercially processed mayonnaise you are used to. Do yourself a favor and read what oils, sugars and additives are used in commercial mayonnaise. I would much rather have my taste buds adjust to something that is healthy for me than eat a product that is not good for my health. I have no doubt that you will come to appreciate this mayonnaise for what it is, and that's a delicious, rich and creamy, healthy fat based pure mayonnaise. It's free from sugar and is so good for you!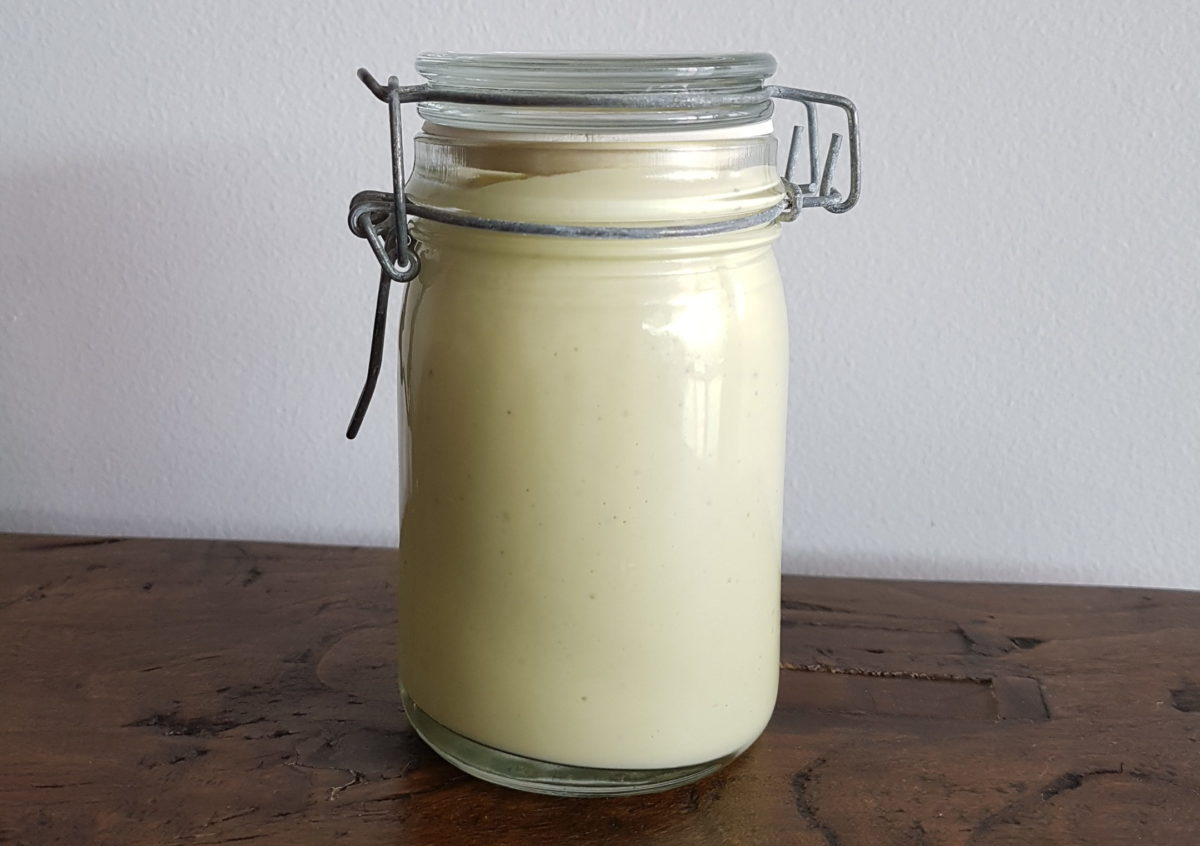 How To Lengthen the shelf life of your mayonnaise
I hope you find the time to make your own mayonnaise. I have also given instructions in the recipe on how to extend its shelf life by adding whey to it. This is handy, especially if you know you aren't likely to use it all within a couple of weeks. This is called lacto fermenting. Just stir in the whey once you have finished making the mayonnaise and let it sit on the bench for about 6 hours before refrigerating. This activates the bacteria, enabling fermentation to take place which then assists in preventing the mayonnaise from going off. You can drain some whey off from a natural sugar free yogurt if you have any in the fridge.
If you want to do this, I have a couple of tips for you. Ensure the yogurt is full fat, natural, plain and doesn't have any additives or sugars. Buy the freshest yogurt you can. Try using a thick elastic band to keep your muslin (or even a new chux wipe) in place over a cup or jar so the whey collects below. Make sure the muslin doesn't touch the whey that collects below or your whey will cloud with yogurt. For such a small amount of yogurt it shouldn't take too long to collect a tablespoon of whey. You have now also created Greek Yogurt so enjoy…and nothing has been wasted.
Try using this mayonnaise in some of my other recipes such as  Low Carb Mexican Slaw  and this delicious recipe for Artichoke Dip.
Feel free to message me if you have any questions about this recipe.
Kxx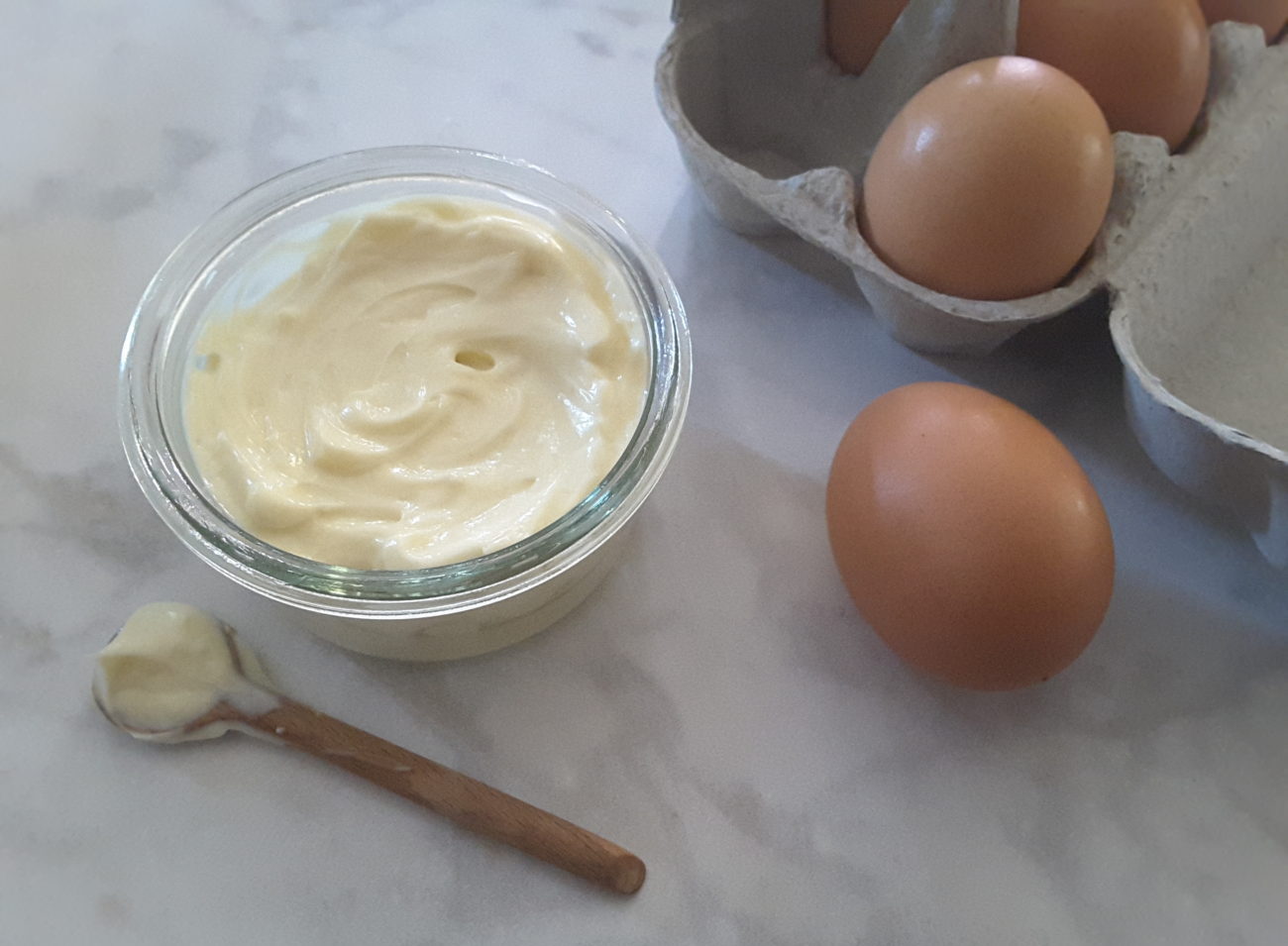 Ingredients
1

cup

Extra Virgin Olive Oil (EVOO)- light in flavor

-or avocado or macadamia oil

1

whole fresh egg

1

teaspoon

Dijon mustard

.5- 1.5

tablespoons

lemon juice or vinegar/Apple Cider Vinegar

1/4

teaspoon

salt
Instructions
Method
Add the oil to a high sided narrow bowl or container. Crack the egg into container

Add the salt, mustard, lemon juice and/or vinegar to the container.

Starting with the stick on the bottom of the bowl, blend the mixture until the base liquid becomes creamy like mayonnaise. Depending on the speed of your stick, this will not take long. ie., as little as 5-10 seconds.

Now slowly start moving the stick in a circular motion around the container working towards the top line of the mixture. You will leave a creamy trail behind you. Blend all trails of oil but take care not over blend. At times, this can take less than 1 minute.

Stir in any additional flavourings such as pepper etc.

Store in a sealed container in the fridge up to 2 weeks.
Extending the life of your Mayonnaise
Adding 1 tablespoon of whey will extend the life of this in the fridge to around 2 months. Stir into your mayonnaise and leave at room temperature for about 6 hours prior to refrigerating. Use whey left over from making Greek Yoghurt. Simply strain ¼ cup quality plain natural yoghurt through some muslin to create your own whey. It's the green liquid that separates from the yoghurt.
Variations
Seafood Sauce- to 1/2 cup of mayonnaise, add 2 tablespoons of sugar free tomato sauce (or 1 tablespoon tomato paste sugar free), 1 teaspoon of Worcestershire sauce, the juice of 1/4 lemon, 1 teaspoon Tobasco sauce (or switch for horseradish), 1 teaspoon Dijon mustard and 1/4 teaspoon Stevia Blend or sweetener of taste. Mix until combined.

Tartare Sauce- add 2 gherkins chopped, 2 teaspoons lemon juice, 2 teaspoons fresh chopped parsley, 2 teaspoons capers and 2 teaspoons minced onion. Season with salt and pepper. Mix to combine.

Garlic Aioli- add 3 cloves of freshly minced garlic, a pinch of salt and pepper and 2 tablespoons of lemon juice. Stir to blend.
Video
Nutritional Information
Serving:
1
serve
|
Calories:
193
kcal
|
Carbohydrates:
0.2
g
|
Fat:
22.4
g
|
Fiber:
0.1
g
Note that we calculate our own nutritional values so they may not be precise. Calculate your own if desired. Carb values exclude sugar alcohols such as Erythritol, as they generally have no impact on blood sugar levels. 50% of the carbs from Xylitol is added to nutritional values. This is consistent with industry practice.
Do you want to receive more recipes like this one? Subscribe to our newsletter now!