Keto Okonomiyaki Chaffle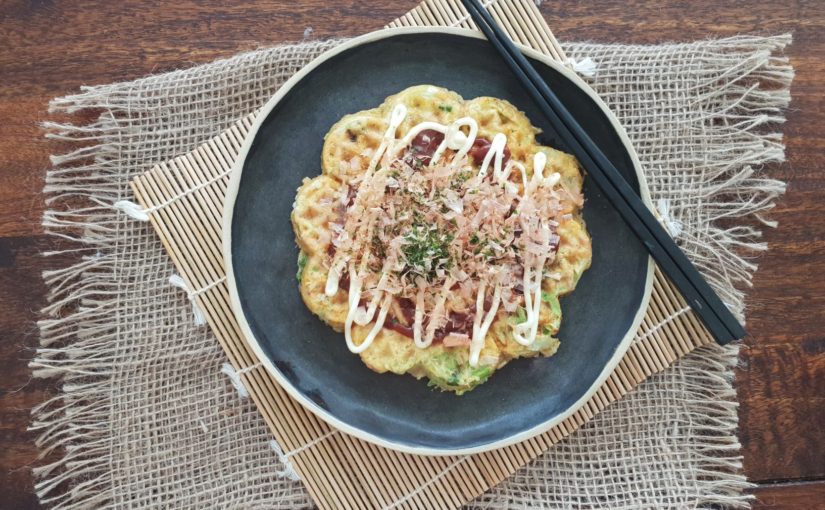 This simple to make recipe for a Keto Okonomiyaki Chaffle. It's a delicious version of the famous savory Japanese pancake and the taste is spot on. This chaffle adaptation makes okonomiyaki so quick and easy to make, which means you can have a meal ready to eat in no time. The recipe serves 1 person but these are so quick to make that it will take no time to make more serves. The beauty of a chaffle is that anyone can make them. They are quite fun to make as well. Note that you can make 1 large chaffle (Belgian style waffle size) or 2 smaller mini chaffles with this recipe.
Check out this video to see just how easy these Keto Okonomiyaki Chaffles are to make. Make sure you subscribe to my youTube channel, Karen Tremaines Keto Kitchen if you want to see more videos like this one.

How To Serve Keto Okonomiyaka Chaffle
Okonomiyaki is traditionally served with okonomi sauce but it is high in sugar and sickly sweet. This recipe gives you two options for a sauce substitute. The instant option is to use a sugar free BBQ sauce, or you can make a Low Carb Okonomi Salsa to take its place- see the recipe in the notes below. The texture of the salsa is not at all like the traditional sauce, which can only be achieved by adding lots of sugar and thickeners, but it tastes absolutely divine.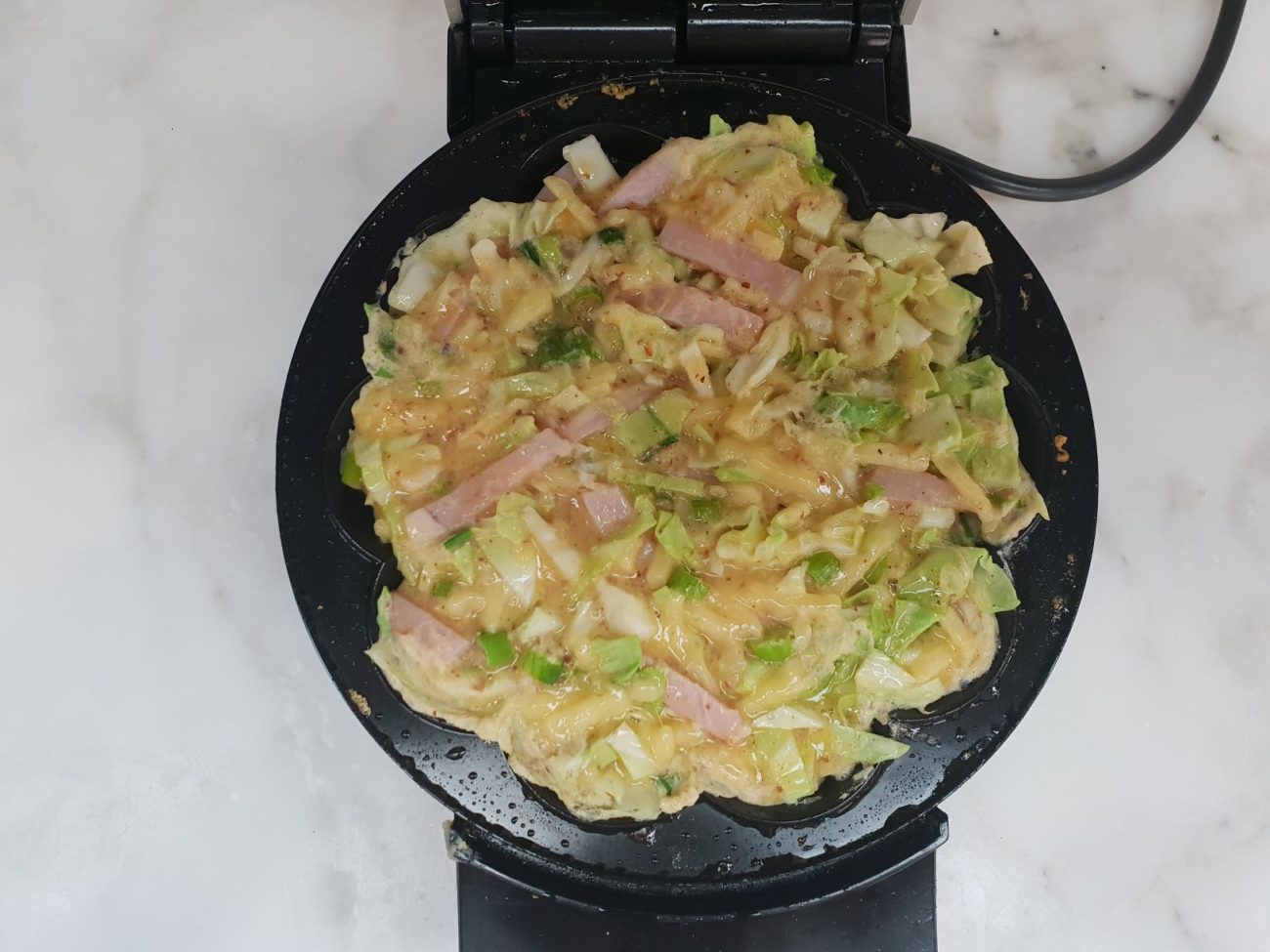 This is one of my favorite dishes from when we lived in Tokyo and Okonomiyaki, like all food in Japan, has very regional influences. Some love it with bacon added, others with squid, while other variations could include adding sweet potato or filling it with Yakisoba. That's the great thing about this recipe, as you can put your own stamp on it. I love that this recipe has brought an easy to make okonoiyaki back into my life.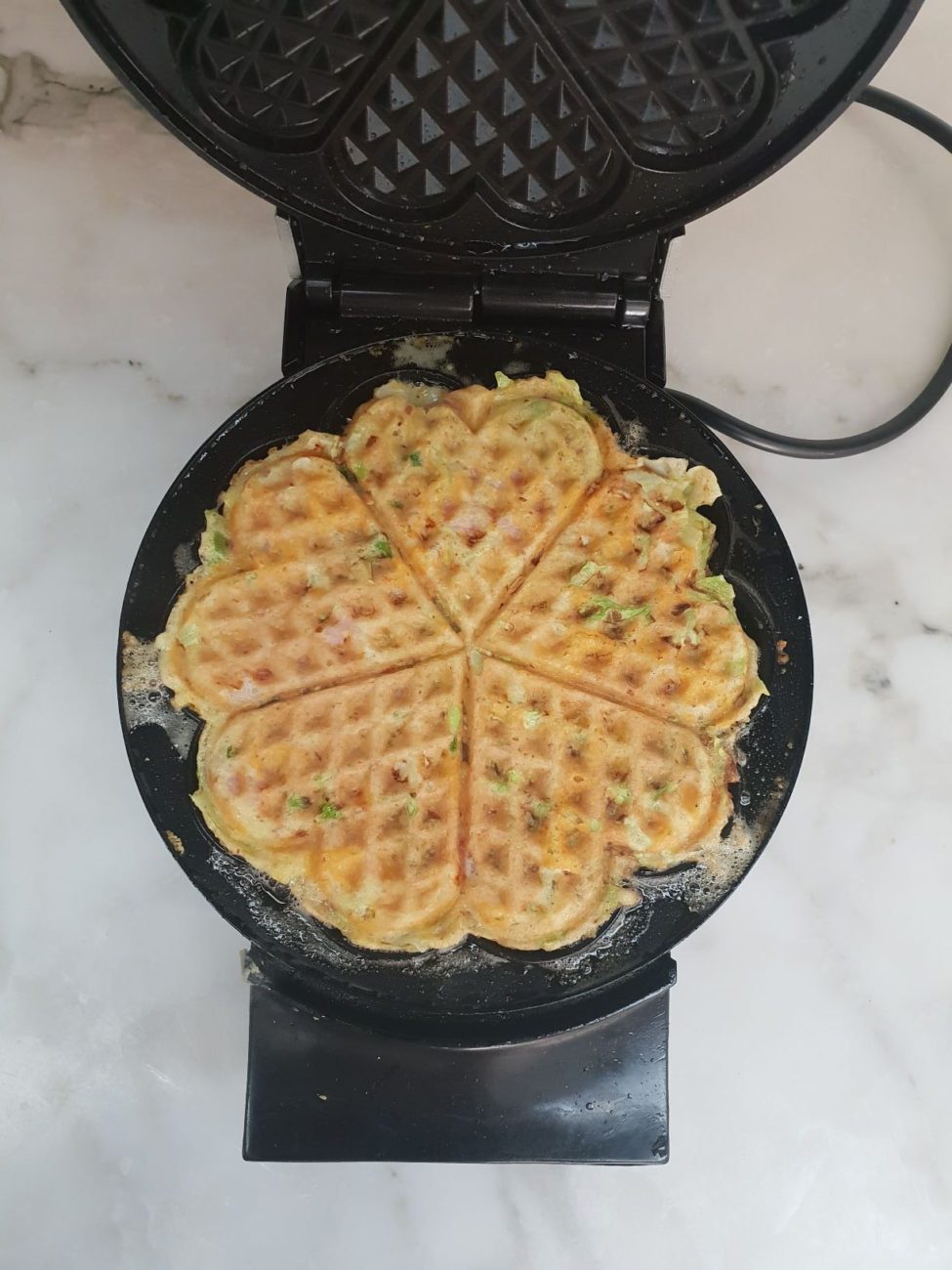 Keto Okonomiyaki Chaffle Toppings
If you've never eaten okonomiyaki before you are in for a treat. Okonomiyaki is a cabbage and egg based, thick hot cake that is traditionally served drizzled with mayonnaise and Okonomi sauce. It is also served with bonito flakes (shaved dry tuna flakes) and another form of seaweed called aonori, which looks a little like dried parsley. I often make my own mayonnaise -click for a really simple recipe that will take less than 2 minutes to make. You can also use store bought mayonnaise as well, such as Kewpie, but just check for added sugars and preservatives.
Make sure you try the suggested toppings as they really compliment the dish. If you have never tried it before, now is the time to be a little adventurous. If you are trying to source the bonito and aonori you will find them in Asian stores. You could also switch the aonori for nori flakes if desired
Although I'm a bit of a traditionalist when it comes to topping Okonomiyaki, you can vary how you serve this recipe by adding any topping that you like. Some grat options are egg, vegetables, daikon, radish or salad. You could make a plain flavored okonomiyaki, top it with egg and serve with bacon for a fantastic breakfast/brunch idea.
Waffle Irons/makers
I've had quite a bit of experience with different waffle irons, including both larger Belgian style waffle irons and the smaller square chaffle sized waffle irons. Here in Australia we have been limited with chaffle irons on the market so I ended up with one from Target. While it makes great chaffles because the melted cheese makes them pretty much no fail, if you make regular waffles they can take a long time to cook and they don't brown well.
The secret to making great waffles/chaffles is to make sure you have a quality waffle maker and to cook them reasonably quickly at a slightly higher temperature. My waffle maker of preference is the Breville Creations Waffle Maker that I bought on Amazon- see the link for details. I love that you can vary the temperature on this waffle iron, which makes it really versatile for cooking waffles and chaffles.
There was a big difference between the waffles/chaffles that came out of the Breville waffle maker versus what came out the Target brand waffle maker. If you have a waffle maker that cooks slowly then I recommend that you leave the waffles cooking until they brown. This may take quite a long time but these waffles need to be slightly brown on the outside to help them hold together. This is one of the joys associated with cooking without gluten, but the real joy in making these delicious waffles is in the eating.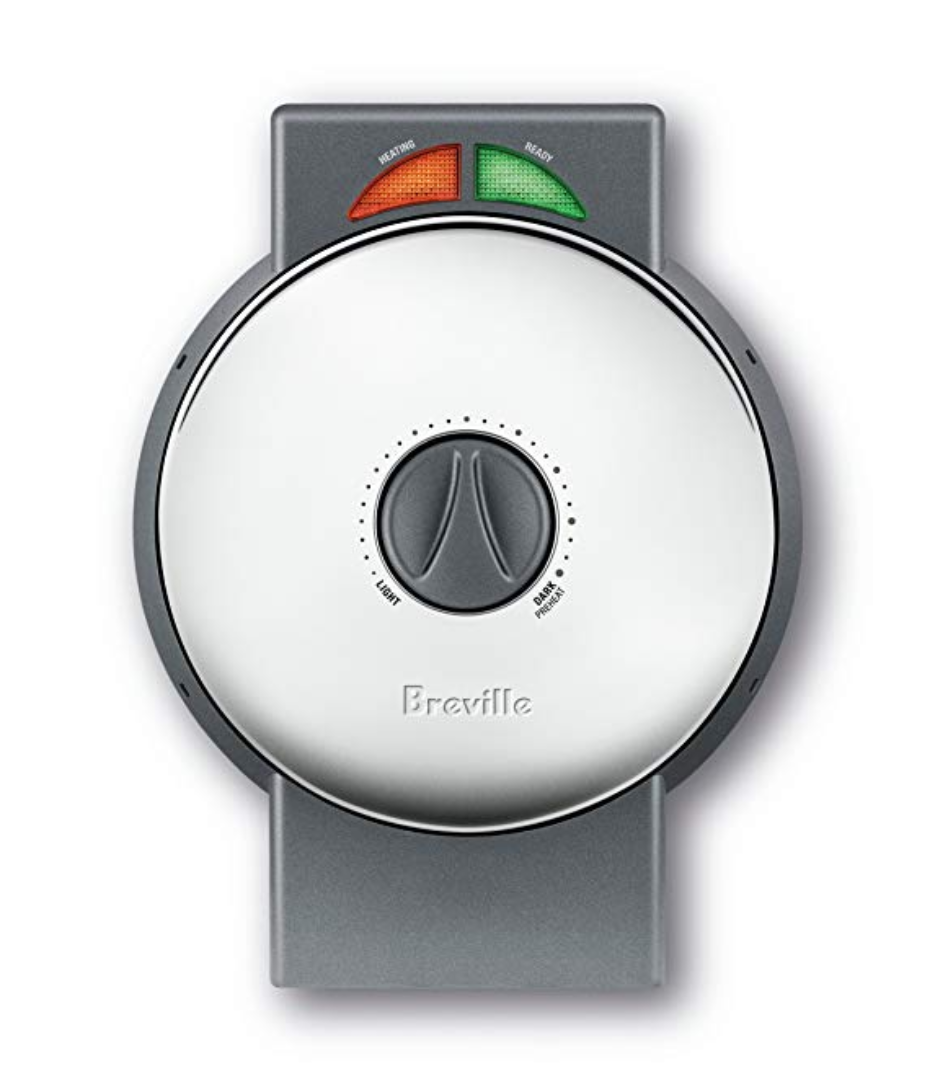 More Fabulous Low Carb Chaffle/Waffle Recipes
If you loved this recipe and want to put your waffle/chaffle iron to good use, you might want to check out these recipes. The Best Keto Waffles are fabulous for a traditional keto waffle and make a wonderful breakfast or dessert. There are also these delicious Keto Chinese Breakast Chaffles, known as Bian Jing that I highly recommend you try. They taste amazing and are so simple to make.
Kx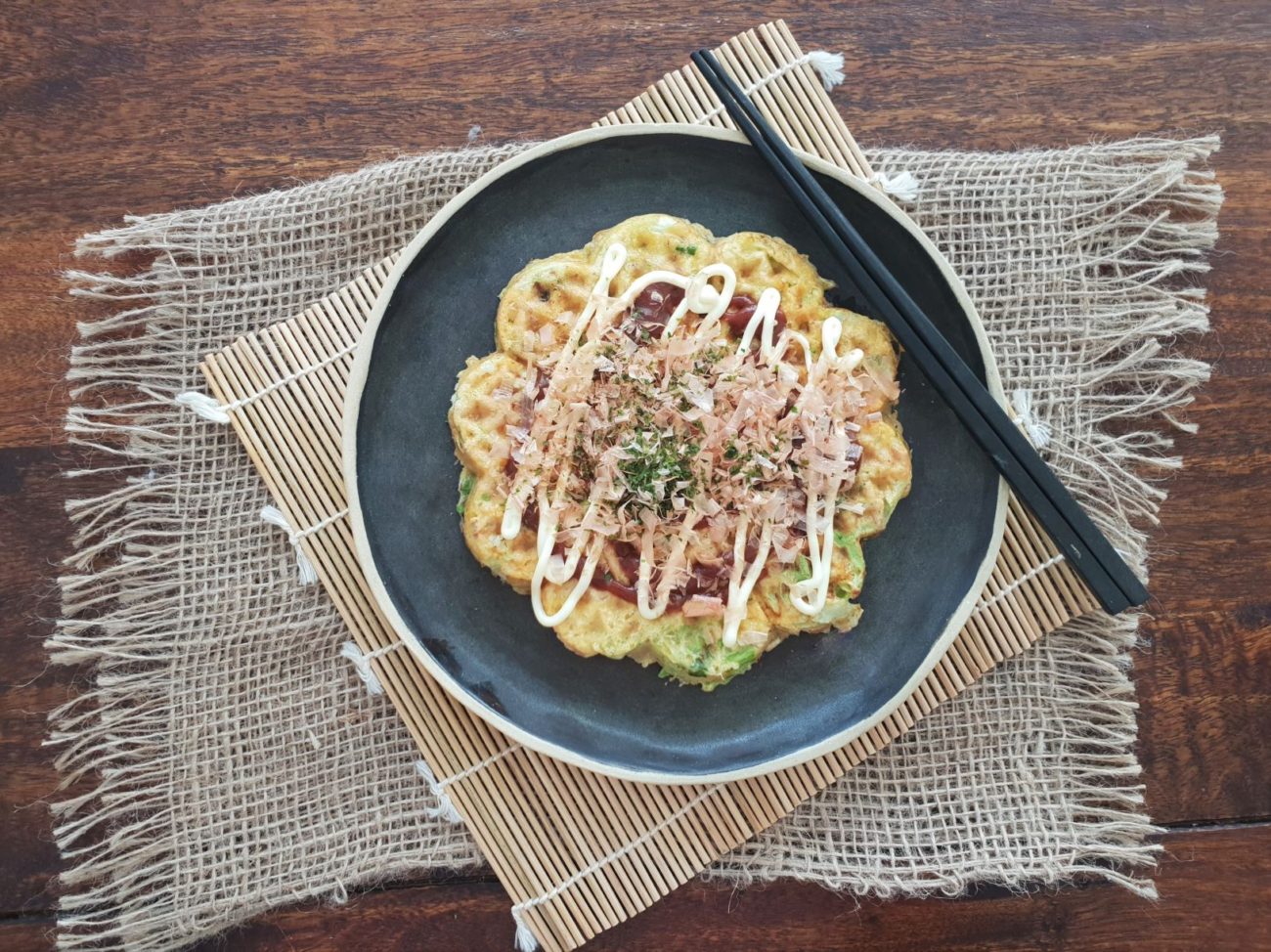 Ingredients
Savory Pancake Mix
2

tablespoons

finely chopped cabbage

1.5

tablespoons

spring onions sliced thinly-the fleshy part and green tops

1

extra large egg

½

slice of short cut bacon cut into strips

or thick ham

⅓

cup

shredded/grated tasty cheese

2

tablespoons

almond meal/almond flour

¼

teaspoon

baking powder

A dash of EVOO- extra virgin olive oil

Salt and pepper to taste
Optional additional flavouring suggestions to mix into the pancake mix
Add a dash of tamari to the batter for additional flavor

Add 2 tablespoons diced pre-cooked calamari/squid or octopus to the batter
Low Carb Okonomi Salsa Sauce-optional as sugar free BBQ sauce can be used as well
2

medium

tomatoes

2

teaspoons

Worchestershire sauce-omit if you are avoiding due to carbs but it will impact on flavour

2

teaspoons

tamari

1

teaspoon

Dijon mustard

¼

teaspoon

ginger crushed

1/2- 1

teaspoon

monk fruit blend or preferred sweetener-optional
Topping Ingredients
Mayonnaise

or Japanese Kewpie mayonnaise/mayonnaise of choice

Bonito flakes

Aonori flakes

or nori strips

Low Carb Okonomi Salsa Sauce or sugar free BBQ sauce

Salsa recipe is in the notes
Instructions
Method
Preheat your waffle maker. Mix all of the ingredients for the chaffle together in a small bowl, including the EVOO.

Pour the chaffle ingredients into the waffle pan and gently spread out to cover the base. It is quite thick but will cook through and rise.

Cook until the chaffle is cooked through and has browned. Remove gently onto a serving dish.
To Serve
Serve hot. For a traditional topping, drizzle with Low Carb Okonomi Salsa (recipe in notes below) or use a Sugar Free BBQ Sauce and mayonnaise. Top with 2-3 tablespoons of Bonito flakes and ½-1 teaspoon of Aonori seaweed.Nori flakes can also be used.

Try topped with fried egg, salad, vegetables, sliced radishes or daikon, etc.

Try serving the basic recipe minus the ham or bacon for breakfast or for a simple meal, with a fried egg on top and bacon on the side.
Recipe Notes
Tamari, Bonito flakes and Aonori are available from Asian/Japanese stores.
Note that I really recommend you make the effort to use these products as they really enhance the flavor of this dish.
If you are in Australia, a great sugar free BBQ sauce to use for this recipe is Celebrate Health BBQ Sauce from Coles. If I have this on hand I never make my own Low Carb Okonomi Salsa Sauce- see below.
Low Carb Okonomi Salsa Sauce-optional as sugar free BBQ sauce can be used as well
2 medium tomatoes
2 teaspoons Worcestershire sauce-omit if you are avoiding due to carbs but it will impact on flavour
2 teaspoons tamari
1 teaspoon Dijon mustard
¼ teaspoon ginger crushed
1 teaspoon monk fruit blend or preferred sweetener-optional
Mix all ingredients together and blitz in a food processor or blender. Adjust the sweetener to your own taste by reducing or adding more. Coconut sugar, erythritol etc can also be used.
Nutritional Information
Serving:
1
chaffle without topping
|
Calories:
655
kcal
|
Carbohydrates:
5
g
|
Protein:
36
g
|
Fat:
56
g
|
Fiber:
1
g
Note that we calculate our own nutritional values so they may not be precise. Calculate your own if desired. Carb values exclude sugar alcohols such as Erythritol, as they generally have no impact on blood sugar levels. 50% of the carbs from Xylitol is added to nutritional values. This is consistent with industry practice.
Do you want to receive more recipes like this one? Subscribe to our newsletter now!